---
Fiore Pizzeria & Bakery in Forest Park opened in early 2022 in the former space of Francesca's Fiore. The Scott Harris Hospitality concept provides local and city-dweller guests with wood-fired pizza and freshly made in-house pasta. The handwritten menu is refreshed frequently with new choices of antipasti, pizza, and pasta featuring seasonal ingredients. For guests with a sweet tooth, Fiore Pizzeria & Bakery offers a menu of Italian desserts that include an assortment of gelato and sorbetto, tiramisu, and affogato. On a recent evening, we had the pleasure of visiting Fiore Pizzeria & Bakery, which is overseen by Executive Chef Jon Court, who creates and develops the restaurant's homemade pasta that is distributed to all Francesca's restaurants under the Scott Harris Hospitality umbrella. 
If your desire to have garlic breath is on the docket, opt for the pungent Cauliflower. A whole head of it is roasted until al dente, then nestled in an odiferous pool of whipped garlic.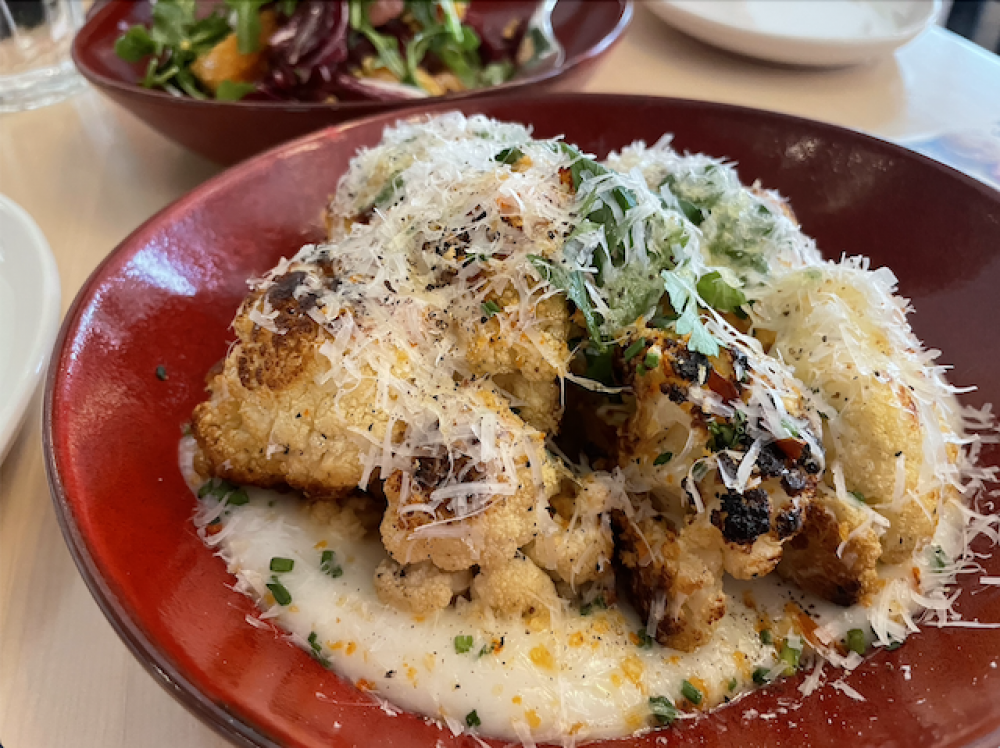 As someone that absolutely loathes beets, I was surprised that I didn't hate Fiore's beet salad. It came highly recommended by multiple Fiore team members so reluctantly, we had them bring it out. Though my plus one was responsible for eating most of it, the few bites that I tried were quite tasty and not too beet-y. Bright citrus adds the perfect amount of punch while whipped goat cheese balances the sour flavor of the beets.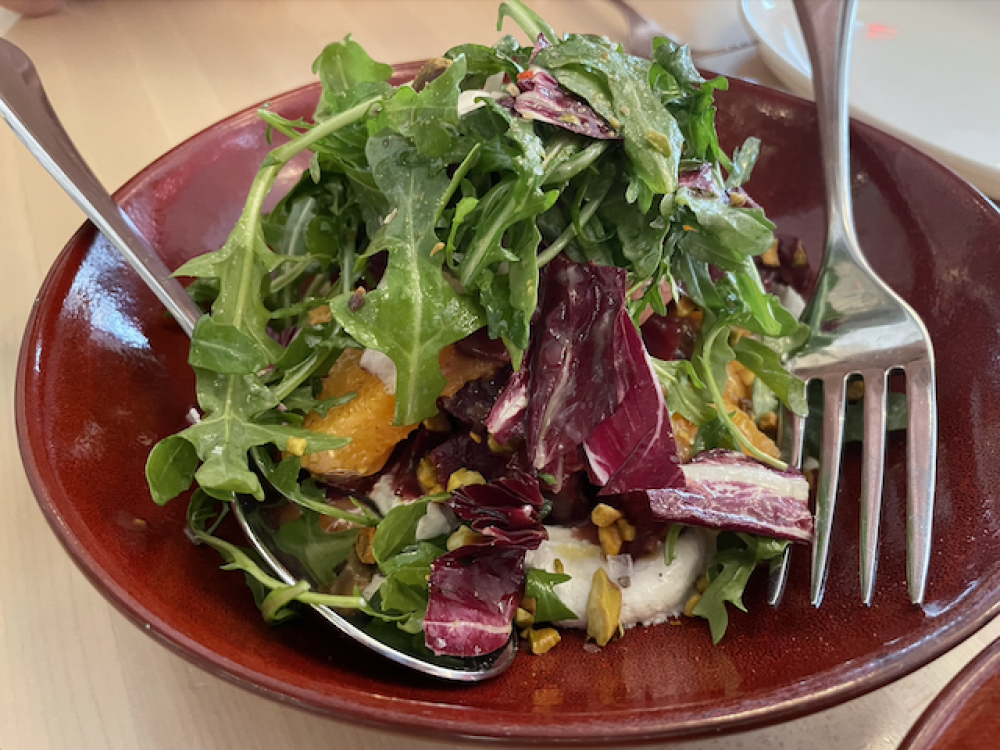 This time of year, corn holds a special place in Midwesterner's hearts, so the Sweet Corn pizza is a must-have when visiting the Forest Park restaurant. Confetti-ed with those precious kernels of gold, onion, chives and black truffle, this pizza screams with summer flavors.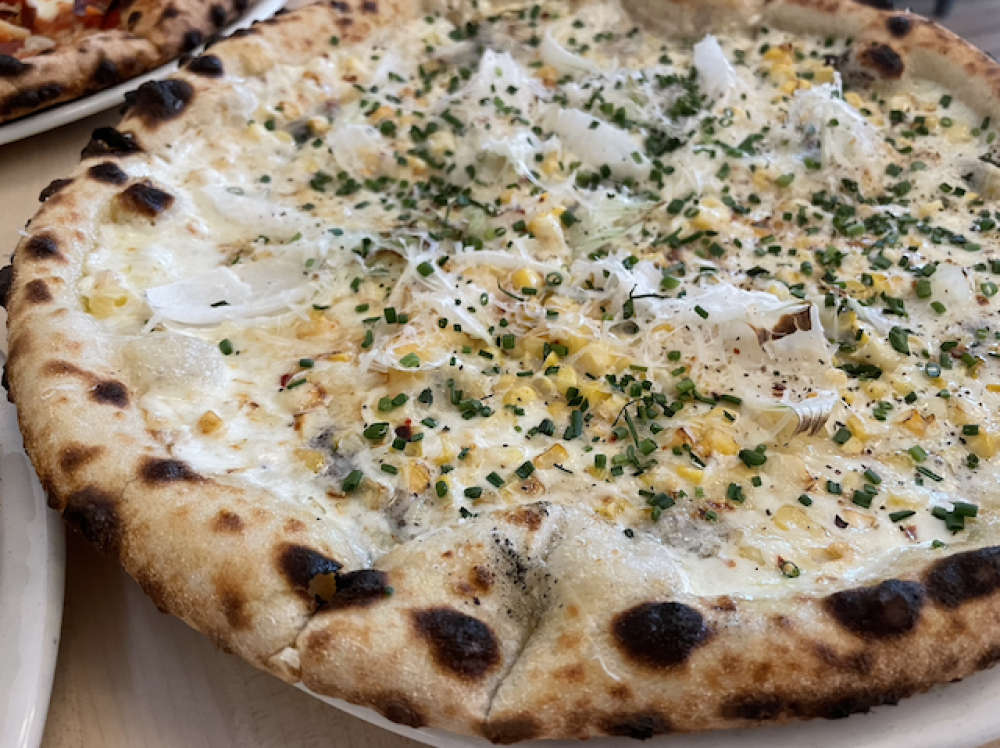 The kitchen brought out the Sausage pizza to show off their impeccable decision-making when it comes to high-quality ingredients. Though I'm not usually a fan of overloading a pizza with meat, the carefully-selected sausage could not be more welcome with each bite. Genius-ly pairing the protein with vodka sauce and sweet red onions makes this normally plain pie a standout on the menu.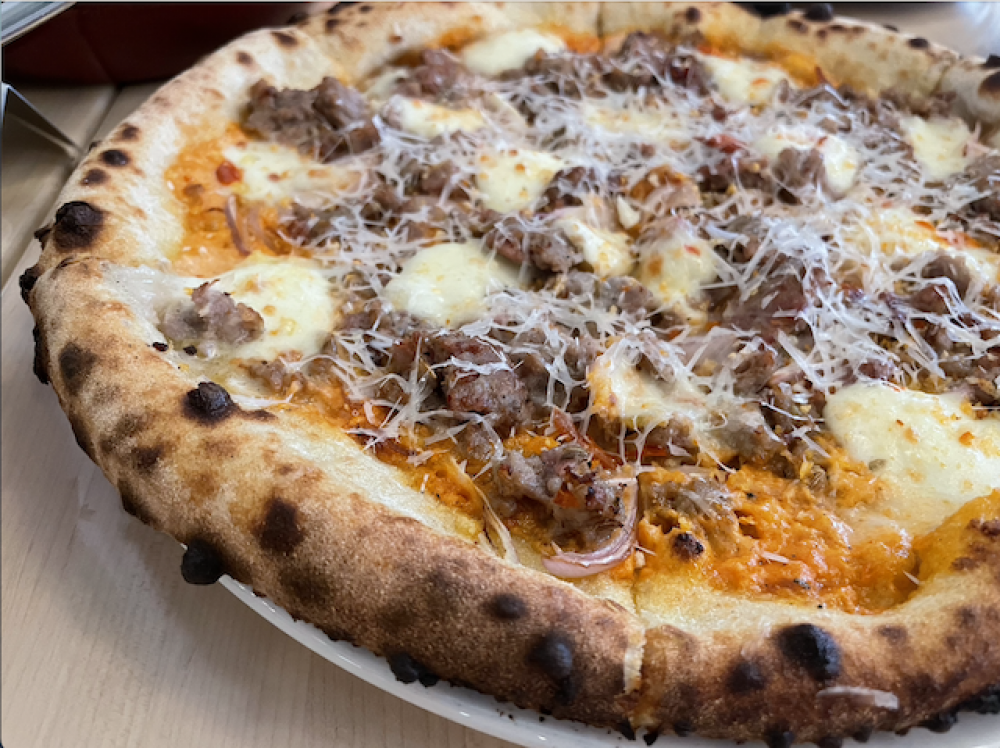 With a nod to Chicago's favorite condiment, Fiore's culinary team adds giardiniera to their traditional Pepperoni pizza.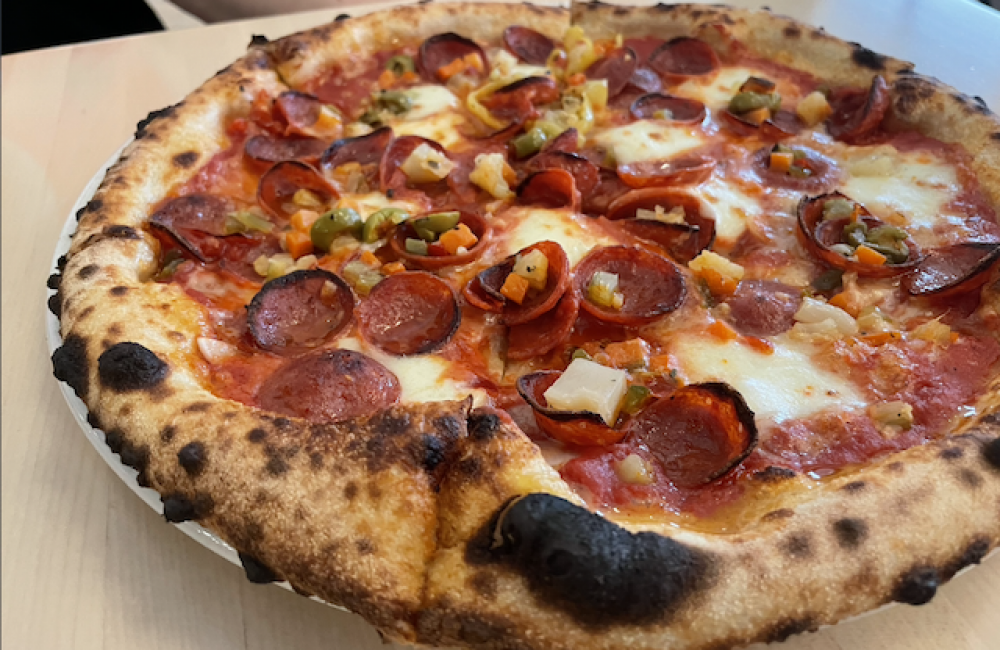 A tribute to summer and the bounty of Midwest produce can be savored in the Agnolotti Quattro Formaggio. Featuring Nichols Farms heirloom tomatoes, this saucy garden of stuffed pasta is complemented by bits of torn basil, heavy on the garlic and taken up another acidic level with lemon agrumato.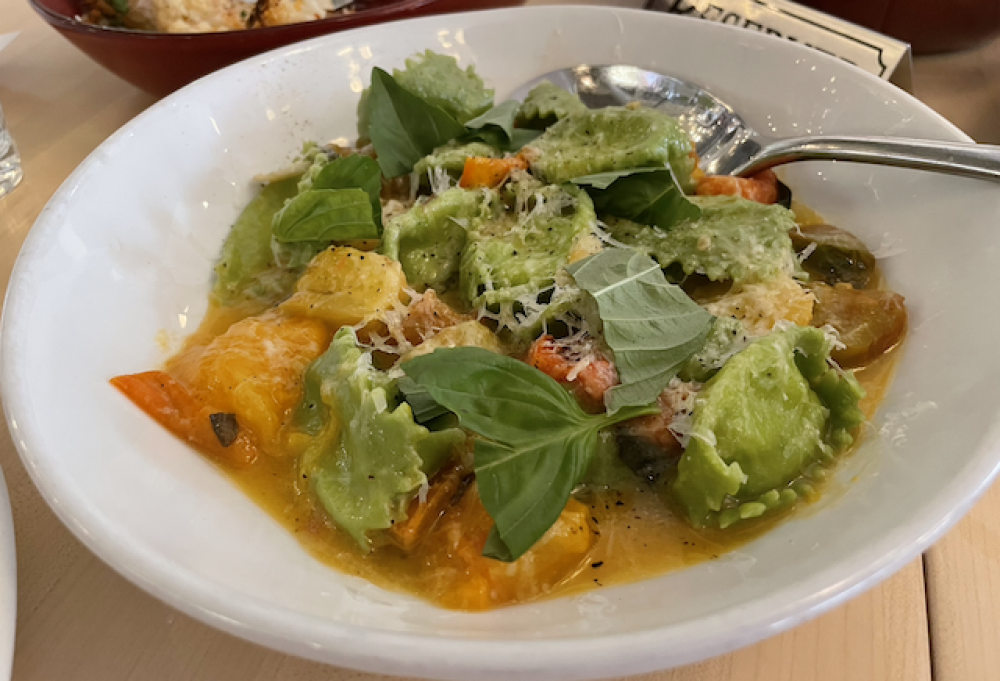 The Sicilian Gelato Sandwich is anything but a handheld. A spoon and maybe even a knife is required to consume this giant dessert. The delicious pistachio gelato is some of the best I've ever had but its temperature makes the outer fudge brownie nearly too difficult to carve off. Once you do manage to get a good bit with everything (including some whipped cream and hot fudge), it's truly a heavenly dessert.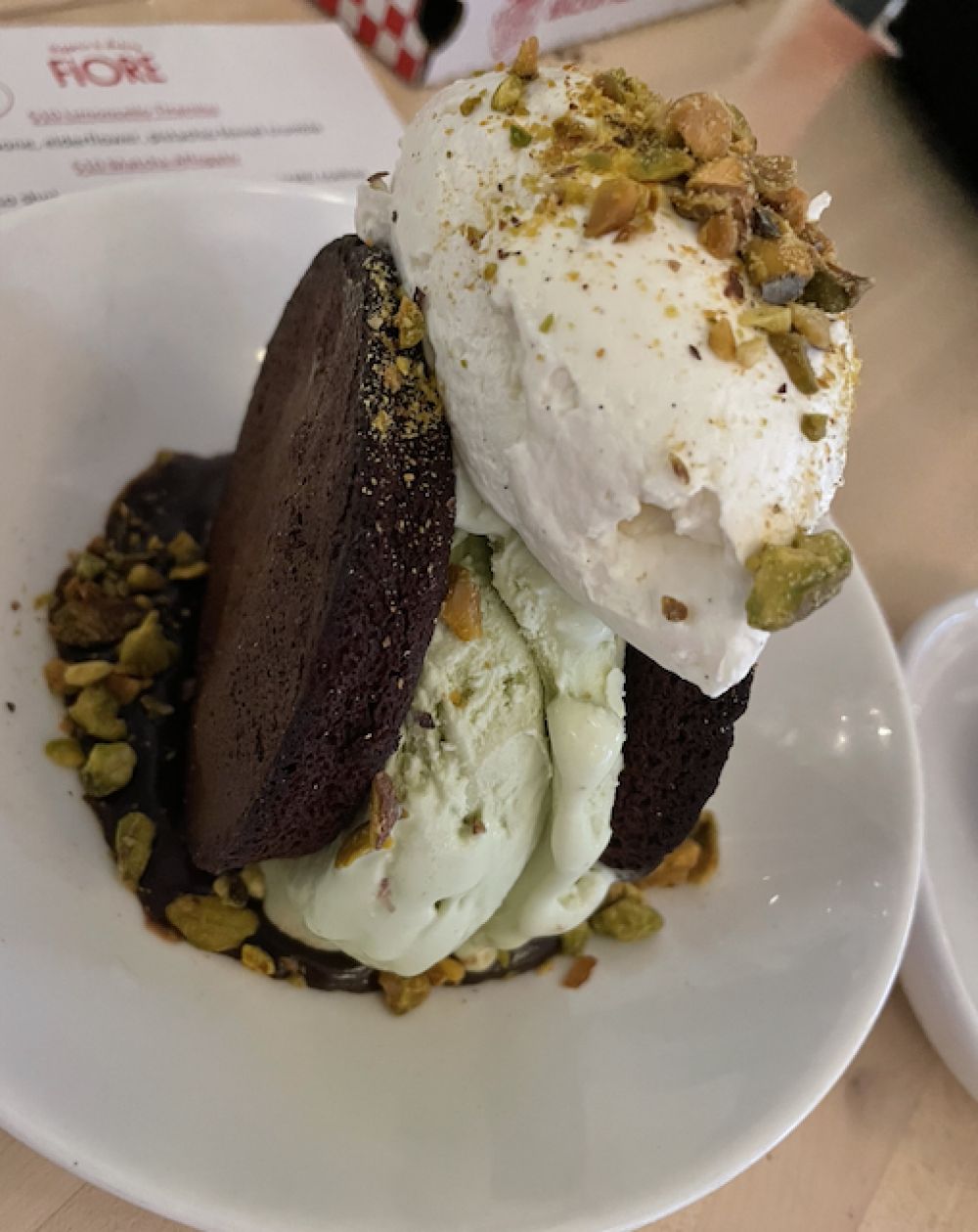 You'd be smart to visit on a Friday, Saturday or Sunday to take advantage of the adjacent Mercato di Fiore having Glazed and Infused Donuts. You read that right! Glazed and Infused is back and can only be found at the market which opens at 7am Friday to Sunday.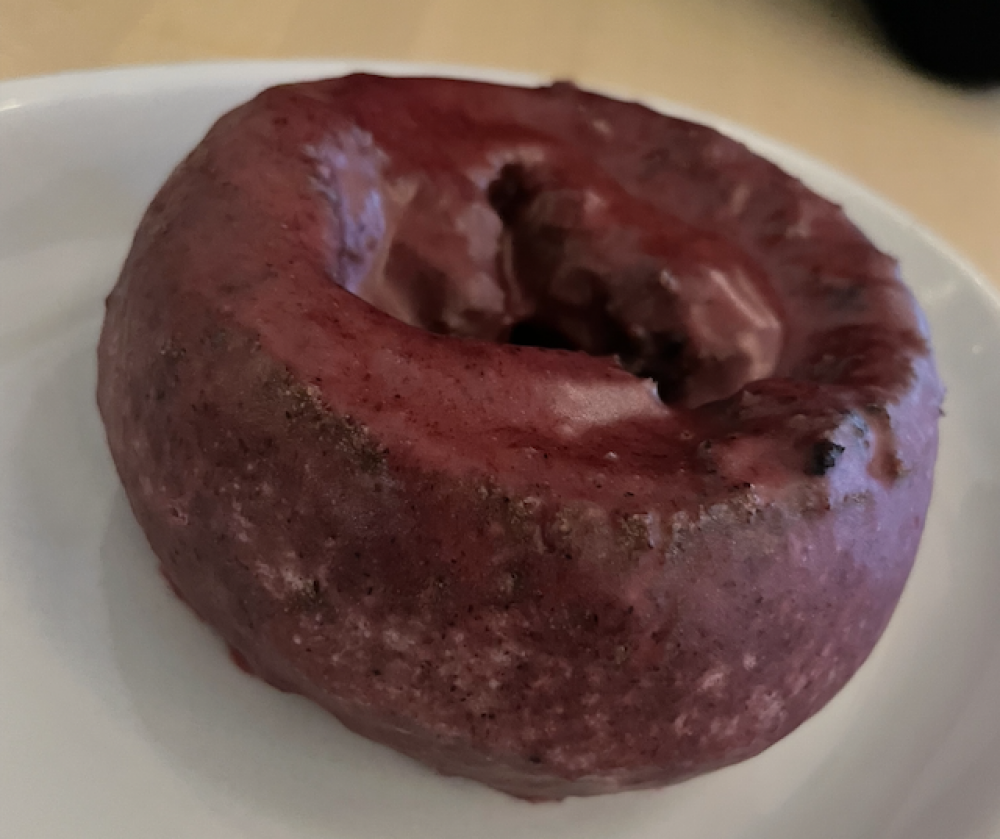 It won't be hard to find this Forest Park pizzeria and bakery. Once you turn west on Madison Avenue off Harlem, you won't be able to miss the standout red and white locale on the north side of the street (7407 N Madison, 60130). They open at 11:30am Monday through Friday and 10am on the weekends.