---
Aboyer (ab-wah-yay) is commonly known in French as the verb, "to bark". More locally, Aboyer is the name of the American-French brasserie (and one of three concepts that are part of the George Trois Group of restaurants) located in the small space at 64 Green Bay Road in Winnetka. Chef and proprietor, Michael Lachowicz's brasserie is borderline upscale in an unassumingly relaxed setting; the service, attentive and quick; the cuisine, inspired from around the world. 
Warm up the evening with Bread Service ($4) featuring warm slices of demi baguette as well as the bread du jour. During our recent visit, we tore in to a salty olive bread on which we slathered sweet butter and a sprinkle of curated sea salts for a flavorful experience. 
Perfect for one or two people is the appetizer-sized Rabbit and Sage Sausages ($13). The two links cradle thin, serrano ham crisps and sit atop a patty-shaped mix of charred savoy cabbage confit, white quinoa and finger limes.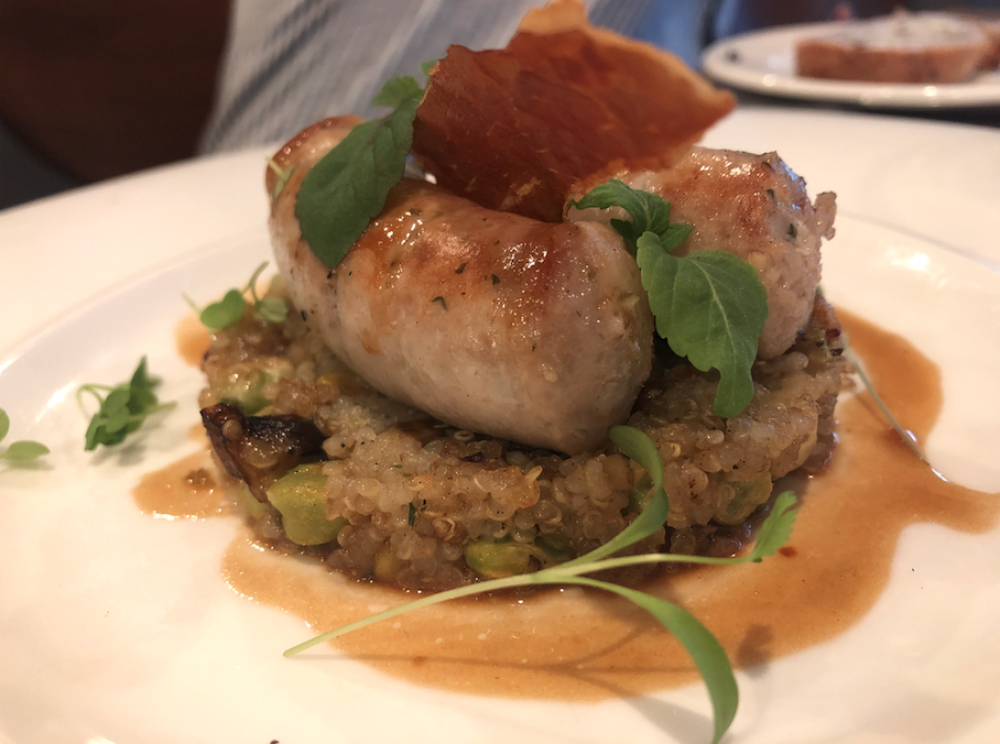 Aboyer's starter portion of Agnolotti ($12) could make an escargot fan out of anyone. The Piedmont region-native pasta is stuffed with goat ricotta and black garlic, a soft-textured contrast to the slightly chewier escargot. Both are enhanced with a splash of beurre monte and decorated with vibrant micro cilantro.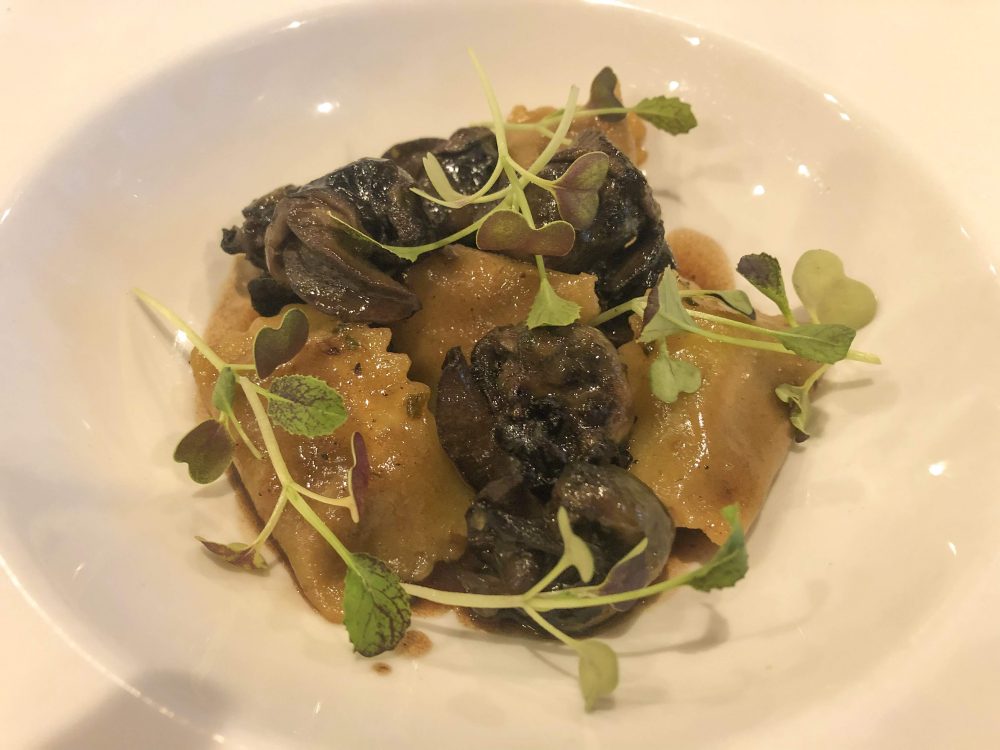 A sweet and savory balance in the Faroe Island Salmon entrée ($22) makes for a hearty, Scandinavian-inspired dish. The perfectly-cooked filet rests on a steamed garden of brown butter baby spinach and is hydrated with a soubise, a simple onion-based sauce made with only two additional ingredients: butter and cream.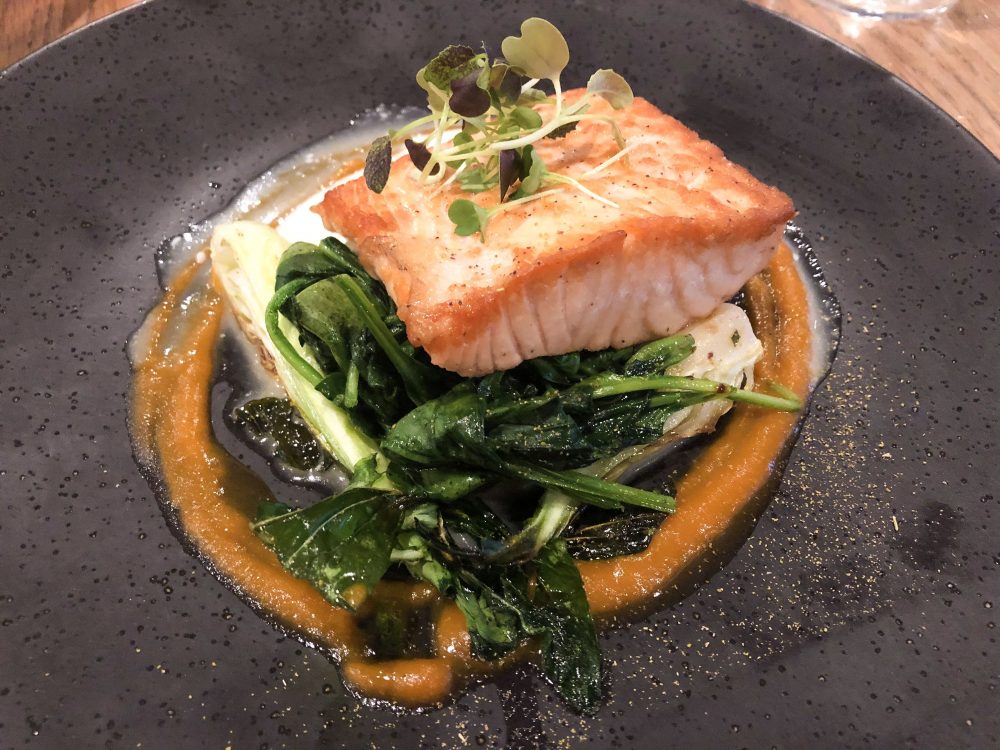 The Chicken ($22) is clearly the pride and joy of the culinary team at Aboyer and would deserve a star on the Culinary Walk of Fame if such a thing existed. The bone-in piece of white meat heaven is first sous-vide to perfection then seared to create a beautiful, crispy skin. The prized poultry is further stuffed with a pleasing half-roasted galantine, sarriette wild mushroom-barley farce and finished off with preserved lemon. Haricot vert (though we had asparagus) supports the partial bird on the plate while both drink in the surrounding duck fat and jus de poulet.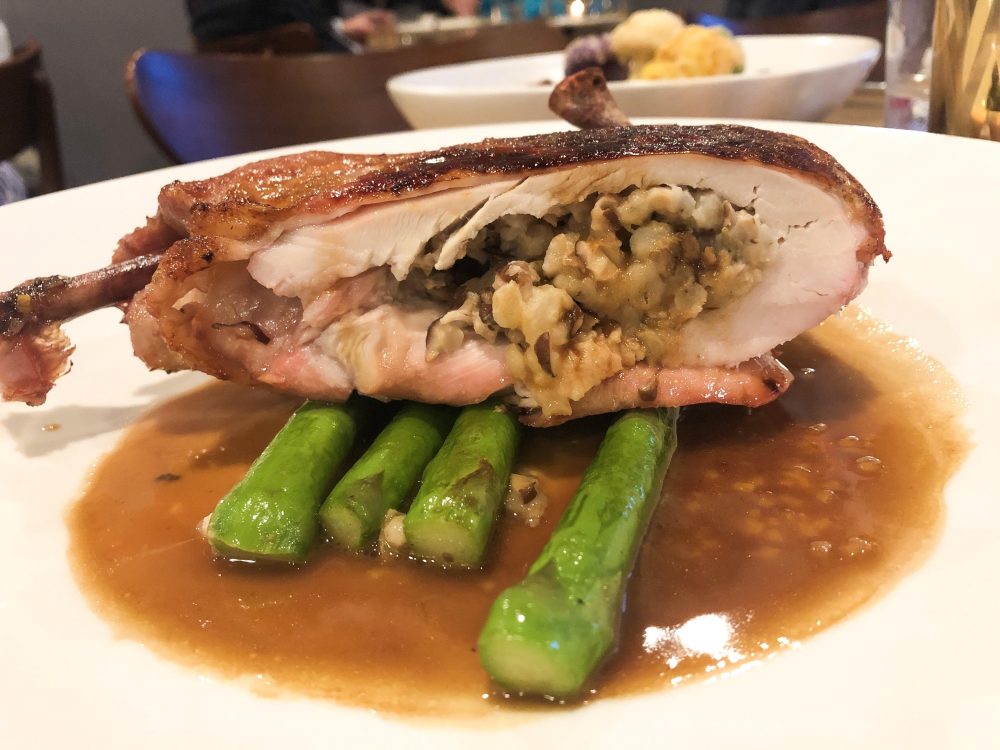 Chef Lachowicz' Legume du Jour ($19) features a potato gnocchi that without the stinging nettle-macadamia pesto, would leave diners wanting more flavor. The du Jour part is the evening's seasonal vegetable selection in which we enjoyed multi-colored and lightly fried cauliflower, asparagus spears, brocolini, carrots and best of all, morel mushrooms.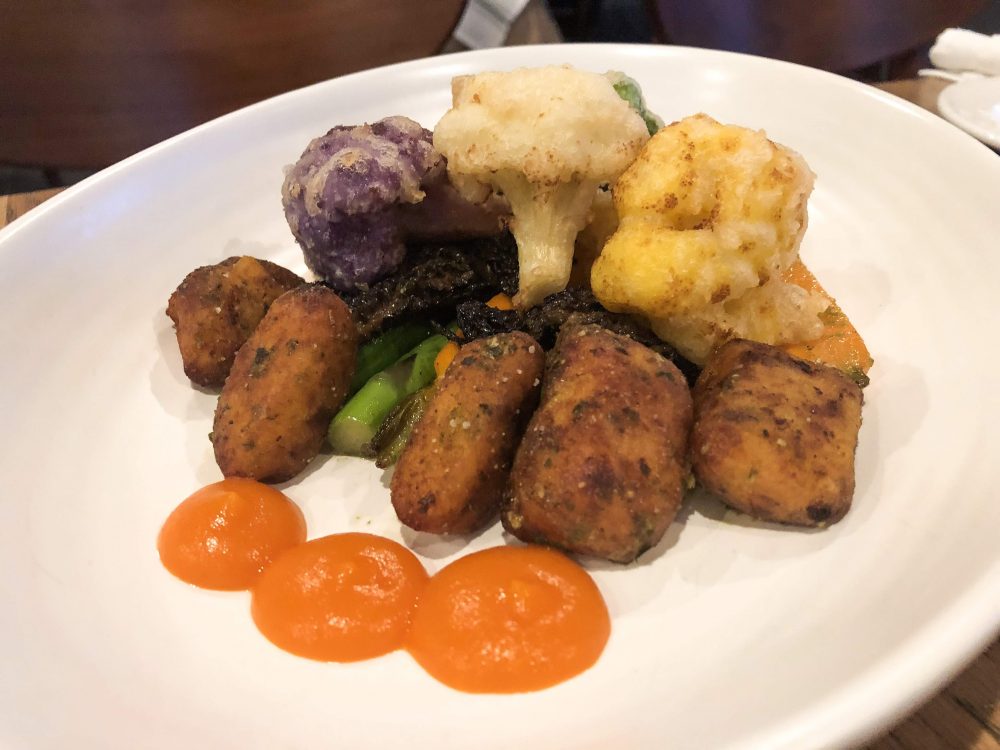 Many of the current desserts are coconut forward though there are two delicious options that coconut-haters can enjoy in the Olive Oil Cake ($8) that delicately balances on a coffee-soaked, banana panna cotta with a spiced chocolate glaçage to scoop up with each bite; or the Soupe Anglaise "Chinois" ($8) a light genoise sponge cake drizzled with sake syrup, crowned with a kiwi brulée and sprinkled with matcha powder. 
Like the food menu, the drink offerings are small and concise. There are not many specialty cocktails but the few that are offered, change with the seasons. Wine selections are quite limited as well to about five each of reds and whites.  
Aboyer is open for dinner Tuesday – Sunday from 5:30-11 pm and for brunch 11:00 am - 2:30 pm on Sundays only. Walk-ins are welcome and a limited amount of reservations are accepted.