---
The village of Oak Park recently gained another exciting dining destination in Mora Asian Kitchen. Conveniently located just steps from the Austin Blue Line, Mora and Oak Park are super accessible from downtown Chicago by public transport. Next time you want to try a new place or discover new neighborhoods around the city, Mora Asian Kitchen should be on your food destination list.  
The focus of MORA's menu is to allow all guests to go on a journey of Asian inspired flavors by sharing a variety of grilled small plates. The Mora staff has great and knowledgeable recommendations for every part of the menu so be sure to tune in while they walk you through the menu.  
Drinks 
The beverage program at Mora highlights Japanese sake, local ciders and meads and seasonal cocktails in addition to permanent cocktail staples. Our current seasonal pick is The Sage with Basil Hayden's Bourbon, apricot jam, limoncello and lemon juice, garnished with an aromatic sage leaf. A staff pick from the classic list is Lost in Paradise-St. George Botanivore, aperol, lemon juice, agave and tonic with muddled rosemary and orange. Local and imported whiskeys, wines and beer also grace the menu.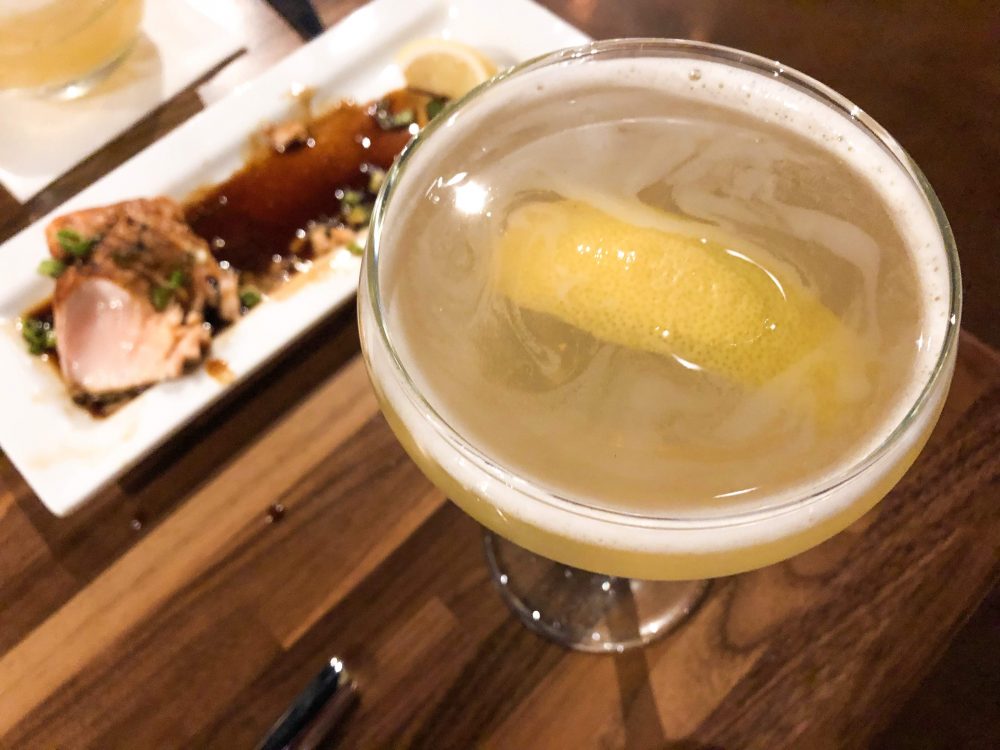 Salads  
Normally, salads can be run-of-the-mill at any restaurant but Mora's Brussels Sprouts and Kale Salad is something that should not be skipped over. Crunchy and sweet, this delectable bowl is towering with shreds of cabbage and carrot, slices of jalapeño and onion, chilis and fried shallots served with a side of Mora's addicting Sweet Chili Sauce for dressing.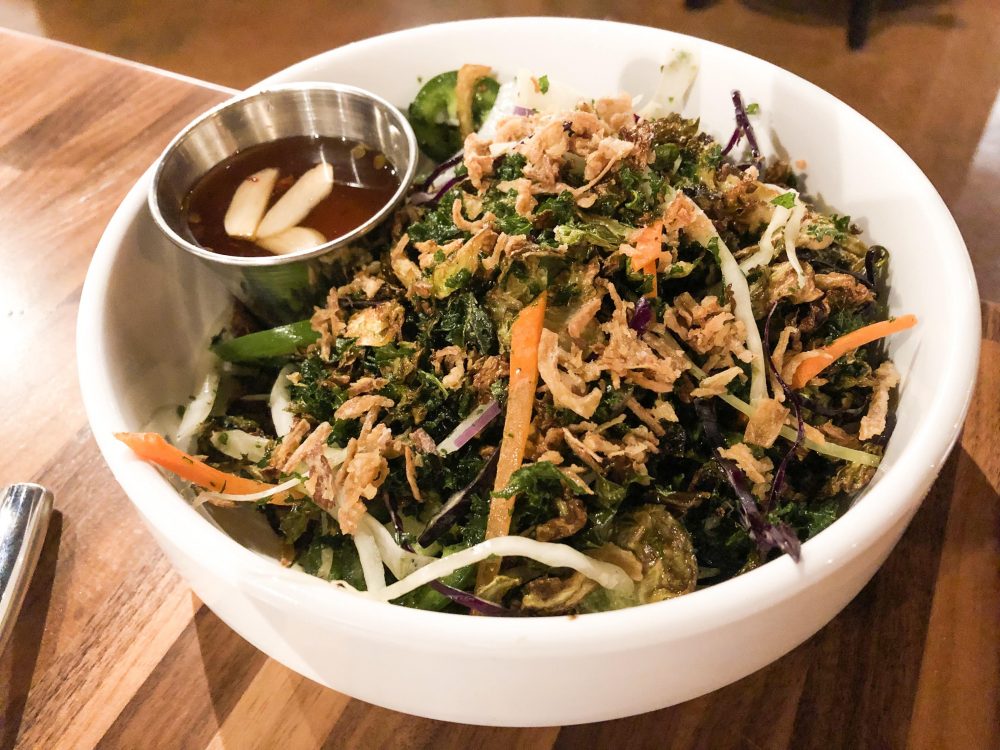 Hot Plates 
The Honey Shrimp is quite flavorful, though a little heavy on the tempura breading and thick on the honey aioli drizzle. The shrimp does get a little lost among it all but the dish still maintains it tastiness. We also recommend the Lumpia, eight Filipino eggrolls stuffed with ground pork, carrots and garlic served over a bed of lettuce and carrots with that aforementioned Sweet Chili Sauce. Trust us, you will want to put the sauce on everything.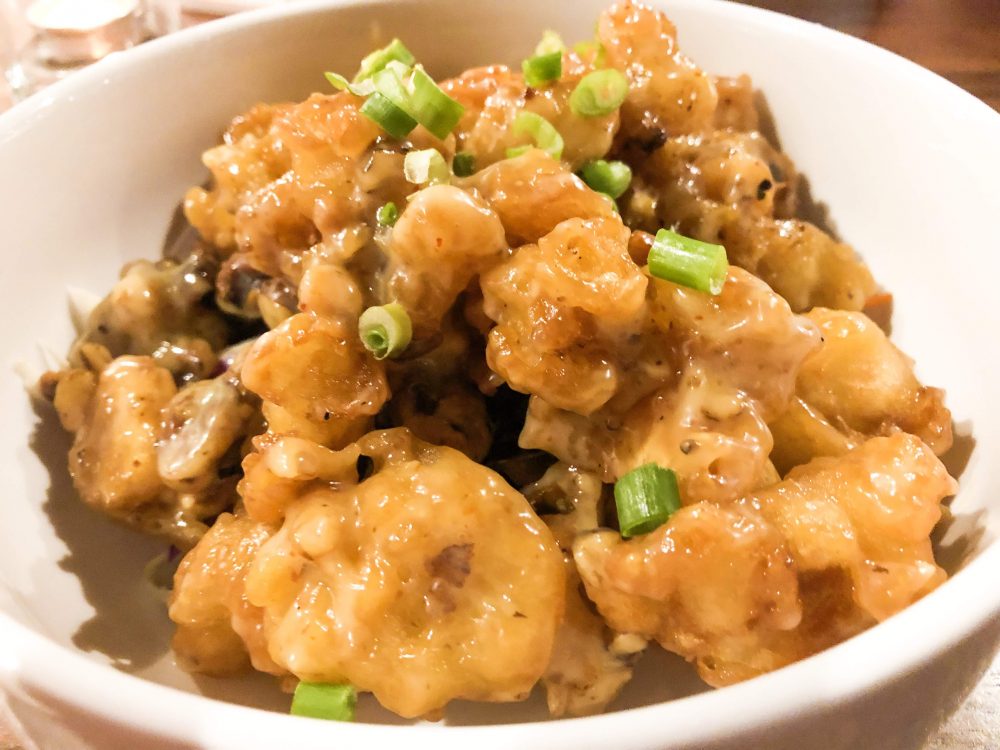 Robotayaki (Grilled) 
We love the 5oz grilled salmon topped with garlic and a sweet soy glaze. The glaze is a little thick and borders on being too sweet but pairs with the perfectly tender salmon. Definitely order the Lemongrass Beef. The small portion of two skewers is certainly not enough but they are packed with dynamic, mouth-watering flavor.  
Sushi 
You can't leave without ordering at least some sushi. Mora has many options between signature and classic rolls so if you can't decide, just ask your server!
Dessert  
We were surprised by the delightful "dessert sushi", a fruit roll-up of sorts. A long train of soy paper-wrapped rice is stuffed with grapes, mango and pineapple and topped with blueberries and slices of fresh strawberries. Coconut and chocolate shavings as well as a mango puree adorn the roll. Creative and light, this "dessert sushi" is a great way to wrap up the meal.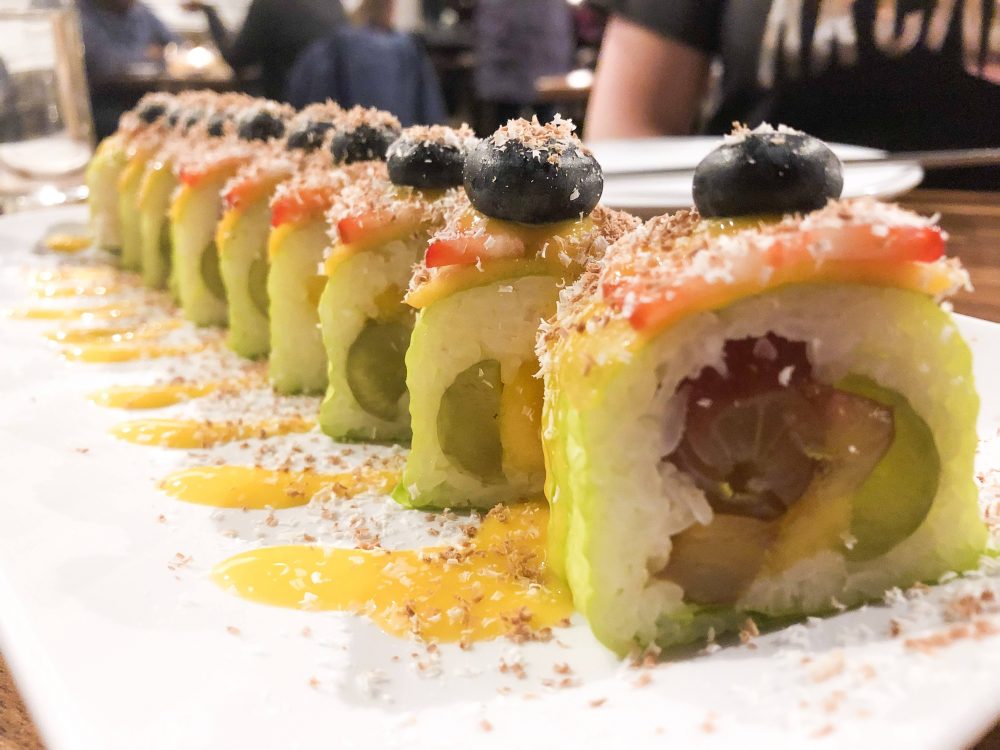 Mora Asian Kitchen's third location in Oak Park is located at 201 Harrison St. Mora is also located in Bolingbrook at 627 E Boughton Road. The original Mora Asian Fusion is located in Plainfield at 24108 Lockport St. Each location is open for brunch, lunch and dinner. For more information visit the website of the location nearest you for opening times. With plans to open up two more locations in Chicago and Aurora in the coming year, there is much to be excited about for fans of the cuisine and the restaurant!