---
No matter what neighborhood you live in, everyone has their go-to spot. The place where they've become regulars, know what they want to order every time and are never disappointed by the food, drink and hospitality. If you live in the North Center area, The Rambler Kitchen + Tap, definitely could be your place. It checks all the boxes for being a friendly neighborhood go-to: convenient location on Lincoln Ave, creative twists on bar food, lengthy drink selection and even better service. After my recent visit, it may indeed become MY go-to place.  
As someone who takes chicken wings very seriously, I can tend to be a harsh critic. If a restaurant can't get their wings right, that can be a game (or meal) changer. Some of my favorite places to eat are favorites BECAUSE of their wings. Unsurprisingly though, The Rambler's wings are very impressive and a good way to start off dinner, especially if you happen to extend your stay on a Thursday and unknowingly stick around long enough for free Whaddayaknow? Trivia. 
The Rambler Kitchen + Tap prides themselves on their 'fan favorite' jerk wings – deep fried, tossed in jerk sauce then charred on the grill. Peppery, crispy and a satisfying break from your typical saucy wing.  
BBQ wings are something I'm much more critical about. I typically never order them because it seems like places fry up some wings and then pour some store-bought, bottled BBQ sauce all over them and call it a day. Don't get me wrong, I LOVE BBQ sauce but I've had too many bad BBQ wing experiences to make them one of my least favorite wing sauces. This, fortunately, was not one of those situations. The Rambler, come to find out, makes all of their sauces in-house. For anyone that cares about wings as much as I do, you know that a house made sauce can make all the difference. Biting into their BBQ wings, I wasn't expecting to be so delighted and I was quickly made a believer. Their BBQ sauce is perfectly sweet, mesquite and everything a wing sauce should be. It isn't too sticky but it still creates enough of a beautiful mess on your hands and napkins are 1,000% required.  
When it comes to buffalo wings, The Rambler doesn't disappoint on these either. You can throw buffalo sauce on anything and I'll eat it. The North Center restaurant does another unique take on standard buffalo sauce making it smokey and a little denser than a hot sauce and butter combo. It definitely makes you want to cover every inch of the wing with it, leaving no trace of sauce behind on the plate. All in all, these wings are excellent warmed up in the oven a few days later too!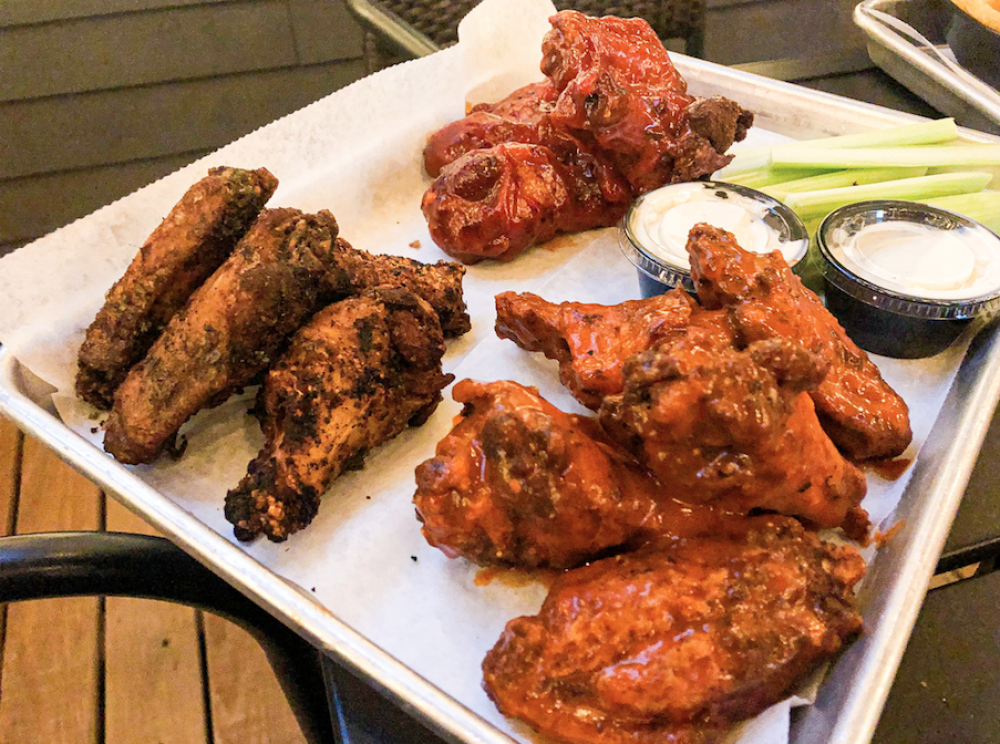 Although we were full by the time we got them, the Buffalo Chicken Lettuce Wraps can be a healthier alternative to sandwiches or the myriad of appetizer choices. Three, fresh and crispy lettuce leaves are life boats for your choice of grilled or crispy chicken tossed in The Rambler's homemade buffalo sauce. Keeping things balanced are chopped red onion, tomato and cucumber, half-moon slices of celery, shaved carrots and delicious crumbles of blue cheese. Top it off with a dribble of creamy ranch or blue cheese dressing and you've got yourself a light dish you can't feel bad about wolfing down!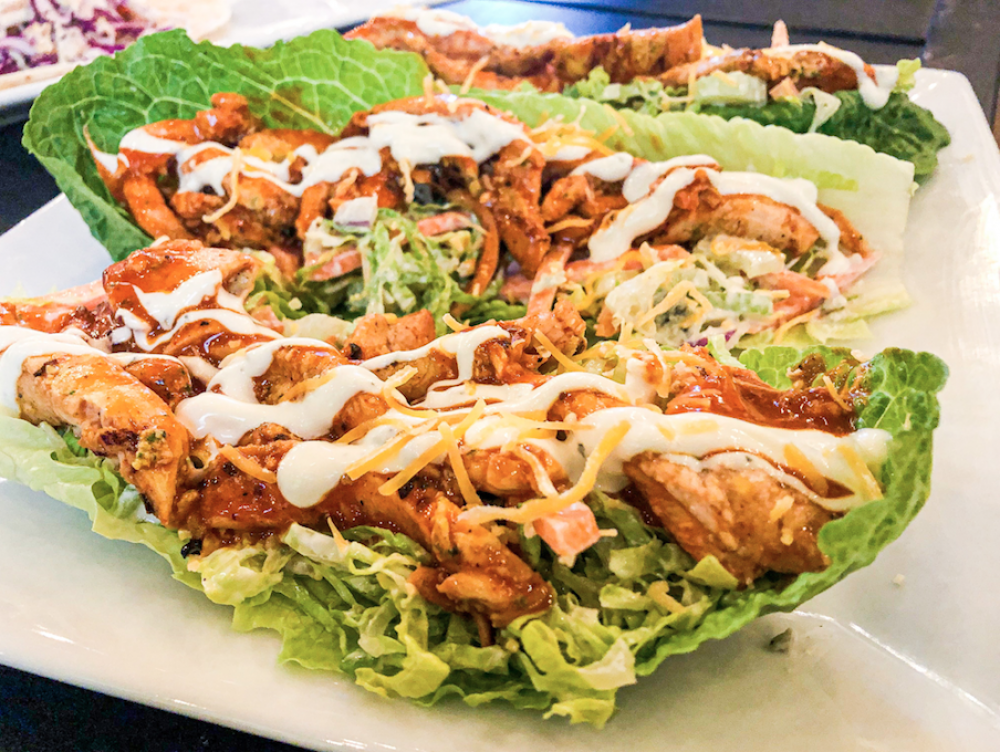 Another fan favorite (and specialty) at the neighborhood kitchen and tap is the Giant Pork Tenderloin Sandwich. And when they say 'giant', they mean it. A monstrous, thin slab of breaded pork tenderloin takes up ¾ of the 9"x13" tray it rests on, only allowing enough room for a fat stack of your choice of fries (go for the curly!). Supporting actors on this mondo sandwich are crunchy pickles and strips of lettuce, tomato slices, rings of red onion and a smattering of mayo all on a disproportionate-sized brioche bun. Add an egg or cheese if you choose but I'd personally ask for at least one extra bun because you're guaranteed to have enough pork for two sandwiches.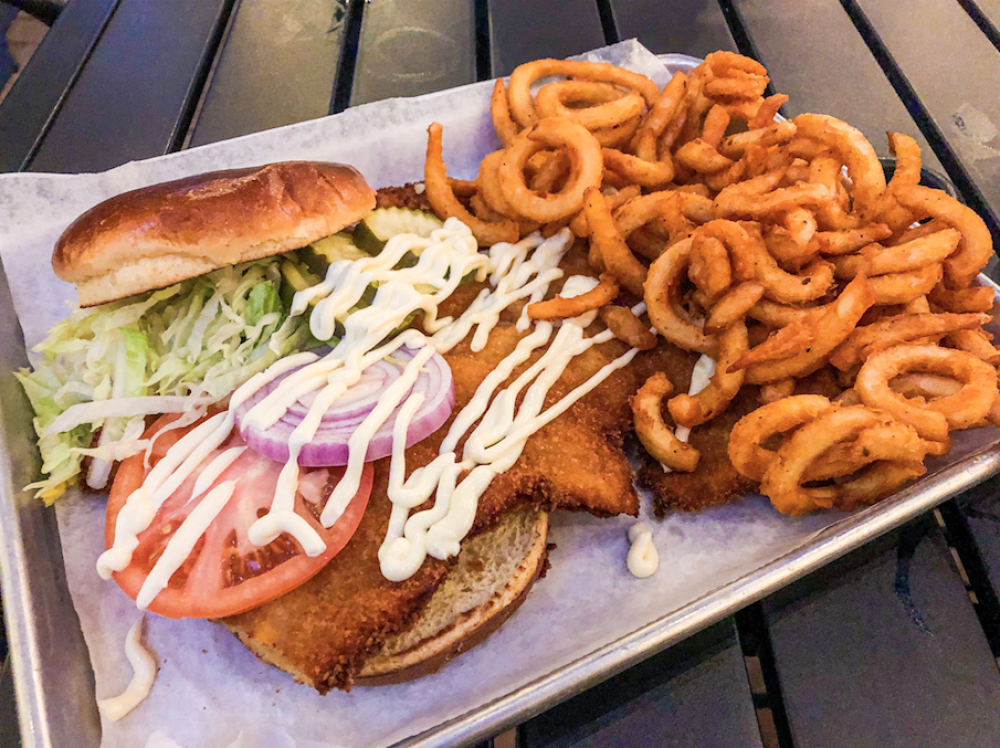 If you want to be festive for St. Patrick's Day or pretend your Irish on any other day, The Rambler has a killer Reuben sando. They slow cook their corned beef and top it with just enough sauerkraut and 1000 Island so that it satisfies the craving without completely overwhelming the whole thing. Thick slices of swiss cheese come in for a hug with this sandwich's signature marble rye.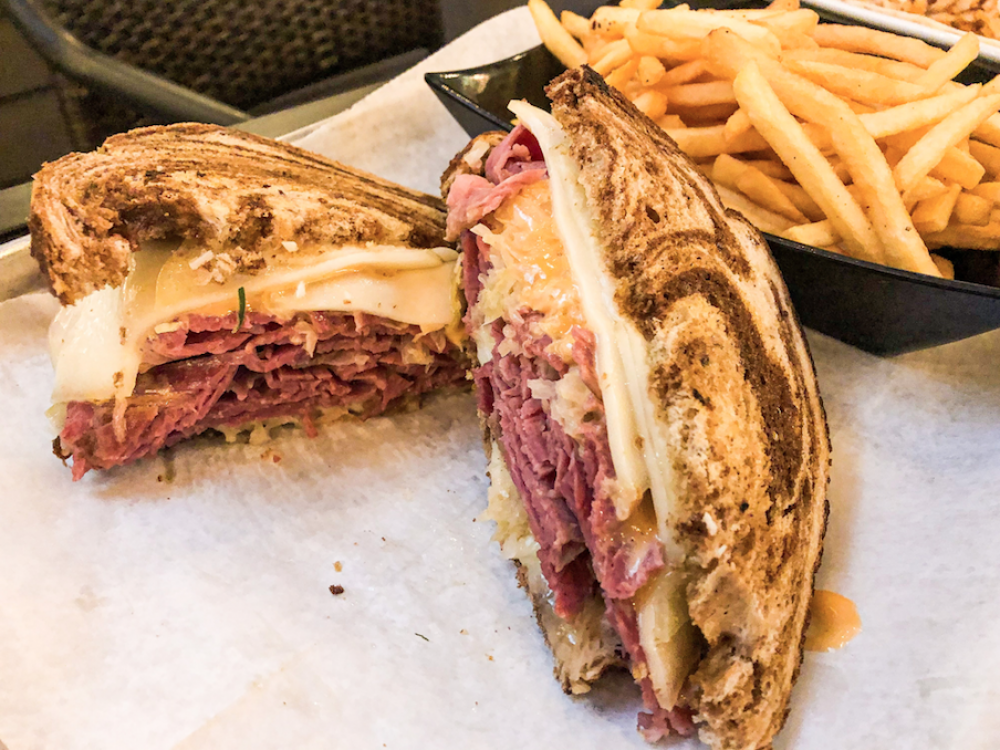 Feeling a burger? Order the restaurant's namesake and sink your teeth into two, 4oz griddled patties topped with griddled onion, melted brick cheese and the perfect amount of 1000 Island dressing. This burg (and everything else) pairs well with The Rambler's extensive beer list featuring drafts, crafts, domestics and imports. Cocktails tend to be on the sugary side so if you're feeling sweet, there's a drink for every main liquor.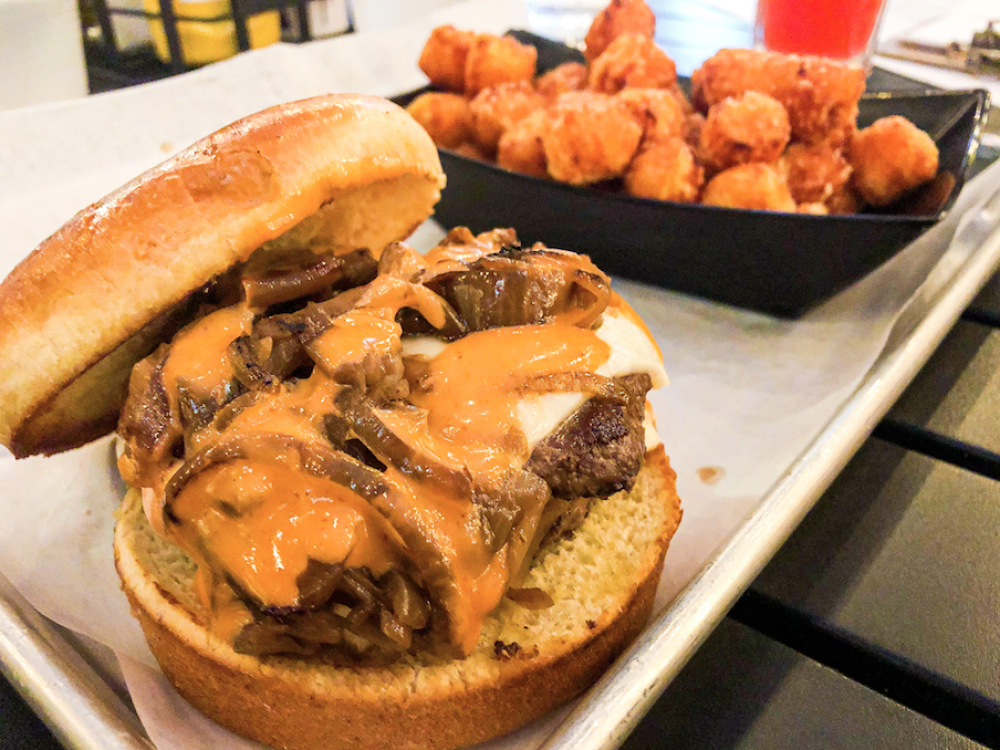 A friend of mine told me recently that he had never had a cookie skillet. In fact, he didn't even know what one was. I'm not sure if you've truly lived unless you've had at least one cookie skillet in your life. The one at The Rambler isn't necessarily unique in any way BUT at the end of the day, don't we all just want to dive in, spoon first to a hot, chocolate chip cookie that is soaking in generous scoops of melting vanilla ice cream? Don't we all want to accidentally burn our hands on the mega-hot cast iron skillet even after we've been warned how hot it is? It's totally worth it and regardless, I'm ordering it every time.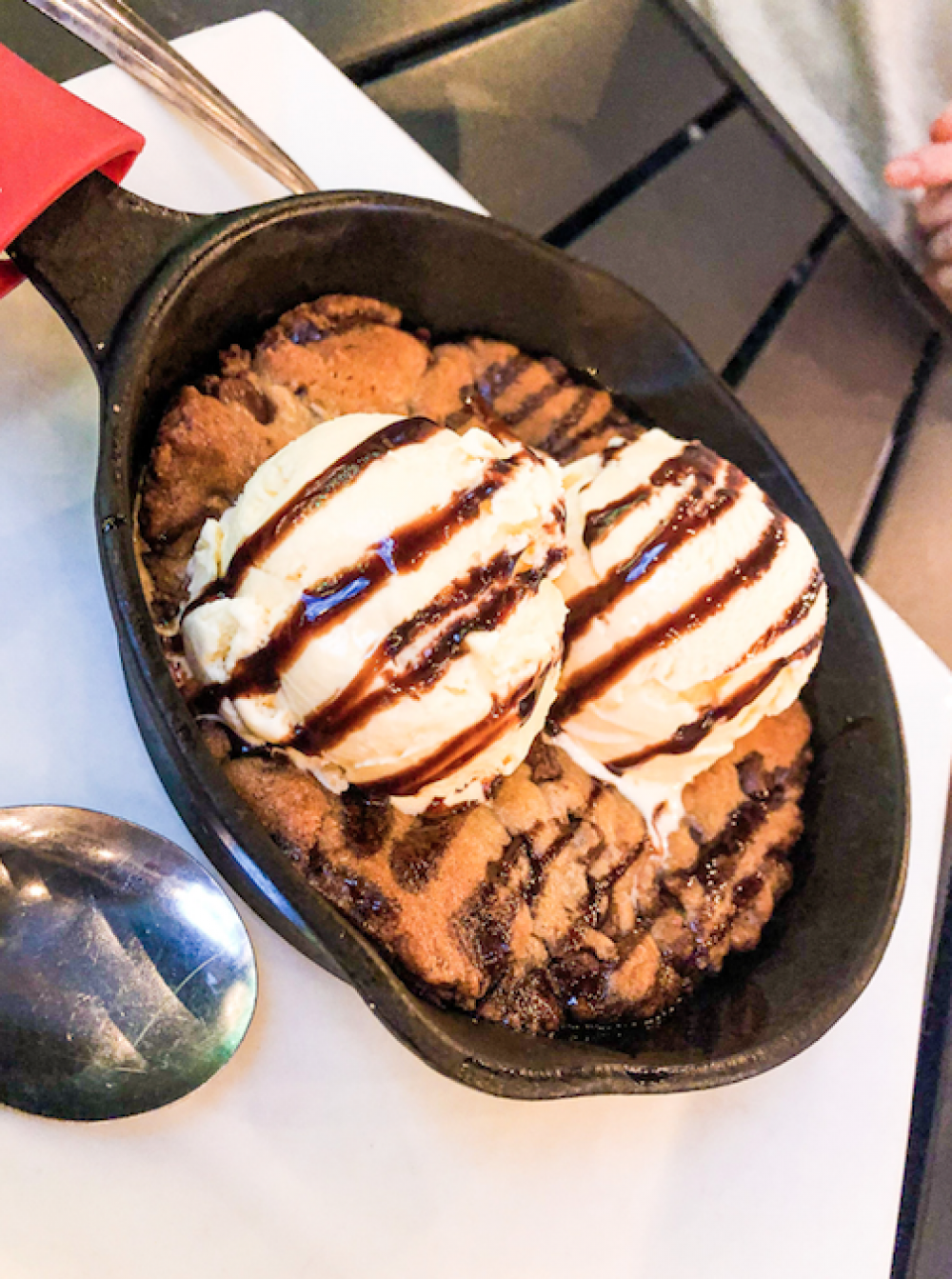 Whether you live in the North Center area or not, be sure to make the trip up for dinner at The Rambler Kitchen + Tap. Located at 4128 N Lincoln Ave, you can safely dine in the newly renovated beer garden, sidewalk patio, or spacious main dining room. Who knows? It may just become your go-to place too. The restaurant is open 4pm-11pm Monday through Thursday, 3pm-11pm on Friday and 11am-11pm on the weekend.