---
A habitual, pleasure-seeking world traveler would find themselves in a place like Gadabout to indulge in a seasonal menu of global street food. Maybe because that is in fact the definition of the nomenclature at Andersonville's new hotspot. Or maybe it's for the menu that captures a worldly essence and "reflects a thoughtful convergence of cultures, a celebration of Chicago's rich diversity and a sense of approachable adventure." Embark on your taste bud journey around the world with these menu highlights.  
Raw and Lightly Cooked 
Slurp down Gadabout's half dozen Grilled Oysters ($17), vibrant with harissa sabayon, sumac, chives and preserved lemon. Not an oyster fan? Bite into the Ahi Tuna Tostadas ($15) topped with pickled jicama, refried red beans, gochujang, sesame stick and nori.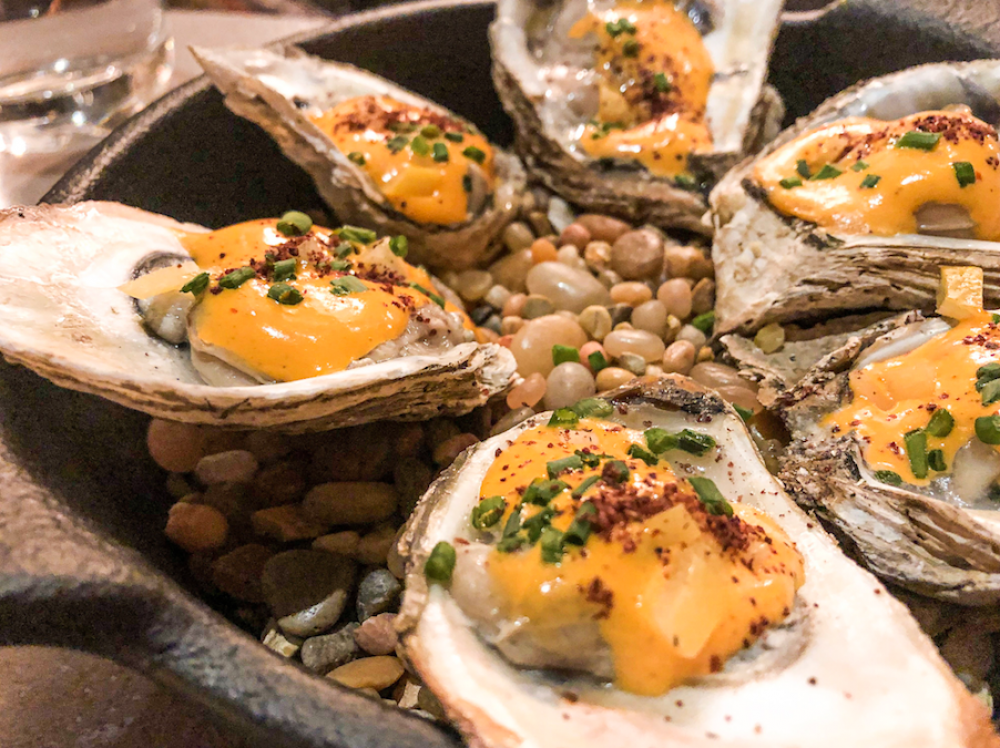 Vegetables 
The largest (and best) part of Gadabout's adventurous menu goes out to everything we need to eat more of: vegetables. Below are just a few of our favorites:  
Rest in peace, or at least until next summer, the outstanding Summer Corn salad ($13). Bursting with flavor, this pile of freshness includes bacon, lima beans and spiced cornflakes tossed with a sweet pepper vinaigrette on a base of creamy black pepper mascarpone.  
Let your taste buds travel to the Middle East by ordering the Chickpea Fritters ($11) served with juicy tomatoes, chimichurri coriander and sunflower shoots atop za'atar whipped feta.  
Yes, the Shishito Peppers ($12) can be your whole meal. No, we won't judge because they are positively delicious. The blistered pepps are a beautiful mess of brown butter walnuts and chicken skins draped with a roasted garlic and miso vinaigrette and tahini.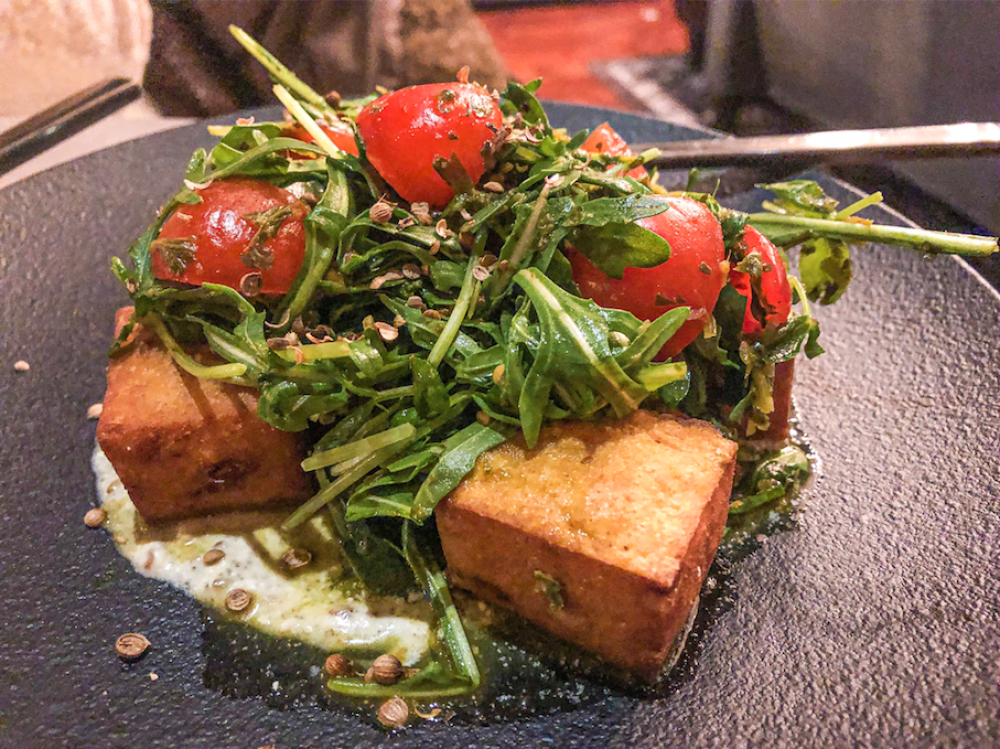 Meats and Skewers 
Get your protein in with the Chicken Skewers ($8) and scallions basted with smoked tare glaze with a spritz of tajin lime. Or take a walk on the wild side with the Beef Hearts ($9) glazed with a doenjang-lingonberry sauce, shiso and lingonberry mustard.  
Larger portions are dedicated to transportive dishes like the Country Ribs ($18) dressed with an unagi glaze, green papaya, peanut, mango and a fish sauce vinaigrette. Or warm up with the Pork Belly ($20) with kimchi stew, silken tofu, littleneck clams and bok choy.  
Seafood 
Selections from the seafood menu include unique plates like the Grilled Mackerel ($18) seasoned and layered with texture by a ginger-scallion vinaigrette, apples, arugula and fried chickpeas and five spice.  
Try a twist of an American classic with the Buffalo Skate Wings ($17) spiced up with giardiniera and a house-made buffalo sauce. Soothing the heat is the gift of Point Reyes Blue cheese and slices of pears along with brown butter walnuts for an added crunch.  
Dessert 
You know you have to end the meal with a Chocolate Covered Key Lime Pop ($7). An icy key lime custard hides beneath a smooth dark chocolate coating rolled in flecks of sea salt and graham cracker anglaise.  
Get a taste from south of the border with the Elote Tart ($7), a corn custard within an almond masa crust made sweeter with a brown sugar crema, dehydrated sweet corn and a chili and black lime meringue; or the cinnamon sugar Churros and grilled Pineapple ($7) seasoned by tajin and chipotle honey.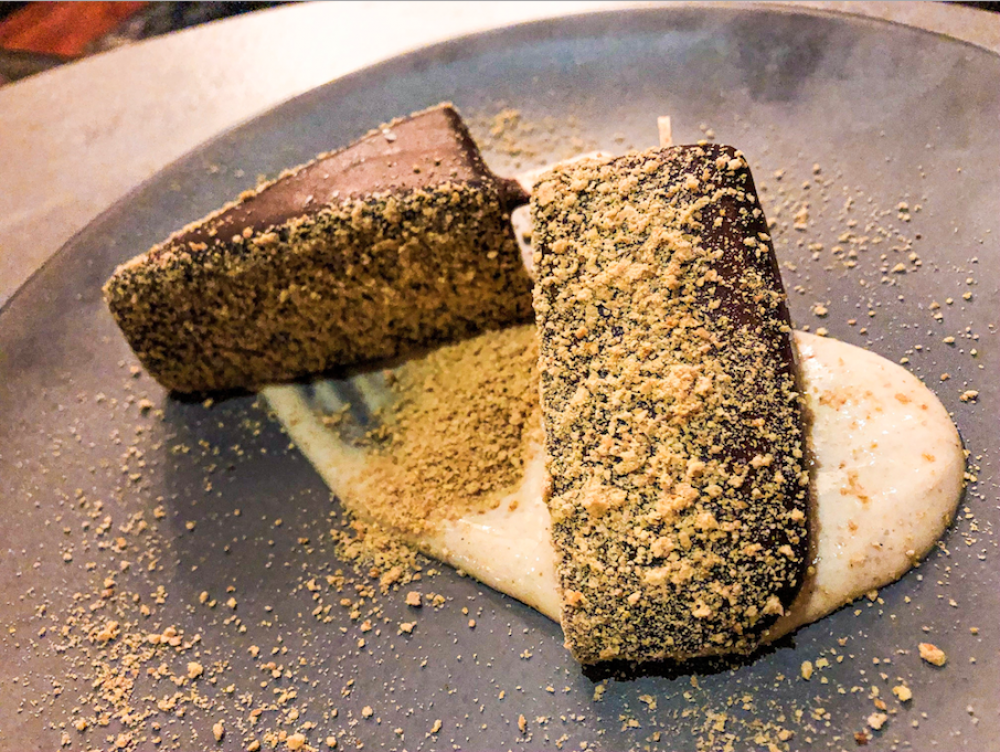 Bar 
A thoughtful list of craft cocktails (spirited and non-spirited), wines and beers are available for imbibing and perfectly pair with all of your global dishes! 
Gadabout (5212 N Clark) is open for dinner Monday through Thursday 5pm-11pm, Friday and Saturday 5pm-12am and Sunday 5pm-10pm. Call 773.944.0429 to make your reservations!