---
It's now more important than ever to be eating healthy and taking care of our bodies. While the majority of us are still omnivores, there has been a tremendous surge in plant-based eating in recent years. Whether it be for health or environmental reasons, there's no denying that incorporating even just a hint of a vegan diet into our lives can have a positive impact on the long-term health of our bodies and the world around us. Fulton Market's, un•cooked, is a new plant-based restaurant and the creative brainchild of Carole Jones, co-founder of Chicago Raw. Together with her son and daughter-in-law, the veteran restauranteur revealed her new zero-waste concept on July 6th, celebrating "the beauty and variety found in whole plant-based foods, to advocate for the welfare of animals, to restore our planet, and to foster joy." 
un•cooked has an impressive eye for making raw vegan food look more appealing than ever and their Plates are no exception. Using vivid ingredients like beets, peppers, tomatoes and broccoli in many of their dishes, the options are not only delicious but Insta-worthy too. We chowed down on the Cacio e Pepe bowl heaping with kelp noodles, mushrooms, parsley and broccoli, dressed in creamy black truffle alfredo sauce served with a side of parmesan cheese. This bowl is an umami-punch and we loved it! Other worldly plates include the Sushi, sundried tomato paste with watermelon radish, cilantro, thai basil, red pepper, and pickled Fresno chilies rolled in a nori wrap served with a side of wasabi, pickled ginger and sweet and sour dipping sauce; and the Ravioli, watermelon radish filled with house-made mozzarella cheese, served with a tomato side salad and kale macadamia pesto.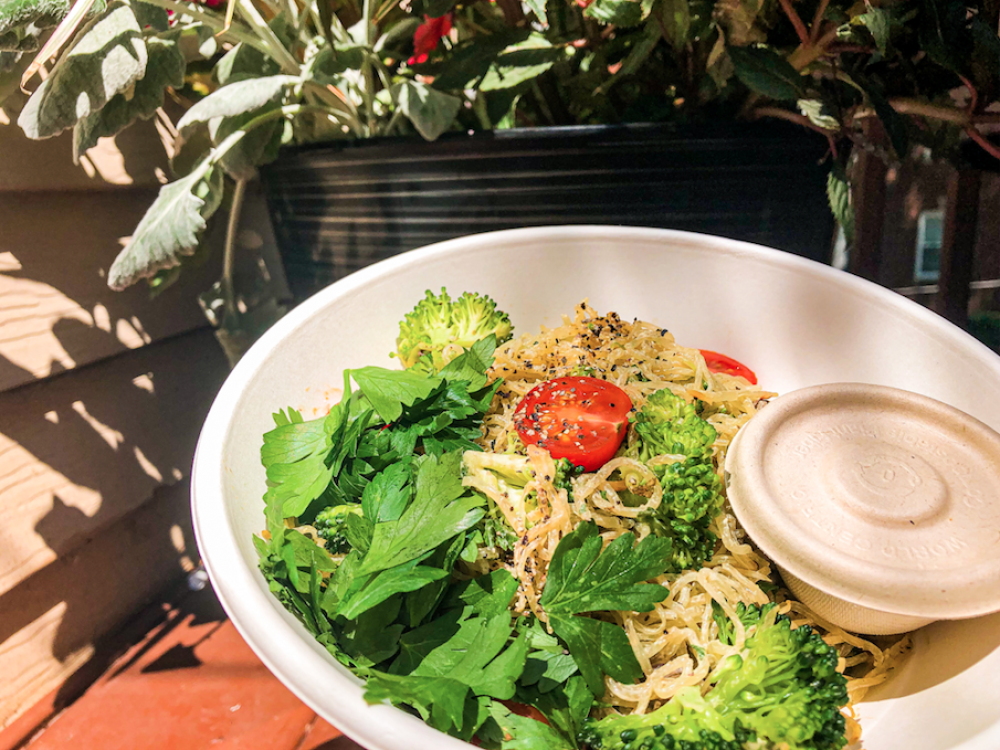 Two wonderful salads grace the menu but one of them in particular takes the cake: The Goddess. A mound of kale shares space with macadamia nuts, watermelon radish, cucumbers, broccoli, scallions, raspberries all of which is perfectly complement by a creamy goddess dressing. In the end you can't go wrong with the other salad, The Arugula, tossed with shallots, walnuts, candied beets with dollops of house-made mozzarella cheese and paired with creamy balsamic dressing.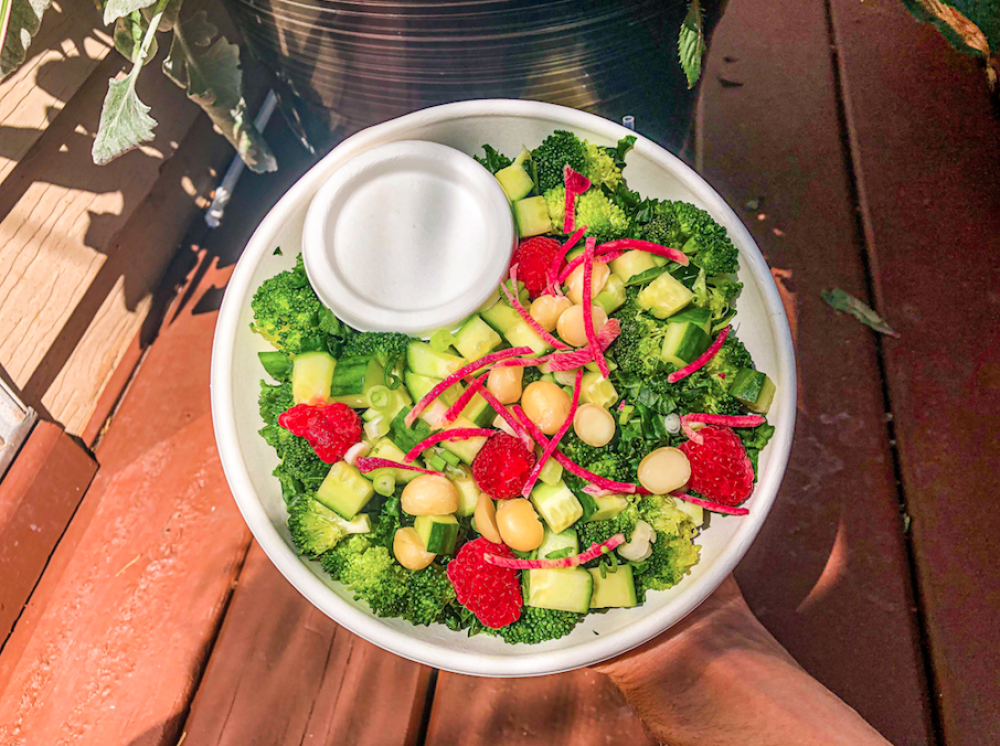 Cool off and benefit your body with any of un•cooked's delightful smoothies. We tried the That Glow smoothie that keeps your summer complexion bright thanks to the fresh mango, banana and monk fruit, turmeric and almond milk. Further boost your natural beauty with the That Beauty Booster smoothie packed with collagen-boosting ingredients like Irish moss, raspberries, bananas, MCT-oil, almond milk, and monk fruit. Go green with either the That Fuel (avocado, cauliflower, kale, protein powder, monk fruit, almond milk) or That Cleanse (Mango, cucumber, kale, granny smith apple, almond milk smoothies) each loaded with beneficial goodies for any ailment. The blend we all need right now is in That All-Mighty, filled with antioxidants and stress-relieving elements from acai, blueberry, banana, ashwagandha, almond milk and monk fruit. 
We couldn't get enough of the refreshing Acai Smoothie Bowl. A cooling blend of acai, blueberries, protein powder and banana beautifully adorned with fresh, seasonal fruit and un•cooked's chocolate "granola". This vibrant and healthy bowl left us begging for more after every bite! Next time, we will have to try the Dragon fruit smoothie bowl comprised of an eclectic mixture of dragon fruit, raspberries, protein powder and bananas. This piece of art is colorfully decorated with the concept's vanilla "granola" and more seasonal fruits. These bowls are perfect on these hot, Chicago summer days for either breakfast, a healthy snack or a guilt-free dessert! Or you can add some yummy cakes or unbaked goods to round out your healthy order.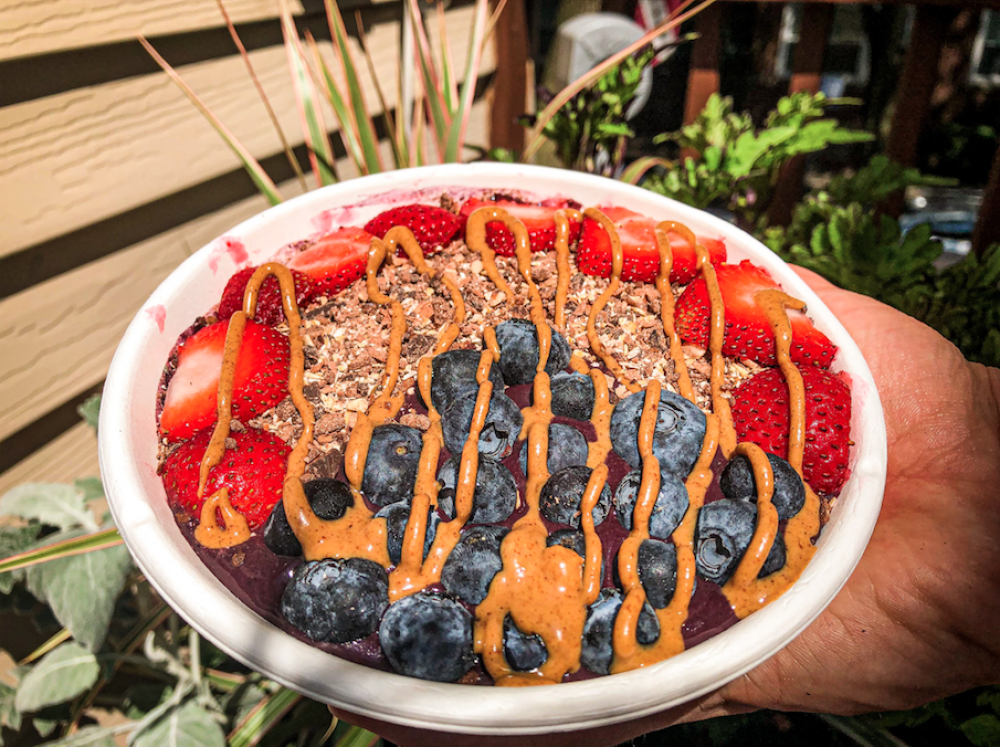 Power up with one of un•cooked's beverages from their coffee bar including soul-satisfying lattes and teas. Or sweeten the day with a bottle of natural juices like The Moon Mylk - slow juiced and cold-pressed oat milk infused with ashwagandha, tart cherry juice, and protein powder to reduce stress levels and balance hormone levels; or the black as night Charcoal Lemonade - slow juiced and cold-pressed activated charcoal lemonade infused with psyllium husk, that will clear your body of toxins. Whatever ails you, un•cooked has a juice to cure it!  
un•cooked is located at 210 N Carpenter St and is open Monday through Friday from 7am to 8pm as well as Saturday from 9am to 8pm. They are closed on Sundays.