---
The Chow Brothers invite you to rethink what you know about traditional Polish cuisine: pierogis…kielbasa…pickles. Using old school techniques, the typical Polish dishes are elevated and transformed into "flavor bombs" that are sure to please.
Typically stuffed with potato, sauerkraut, ground meat, cheese or fruits, The Chow Brothers offer a modern take using their grandmother's traditional Pierogi dumpling recipe. With the incorporation of other cultural flavors resulting in a new and unique product. Currently, there are six dumpling options on the menu. Guests can order a 3, 6 or 12 pack bowl to mix-and-match to their heart's content.
Meat-filled options include:
Chicken Pot Pie-smoked gouda and white cheddar fondue with peas and carrots
Wine-Braised Beef-slow cooked chuck with thinly sliced carrots and shallots
Bourbon Maple Pork-tangy and rich pulled pork shoulder with real maple syrup
Even vegans and vegetarians can find comfort in The Chow Brothers pierogis with completely plant-based and dairy-free options like:
Purple Potato and Goat Cheese (our fave!)-purple potato with creamy, tangy goat cheese and rosemary
Sweet Potato Thai Curry-cilantro, basil, ginger, garlic simmered in coconut milk
Mushroom, Quinoa and Sage-with roasted butternut squash, onion duxelle
For those with a sweet tooth the Blueberry Cheesecake Pierogi; a homemade cheesecake stuffed in a dumpling with vanilla and graham, is a warm flavor burst in the mouth.
All of their Pierogi dough is 100% vegan and gluten-free making them lighter but equally as delicious, giving guests more filling than dough. So guests can eat healthier and lighter while still satisfying their cravings.
Homemade dips can accompany the dumplings ranging from sweet to sour to spicy. The Boho Fire Sauce made from Fresno chilis gives a little spicy kick but is friendly to those that can't handle spice. Their Lemon-Dill Sour Cream is a fresh favorite that goes perfectly with every pierogi.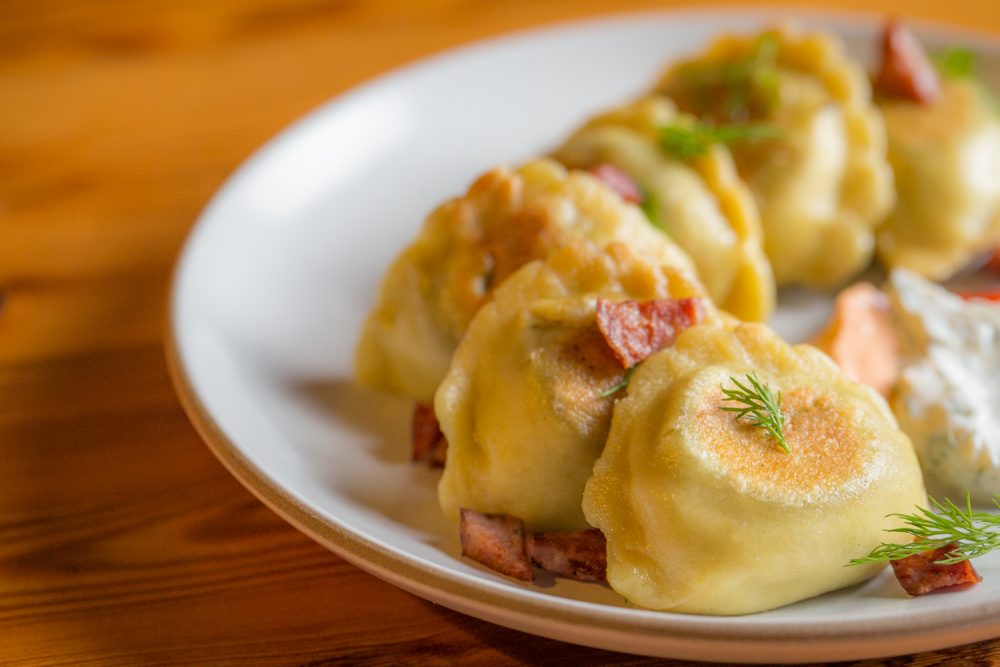 The Chow Brothers also boast the very first all-natural Kielbasa, made right here in Chicago. Their recipe remains true to the traditional flavors while also reducing the fat and nixing the preservatives. The Kielbasa is uncured with a natural casing and sourced from small Midwest farmers.
Their Famer's Stash vinegar pickles are addictively good and soon, if we are lucky, they will be sold at local small grocers across the Chicago area. Along with The Chow Brothers sauerkraut, fermented pickles and "chow chow" (shredded and pickled fennel, cabbage and red pepper) are readily available at the Well Street Market location.
Need to feed the masses? Corporate and private event catering is also available. More information can be found here.
The Chow Bros. is located inside the new Wells Street Market with lunch and after-work hours from 11am-7pm.