---
There was definitely more than one occasion during the shutdown, where I wanted to go out for Italian food. I know I'm not alone when I say that the boxed pasta you stocked up on at Jewel because it was 10 for $10, just didn't cut it all the time. However, going out for Italian food often requires getting a little more dressed up (as in not rocking the pandemic t-shirt and sweats) and after months of not eating out, remembering your best table manners. Though we are free to comfortably do this again, it would still be ideal if there were a quick and convenient Italian place to pick up some carb-loaded favorites and enjoy on the couch while watching the Cubs lose...again. Enter: Sfera Sicilian Street Food. Cooking out of a ghost kitchen in Avondale, this two-member operation offers takeout-worthy, Italian fare that checks almost every box while guiding customers on a flavorful food tour through the streets of Sicily. 
Arancini 
You can't go wrong with a fried, cheesy rice ball! No choice is the wrong one with Sfera's specialty arancini. The quintessential Sicilian street fare comes with three options for delicious contents: Classico - saffron risotto filled with house made beef ragu, peas and mozzarella; Porcini – vegetarian risotto married with imported porcini, local mushroom ragu and fontina cheese; or our favorite, the Wild Garlic – vegetarian risotto combined with young garlic, ricotta and mozzarella cheese. Both the Classico and Wild Garlic come with house marinara to dip in but the Porcini levels it up with a truffle aioli dipper.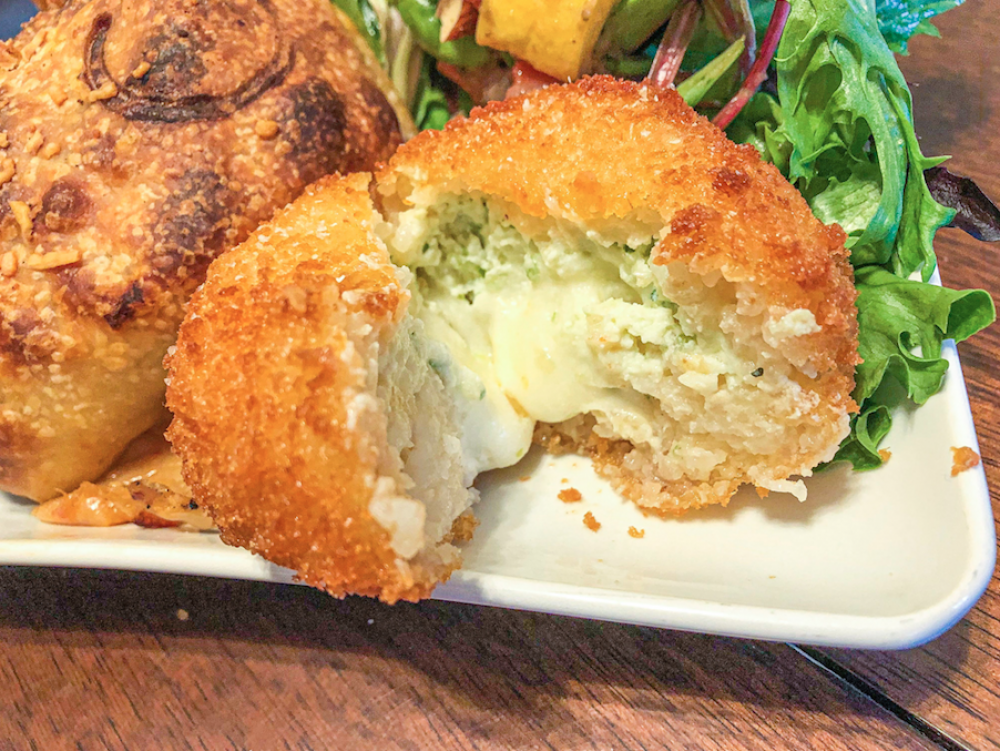 Scaccia 
Pronounced 'SKA-CHA', these calzone-meets-stromboli-ish hand pies are stuffed and baked to perfection. Bite into the crispy exterior of Sfera's signature folded semolina "pizzas", filled with a lasagna-esque center of your choice. Choose from the Ragusana, consisting of house made marinara, mozzarella, parmesan and wild garlic ricotta with fresh basil; the Fungi, an umami explosion of garlic-sauteed mushroom, Sfera's porcini mushroom ragu, parmesan sauce and ricotta cheese; the veggie-forward Alla Norma, featuring marinara, grill roasted zucchini, peppers, summer squash and tomatoes with garlic ricotta and mozz cheese; or get it Chicago Style like we did, complete with Sfera marinara, Italian sausage, green pepp, mushrooms and melty mozzarella cheese! It may not be the most photogenic piece of food but your tastebuds will be delighted!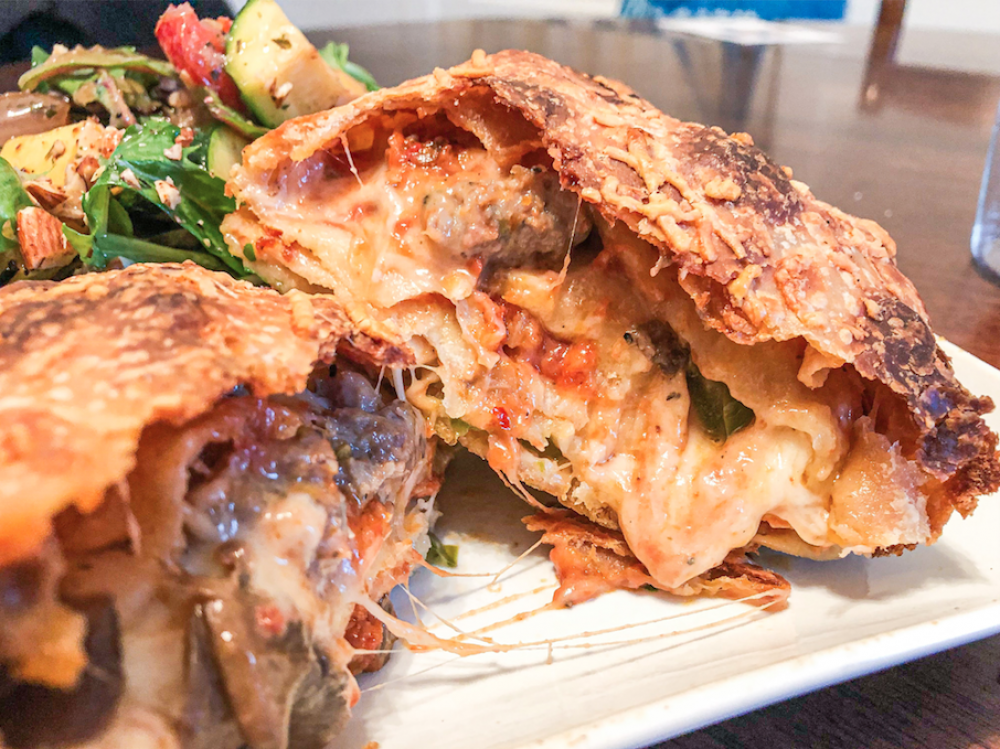 Salads, Sides & Snacks 
Lighten things up with Sfera's fresh salads or carry on with the traditional fare by savoring the Polpetti, three, angus beef meatballs bundled with Italian seasonings, basil and mozz. Two simple but tasty salads grace the menu, including the Insalata Alla Norma (see the scaccia veggie blend above) and the Arugula Side Salad, minimally dressed with shaved parmesan and balsamic vinaigrette.  
Dolce 
It's not a complete Italian dinner without some cannoli to finish off the meal. Though they weren't the best cannoli we have ever had, both options certainly did not lack in beautiful presentation. Pick from two of the Door County Cherry and Chocolate or Pistachio or better yet, do one of each! The Pistachio slightly edged out the Door County Cherry in flavor, loaded up with whipped Wisconsin ricotta and toasted pistachio. Each end of the shell is dipped in Belgium chocolate and rolled in crushed pistachios.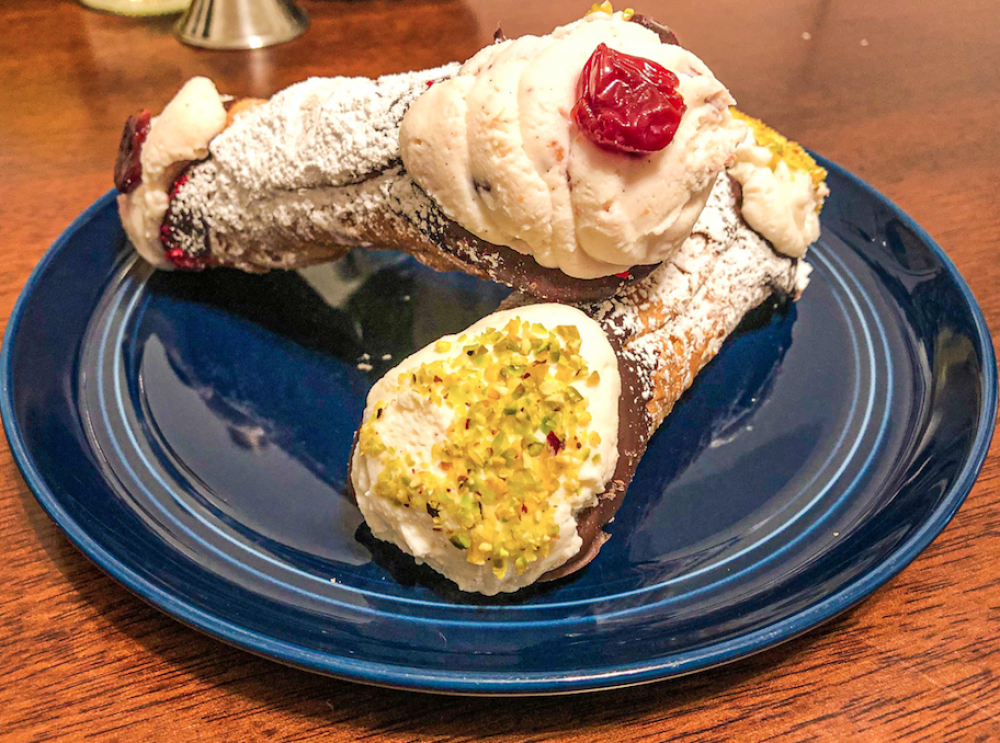 Cocktail Bases 
Sfera mixes up some outstanding, Sicilian-inspired cocktail bases. They are both bright and refreshing, perfect for these upcoming summertime Chi days! Simply combine with a splash of your preferred spirit or keep it non-alcoholic with sparkling water. Each base makes about 2-3 cocktails. Signature bases include the Saffron Sour with fresh-pressed lemon and saffron coming together for a Sicilian-style sour; and a seasonal base which is currently a Pomegranate Mint Refresher, vibrant and mouth-puckering, this mix goes well with a quality rum to make a mojito!   
Sfera is available for delivery via DoorDash though pick up is preferred at their ghost kitchen located at 3517 N Spaulding in Avondale. They take orders Wednesday through Saturday 4-9pm and Sunday 4-8pm. Ordering for two? Take advantage of the DEALS with Sfera's Sicilian Night for Two which includes your choice of a salad, a pair of arancini, one scaccia, cannoli and cocktail base for only $45!
Don't miss Sfera at area farmer's markets this summer where they'll be serving up Sicilian street food in Wicker Park, Logan Square, Andersonville and the South Loop. Check out their website for more information on dates and locations of each market.