---
Sister concept and immediate next-door neighbor to Lakeview brewery, DryHop, Roebuck is slinging Neapolitan pizzas from a small, concise menu. Now open a little over a month, the pizza hype has spread quickly. Even on a Monday night, every table is occupied in the dimly-lit, artistic space. Guests can be mesmerized watching their cocktails being made at the bar or drool while gazing into the open kitchen, waiting for their pizza to be done to perfection. 
Roebuck's menu is divided into two sections: starters and pizza. Fresh, seasonal vegetables are prominent in both areas of the inventive menu with three different salads and wood-fired carrots as the first few starters. More Italian-inspired appetizers like the meatballs, stracciatella and baked goat cheese can be enjoyed too.  
Wood-fired pizzas are the stars of the show with nine very distinct options. There are your typical pies like the Margherita ($14), Marinara ($12), Curds of Prey ($16 for a five-cheese pizza) or Red Riding Hog ($15 for a sausage pie).  
From there, the toppings and flavors get more complex with our two favorites, the Standard Bearer ($15), a tomato sauce base topped with soppressata, mozzarella, basil, pickled jalapeño and drizzled with honey; or the Fungus Among Us ($15) sweet with a white wine lemon cream, mushrooms, mozzarella, parsley, crispy garlic and cracked black pepper.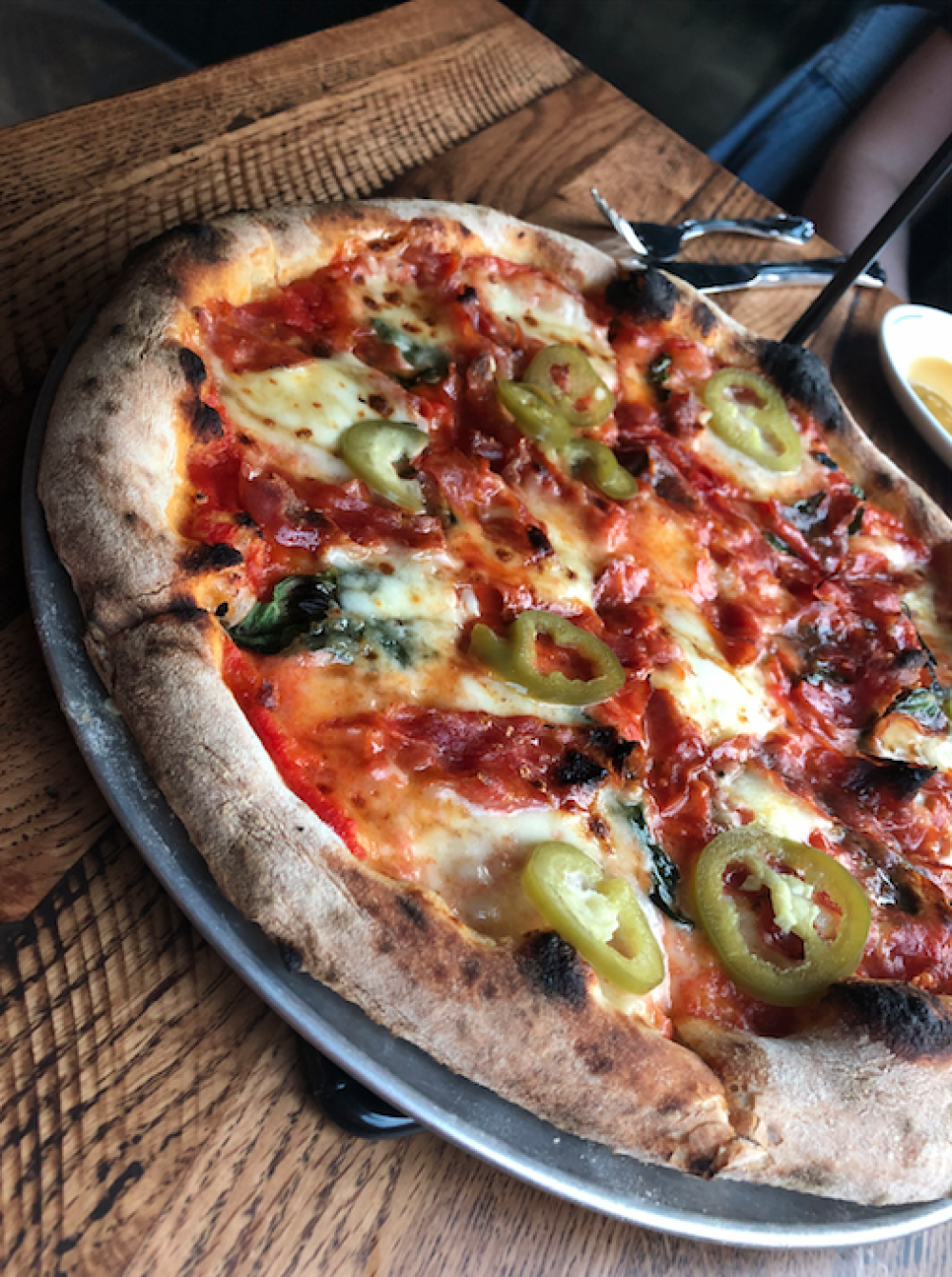 Have two Italian meals all on one pizza in the Bank Raaber ($15), another tomato sauce base loaded with crumbled meatballs, chili oil, mozzarella, charred broccoli rabe, lemon zest and pecorino Romano.  
If you love sun dried tomatoes, you'll love the Sun God ($15) adorned with a cherry bomb jam, Sungold tomato, mozzarella, Wisconsin parmesan, pecorino Romano, garlic, basil and white balsamic drizzle.  
Last but not least, pesto gets its moment on the Little Green Men ($16). This colorful pie features cream, mortadella, pistachio pesto, mozzarella, lemon zest and crushed pistachio.  
Be warned, one pizza is certainly not enough unless you are dining alone. As with Neapolitan pizza tradition, these pies are small and bake quickly so do yourself a favor and order at least two! The options are too delicious not to!  
Don't forget to make room for dessert, specifically for the Chocolate Peanut Butter Cookie. You won't regret it!  
Roebuck is located at 3159 N Broadway and is open Monday through Thursday 5pm-11pm, Friday 12pm-11pm, Saturday 12pm-12am and Sunday 12pm-9pm.