---
Sometimes it takes a full eleven months before I come across the best meal I've had all year. In 2022, it took exactly 11 months and 3 days until I crossed the threshold of Evanston's The Graduate Hotel and entered into their very masculine, old-school Midwestern-themed dining room. Appropriately named The Graduate Homestead Room, the warm and welcoming restaurant is led by recently appointed Executive Chef, Edgar Coronado, who has revamped the concise dinner menu. The results? From start to finish, unequivocally the best all-around meal I've eaten this year.  
Appetizers 
Ordering the Crab Cake will come as a bit of a surprise since the sea-centric appetizer does not present as a traditional 'cake' at all. More akin to a tasty mound of delicately shredded sweet crab, the crustacean's meat is warmed by a silky mustard sauce and served with a potato crisp for some added crunch.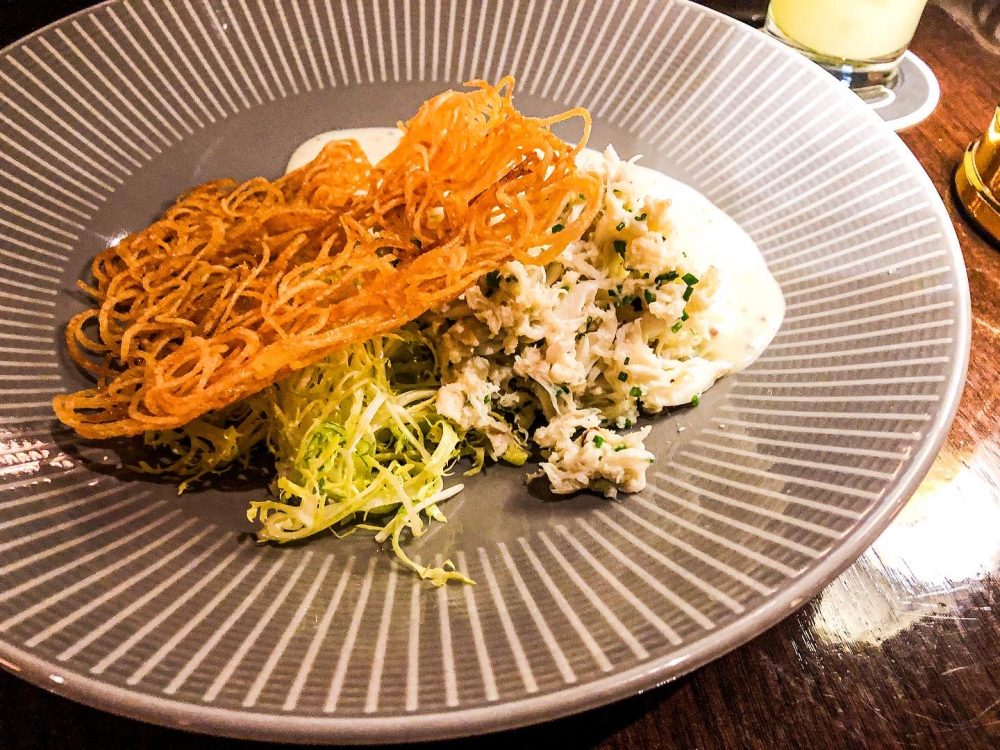 Normally something I wouldn't order, the kitchen generously brought out the Beef Tartare and I'm thankful they did. Cubes of 28-day, dry aged beef tartare are tossed with a creamy black garlic sauce and garnished with crispy sunchokes and herbs. Out of the five appetizers to choose from, this is the one to order.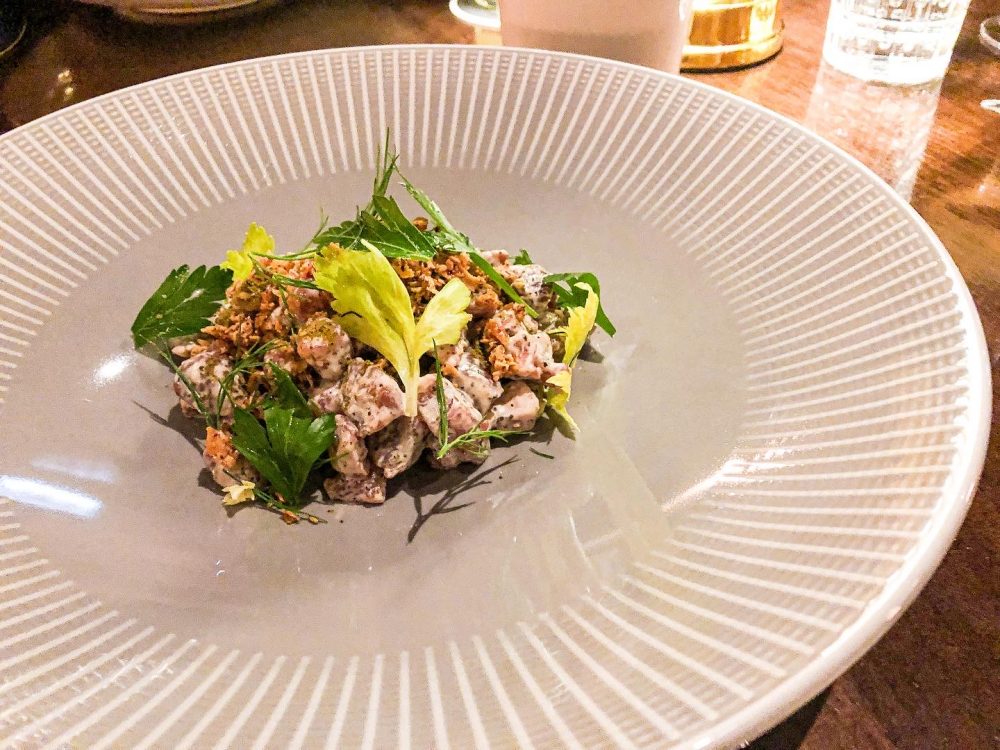 Entrees 
We balanced our entrees between meat and veggie-focused plates with the Roasted Maitake Mushrooms and the namesake Homestead Burger: 
Two large maitake mushrooms float on a pond of za'atar-seasoned lentils and wintery root vegetables surrounded by a bank of Calabrian chili aioli. The whole platter is then dressed table side with a balsamic reduction, contributing a bit of sweetness to an otherwise perfectly salty pick.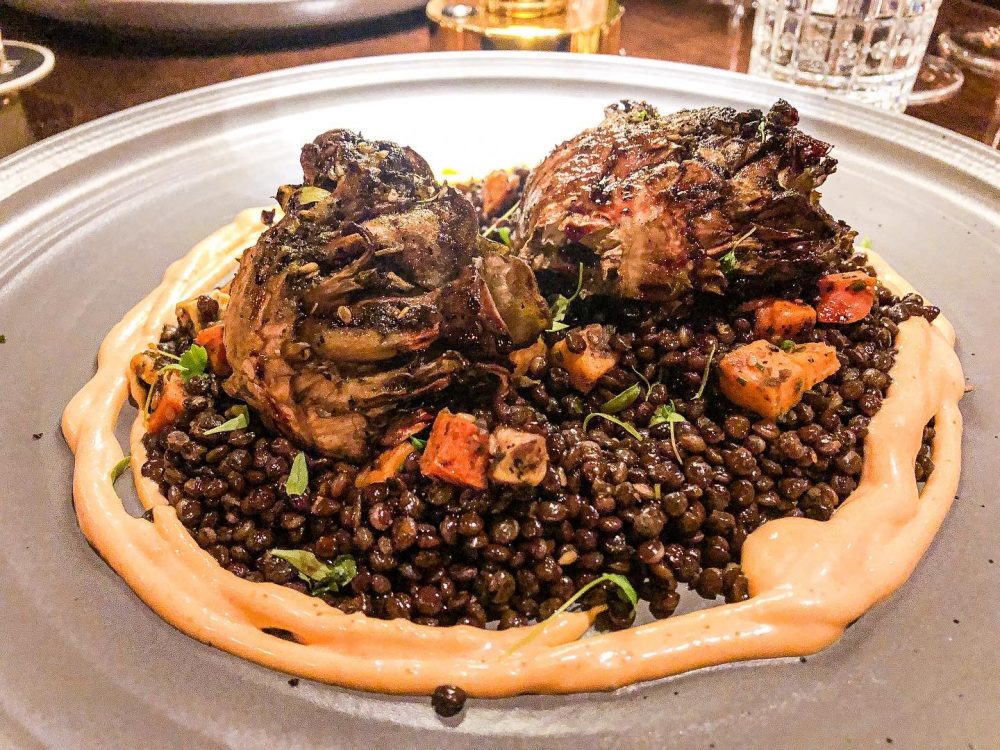 Many restaurants have excelled at recreating the Big Mac, making it gourmet and adding their own twist to raise the bar. The Homestead Room has attempted to do just that and may be the new best burger in the Chicago area. Sink your teeth into this messy handheld that's slathered with roasted tomato aioli, rich with truffle cheese and mouth-puckering, juicy pickles. The Big Mac familiarity is certainly there but Homestead Room's elevated version is one we're still craving weeks later.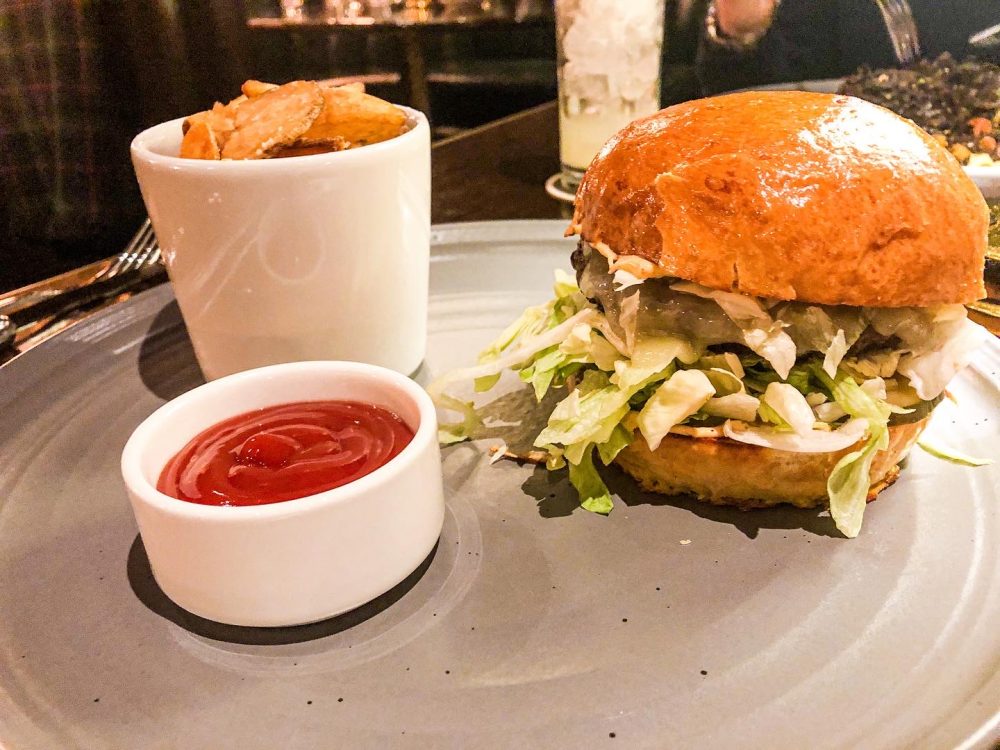 Desserts 
One of the perks of being a food writer is sometimes getting to try a little bit of everything. We were fortunate during our visit to be presented with ALL THREE seasonal desserts, which worked out because I don't think we could have chosen just one. Although we only had room enough for one, as usual we found space to finish most of them.  
For chocolate-lovers that want to end their evening with richness, the Chocolate and Berries has your name on it. The smallest portion of the three desserts, this simple chocolate mousse melts in the mouth and completes a food coma-inducing feast at the Homestead Room.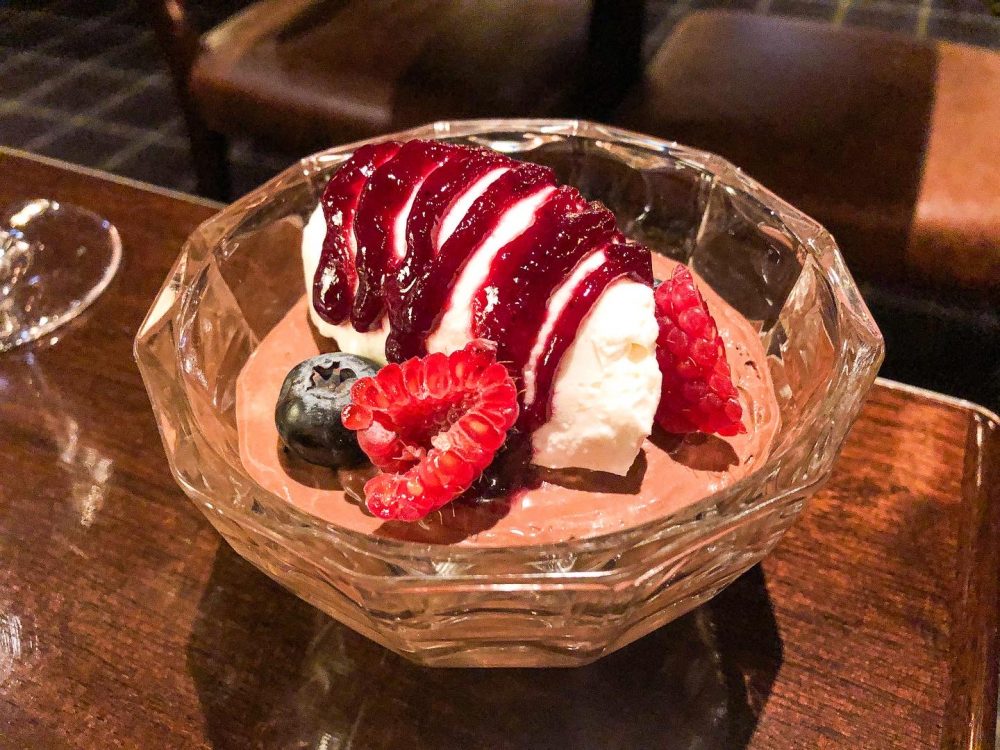 We couldn't get enough of the Roasted Apple Puff, a tart but sweet ode to indulgent Fall flavors. A green, Hassel backed apple rests atop the most perfect and buttery shortbread cookie surrounded by a moat of salted caramel, begging to be cleared from the plate.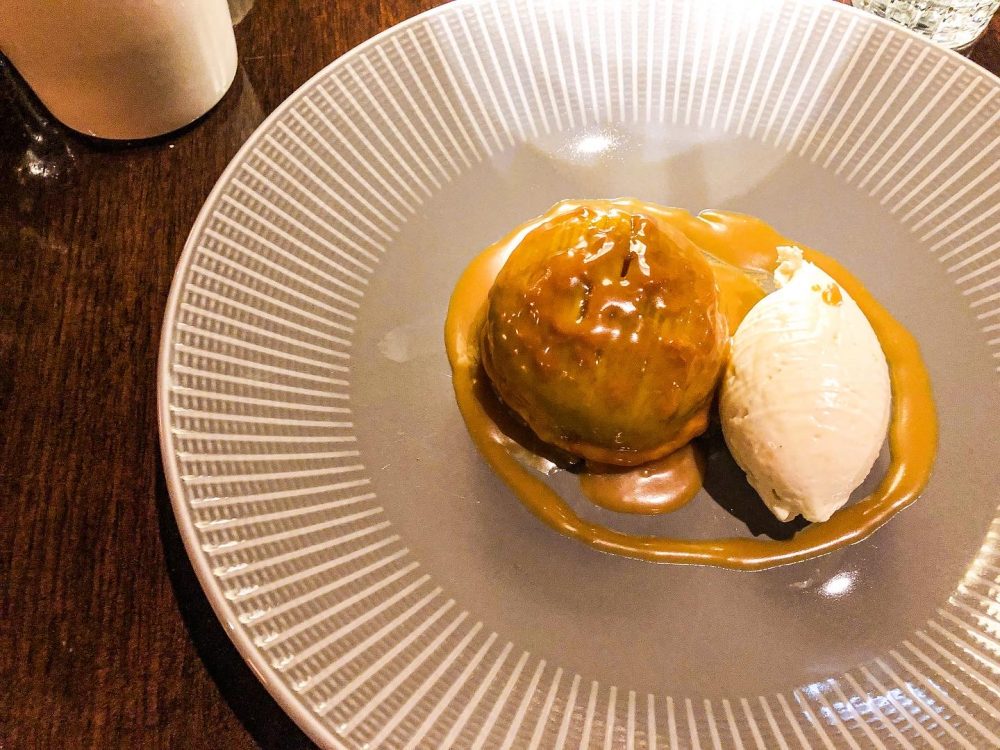 Guests can hang on to the season's signature flavor with the Pumpkin Glazed Donut. Stuffed with brandy macerated fruit, this breakfast for dessert item is blanketed with warm, melted white chocolate and keeps you coming back for more.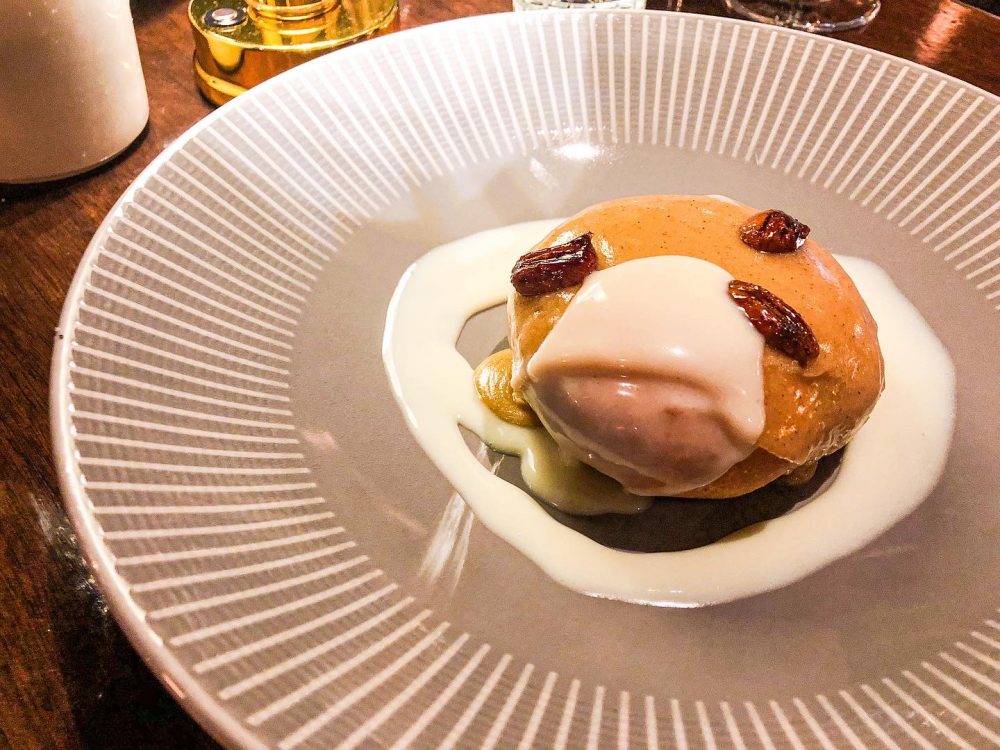 Tableside Martinis 
Channel your inner James Bond by requesting the Vesper Martini, served tableside. Between the expert mixologist behind the bar and the well-trained wait staff, your gin and vodka martini will arrive on a vintage cart ready to be finished off with oils from an "expressed" lemon peel, done using the flame of a taper candle. The famous cocktail is memorable by itself, but the tableside experience takes it to a whole other level that even 007 would approve of.  
Cocktails 
The rest of the cocktail menu is inspired by Chicago's own director, John Hughes. Imbibe in cheekily named libations like Save Ferris, concocted with Ojo Le Tigre Mezcal, Green Chartreuse, Falernum, Pineapple, Coconut Cloud and Nutmeg; or Don't You Forget About Me, a sipper made with Wheatly Vodka, St Germain, Honeydew, Red Apple and Shiso. A selection of beer and wine by the glass or bottle is also available.  
Location and Hours 
The Graduate Homestead Room is nestled inside Evanston's, The Graduate Hotel, located on a quite section of Hinman Avenue. Hotel guests and locals can enjoy breakfast from 7am to 10am or dinner from 5pm to 10pm, every day of the week. Sit back and enjoy an expertly crafted cocktail at the bar across the hall, starting at 4pm daily.