---
We all know someone that loves tacos and religiously eats them on every Taco Tuesday. Perhaps you and your friends make it a thing every week to try a different taco place in the city in an attempt to find the best al pastor. If any of this pertains to you, then the South Loop's, Lobo Rey, should be next on your list.  
Lobo Rey's space features two big bars and three dining areas to dine in. However, if you are planning the next group outing or even a private event, we highly recommend reserving Lobo Rey's flat top grill experience. A personal chef creates an intimate meal right in front of your eyes while you and your friends or coworkers sip on one of the many cocktails the canteen has to offer. Your personal chef will whip up grilled appetizers, a variety of house specials including tacos and footlong quesadillas from the menu then round out the night with a chef's choice dessert. A few of our favorites from the flat top experience and available on the regular menu are: 
Tostadas de Tinga ($9)-shredded chicken thighs braised in chipotle atop the cutest little tostadas you will ever see. A dollop of crema and minced cilantro are adorned on top, ready to be popped into your mouth and eaten in one bite!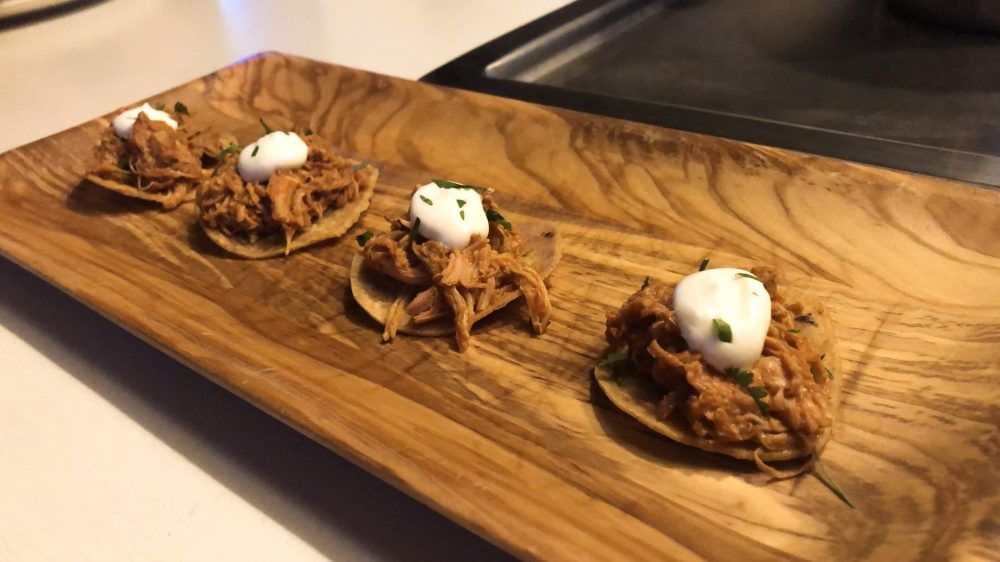 Caesar Salad ($9)-with a Mexican twist! Your chef is likely to grill up some VERY NECESSARY tequila citrus shrimp to add to the romaine hearts and croutons that are dressed in a not-too-spicy jalapeño and cilantro vinaigrette and scattered with queso cotija.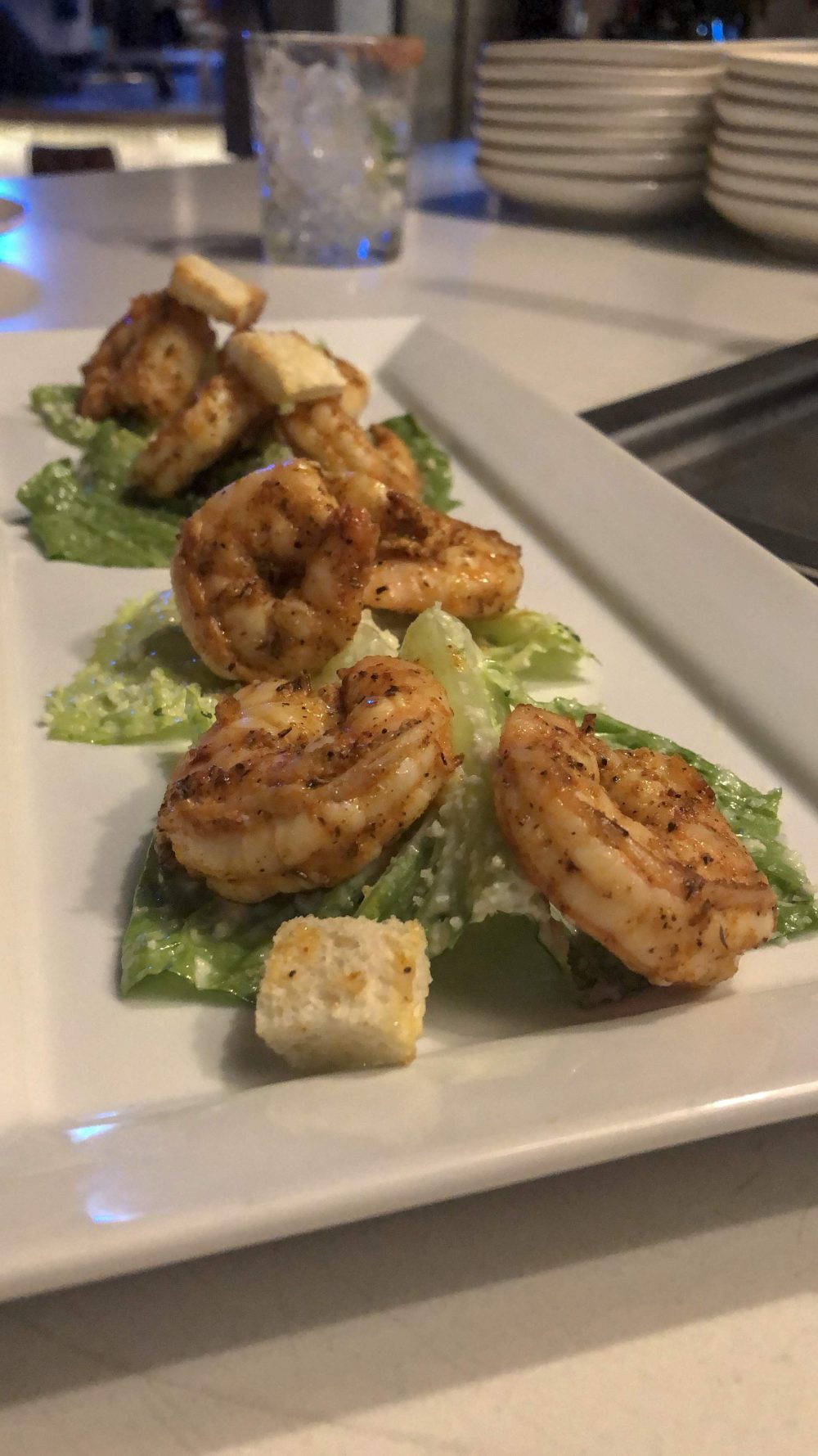 Tacos de Alambre ($14)- a house and crowd favorite with grilled skirt steak, bacon, caramelized onions and peppers and chihuahua cheese. What makes these tacos truly special is the blackberry morita jam spooned on top that is one of the chef's secret family recipe.  
Tacos al Pastor ($13)- grilled pork shoulder, pineapple, cilantro & onion. Simple but absolutely delicious. 
Footlong Quesadillas- with chicken, jalapeño and 3-cheese blend served with Laredo salsa and lime crema ($15) OR grilled skirt steak, pickled red onion and 3-cheese blend served with Laredo salsa and crema ($16). A classic 3-cheese 'dilla is also available for $12.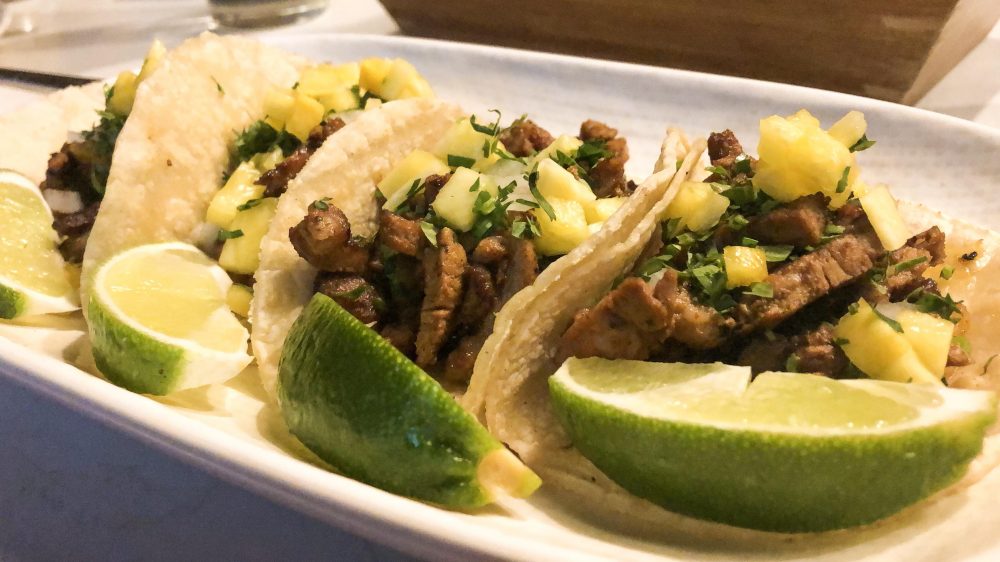 Carne Asada Dinner ($19)-ancho-coffee glazed grilled skirt steak served with Mexican rice, broccolini and banana pepper. Paired perfectly with the Tio Tito's Mule with Tito's Vodka, Gosling's Ginger Beer and lime! 
Make your flat top or regular dining experience better with one (or more) of Lobo Rey's craft cocktails. Our pick is the Paloma del Rey ($12) with Banhez Mezcal, Combier Pamplemousse Rose and rimmed with a chile mango coating. Non-liquor options include wines and Mexican beers. Drink deals include the T & T-Tecate and a Tequila Shot for and the Lobo Loco Corona-Corona and a Bacardi Limon Shooter, each for $9.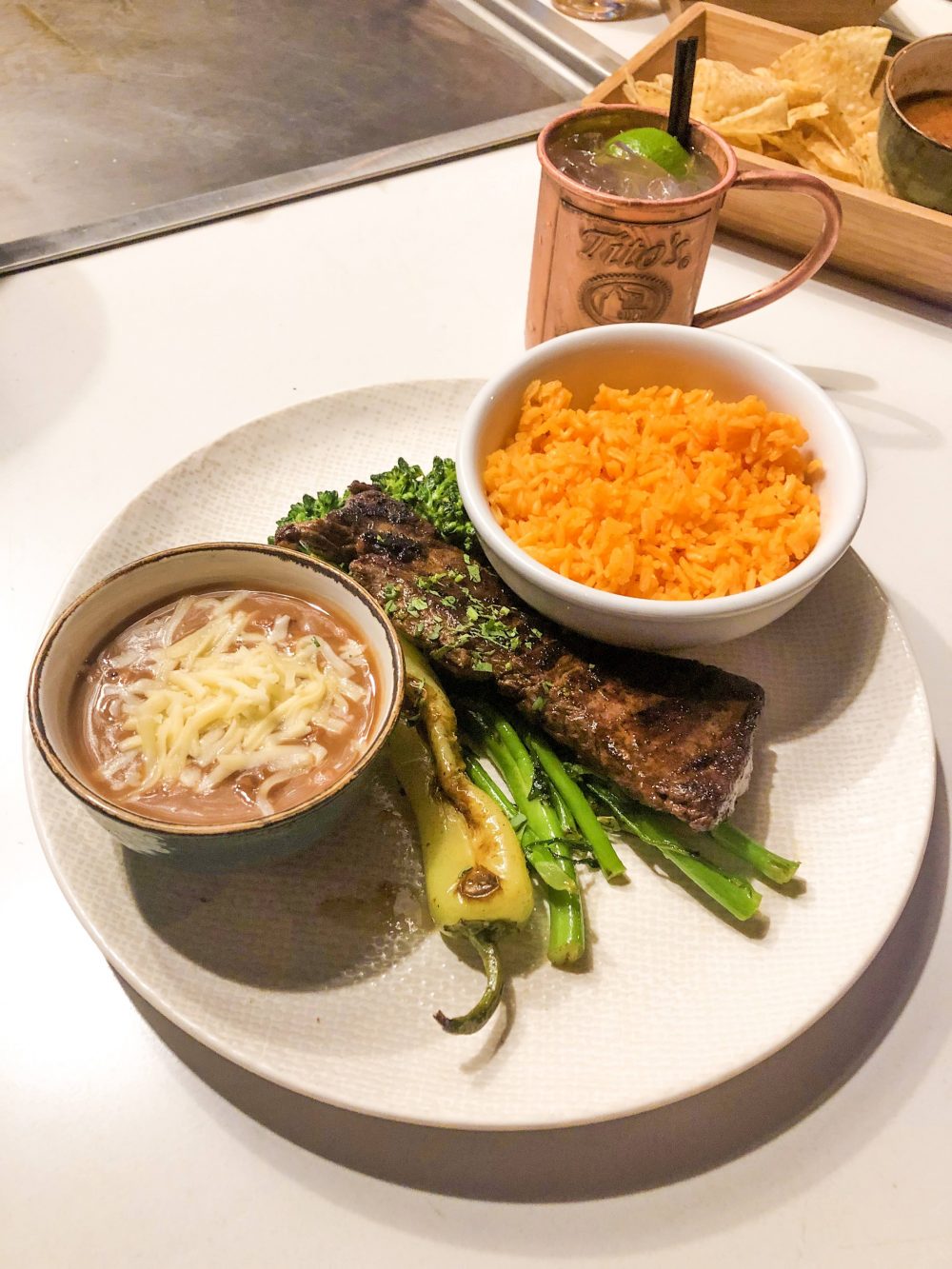 Want to cater these delicious tacos and quesadillas for your business or event? Lobo Rey can do that! Visit their website or give them a call at 312-624-9090 for more information.  
Lobo Rey is located at 1307 S Wabash Avenue in the South Loop and is open Monday through Friday from 2PM to 12AM and on the weekends from 10AM to 12AM.