---
Joining the food hall trend in Chicago is Marriott Marquis' Showroom Food Hall. Inspired by Chicago's automobile era and located on Motor Row in the South Loop, the Showroom offers locals and hotel guests plenty of unique and healthy options at anytime of the day. Executive Chef Mark Quitney is at the healm of the two-month-old food hall and guarantees a little something to satisfy everyone's taste buds.
Start your morning with Illy coffee or espresso at Revolution Coffee and Sweets. Perfect for those on-the-go with quick and nutritious breakfast bites including quiche-made fresh daily, homemade poptarts and other breakfast pastries. Revolution opens early serving breakfast until 11am. After that, satisfy your sweet tooth with any one of a number of Rev's treats. Full slices of pie as well as personal pies in a jar are the specialty there but guests can indulge in cookies, cupcakes (currently Bears themed) or puddings. Get your dessert early as Revolution closes at 8pm.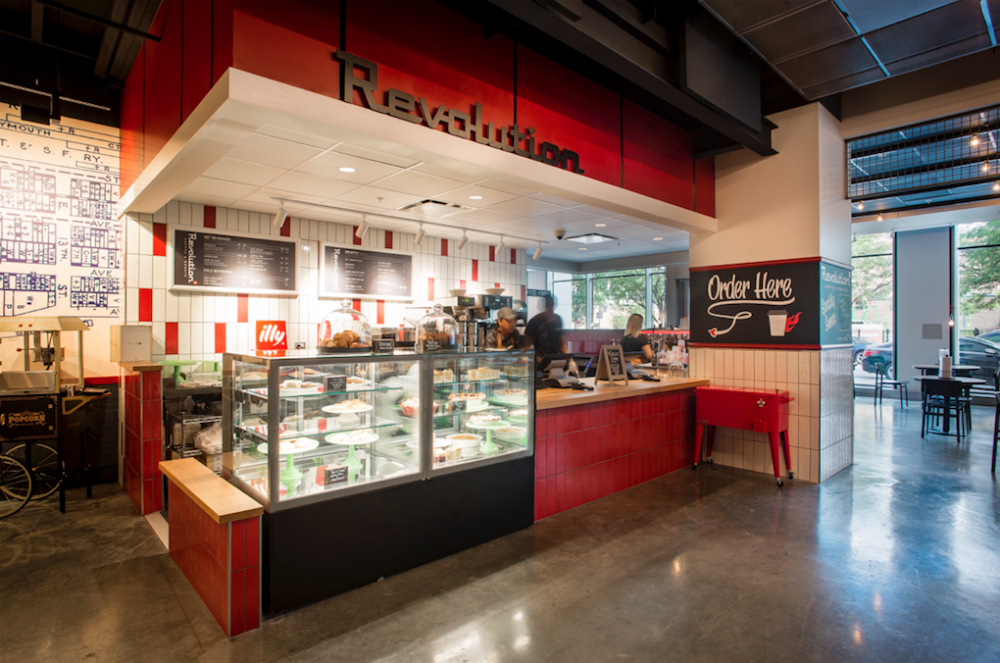 Everyone loves food trucks so the Showroom brought one INDOORS. Stop by Argosy, the vintage Airstream Trailer, for a fun soup, sandwich and salad menu. 'Tis the season for chicken noodle soup and it happens to be one of the trailer's best sellers. The shredded, white meat chicken is perfectly seasoned with salt and pepper and soaks in a hot bath of comforting broth accompanied by spiral noodles, carrots, celery and onions. Now that the chilly weather has finally hit the city, it will be the perfect bowl to warm you up.
The sandwich list is the longest at Argosy and provides lots of tasty options. The Holy Bologna features their house made Smoked Truffle Bologna with American cheese, their special sauce, shredded lettuce and red onion on a brioche roll. Other fun options include the Awkward Family Memories with turduckin pastrami, fennel kraut, gruyère and special sauce on seeded rye bread. Locals will love the This Little Piggy Went to Pilsen with al pastor spiced pork, pineapple hot sauce, red onion, cilantro and achiote aioli on a torta roll.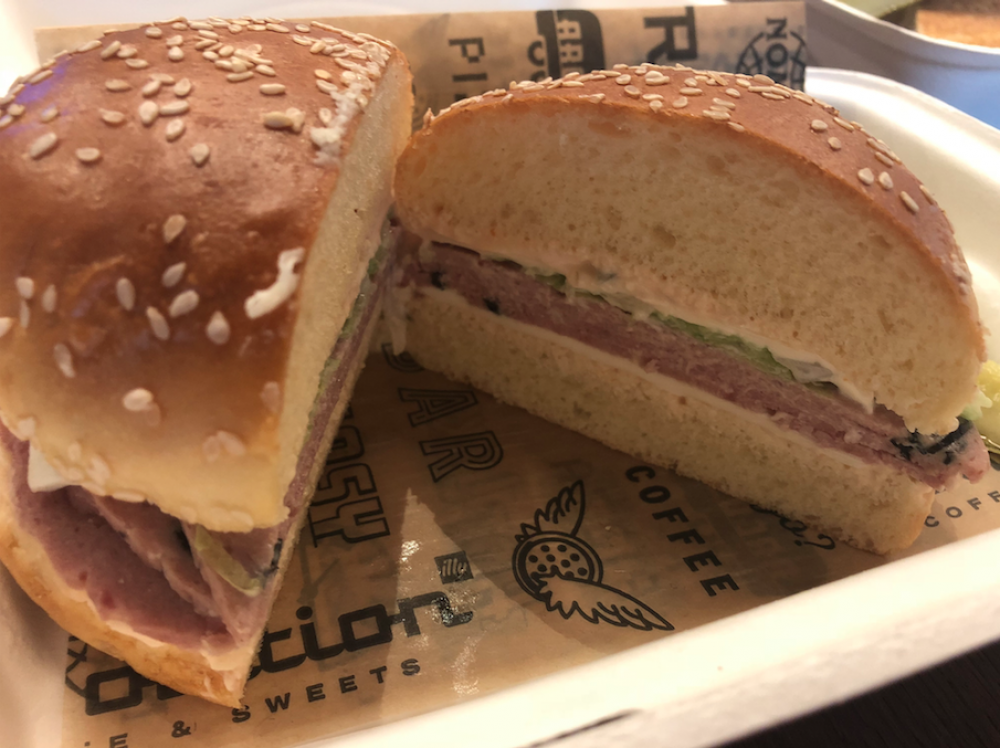 Winged Warrior to the right of the entrance from Marriott's lobby entices people in with their hearth oven, constantly baking Neapolitan-style pizzas and wings. The counter only uses fresh and seasonal ingredients to create their pizza, which include basics like pepperoni or cheese, specialties and a rotating Chef's Choice pizza. Their wings are some of the best and most unique in the city. The chicken legs and thighs are battered and baked in the hearth then immediately drizzled with a thick, sweet and spicy glaze that is unlike any sauce we've had before. This stop in the food hall is the perfect place to load up on a meal for Bears game days.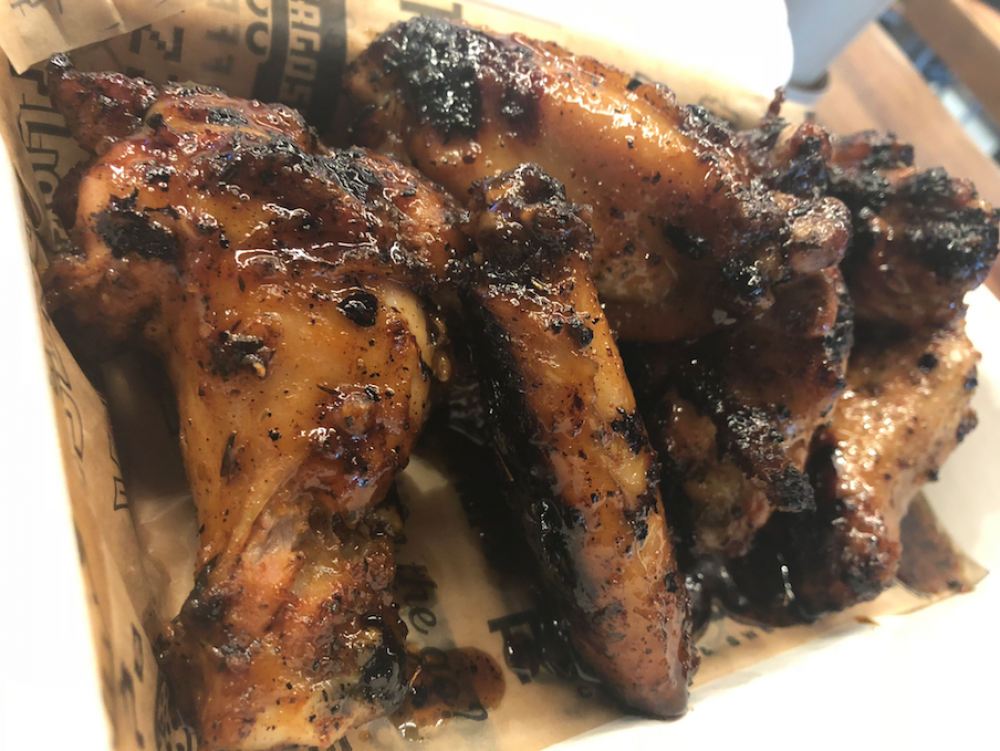 Last but not least, around the corner next to the north entrance of the hotel, is Hot Licks: a create-your-own baked potato counter. With tons of topping options on your choice of a regular potato or sweet potato, you can make the baked potato of your dreams. Hot Licks has house combos to choose from or you can load up with as many toppings as you please to share or hog to yourself.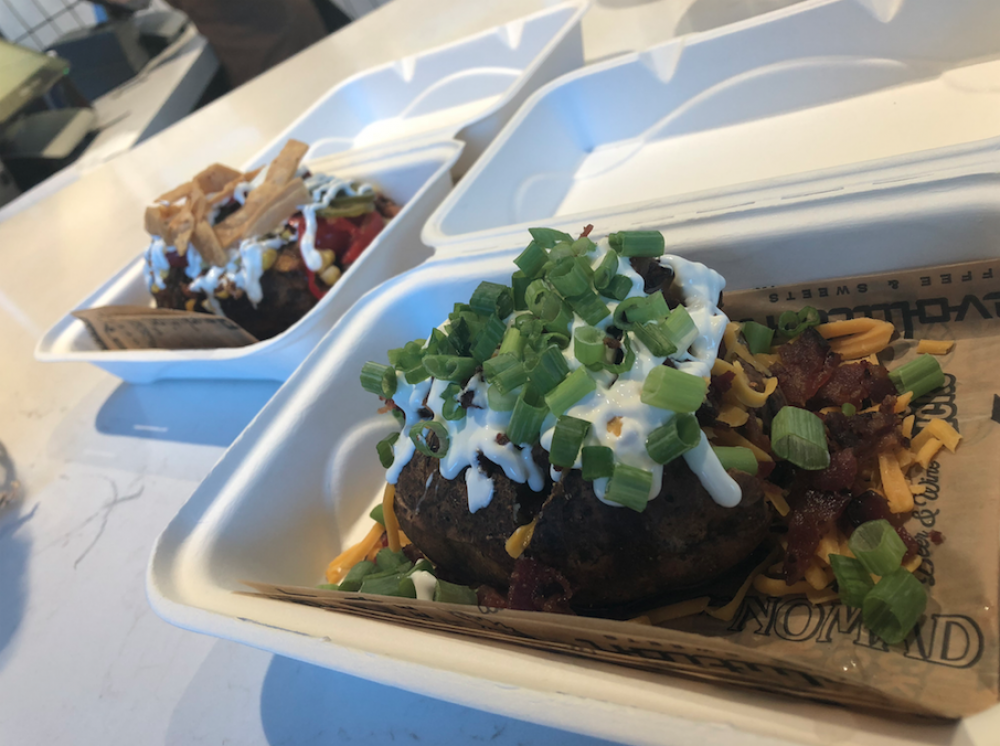 Finish off the workday with drinks at The Nomad, the Showroom's craft bar. With almost a dozen local craft brews to choose from and wine on tap, you and your coworkers can wind down from your day full of meetings.
The Showroom Food Hall (Marriott Marquis) is located at 2121 S Prairie Ave in the South Loop. The hall is open everyday from 11am-10pm with the exception of Revolution Coffee and Sweets opening at 7am and closing at 8pm.