---
What do you get when you put a carousel, craft cocktails and casual dining together? Francois Frankie, of course! Whether you are looking to get out of the office for a satisfying lunch or wanting to unwind after a long day, Francois Frankie has every base covered and you likely won't have to go far to find them! Just a block away from the Washington/Wells 'L' stop and amidst the hustle and bustle of the loop, the American brasserie promises a unique experience for every type of guest with expertly-crafted cocktails and elevated French-American cuisine.  
The beverages are a work of creative genius, much like the one-of-a-kind, working carousel that hosts you as you imbibe. As you slowly rotate around the center of the New Orleans-inspired bar, sip on innovative cocktails like the Rye the Carousel made with Old Overholt Rye, passionfruit, blackberry and Salers Aperitif; or the Sassy Bee, a concoction of Cruz de Fuego Mezcal, spicy honey syrup, pineapple, lime and Aperol; or keep it classic with a passionately-crafted Negroni. Snack on some crunchy little Brussels Sprouts Chips or Crispy Fried Calamari while you enjoy your cocktails for a salty and acidic palate-enhancer.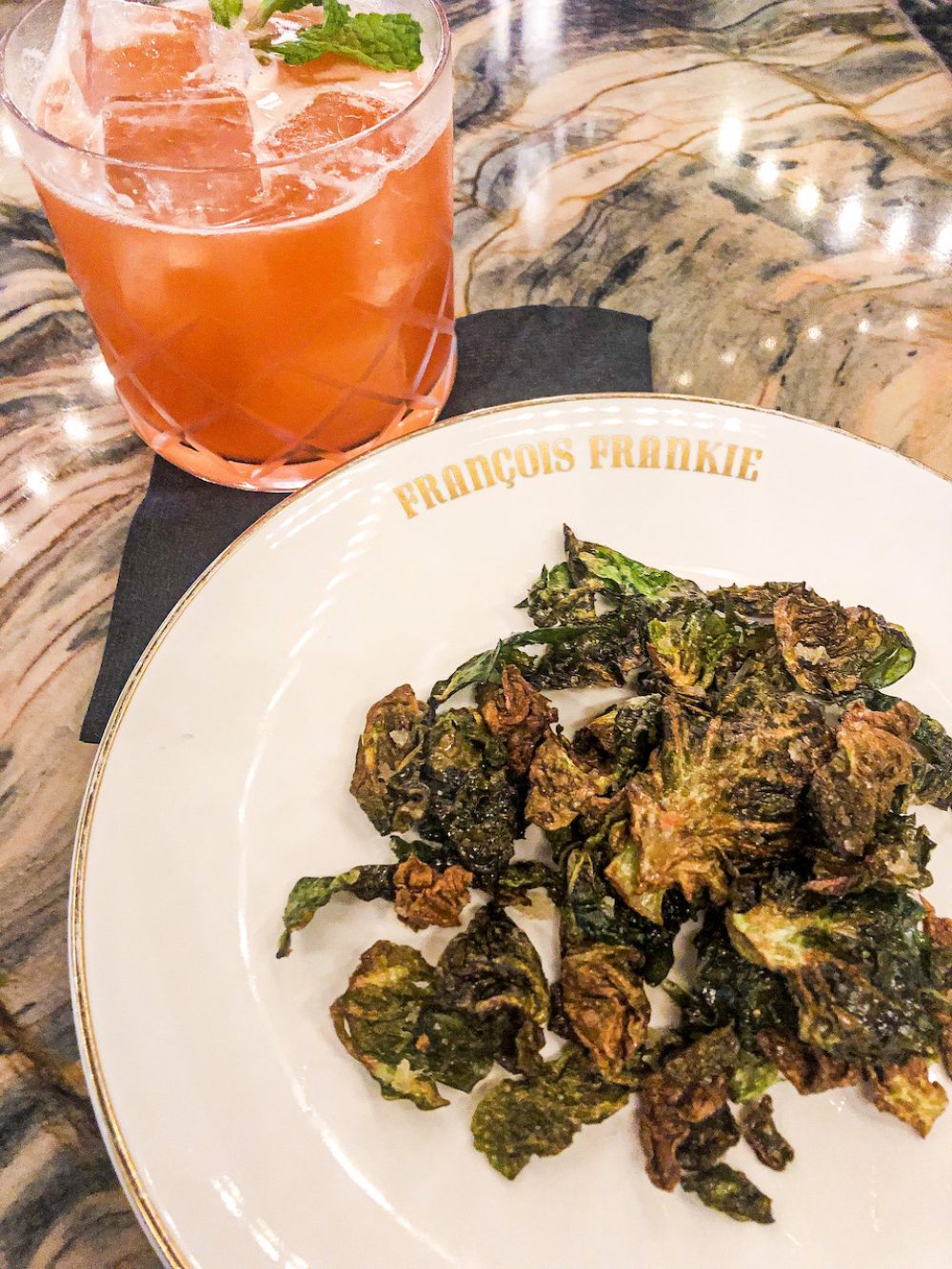 I'm normally not the type of person to eat soup in the summer. I am a firm believer that soup season is the other 8-9 months of the year when temperatures are well below 70 degrees. However, Francois Frankie makes a valiant effort to change my mind. Their French Onion Soup Gratinee is some of the best I've ever had. French Onion is the type of soup that is easy to screw up – too salty, too buttery, onions not cooked enough – but everything about Francois' is just right. Presented in the quintessential white ramekin, the heavenly beef jus is soaked up by ribbons of onion and a sourdough crouton that is just thick enough to soften but strong enough to stay intact. A blanket of cave-aged gruyere acts as the first delicious defense as you literally carve into the soup with your spoon. Nostalgic and comforting, this soup will make you yearn for the approaching cool, Fall days.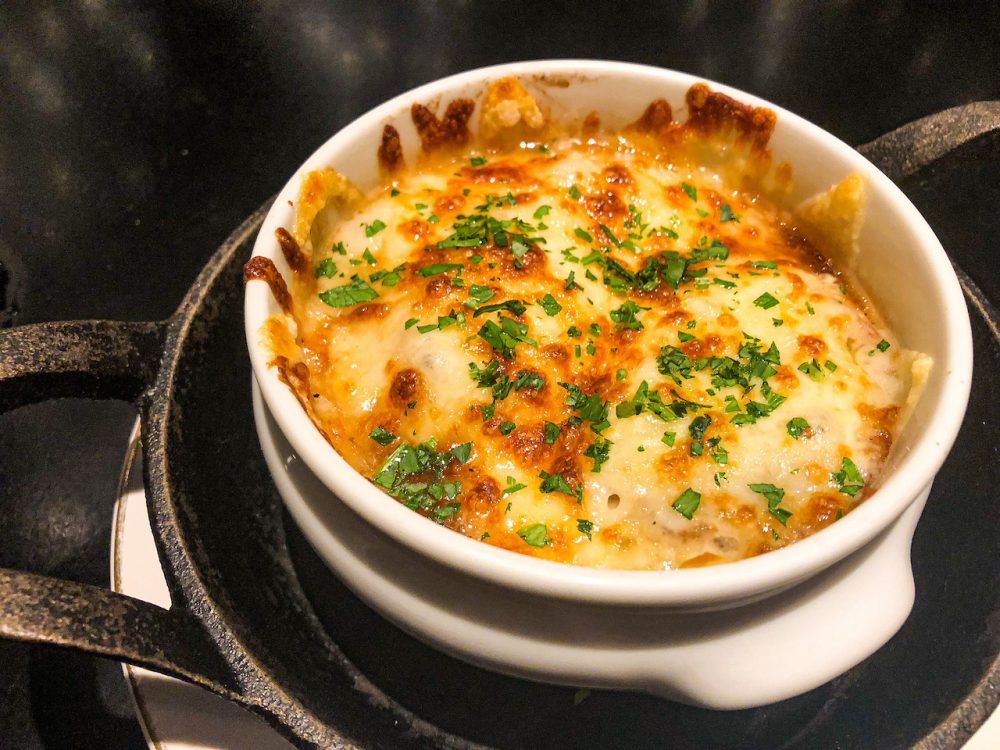 Taking advantage of the late summer harvest, Francois Frankie's Warm Corn Chowder is a stunning use of one of my personal favorites of the season. Using locally-sourced corn, the brilliant team led by Executive Chef Mikey Sheerin, cuts the sweet kernels from the cob and throws them in a pan with onions. A stock is made from the barren cob then added to the sauteed corn and onion. The broth is then boiled, seasoned and pureed with extra virgin olive oil to create a decadent, creamy texture. To add a bit of smoke and crunch, a few extra shavings of tender, fresh corn is lightly charred and added on top of the comforting bowl.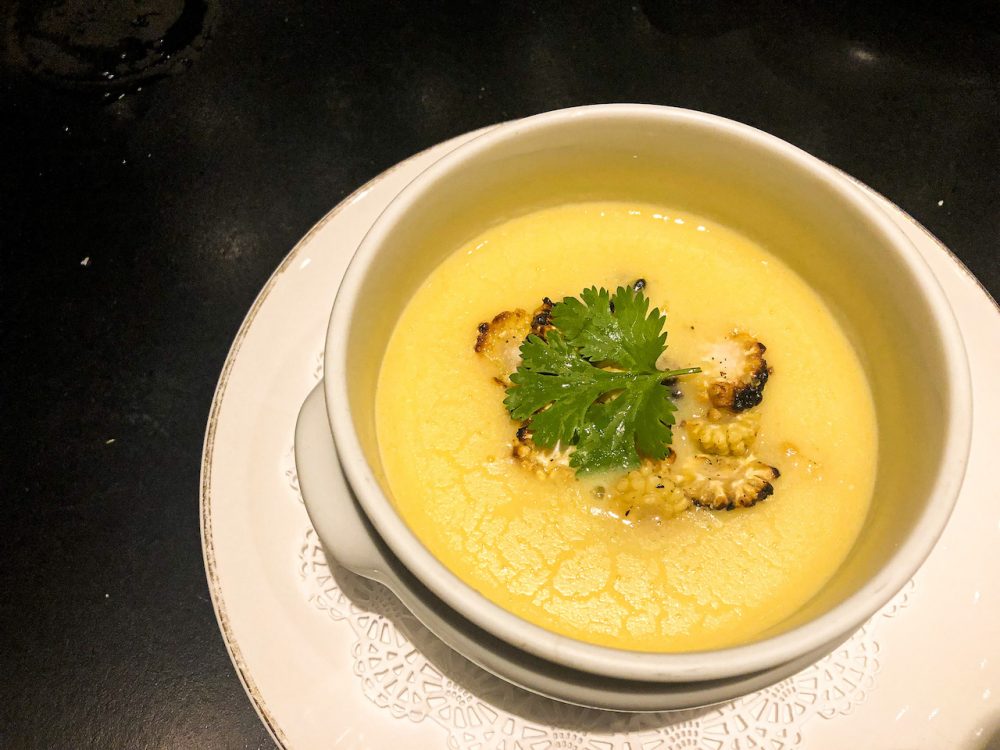 We recommended Francois' Le Cheeseburger Royale for National Burger Day on August 25th but the Steak Sandwich Ala Frankie deserves a mention from the 'Aged Beef' section of their menu as well. Reminiscent of a Chicago favorite, Italian beef, this savory sandwich is beautifully-stuffed with grilled hangar steak (cooked to your preference), caramelized onions and giardiniera on a baguette. The handheld comes nestled in a ramekin of French onion broth for dipping both the sandwich and the accompanying fries.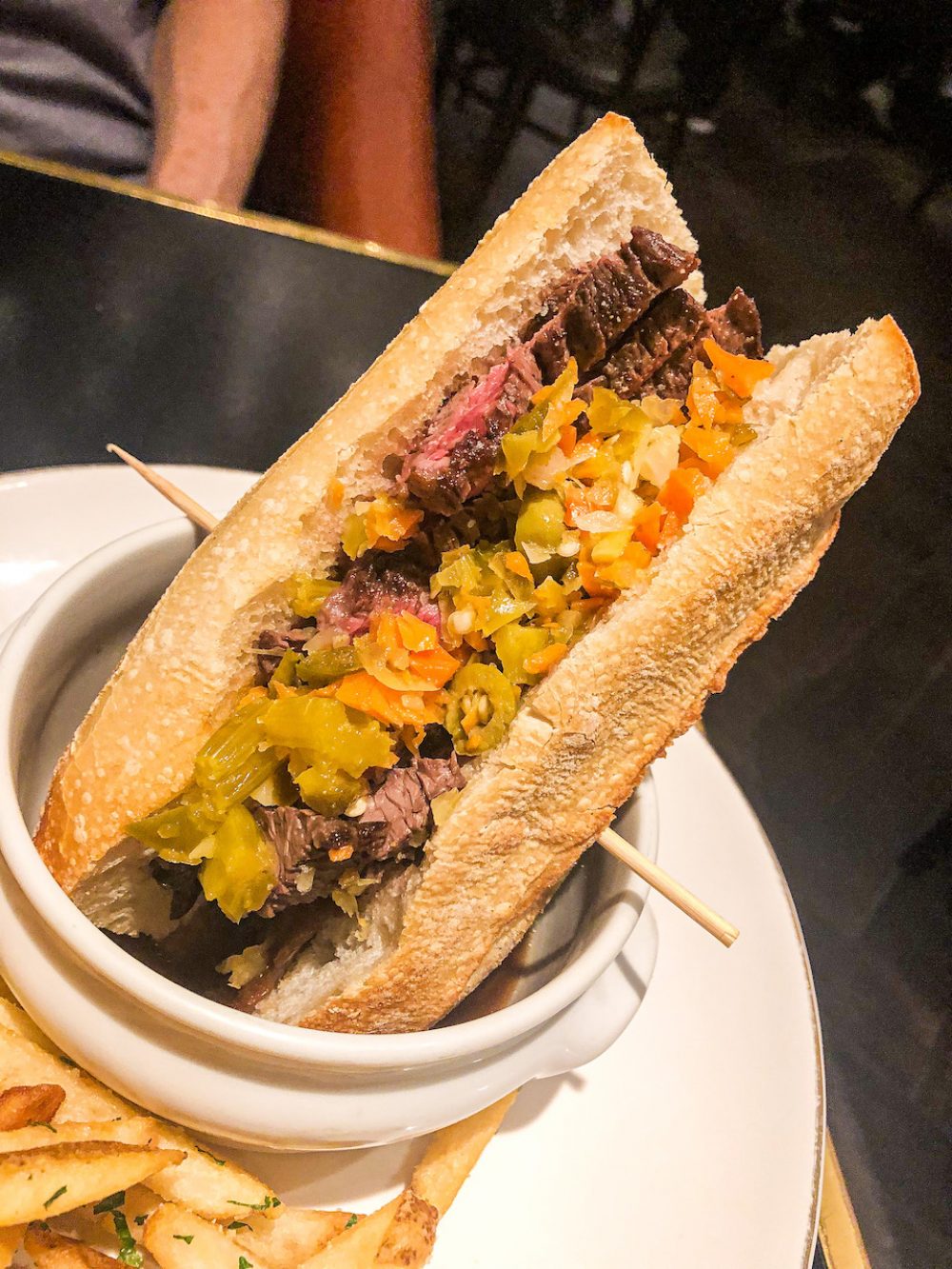 Among the seafood-forward Entrees, the restaurant's Scottish Salmon makes the simplest of dishes just as delicious as the more complex ones. Cooked to perfection and complete with a crispy skin, the sustainably-raised filet is served atop a bed of sauteed spinach and adorned with nothing but olive oil and a few lemon slices.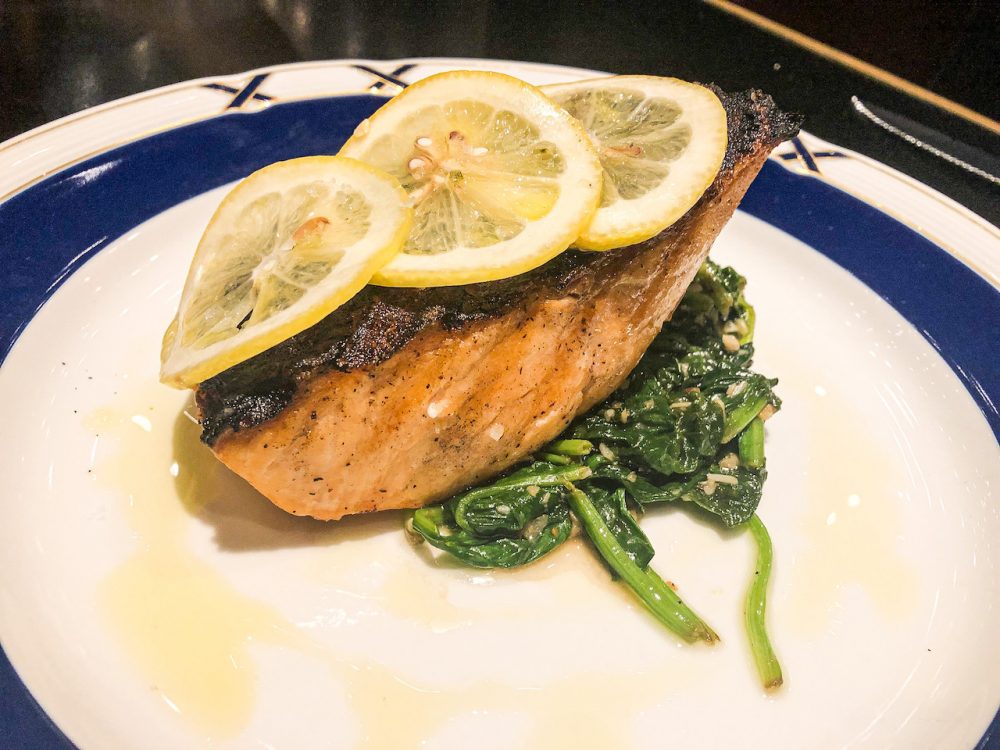 And oh the dreamy desserts! I would go back just to have their Strawberry Ice Cream Cake. Do you remember that Good Humor Strawberry Shortcake Ice Cream Bar that you would get from the ice cream truck or beach-side cart as a kid (or maybe, still, as an adult)? Well, this delectable creation is that...but a million times better. It tastes the way you wanted that ice cream bar to taste. As if coming straight out of an episode of Great British Bake Off, this show-stopping dessert features a moist shortbread cake sandwiching a layer of macerated-strawberry ice cream and topped with crunchy bits of shortbread to add some texture. A few fresh-cut strawberries and thick whipped cream complete the plating on this summertime staple.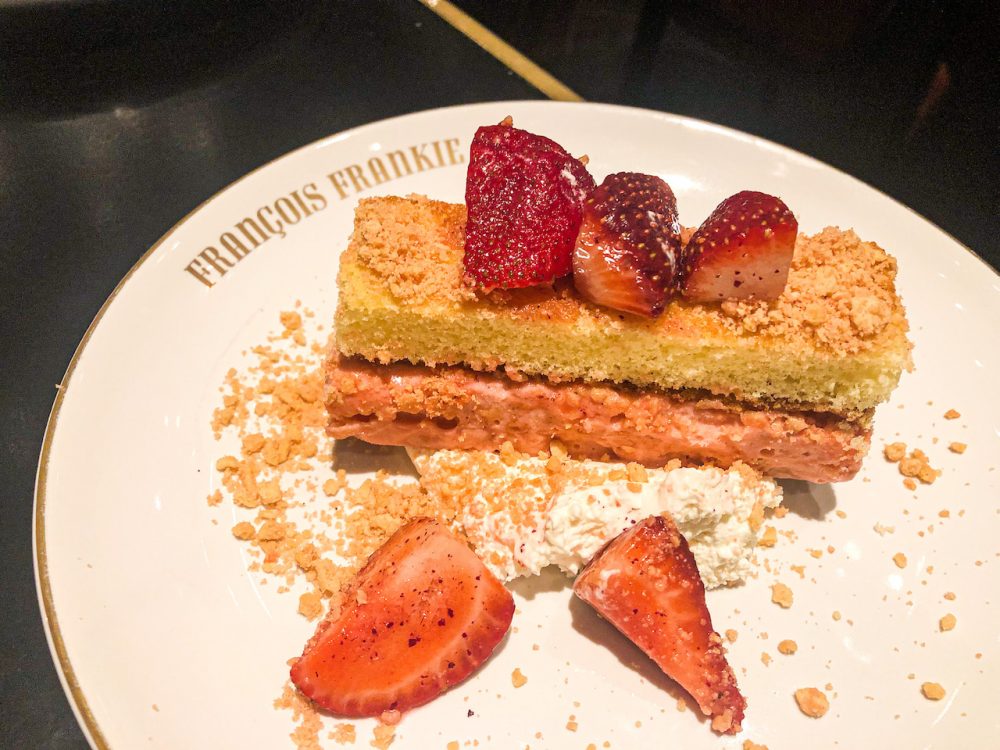 Honorable mentions go out to the Chocolate Mousse Cake, made rich with Nutella and candied cocoa nibs that should be bagged up and sold as a snack; and the Raspberry Roll, Francois Frankie's take on a Danish. Blurring the lines between a breakfast treat and dessert, this pastry gets a drizzle of caramelized honey on top to elevate that sweetness level.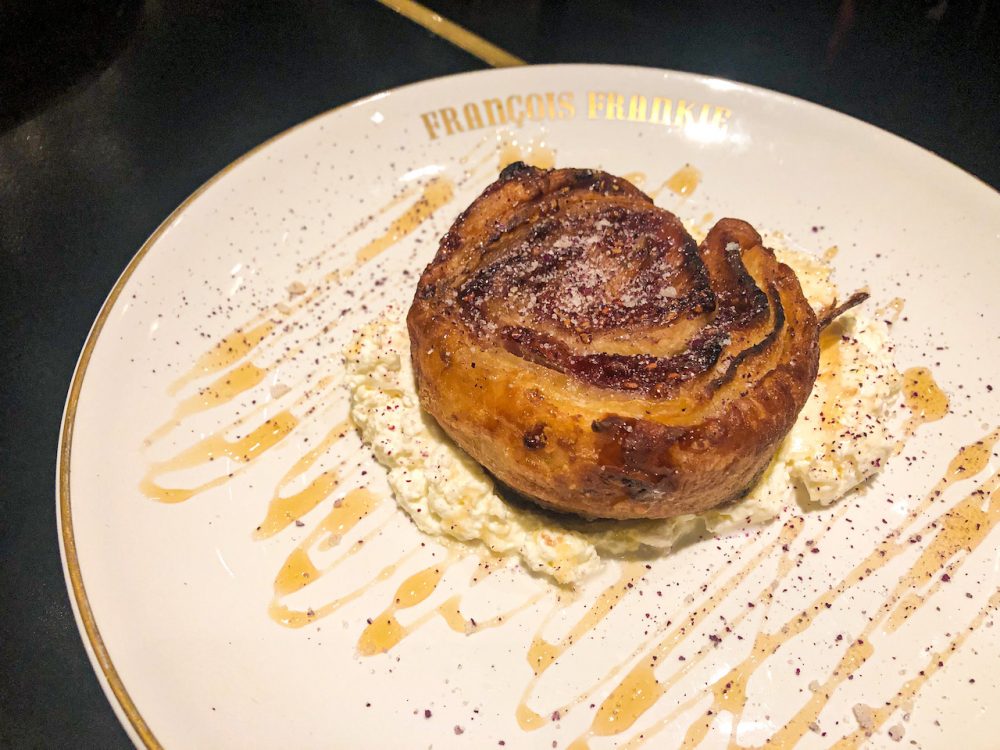 Francois Frankie is open Monday through Friday, beginning at 11am. For a quick but intimate lunch or after-work craft cocktail, look no further than this American brasserie conveniently located at 222 Randolph West Street in The Loop.