---
If you haven't heard of EatWith, we strongly encourage you to check it out. In a world that too often seems far from unified, EatWith provides culinary experiences that bring people together through a common love: food. The "Airbnb for food" connects users to local hosts via authentic immersive food experiences within their home. When people come to Chicago and ask where locals eat, we send them to restaurants. But most locals eat at home, so why not let a local chef invite people into their home to cook for them? EatWith makes these food experiences available to locals and tourists alike and is now the world's largest social dining platform with 25,000 hosts across 110 countries.
Through EatWith, we had the honor of meeting Carla. A Mexico City transplant, Carla has opened her home and her kitchen to complete strangers for three years now. After having her own experience with EatWith while employed at a restaurant in Barcelona, Carla was inspired to bring her culinary expertise to her new home in Chicago. She now hosts nine different dinner or brunch experiences, many of which are centered on her cultural background in Mexico with some also featuring flavors from Catalan. However, Carla doesn't stop at just cooking for her guests, she also hosts cooking classes for those eager to learn how to make paella and fideua as well as cheese, butter and preserves.
Our current favorite dinner of Carla's features flavors from the Yucatan peninsula in Mexico layered with Chicago touches. The evening opens up with a creamy, vanilla Xtabentun cocktail. Xtabentun is a Mayan liquor that comes from honey. The welcome drink is followed by a four-course meal, each dish setting the bar higher for the next. The tropical starter tostada with fresh tuna, avocado, chipotle mayo and homemade habanero sauce is incredibly memorable. Rarely are you able to see every ingredient used in the dish but this tostada is easy to replicate at home and trust us, you'll want to do just that! Meanwhile, sip on a hibiscus infused water with cinnamon and ginger.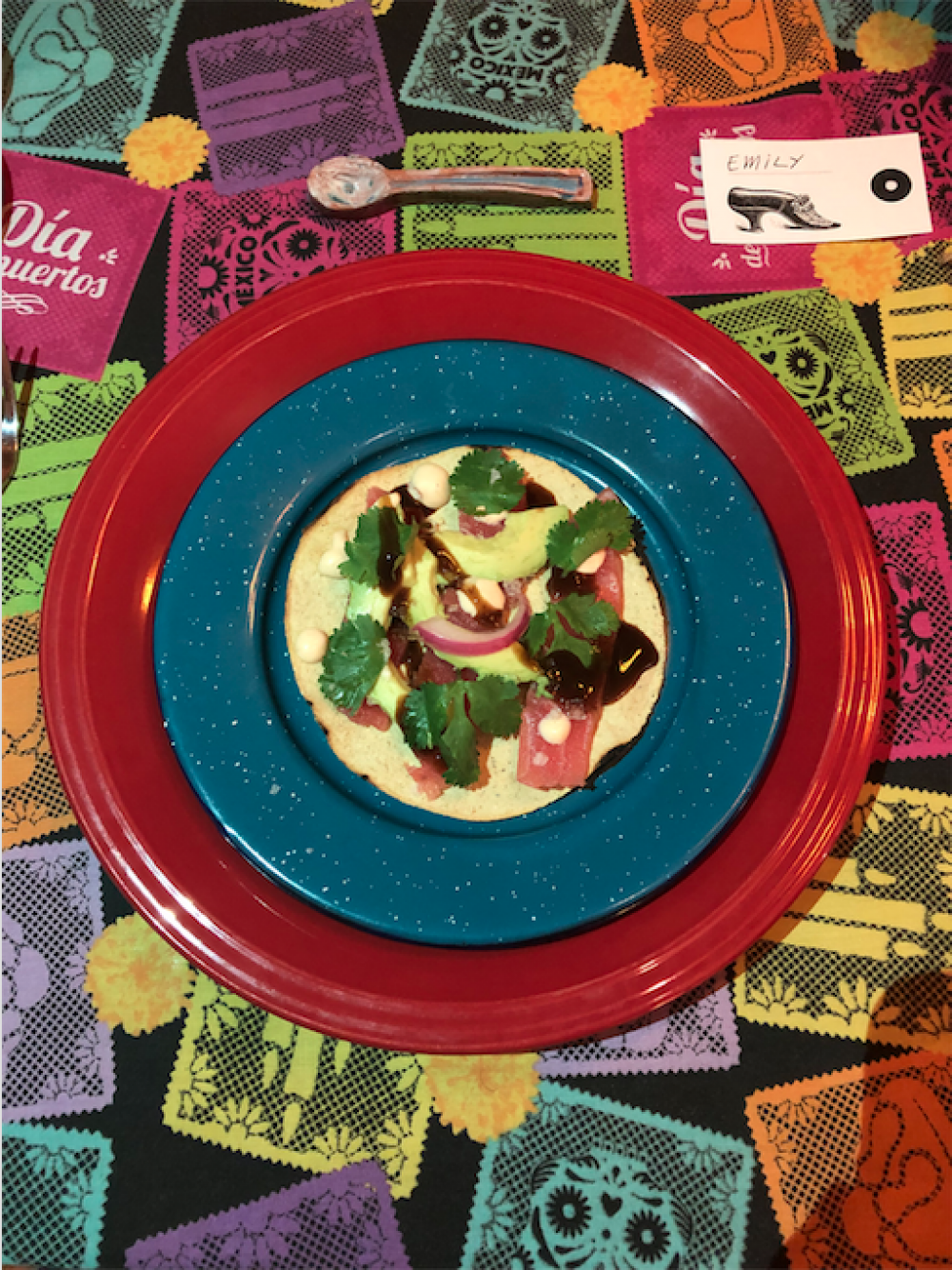 'Tis the season for soup and Carla whips up a light, citrusy lima soup. Lima is a type of citrus fruit similar in look to a lime but more similar in taste to a lemon. Carla places slices of the lima at the bottom of the bowl filled with chicken broth, onions, garlic and peppers. Guests are instructed to mash the slices of lima with their spoon to release the juices and essential oils into the broth for a cool, citrus flavor.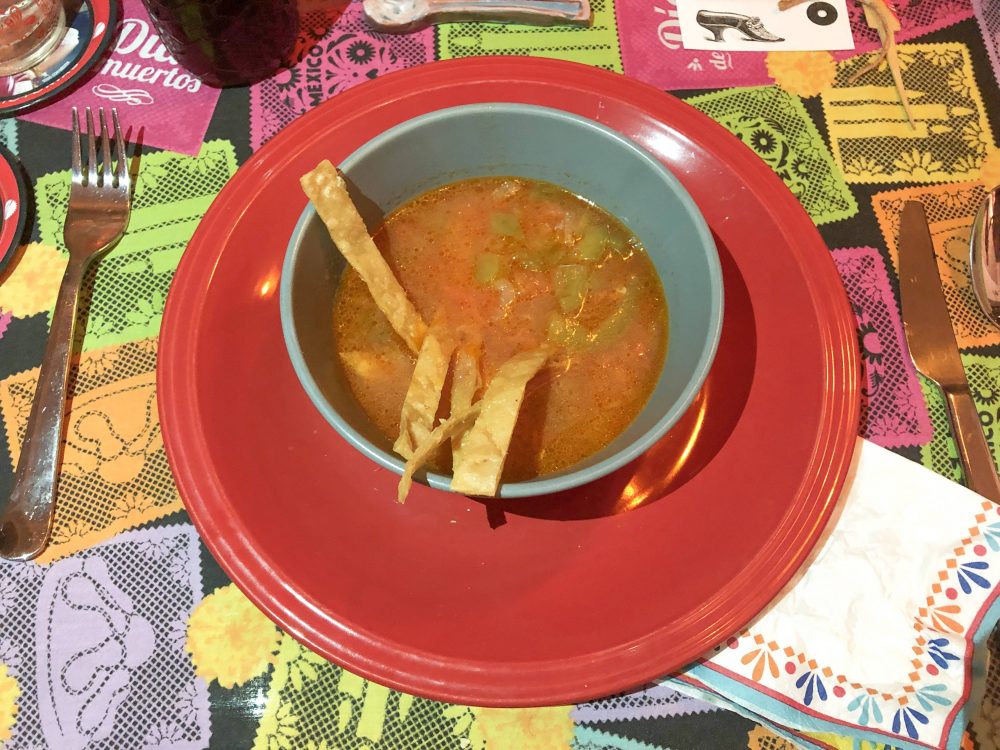 Traditionally, pibil is made with cochinita (pork) buried in a pit with fire at the bottom to slowly roast for 24 hours. The result: tender, flaky meat with a subtle smoky flavor. Tedious work but if you've ever had it fresh like that, you're one lucky foodie! With the current Chicago climate and lack of yard space for a pit, Carla improvises with her pibil by using chicken instead of pork and slow roasting in an oven like the rest of us. The dish is served with a scoop of green rice that is seasoned with jalapeno pepper and cilantro; warm tortillas and pickled red onions for topping. You are encouraged to add a little bit of citrus orange juice with the crescent of orange provided and extra of that habanero sauce we mentioned earlier.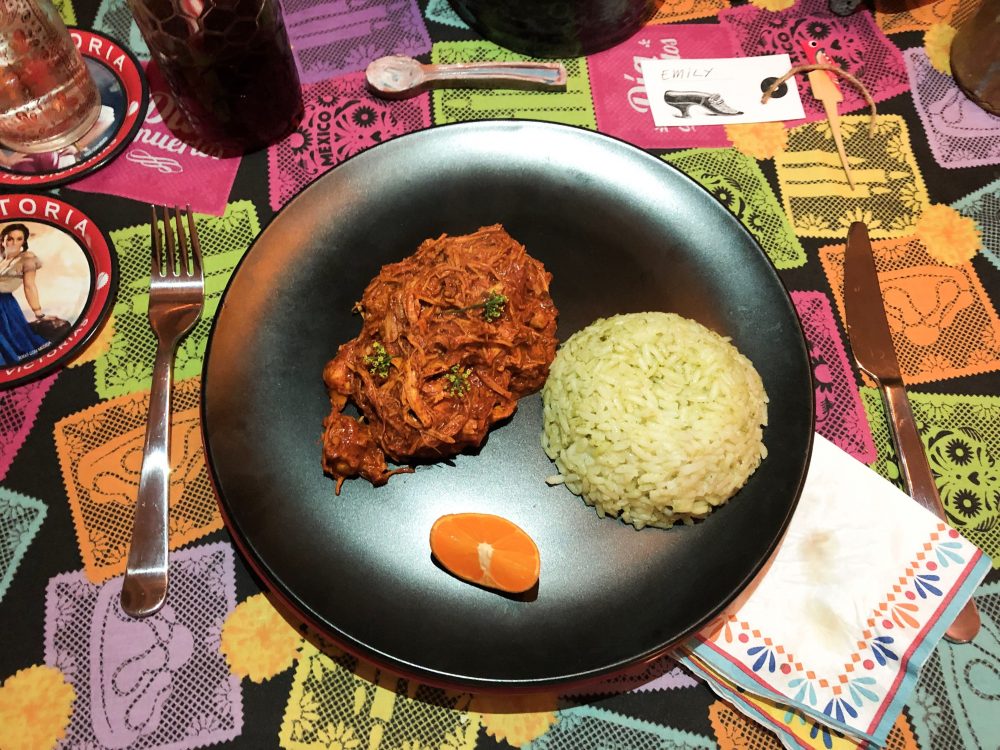 A popular night street food, marquesitas are like a Mexican baklava. Nutella and melted Swiss cheese fill this crispy, flaky crepe for a light ending to your Yucatan meal.
This dinner runs at $62 per person with space for 2-8 people. Visit Carla's page for a list of all of her dinners and classes for pricing and reservation information.
To discover more chefs and EatWith dining experiences in Chicago, go to https://www.eatwith.com/season?q=Chicago,%20USA&playlist&page=1&datefrom=2018-11-18&dateto=2019-02-16&nbguests&pricemin=0&pricemax=99999999&view=list. Try chef Tamar's Jewish-Mexican Brunch for a cultural mash-up of flavors or chef Michael's Taste of Tuscany dinner with wine pairings!
We encourage you to bring your friends or your family members while they visit for the holidays and spread the word about EatWith! This is a great way to celebrate being together while having an intimate and unique dining experience without the hustle and bustle of a restaurant. You never know if your next favorite Chicago restaurant could actually be your neighbor's house!