---
Amid the hustle and bustle of the Magnificent Mile, Jake Melnick's Corner Tap invites guests in to a laid-back atmosphere with a menu full of comforting bar food. The neighborhood joint is nationally known for its chicken wings and has proven itself as much at Chicago Wingfest for several years. It is easy to skip straight to ordering the famous wings, however the extensive menu has some other delicious tricks up its sleeve that should not be overlooked.  
Although Jake's boasts a lot of consistent bar food on its 'Starters' menu, we definitely recommend beginning your meal with the Titanic Tater Tots ($9.95) which can be found in the 'Sides' section. The tots are loaded with parmesan, truffle oil, Chicago-style giardiniera and garlic aioli. Warning: these are greasy but the combination of flavors and the bite-sized taters make for an addictive appetizer. The portion size is rather large for a side but if you have any leftover, make sure to take them home as they are even better warmed up in the oven the next day!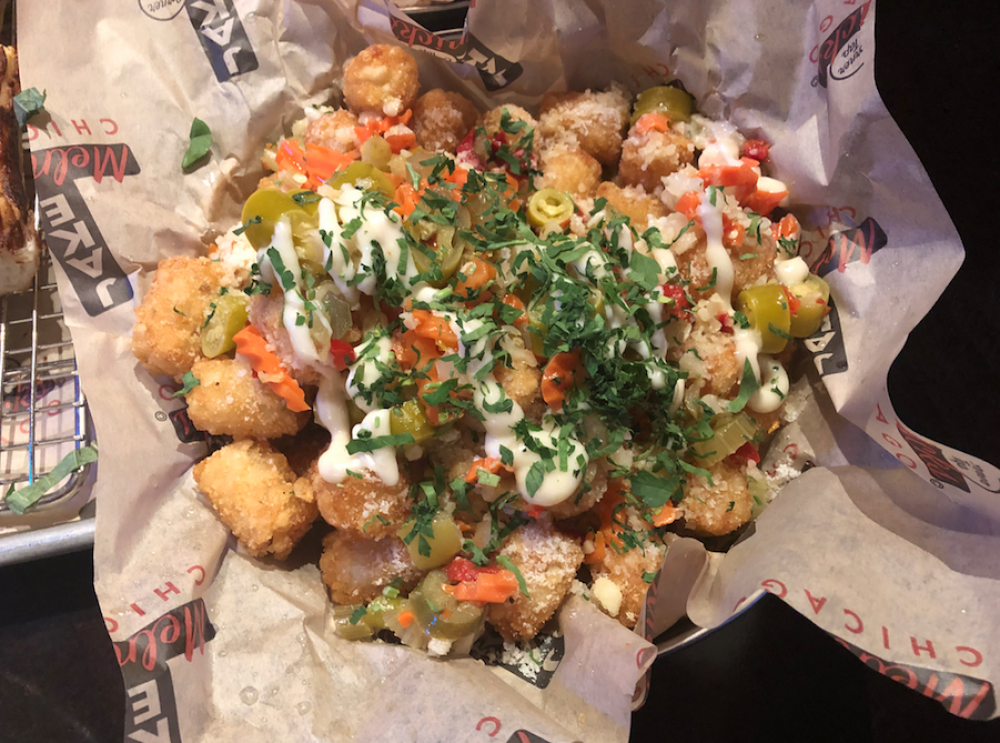 When you go to Jake's, you obviously have to get the wings. It is what they are known for after all. They've got them bone-in or boneless, depending on how much effort you want to put in or the mess you want to make. Either way, these are GOOD wings. Choose from an array of sauces or get the dry-rubbed, Poncho's ($12.95) that are grilled and rubbed with garlic and a generous amount of cayenne. The Traditional Buffalo ($12.95) can be made mild or spicy; or if you dare, sign a waiver to order the XXX ($15.95), a combination sauce of habanero, ghost and scorpion peppers. Report back if you make it through. The best part for the indecisive minded, Jake's offers a Wing Combo ($12.95) where guests can choose two types of sauces (with the exception of XXX) and get the best of two worlds. The "Wing of the Month" is always a fun, inventive option but only available for a short time so be sure to ask your waiter what the flavor-of-the-moment is. The current WOTM is Spicy Orange BBQ ($13.95) only offered boneless but fried until crispy then tossed in their house-made spicy orange BBQ sauce.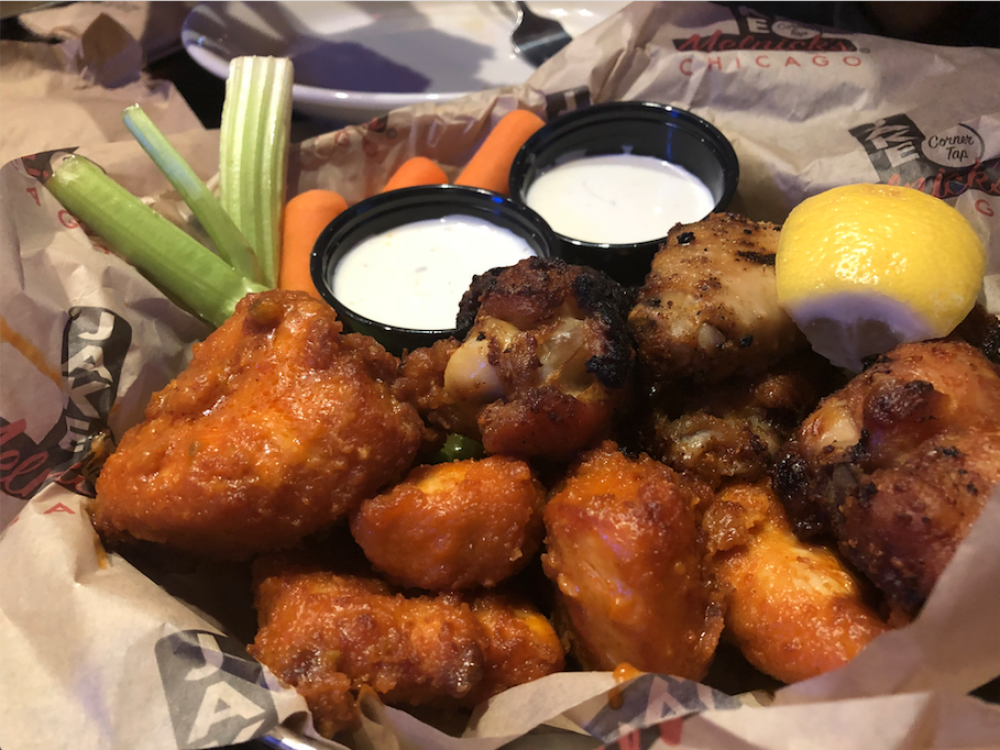 Despite the fact that the River North restaurant is popular for its world-class wings, Jake Melnick's sure knows how to make a Detroit-style pizza. After six months of experimenting with the dough recipe, the team created the PERFECT pan pizza. At least as perfect as a pizza can get outside of Chicago. We highly recommend the Spicy Italian Sausage ($16.95) topped with Chicago-style giardiniera, a blend of cheese and tomato sauce. This pie is a manageable sized portion for two people but also makes for a good oven-warmed lunch or dinner the next day if there is any left over. Other brick oven pizza options include BBQ Chicken, Cheese, Pepperoni and Smoked Sausage.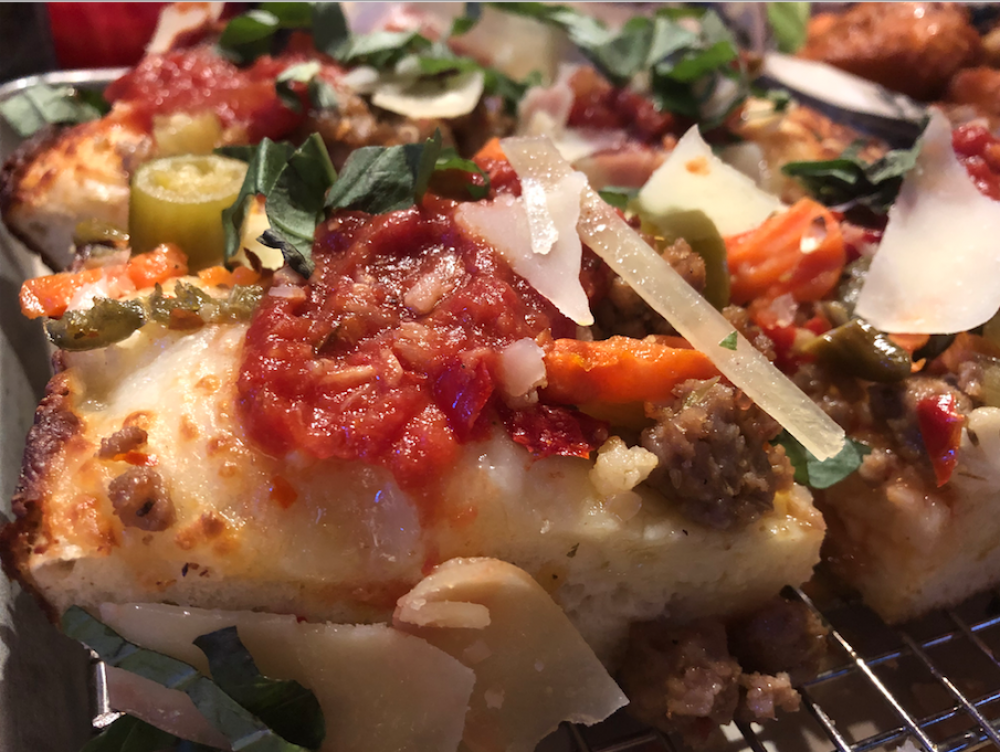 The corner tap also offers soups, salads, sandwiches, burgers and BBQ platters with additional 'Blue Plate' specials every week day for $12.95. On weekends, brunch is served all day with delectable dishes like Chicken and Waffles ($13.95) and Pancake French Toast ($12.95), deep-fried pancake batter-coated challah bread served with strawberry sauce, pancake syrup and house-made bourbon caramel glaze. The desserts at Jake's are nothing crazy but for Oreo lovers they do offer Fried Oreos ($6.95) that are pancake-battered, fried and served over vanilla ice cream and drizzled with chocolate sauce. However, for the real Oreo explosion, order the Cookies 'N Cream Shake ($6.00) with vanilla ice cream, crushed Oreos (duh), chocolate syrup, whipped cream and a fried Oreo for you to catch (and eat) before it sinks to the bottom of the glass.  
Jake Melnick's Corner Tap is open Monday through Thursday 11:30AM to 12AM, Friday 11:30 to 2AM, Saturday 11AM to 2AM and Sunday 11AM to 11PM. Happy Hour is from 4PM to 6PM Monday through Friday when the select food menu and cans of beer are $5.00 and twelve-ounce cans of wine are $10.00. The restaurant offers carryout, local delivery and Doordash for neighborhoods outside of their delivery zone.