---
As the buzz of Chicago Gin Fest slowly faded away, we caught up with one of our favorite new distillers, Transformation Spirits, and their founder, Tara Ogden, as she finally broke into the competitive Chicago market. 
CFM: How did Transformation Spirits get started?
Ogden: When my partner, Stuart Stein, I met, we were both ready for the next step in our careers, hungry to build our dream from the ground up. Stuart is a Chicago native and a culinarian with over 25 years experience in the hospitality industry, including working with legendary Chef Jean Banchet. I am an artist with years of experience as a hospitality marketing professional.
Stuart worked with several distilleries out west and attended Moonshine University in Louisville. My family has moonshiners in our past. Everyone is familiar with the corporate spirits industry but I had not previously thought about venturing into the craft spirits world. My interest and love of the history of spirits and mixology wanted me to jump right in headfirst. Stuart was a bit more calculated than me. He has always kept me grounded and I have always given him a challenge in seeing my whimsical visions. Together we formed a strategy for a successful company.
People have asked us why make gin and why make gin in bourbon country. We have a passion for gin and knew that gins and botanicals (vermouth, amori, aperitif, liqueurs) are seeing a resurgence in the US and worldwide. We saw a hole in the market and thought that our combined experience matching, combining and developing flavors would be able to develop the perfect libations. It has been the great balancing act that has made us an amazing team and has given Transformation Spirits the adventurous flavor and the company its unique perspective.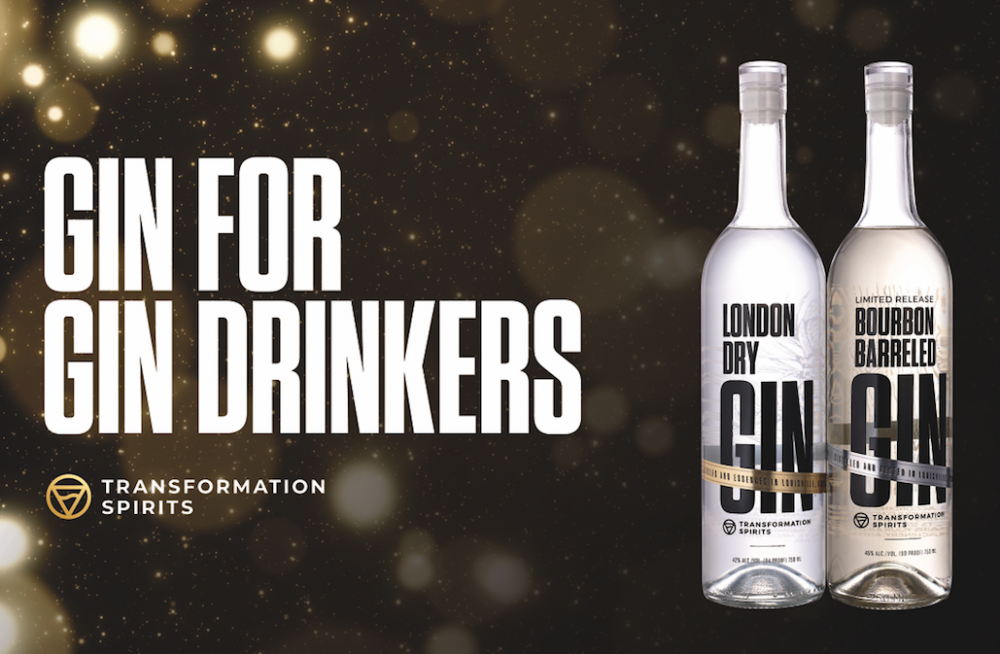 CFM: Walk us through what your motto, "The only constant is change", means to you and the brand.
Ogden: The theme of both our lives and the heart and soul of our brand is to embrace the constant change that life brings. Transformation Spirits is always evolving. We have our roots in the traditional and we value authenticity, transparency while having a thirst for innovation.
We believe that cocktails create community, and that our customers are at the core of what we do and why we do it. Our goal is to create experiences where people feel as connected to Transformation Spirits and to our products as they do to one another.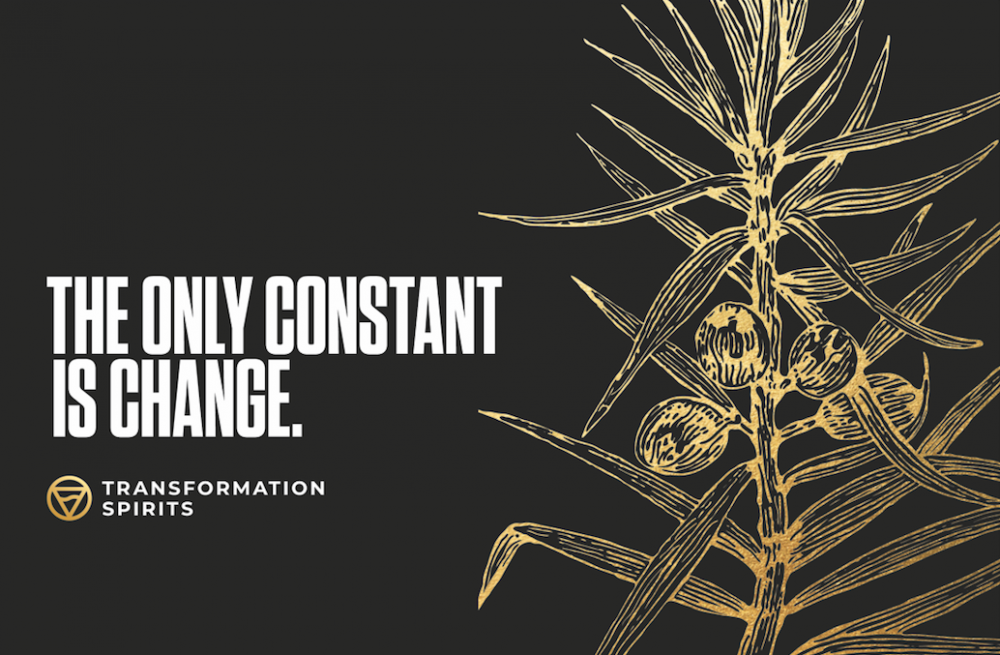 CFM: Please tell us about your two expressions (London Dry and Bourbon Barreled).
Ogden: Our Transformation Spirits London Dry Gin is made in the classic London Dry-style, this neutral corn-based spirit is infused with a heavy juniper and coriander combination of botanicals. It's dry and peppery, showcasing juniper with a light citrus taste — bold, complex, aromatic and classic — without being overly spice forward. It's a gin that balances intensity and elegance. It feels local and global at the same time: perfect for a classic martini or refreshing gin and tonic.
The Transformation Spirits Limited Release Bourbon Barreled Gin is finished in freshly emptied Kentucky bourbon barrels, our London Dry Gin develops a smoky smoothness, light-golden color and a bourbon-like mouth feel. Barrel resting tames the floral and citrus notes; adds a hint of vanilla and brown sugar; enhances the round, softer notes; and warms the peppery finish. It's a gin that drinks like a whiskey: the ultimate marriage of gin and bourbon. Use it as a mixer for that "Negroni-vardier" or sip and enjoy it by itself over ice.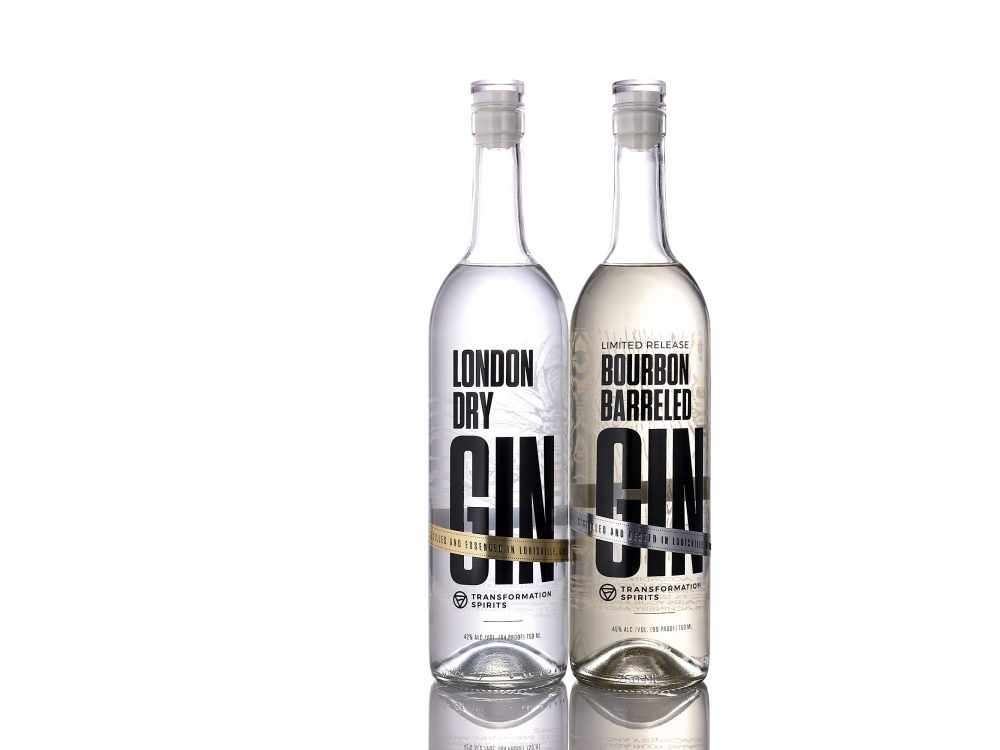 CFM: What makes Transformation Spirits different from other gins?
Ogden: Transformation Spirits is not just London dry gin, it is the transformation of botanicals into a flavor that excites the palate and enhances the senses. It is the embodiment of our passion, our love of great gin and the combination of culinary knowledge and artistic flare.
Transformation Spirits London Dry Gin tastes like a traditional London Dry style gin – juniper forward, clean, balanced - yet it is bold, complex, aromatic. It plays extremely well with others.
Transformation Limited Release Bourbon Barreled Gin maintains all of the flavor profiles of our London Dry but is rounder, softer and warmer. It is still a gin that drinks like a whiskey, the ultimate liaison of gin and bourbon.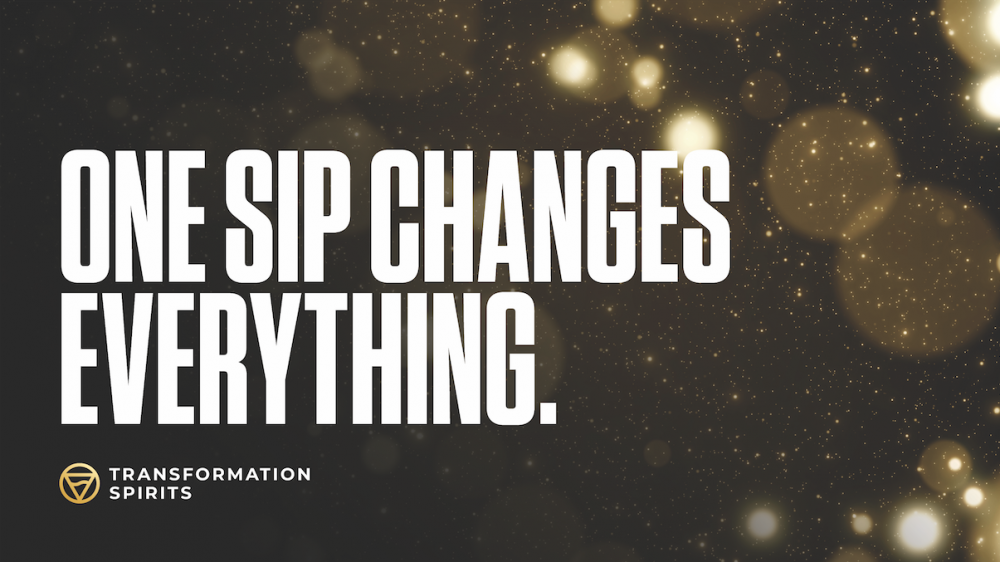 CFM: What have been your biggest challenges/achievements starting Transformation Spirits as well as getting it into the Chicago market?
Ogden: Distribution and brand awareness. Getting a distributor to take a chance on an emerging brand is a challenge. Getting them to understand what makes Transformation Spirits unique and appealing to the on- and off-premise customer can be an up hill battle. There are a number of excellent Chicago area based distilleries that have "home field advantage". Transformation Spirits is perfect for Chicago because first and foremost the spirits in our bottles are authentic, quality oriented and tastes like the perfect gin. Our London Dry-style Gin appeals to both the new clear cocktail drinker and the mature connoisseur. Our Kentucky Bourbon Barreled Gin has a unique "Kentucky" expression that brings out the best in what Chicagoans like in both Gin and Bourbon. The market has embraced both of current products so much so that BigFish Spirits has named our Bourbon Barreled Gin one the their 19 Top Brands for 2019.
CFM: Where can Chicagoans enjoy a TS-based cocktail?
Ogden: Currently we are only available on-line through BigFish Spirits (www.bfspirits.com). We are currently working on getting placement at various bars, restaurants, hotels and retailers. For now, order a bottle or two and make one of our Signature cocktails at home. 
CFM: What are some of your favorite TS-based cocktails for readers to try making at home?
Ogden: We both love a Gin and Tonic or a Classic Martini made with a 4½ to 1 ratio with a splash of orange bitters but two of our favorites are the Derby Rose (the official gin cocktail of the Kentucky Derby Festival) made with TS London Dry Gin and the Negoni-vardier made with TS Limited Release Bourbon Barreled Gin.
More recipes can be found at our website, www.transformationspirits.com
CFM: What are your favorite food pairings with TS?
Ogden: For the London Dry- 
Food Pairing: Smoked Salmon, Chorizo, Salumi, Fresh Berries
Cheese Pairings: Aged Blue (Stilton), Soft Goat, Smoked Cheeses
For the Bourbon Barreled Gin-
Food Pairing: Candied nuts, Shrimp and Grits, Pork BBQ
Cheese Pairings: Triple Cream and Sheep's milk cheeses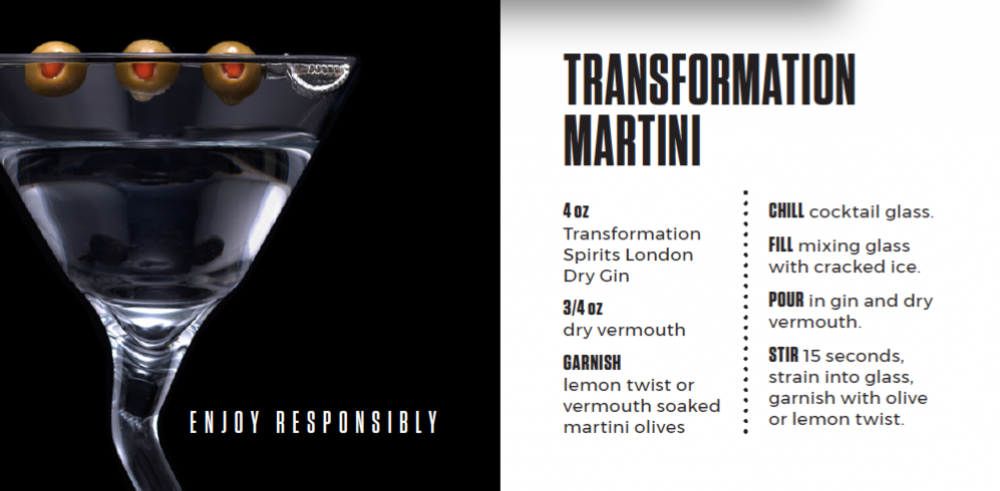 CFM: What's next for Transformation Spirits in general and in Chicago?
Ogden: As we mentioned, we are currently working on getting placement at various bars, restaurants, hotels and retailers. Additionally, we will release a Limoncello sometime in 2020 and working on a signature Amari (in the Campari-style), sweet and dry vermouth (a collaboration with local wineries) and several fun other gin styles (Old Tom, Genever, etc.)