---
Wasabi is a forthcoming, photo-based social experience where users can tag dishes to eat later and save their favorites. Unlike other food apps, wasabi is a social platform that allows users to search and rate food at the dish level.

Whatever you're craving, rather than simply getting a list of
restaurants with ratings that may or may not pertain to what you are craving, you can "wasabi it" and find the best rated dish near you.

Their mission is to empower foodies and non-foodies to get them to try something new, as well as to expand the digital reach of influencers and restaurants. We chatted with Wasabi's CEO, Randall Hirsch, about this much-needed app and how it will make every foodie's life a little easier when dining out!
CFM: What is Wasabi and how did it come to be? 
RH: Finding where to eat is too hard!  
It felt as though I was doing research for a PhD just to find some quality pad thai in Wicker Park. You search Eater, Infatuation, Yelp. Then you cross-reference Google, TimeOut, Instagram. Then you narrow down your list. Then you see which one has a reservation available. It just got to be too much. I spent more time researching than eating. By that point, the restaurant we wanted to go to was closed.   
In that food-deprived, hangry moment, Wasabi was born.  
Wasabi is a photo-based food and social platform, designed to simplify how foodies find where and what to eat. Unlike Yelp, Wasabi will offer dish-level reviews of food. And those reviews will be done on a decisive binary scale where diners answer: would you order this dish again -- yes or no -- eliminating ambiguity. Honestly, what's the difference between a 3.5 and 4 star restaurant? It doesn't matter - that rating may have nothing to do with what you order.  
Not to mention there are 2-star restaurants on Google that make delicious dishes, and everyone has had a dish at a highly rated popular spot that's a disappointment.  
A goal of ours is to tap into the power of word of mouth - advertising without advertising if you will. So if my buddy posts a review, I can see exactly what they thought of that dish. And this is resonating with restaurateurs. Christos, owner at Meli Cafe said, "getting folks to see our food and getting word of mouth endorsements from their friends, that makes Wasabi special." 
This isn't a platform to complain about a curt waiter, loud music or a check that took too long to arrive. It's about finding that delectable creme brûlée, that mouth-watering ropa vieja, the meanest margaritas, a divine deep-dish. Food so good it makes you say, "oh my god!" 
CFM: What was the inspiration behind the name, Wasabi?  
RH: My co-founder and I wanted to create a brand that was larger than just rating food. Some of our initial ideas like Hankerin, PlateRate and TopDish felt too small. We also wanted that "it" factor, so it had to be a word that could work as a verb. "Hankerin it" - that sounded terrible.  
Then we decided to think about creating something more abstract. We considered how Häagen-Daz had created a name out of nothing, just to give their ice cream a certain mystique.  
That gave us the liberty to get creative. So we thought, why not combine two things we both love - for me, it's ribs, for my co-founder, it's Habiki, the Japanese whiskey. Voilà, Ribiki.  
But that was too obscure. We wanted something familiar yet unique, food related, and something you'd remember.  
After noodling with hundreds of names, we ultimately settled on Wasabi. Why? Because look at your phone -- EVERY food app is red. We wanted to stand out, so we were thinking green. That delivered us Wasabi. It had the "It" factor and let's be honest, would you use an app called broccoli? 
CFM: How does the Wasabi database grow as far as which restaurants are included or is that all up to the consumer to add?  
RH: Restaurant-goers will be able to add anything they eat and drink from a restaurant. That's a given. 
But additionally, to the chef who wants to promote their new dishes, they can post them on Wasabi. And to the bartender who wants to show off their latest concoction - they can post it on Wasabi.  
And to the restaurant owners out there - we know times are tough. We want to help. Hit us up, we're eager to partner with you. 
Whether you're a Black-owned restaurant, a LGBTQ bakery, a family-owned vegan restaurant, or a 4th-generation steakhouse, we want to help hungry Chicagoans find and enjoy your food.   
CFM: Why launch in Chicago and where to next after this?  
RH: Chicago has such an incredible food scene, and it's our home -- it's only fitting we launch Wasabi here. 
Chicago is also home to some seriously passionate foodies. We've spoken with a handful of them; Pavnit (@indianchitownfoodie), Jamie (@bestwingschicago), Miguel (@foodieluster), Jillian (@chitowntaters), Cynthia (@Chicago.Cynnamon.Challenge) and Becca (@chifoodiebecs). We learned how they like to find and review dishes, and frankly, seeing their enthusiasm for the food in our city inspires us. It also puts pressure on us to deliver something they'll want to use.  
Longer term, our goal is to expand into other cities across the country, and ultimately internationally. For now, our focus is Chicago, and we're going all in.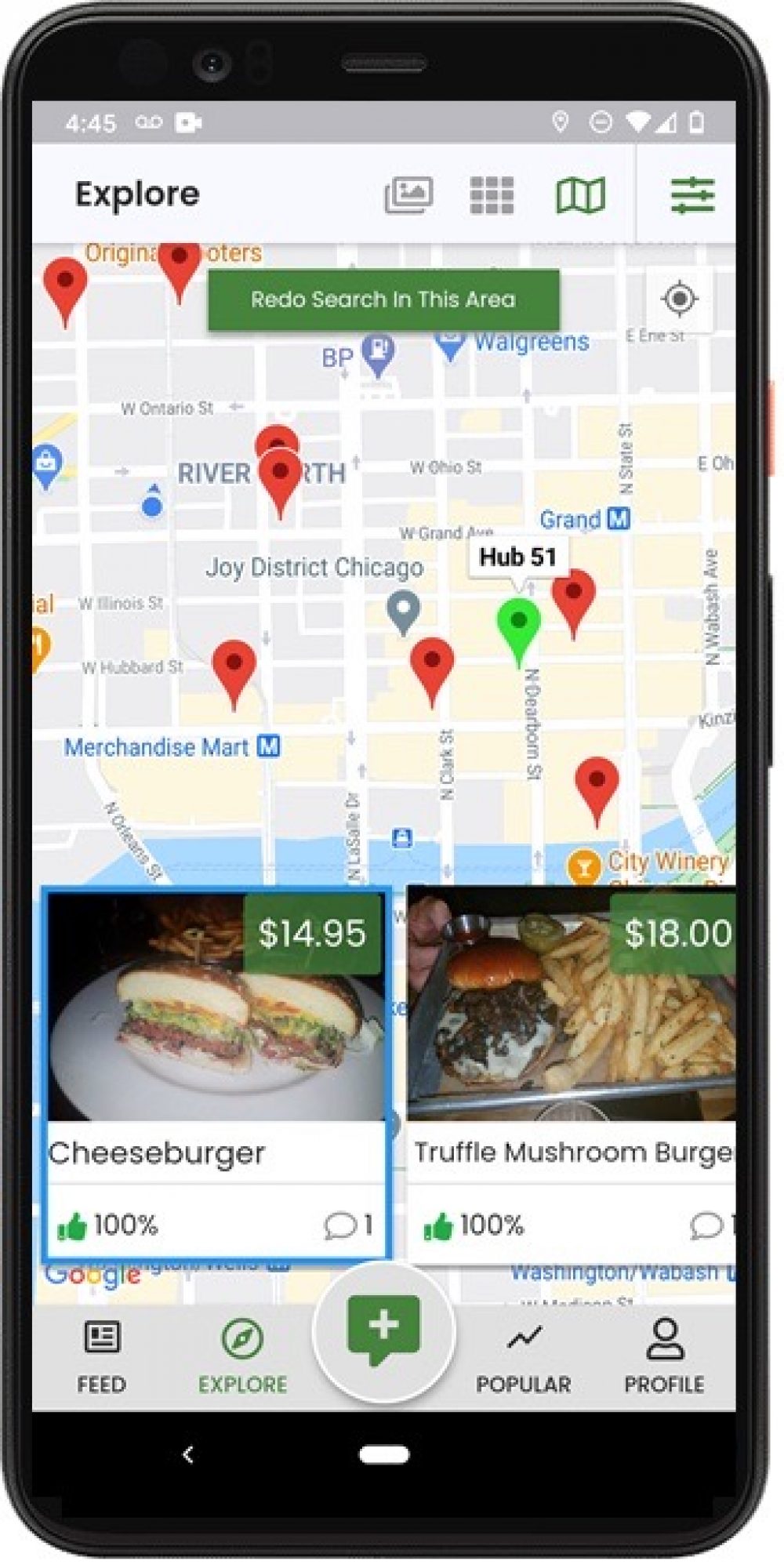 CFM: Has your app/launch approach changed during the pandemic?  
How could it not? The restaurant industry is struggling.  
Restaurants are just trying to stay open for as long as they can these days, and frankly, a new start up isn't a top priority. But we succeed when they succeed, and vice versa, so we're collaborating with restaurants as much as we can.  
What the pandemic hasn't changed is our effort to connect with local restaurant-goers. Bri, (@bakedbrie__) a popular foodie told us, "I like to try places recommended by friends and/or other foodies in the Chicagoland community…I think the app offers a different and interesting aspect to finding what you are looking for."  
When searching for a restaurant, we thought peer recommendations would be critical. By talking with foodies like Bri, we get not just validation of our vision, but also ways we can better improve Wasabi. Pandemic or not, that's an imperative.   
CFM: What do you hope users get out of using the app?  
RH: Ultimately - great food and drinks.  
We want our foodies to discover new restaurants they otherwise wouldn't. We want them to find cocktails and dishes they'd never think to order at restaurants they've been to often. And, we want Wasabi to provide inspiration for when you're hungry, but feeling indecisive.  
We want folks to use it while planning ahead for a dinner out, or to scope out the menu while they're waiting to be seated.  
Our aim is to give people a one stop shop for food reviews. We spend so much time trying to find where and what to eat - Wasabi will simplify that.  
CFM: How do you think the pandemic will affect how consumers use the app? 

RH: It's hard to say, but from what we've seen, people have been really eager to dine out, as long as they can do so safely. I imagine people will likely want to find and support local places, rather than traveling around the city, so I think we'll see folks checking out those nearby places they may have previously overlooked. Wasabi will help expose those local gems.  
We know restaurants are hurting now, but I think that's what makes the food so much more important. People want to maximize their dining while it's nice out -- patios are readily available and they have lots of places to choose from. We've seen a willingness from restaurants to get creative during these times, and we want to help them succeed.  
As a frequent diner, I want to fight for my local restaurants. Reviewing your favorite local dishes on Wasabi will act as a major shoutout for these local restaurants. As you highlight your favorite places and dishes, you're spreading the good word about them.  
Ultimately, people want to support these places, and after eating at the restaurant itself, reviewing them on Wasabi is the next best thing you can do.  
CFM: When is Wasabi launching and how can foodies get the app?  
RH: We're launching this fall.  
Wasabi will be available via invite-only. For a chance to get early access to the app, follow us on Instagram @WasabiReviews and tag us in all your food posts.