---
For Palita Sriratana, the strongest connection between her birthplace in Central Illinois and her family's home in Thailand, has always been food. Her fondest memories come from the tastes and smells of her grandma's kitchen to the sights and sounds of food stalls at markets in rural Thailand. Sriratana pays homage to those fond culinary memories with her new Fulton Galley restaurant, Pink Salt, an authentic masterpiece that has quickly become a favorite among Fulton Market neighborhood and city-dwelling diners. CFM recently got to know a little more about the inspiring woman who is demystifying Thai cuisine one dish at a time.  
CFM: Share with us your culinary journey.  
Sriratana: I was born in Central Illinois but my parents were both from Thailand. They immigrated here along with my grandma (on my mom's side) who was our (Palita and her brothers) primary caretaker. While my parents worked and my brothers were at school, I would follow my grandma around the house and cook with her all day. After she passed away when I was six, my mom started traveling back and forth to Thailand to visit her family and farmland. I would often follow her there and stay at my cousin's house where my aunts would cook all day. I quickly realized that it was just a transition from cooking with my grandma to cooking with my aunts. 
When I would return to Illinois for grade school, I would start to piece together how I could recreate the Thai food that I had while I was away. I used to try to make one of my current menu dishes 'Larb Gai' (mint chicken salad), for lunch and my friends thought it was so weird. Life here and life in Thailand was so different and I wanted to bring all the food I was having in Thailand back home to Central Illinois.  
My passion for cooking continued in college at the University of Illinois where I would host wine dinners every Tuesday during my junior and senior years. I was never classically trained; I did my undergrad in molecular cell biology. After college, I moved to Chicago and worked for Rush University as a research technician and just kept cooking. I always wanted to open a restaurant; this wasn't a surprise. It was more of a surprise of how and when it was going to happen. This past year, I started a food blog called 'Hi Palita' and people started following it and encouraging me to do pop-up dinners. I thought, 'Yeah, I'd like to cook for some people' and started scoping out spaces. That's when the Eater article came out that Fulton Galley was looking for chefs. Then I met with Galley Group, got accepted and now I'm here.  
Larb Gai ($13): sautéed minced chicken salad tossed with fresh mint, shallots, toasted rice and roasted chilis. Sriratana warns this dish is very spicy! Gluten free!  

CFM: What was most appealing about Fulton Galley's concept?  
Sriratana: A lot of this is proof of concept. We've been open since June 22 and prior to that we had two weeks in the space. Like, I know how to make food but when you start to make lunch for nearly a hundred people, there's a lot of experimenting and testing to find inefficiencies to address. So, thinking about that and literally the roof above your head along with all the little details of restaurants, I don't have to worry about that and that's amazing. I just have to come in and worry about my team and my food and operate in their space. Now I see what's working for this building and this neighborhood and I hope to take it and learn from it to build my next place. 
CFM: What have been your greatest struggles and accomplishments while opening up Pink Salt? 
Sriratana: My greatest struggle is all the noise that happens when you open a business. A lot of people want to be helpful and make suggestions; I am always open to feedback, it helps us grow and change. My mom always tells me that people make suggestions because they see potential in you and want to help. Sometimes it's hard to separate them making suggestions to be helpful and see the best version of me versus doing it to be critical. Really my struggle is wanting to be better every single day but I also want to sleep.  
I think my greatest accomplishment was growing a lot into myself, especially within the last two months. I worked in healthcare and did drug research development. I didn't see myself as creative for the longest time and then all of a sudden, I decided this was going to be me now. As long as I know I'm doing my best, that's good enough. Every day is not going to be perfect and coming to terms with that is being an adult. 
CFM: What does the name Pink Salt mean? 
Sriratana: There are 3 layers to Pink Salt. The really superficial layer is that it is my initials. The second layer is because we are in a time where a lot of women's rights are being challenged and I wanted this to be unapologetically women only. There's nothing more feminine than the color pink and that's why the branding has been pink. Salt to me is grit, it took a lot of courage for me to do this. The two together make Pink Salt. Then, the third layer, pink salt is also a finishing salt. So, you don't cook with it, it's the finishing touch. You have a nice meal then you add the final touch; it's that last moment before the dish gets sent out to the customer. I didn't want the name to be overly Thai, I wanted it to be me. 
CFM: How did you come up with your current menu inspired by the Isaan region of Thailand? 
Sriratana: My current dishes are things that I have made my whole life. Although I have made all of these dishes at home, on my own, the restaurant allows me to be much more playful. For the chicken salad, we now plate it on a bed of greens from Iron Creek Farms. The leaves are really beautiful and speckled. The marinade for our fried chicken tenders (Gai Tod) is done in a super classic Thai-style too. The dish is plated with hot pink micro-greens. The weeks leading up to this opening, I started meeting with suppliers to see what they were offering and it pushed me to have some fun with the plating.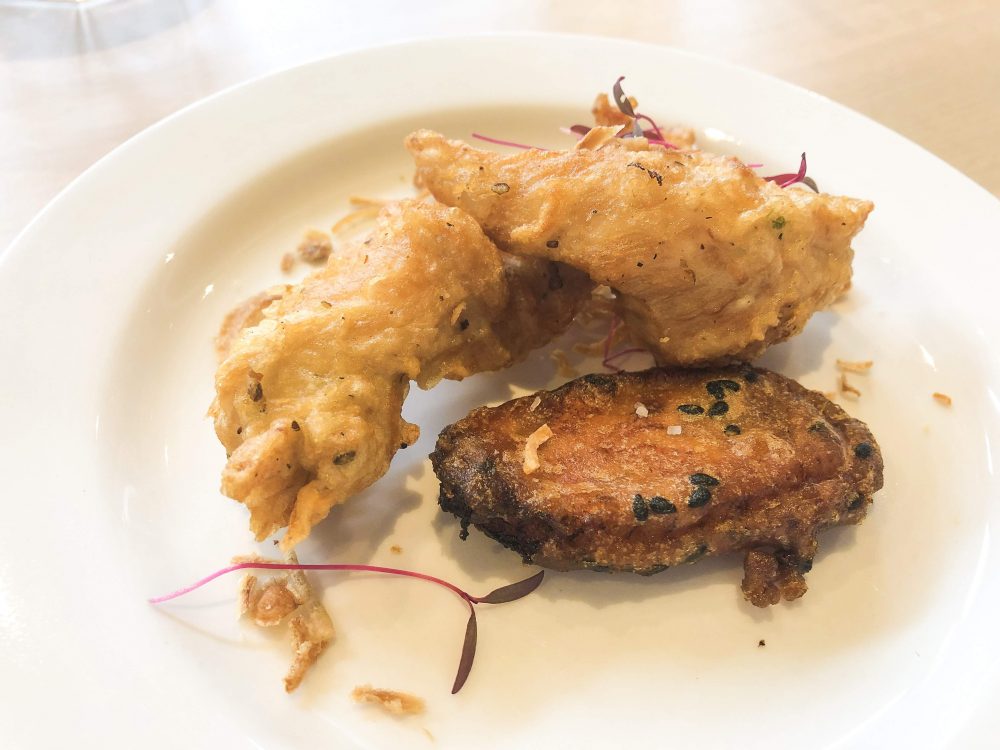 CFM: How is Isaan food unique within Thai cuisine? 
Sriratana: Isaan is a lot of bold flavors and meats. It's not so much traditional coconut curries, they do have curries but they are not as recognized. I am not from the Isaan region however my mom's family is from a more rural area that is 40 minutes north of Bangkok. We have a certain type of palate that gears much more towards herbs and really fresh, light foods since it's hot there. It is Isaan food but in a pocket of rural land. We do this beef jerky on our menu (Nua Dat Dew) that's marinated in tamarind, crusted with dried spices and fried up to allow the spices to open up. This is a very classic Isaan dish because of how aromatic it is. It's so different from the dishes you'll see at other places around the city. The base of everything is sticky rice. I want diners to get used to not being afraid of grabbing sticky rice and dipping it in the sauce to eat it. It goes so well with the beer at the bar on the other side because of its saltiness. 
Nua Dat Dew ($10): cumin and coriander-crusted beef jerky served with tangy "Shark Brand" rirja. Make it an entrée for $14 and follow Sriratana's advice: rip up the beef, eat with sticky rice, dip in the sauce aka USE YOUR HANDS!  
CFM: What is your favorite dish to make and share with your diners? 
Sriratana: I love our curried corn fritters. I mean, I love everything on the menu because our menu is so small. However, the curried corn fritters I used to make all the time for Thanksgiving dinners and everyone always loved them so I'm hoping the diners here will too. We plate it a little bit differently by forming it into an almost canelé shape and fry it. My chef came up with the lime salt that goes with it made from dried and pulverized limes. The recipe calls for kaffir lime leaf which is hard to source in the states so we had to get creative to mimic the flavor. This dish in particular, I am really proud of us for putting together.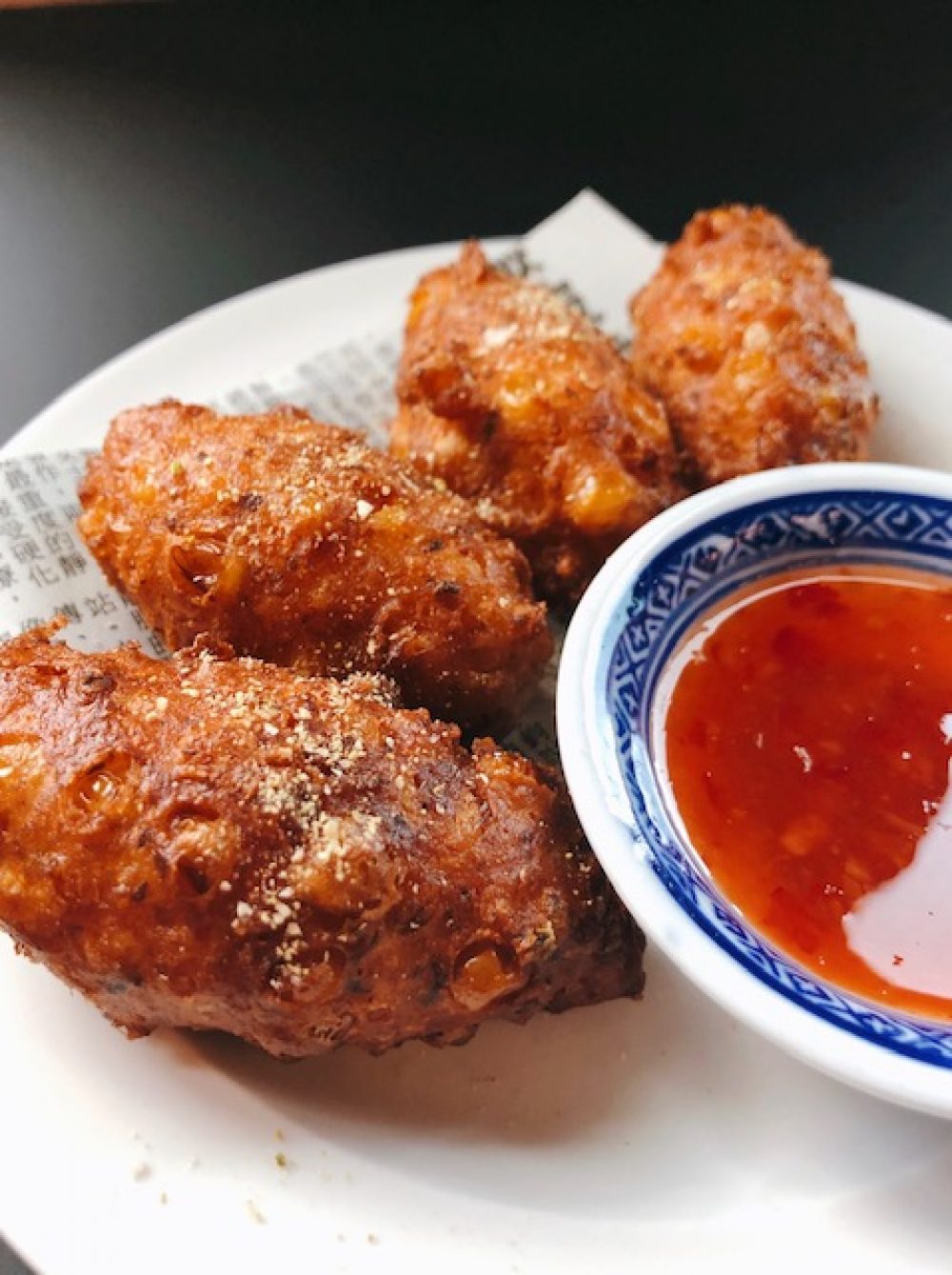 CFM: For the average diner, what are your tips and tricks to navigating the Pink Salt menu?  
Sriratana: Thai food is meant to be eaten communally so I want people to order all of the dishes on the menu and eat family-style with their own side of sticky rice. That is originally how we started but there was confusion because diners wanted to order their own thing without the side of sticky rice. Finally, I decided that three of the dishes would come with the sticky rice since they were the most popular with the lunch crowd. When you are on-the-go like the lunch crowd, I recommend ordering from the left column. The right side of the menu is sticky rice optional with the shredded papaya salad and other snacks. However, the best way to do it is to come with a group of at least four so you can order the whole menu. 
CFM: How will your menu change with the seasons?  
Sriratana: As soon as the cold season hits, I'm going to start cycling in some curries and more winter meals. Right now, it's very summer-y with the Som Tum Classic (shredded papaya salad) that is super light and refreshing. Once it's October, I know people will want more comfort food so we have a few ideas for the fall.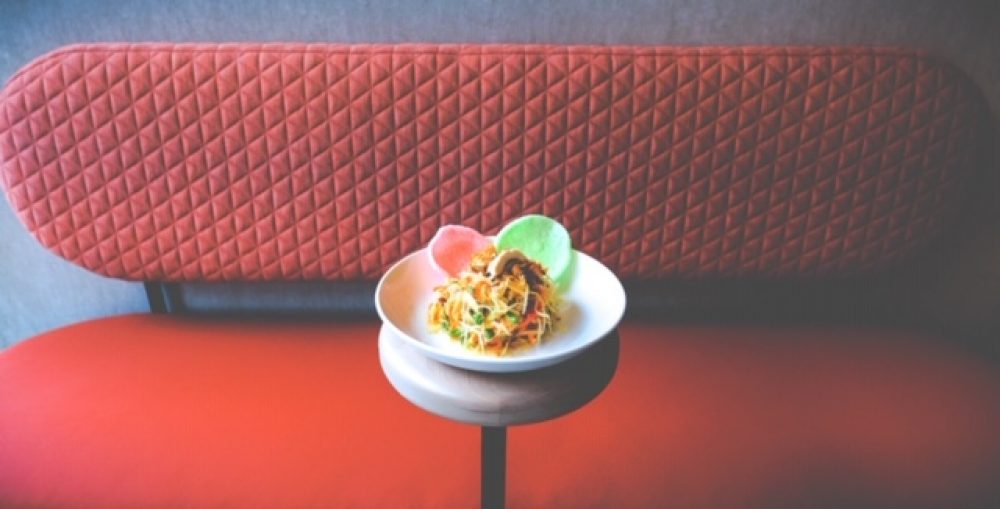 CFM: Do you have a secret off-the-menu item?  

Sriratana: I do...people who follow me on Instagram can find out what the secret dish of the week is. It changes each week and guests can reserve if they want to DM me before they come in. We will have a more official 'Pink Salt Off-Menu' to make it easier for diners to reserve or they can come in and try their luck on ordering it.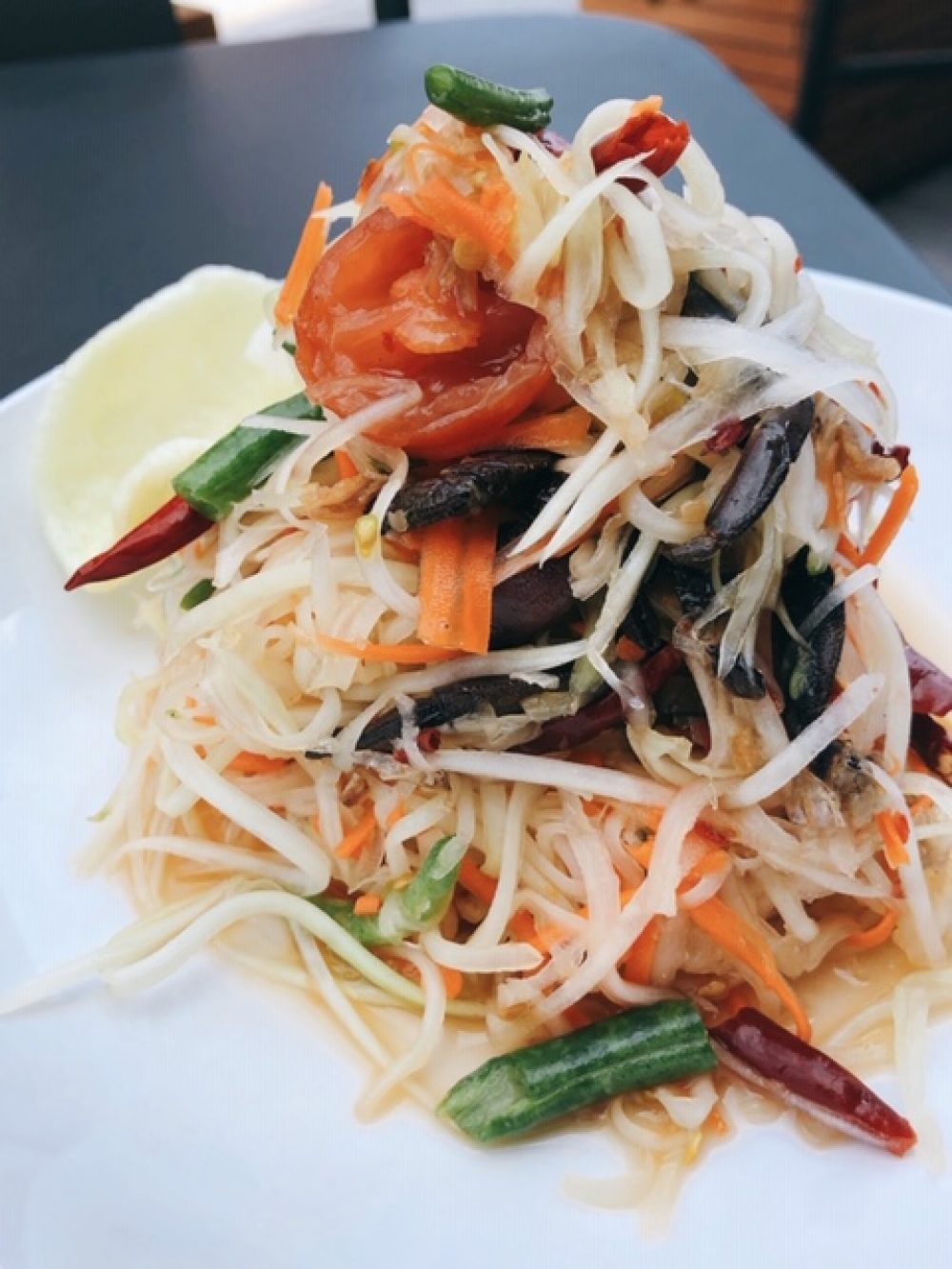 CFM: What is next for Pink Salt after your year at Fulton Galley? 
Sriratana: Ideally, I want to have my own space. I don't know what neighborhood, the clientele in Fulton Market has been really great coming in for lunch and coming back again and again. I would love to have something along the lines of a cocktail bar with really thoughtful dishes that allows me to dive into even more obscure Thai foods. Right now, it's introducing everyone to all the other Thai foods outside of Pad Thai. All of this should be an experience: you've got the cocktails, the food and you get to spend time with your friends. What could be better than that?  
After the end of our year, I would like to go back to Thailand to see my family. My sous chef, Dylan, is super fascinated by Asian cuisine and we are talking about traveling through Southeast Asia to gather inspiration for our next concept. Who knows how long that could take? 
CFM: What is your favorite food memory? 
Sriratana: I used to hate this so much growing up: I would stay with my grandma on my dad's side for a few nights when we were in Thailand. She knew how much I liked food so I would wake up and find that she had bought EVERYTHING! I understand now why she wanted to spoil me but as a kid, my parents always encouraged me to be polite and try a little bit of everything she had bought. Now I look back and think, what would I do to have that again: Thai-style poached chicken and rice with a ginger-scallion sauce, fish maw soup, stir-fried noodles with Chinese broccoli, soybean milk with tapioca pearls. She only got to see me a few times a year so she wanted me to try something new or different.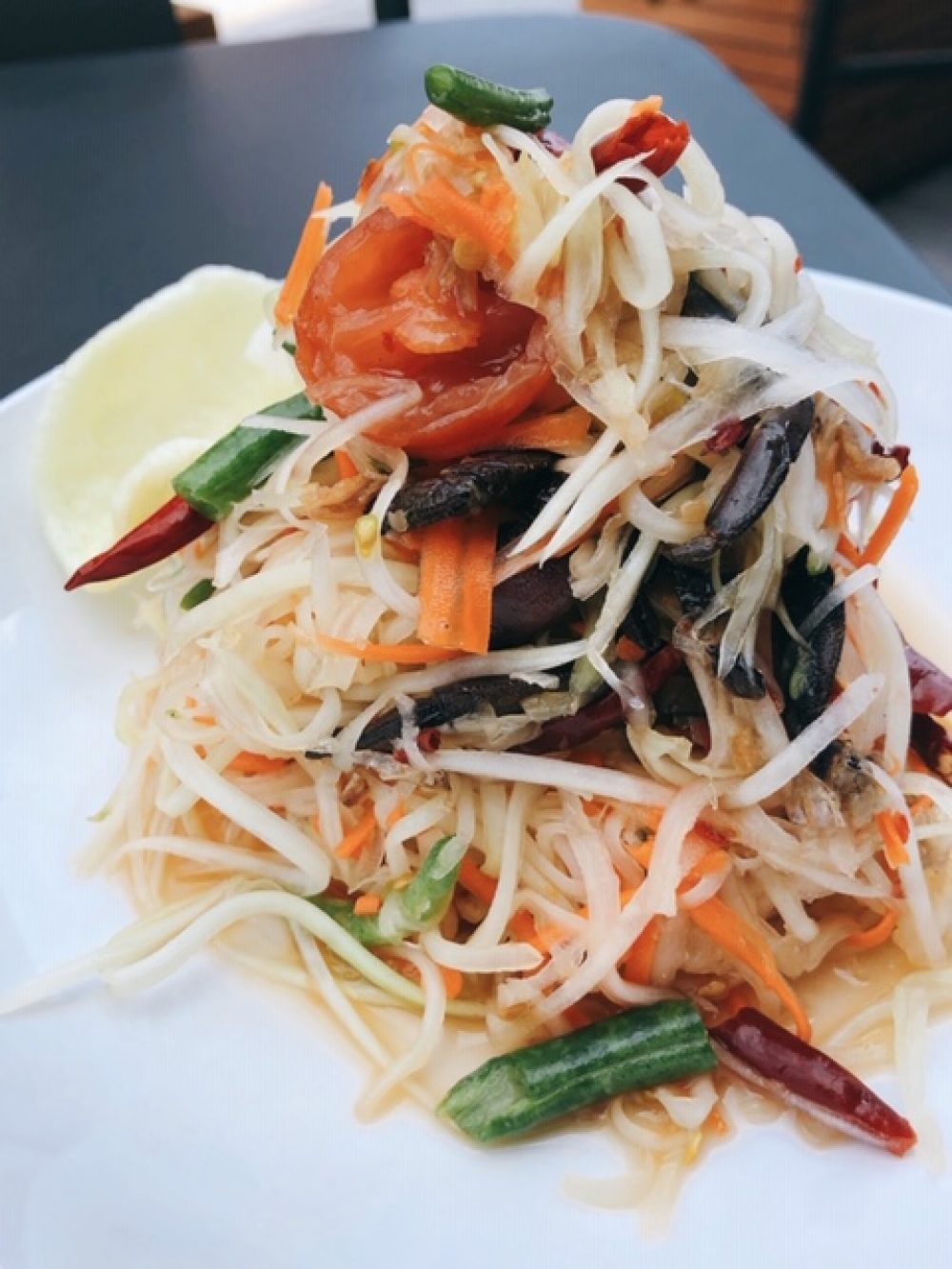 CFM: If you could have a meal with anyone past or present, who would it be?  
Sriratana: Besides Anthony Bourdain, it would have to be Childish Gambino. I met him a few times and fan-girled pretty hard so it would be cool to eat Thai food with him.  
CFM: If you could open up a restaurant anywhere in the world, where would it be and what would be the concept? 
Sriratana: New York would be one. I would love to have a location in Miami, I think they NEED Asian food. I also want to retire happily in Barcelona and cook along the beach.  
CFM: What is your favorite food to eat outside of Thai cuisine? 
Sriratana: Tacos! Taqueria Traspasada No. 2 in Ukrainian Village is my favorite taco spot. I get the extra crispy tripe and skirt steak burrito.  
CFM: Where are your other favorite places to eat or drink in Chicago?  
Sriratana: Avec. Pair a glass of whisky with those chorizo-stuffed, bacon-wrapped dates and the truffle taleggio focaccia will fix any bad day. 
CFM: What do you do for fun? 
Sriratana: I work out, usually at night. I also play cello on the side. I always like to try something new to jog my mind and have a different creative outlet. Right before opening Pink Salt, I took singing lessons but life got busy and I couldn't do them anymore. It was fun and nice to do something different. But cooking still remains the most fun for me and I try to make it a learning experience for everyone in the kitchen.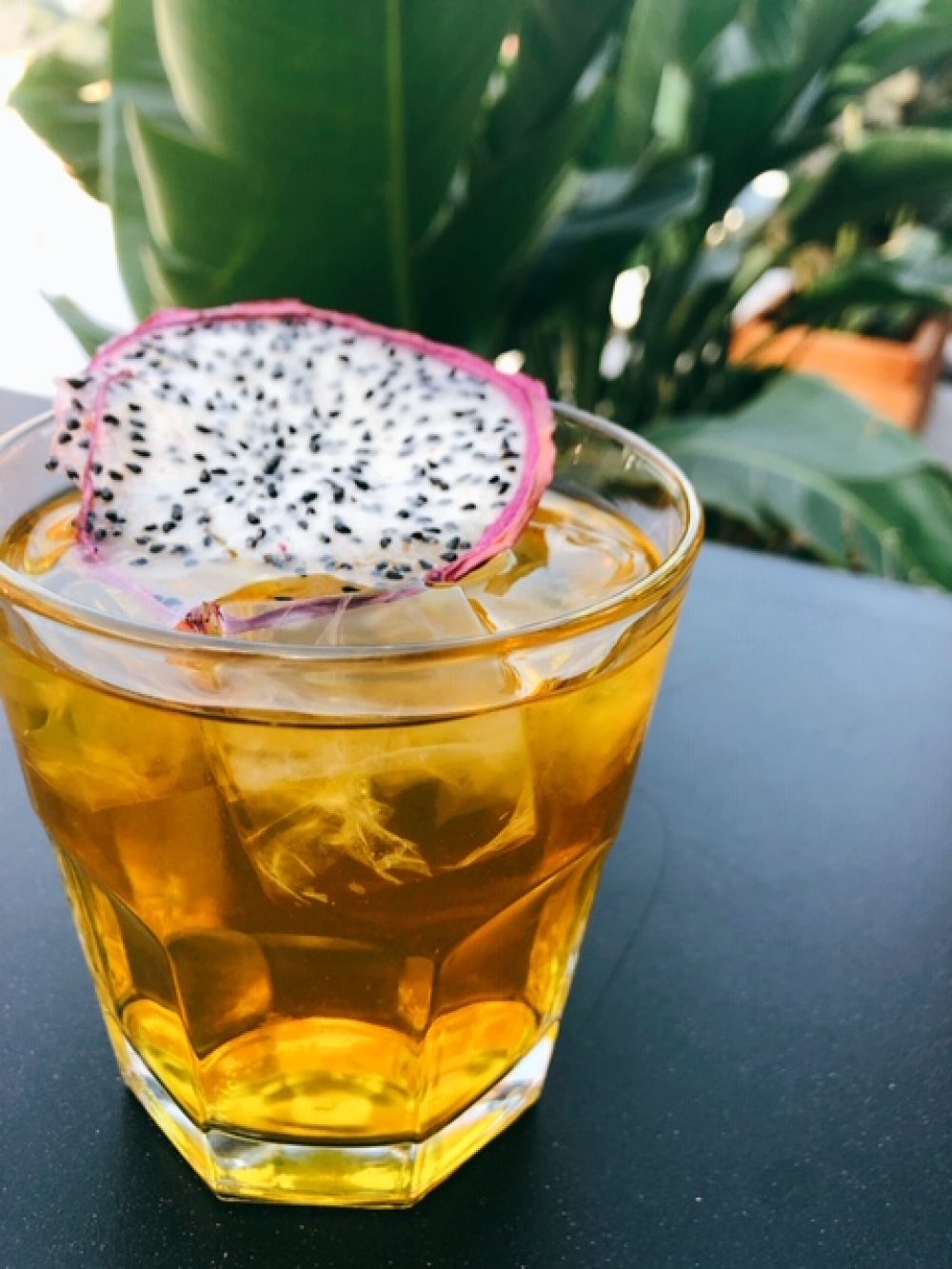 Pink Salt is open at Fulton Galley for lunch and dinner Monday through Thursday 11am to 10pm, Friday 11am to 12am, Saturday 10am to 12am and Sunday 10am to 9pm.