---
In this ever-changing, stressful world we live in, a daily dose of calm and relaxation is needed now more than ever. That can come in different forms for everyone but Liza Cohen, founder of local CBD snack brand, Nature's Nosh, is here to finally make achieving that, a little more simple. We recently talked with her about how Nature's Nosh got started and how her CBD snacks can help everyone get through #2020 and beyond. 
CFM: How and when did Nature's Nosh get started?
LC: The initial idea for Nature's Nosh came to me in 2017 when traveling with a friend's family. On this trip, my friend's mom would sneak away from her grown kids multiple times a day to smoke cannabis - "the kind that doesn't get you high." In reality, she was smoking CBD for her anxiety and pain. It then dawned on me, "why are there no approachable, convenient ways to reap the benefits of CBD?" At the
end of the day, CBD is a plant-based, functional food that I believe should be treated the same as any functional ingredient. From that moment the idea for Nature's Nosh was born and our goals were clear - we are on a mission to disrupt the edible cannabis landscape by making it healthy and convenient for consumers to reap the natural benefits of hemp-derived CBD.
The concept for Nature's Nosh was further solidified while training for the New York Marathon in 2018. In researching the best foods to eat before long workouts, the same two foods kept topping the list - dried fruit and nuts. It immediately became clear that these functional ingredients would provide the perfect base for my healthy CBD snacks. Nuts for protein and antioxidants, dried fruit for natural energy and digestive support and CBD for a sense of calm and relief. The combination is foolproof! I officially launched Nature's Nosh after moving to Chicago from New York City at the end of 2018 (just a few days after completing the New York City marathon). We began selling our products in the Summer of 2019 and have now been on the market for just about 1 year.
CFM: What have been the biggest successes and challenges since you started?
LC: I would say our biggest success has been the overwhelmingly positive feedback we have received regarding the taste of our products. As soon as consumers get our CBD bites into their mouths they tend to fall in love with our simple flavors and comforting, chewy texture. 
The biggest challenge has been managing all of the day-to-day operations of running and growing a business as a solo founder, especially during such turbulent and chaotic times. I have been fortunate enough to have many mentors and seasoned industry professionals willing to lend a helping hand, but there is definitely much more involved with running a business than I ever imagined.
CFM: Tell us about your recipe development process in the beginning and how/if it has changed since you started.
LC: I wish I could tell you that I always follow a clear recipe development process but more often than not, my ideas for recipes (and their quirky names) tend to pop into my head at the most random of times - in the shower, in the middle of the night, when out to dinner. Overall, my approach is test, test, test. Working in recipe development for the Food Network instilled in me the importance of testing everything. You'd be surprised by all of the delicious flavor combinations that sound completely disgusting. Cheese and peanut butter? Shockingly delicious! You cannot be afraid of trying something out of the ordinary, I believe that's when the best ideas come to fruition. For Nature's Nosh, however, I wanted to make sure all of the flavors of our CBD bites evoke vivid, nostalgic memories in the consumer, as my overall vision for the brand was to take something many consumers are not familiar with (CBD) and transform it into something comforting, approachable and most importantly, delicious.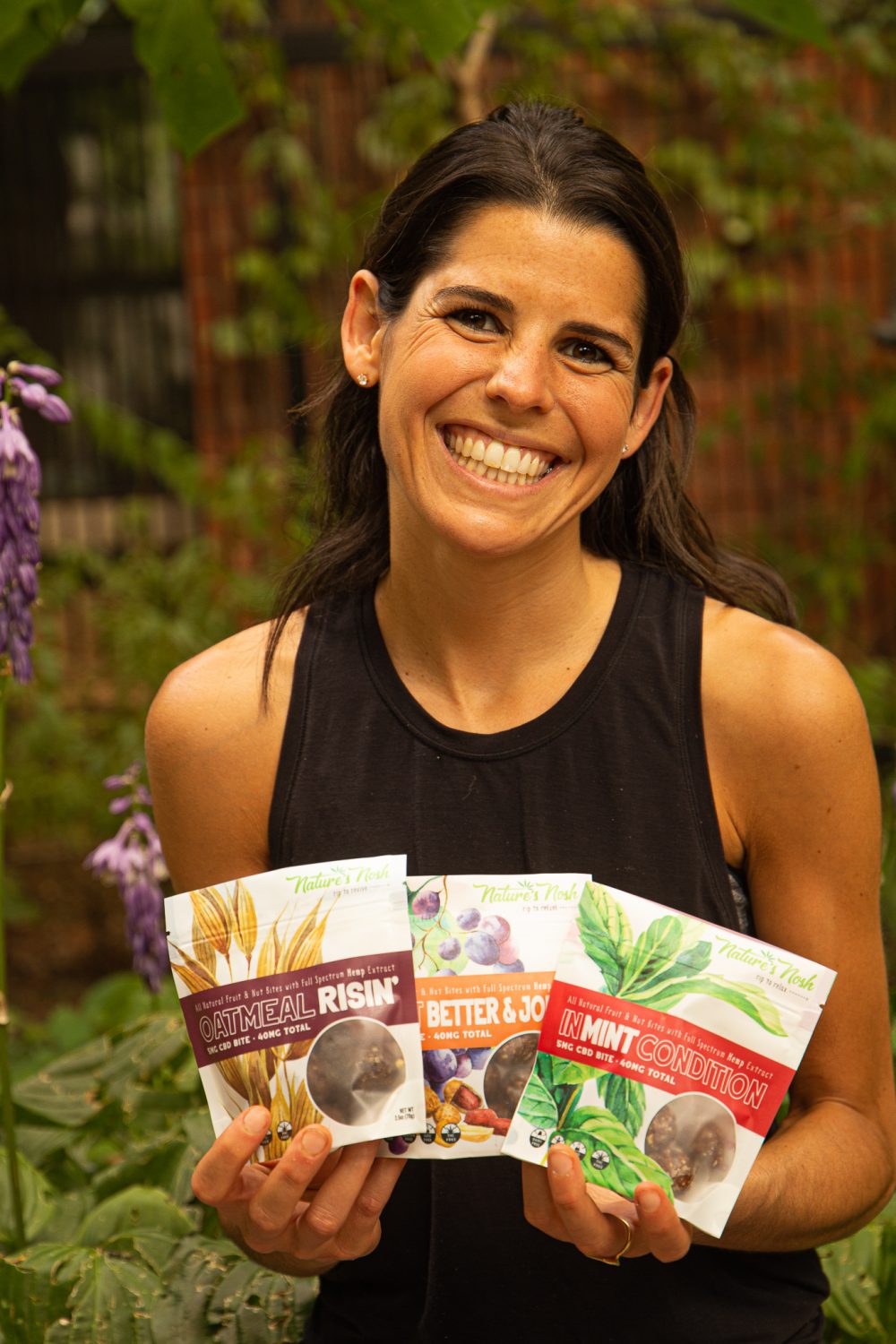 CFM: What is your personal favorite product?
LC: My personal favorite flavor is our Oatmeal Risin' CBD bites. When they get a little warm in the sun they taste just like fresh oatmeal raisin cookie dough. They have officially turned me over to an oatmeal raisin fan (I was strictly a chocolate chip girl before)! The mint chocolate bites, "In Mint Condition," are my favorite post-dinner snack. I always store a pack in my freezer for a little refreshing sweet treat before
bed.
CFM: Where can readers get Nature's Nosh?
LC: You can order Nature's Nosh CBD bites directly on our website, www.eatnaturesnosh.com. You can also get our products (in convenient 2-packs, with free shipping!) on Amazon! Our products are also available on a few niche, health-focused e-commerce marketplaces as well as in about 20 stores, mostly
throughout the Chicagoland area. Check out our website for a full list of these retailers. Have a favorite store that doesn't sell Nature's Nosh? Let us know and we will reach out! We are always looking for new ways to spread the Nosh love.
CFM: What's next for Nature's Nosh?
LC: At Nature's Nosh, we strive to be among the first fully functional, cannabis-based product line. We hope to grow into an extensive line, offering other healthy CBD snacks for both humans and their pets. We want to be the go-to CBD-infused snack for fitness buffs, adventure seekers, and on-the-go working professionals. Furthermore, pending legislation, we hope to expand our portfolio to include snacks with other cannabinoids. At this time we are primarily focused on developing new, seasonal flavors for our signature CBD energy bites and making our name known cross-country.