---
Strolling along the city's beautiful Riverwalk? Or taking in the sights and sounds of the bustling West Loop? Chances are you'll happen upon one of two Chicago locations of City Winery. The national brand with over a dozen locations across the U.S., acts as part restaurant, part winery and part live music and entertainment venue. Overseeing both Chicago locations is Tim Fink, a Midwest native who has worked in numerous notable kitchens throughout the city before settling in as Executive Chef. CFM recently chatted with Tim to find out what makes Chicago's duo of City Winery locations unique to others within the brand and how each visit to either spot will be different from the last. 
This interview has been edited for clarity.

CFM: Please tell our readers about yourself and when you knew you wanted to be a chef.
TF: Raised in St. Louis, I began experimenting with classic dishes at a very early age. So, at the tender age of 15, I began working at my uncle's steakhouse, where I was captivated by the action on the line.
I made my move to the Windy City and stepped into the kitchen at Chicago's iconic Walnut Room, where I mastered their legendary menu of American and French fare. I then sharpened my knives at Northside, farm-to-table upstart Acre, using a wide variety of locally-sourced and seasonal ingredients to create modern, rustic dishes that delighted guests. From there, I moved on to the West Loop to open Packing House. I also worked at (James Beard Winner) Mindy Segal's, Hot Chocolate, before moving on to River North as Executive Sous Chef for Celeste. I gained knowledge of events and concert venues at the House of Blues.
Now, as Executive Chef at City Winery, I am able to let my imagination run wild, back in the West Loop. I'm refining and redefining Mediterranean dishes, putting my own spin on them and wowing diners.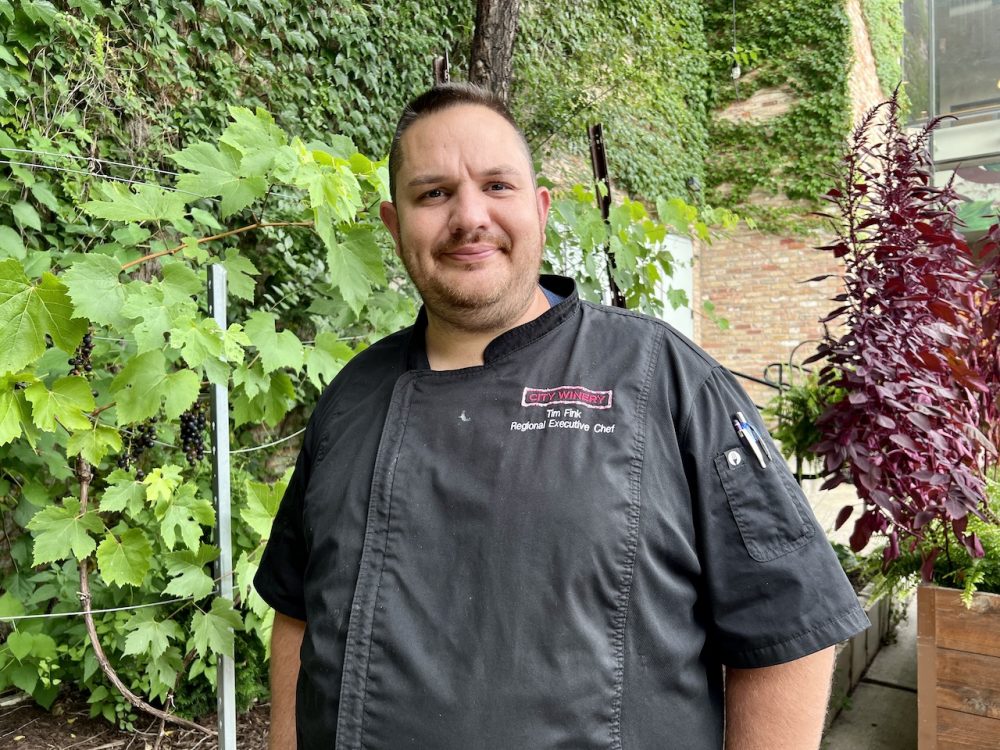 CFM: What is the best part about having a restaurant right on the Riverwalk as well as in the bustling West Loop neighborhood? 
TF: I've worked in the West Loop prior to City Winery and always loved the food diversity in the neighborhood. The Chicago Riverwalk is iconic and just a bustling place during the summer. Both of these locations are in some of the best neighborhoods in the city for food.
CFM: What makes those two locations different from each other?  
TF: At our Randolph location, we are a full service winery, restaurant, venue and private event space. City Winery Riverwalk is more casual with an American fare menu, while still offering all the wines from our Randolph location. Riverwalk is just a fun place to enjoy food, wine and the views of the city on a beautiful Chicago day.
CFM: And how are they different from City Winery locations in other U.S. cities?  
TF: We currently have 14 brick and mortar locations, with some smaller concepts also. A lot of the locations share the Mediterranean tapas menu style. While the other locations throughout NYC and Chicago have different culinary offerings. Most of our locations offer a full functioning winery in them.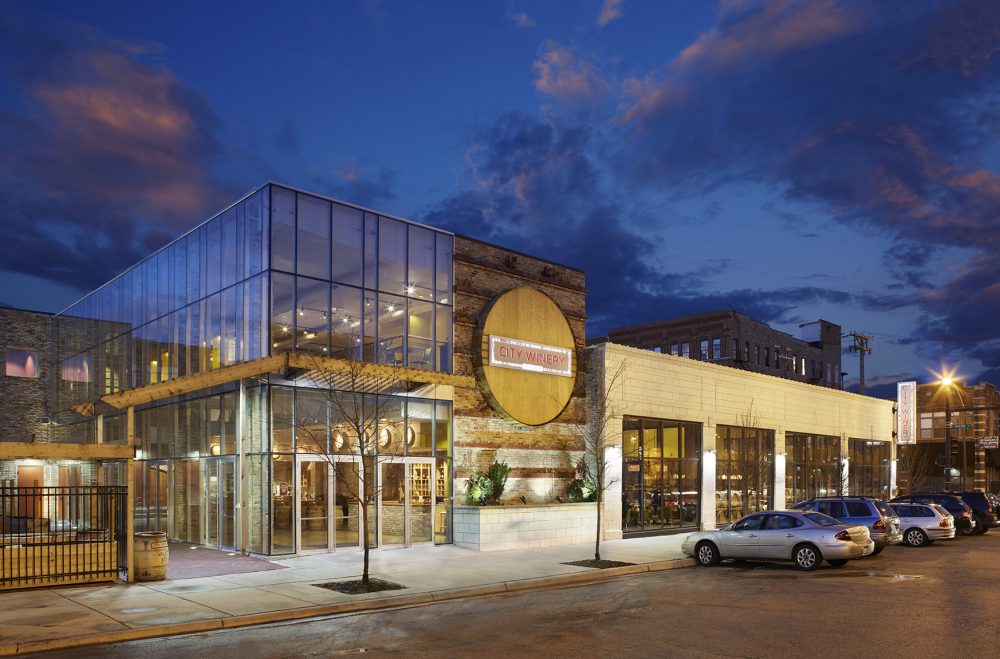 CFM: For those that have not been to City Winery before, tell us about what the experience is like and what should be ordered.  
TF: With us offering so many different options for dining, it is endless. You can come enjoy a concert or comedy show in the venue while still being able to have a full restaurant offering at your table. You can just come in and enjoy our restaurant or patio for a beautiful dinner. You can come on the weekends and enjoy a Winery tour and then wine and cheese paired afterwards. 
CFM: What are your favorite dishes on the City Winery menus? 
TF: Octopus with romesco, frisee, crispy garlic. Braised chickpeas and spinach. Burrata with yuzu aioli, chipotle fig jam, prosciutto and Marcona Almonds. 
CFM: What's a dish that you'd love to put on the menu? 
TF: Luckily we get to change the menu 2-3 times a year, also making small changes very often to keep the menu fresh, seasonal and new. We are currently working on our fall/winter menu which will be out in October. 
CFM: Any exciting activations that diners can look forward to the rest of the year? 
TF: We are always doing wine dinners monthly. These are 5 courses that me and our Winemaker Caroline Schrader pair.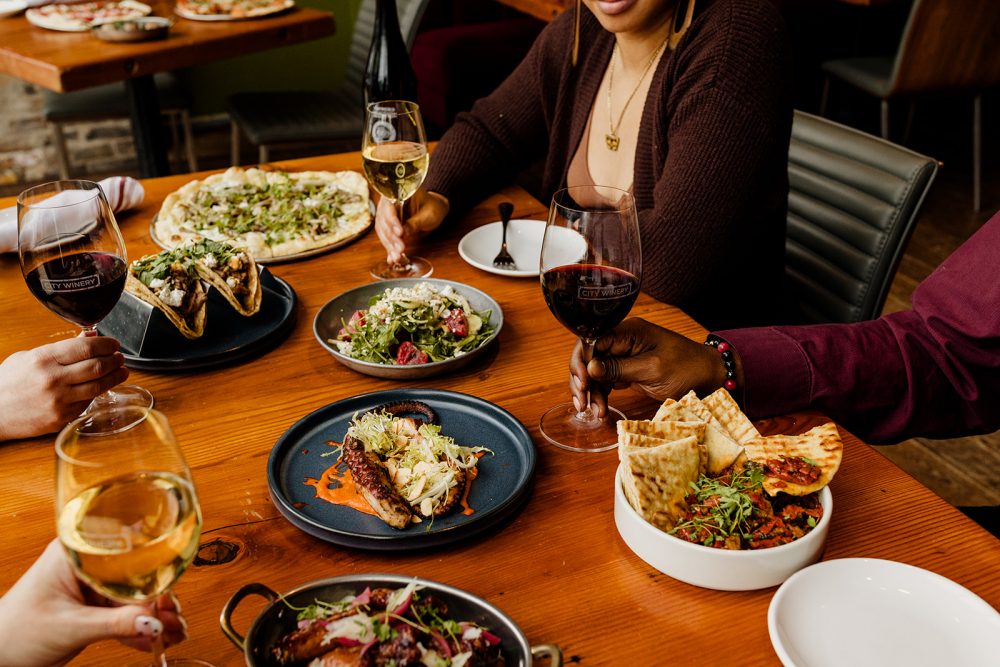 CFM: Where are your favorite restaurants and bars in Chicago? 
TF: I live in the Edgewater neighborhood of Chicago. I like my little neighborhood dive bars. My favorite restaurant is still Au Cheval, I could still eat that burger and bone marrow everyday. 
CFM: What is your ideal day off? Do you check out other restaurants or stay home? Do you cook or take a break from doing so? 
TF: Me and my girlfriend love trying out the little restaurants in the neighborhood. I do love my time at home though and enjoy the beach in the summer. 
You can always catch me making something on the grill or my smoker on my days off. Nothing better than some BBQ and a beer on my day off.
CFM: If you could open a restaurant anywhere in the world, where would it be and what would the concept be?  
TF: I would love to open my own restaurant on a beach anywhere in the world and serve some amazing fresh seafood.