---
Chef Mitchell Jamra is the man behind All Too Well – a sandwich deli in Lincoln Park - and Evette's, with three locations in Lincoln Park, Time Out Market and now, Lakeview. Jamra, a first-generation Lebanese-American, grew up immersed in three food cultures (Lebanese, Mexican, and Midwestern) and taps into his upbringing as the foundation for his concepts.  
On his off days, you can find Jamra day drinking on his boat or enjoying al fresco season at a few of his favorite locales including Webster's Wine Bar, Victor Bar, Big Star and LYRA. When he gets hungry, it's off to Dove's Luncheonette, Orange Garden, Aroy Thai, Taqueria Chingon or Aba.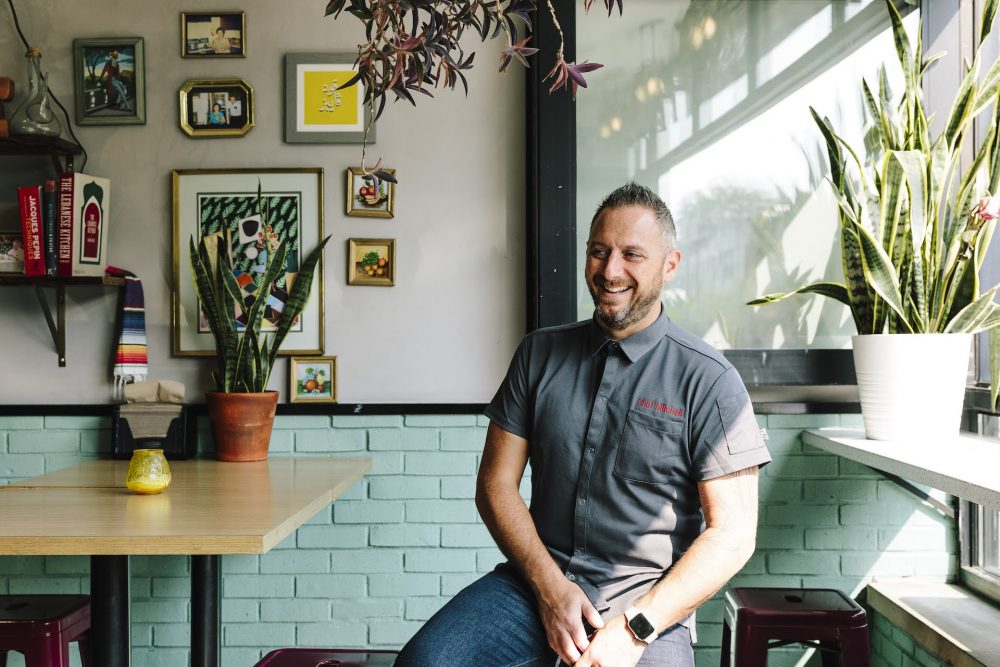 Most days however, you'll find Chef in the kitchen, where he calls upon his biggest inspiration: his 'teta' (grandma in Lebanese), for which Evette's is named. The third location of Jamra's ode to teta opened in Lakeview at the end of March. To differentiate from the Lincoln Park and Time Out Market outposts, Evette's All Day Lakeview features a few new and location-exclusive menu items inspired by Jamra's childhood stint in the U.S. Southwest.  
"When I was younger, my father lived in Tucson so I spent my formative years experiencing Southwestern food throughout Arizona and New Mexico. With Evette's All Day, I want to dive deeper into mixing those flavors and preparations with Lebanese and Midwestern food cultures," said Jamra. "Diners will find handhelds with various fillings and bread vessels like Indigenous American Fry Bread with a Mediterranean twist, pocket pitas like Tortas and Arayes, and flatbreads like Malawach and Man'oushe."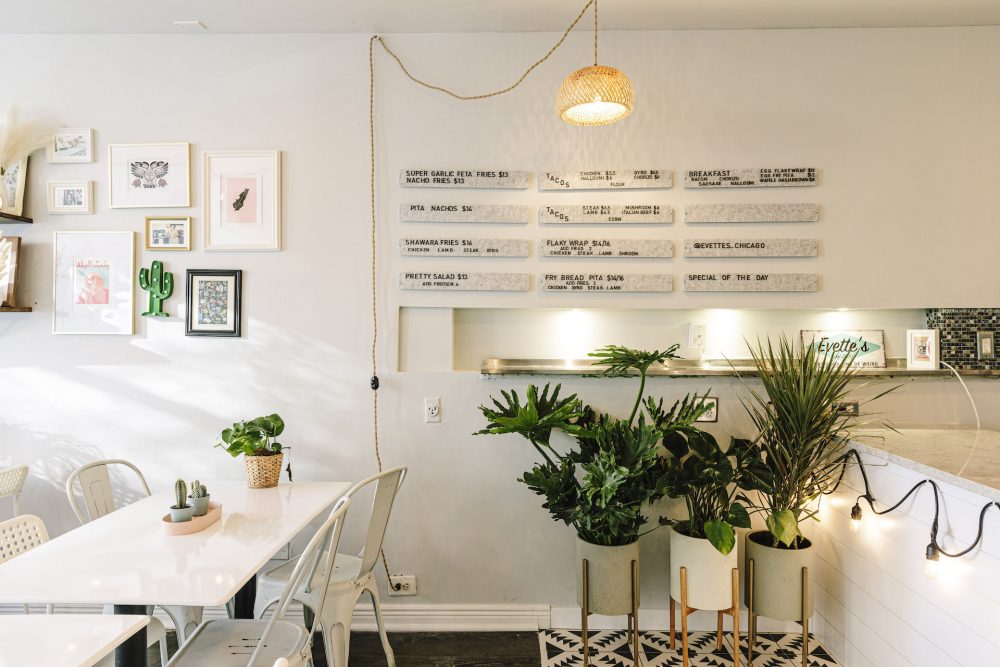 With that, guests can find a few more taco options than the Lincoln Park location serves. For those that love their taco fillings wrapped in a flour tortilla, I particularly recommend the Chicken Arabe and/or Gyro tacos. With decades of the family business being in delis and butcheries, Jamra knows how to source only the best quality meats and tops these two with fresh ingredients like zippy tzatziki sauce, crunchy radishes, cilantro and red onion.  
For corn tortilla preferences (like mine), get the Lakeview-exclusive Mushroom or Italian Beef options! Whether you are a vegetarian or meat-itarian, there is a taco for you!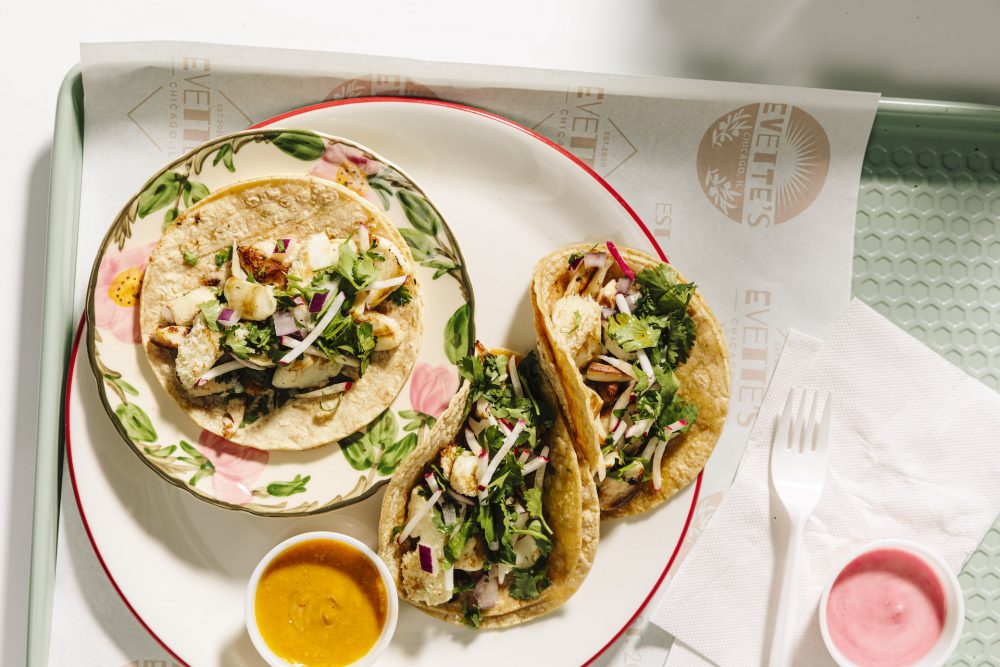 Chef Jamra's favorite menu item? "The Flakey Wrap – exclusive to this location only!" he tells us. Malawach/Paratha-style pita engulfs your choice of protein plus lettuce, chili crunch, fried & pickled onion and feta with an amba mayo and yogurt to cool it all down.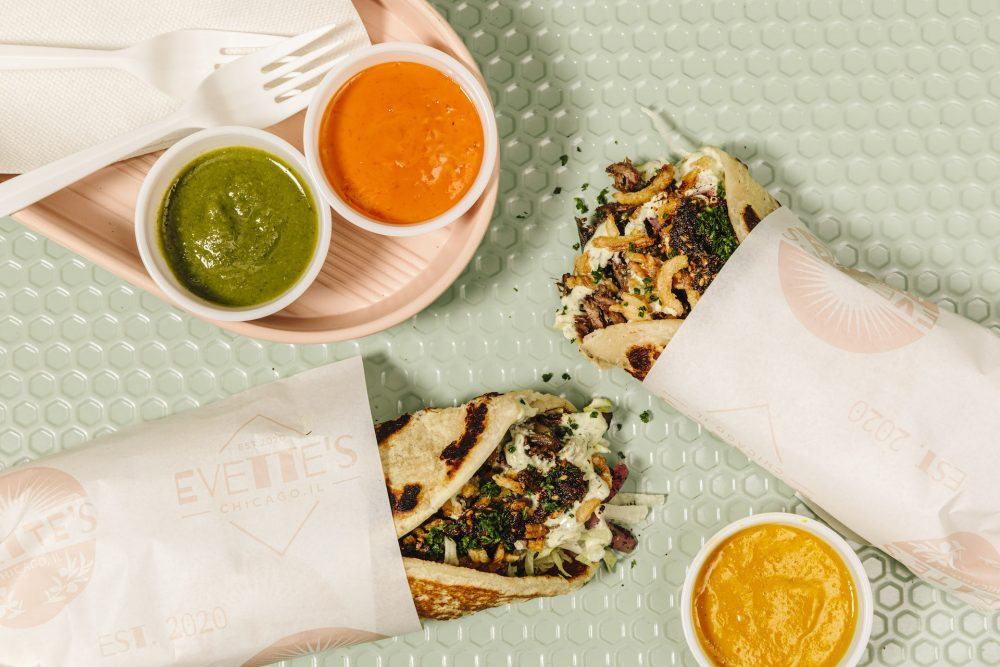 Perhaps the most quintessential highlight of Evette's menu is the Super Garlic Feta Loaded Fries. I first fell in love with this beautiful mess when Evette's opened their outpost at Time Out Market. Naturally, I had to get them again and they did not disappoint! The dinner-sized portion should be shared with a friend (or two) and on Instagram as well. Chef Jamra puts a fun spin on this addictive pile of potatoes by adding beet juice to the garlic mayo, resulting in a colorful smattering of bright pink sauce amongst feta crumbles, flecks of parsley and za'atar.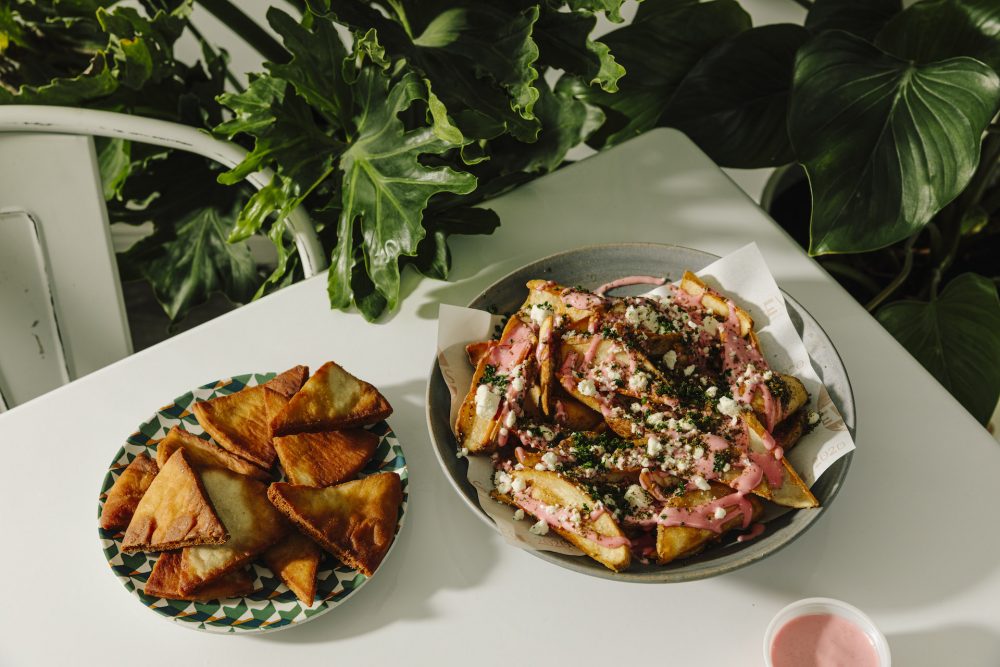 Evette's All Day is BYOB so guests are encouraged to bring their favorite alcoholic beverages to enjoy with the Lebanese-Mexican-Midwestern fare. Thirsty for some N/A options? Evette's has you covered with Jarritos, San Pell and of course, water.  
Fans of the eatery have much to look forward to this summer as Jamra is bringing After Dark dinners to the new Lakeview location starting in August. Follow on Instagram @evettes_chicago to get updates. 
Evette's Lakeview is located at 2807 N Sheffield and opens every day at 11am.