---
Calling all Union Station travelers, Loop office workers and any locals looking for a great meal for a weekday lunch, dinner or happy hour! Canal Street Eatery, located on the ground floor of the BMO Tower (314 S Canal), has a wide range of options for diners to customize their experience whether on a solo traveler venture, out with a coworker or a family-style affair. While the weather is still nice, be sure to take in the fresh air on their scenic patio while indulging in a few of the following recommendations: 
Antipasti and Small Plates 
Do NOT pass on the bread service. I know it's such a simple thing that is often overlooked on a menu but do yourself a favor and order it. Three, warm Parker House rolls sprinkled with a tad of lavender citrus salt are waiting to be consumed! Spread a bit of seasoned, whipped butter on one bite then take pleasure in dipping another bite into the sweet balsamic reduction or arbequina olive oil.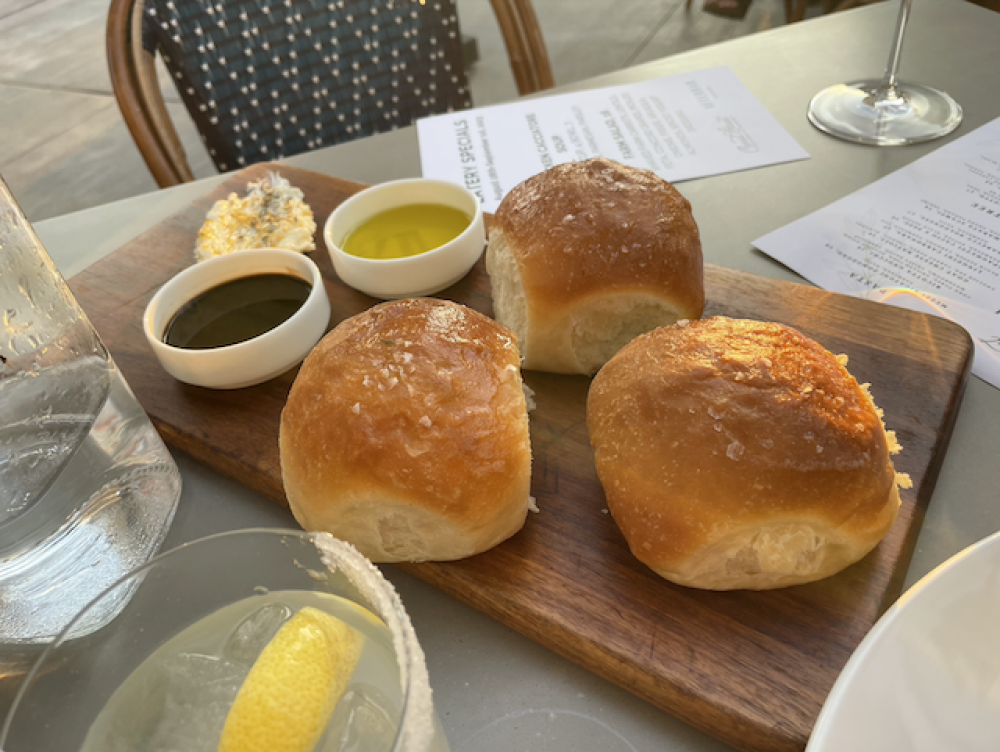 The same applies to the Grilled Octopus, perfectly tender tentacles with the ideal hint of char from the grill. Normally, I leave most of the usual accompanying potatoes. They are either undercooked or perhaps worse, under seasoned. This time was different. The potatoes are fried to a near smashable texture making them easy to break up with a fork but not so weak that they lose their chew. The simplistic seasoning seeps just enough into the not-too-oily skins resulting in a bet-you-can't-have-just-one, addictive partner to the cephalopod. 
If squid is more to your liking, Canal Street offers a quintessential Fried Calamari served with marinara and garlic aioli under their Small Plates section. Or savor some Arancini with luxurious hints of truffle, mornay sauce and truffle aioli.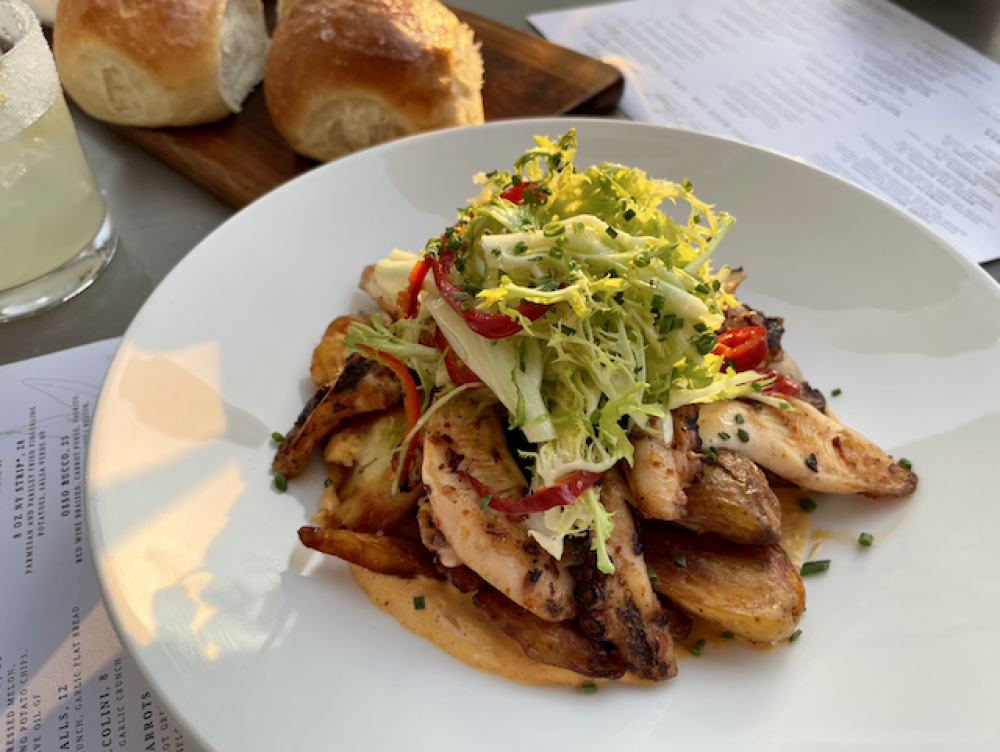 Sandwiches 

While we didn't opt for a sandwich during our visit, any of Canal Street's four handheld offerings are great to grab before settling onto the Green at 320 to take in one of their many weekly community events or soaking in the last of the summer sun on their patio. With National Cheeseburger Day coming up on September 18th, diners have the perfect excuse to indulge in the Canal Burger which includes tomato jam, house pickles, and melted cheddar on a garlic aioli-slathered seeded brioche. 
Pizza 
Between the Truffle and the Spicy Soppressata pies at Canal Street, I'm torn. While I generally go by the "why not both?" rule of thumb, I did end up choosing just one (the Spicy Soppressata) during our recent visit to save room for other dishes and dessert! Thankfully, it did not disappoint and had I not already committed some future stomach space to the Brownie Sundae, I would have inhaled the whole pizza. Little cups of pepperoni share the crust's canvas with thin, triple-the-size slices of peppery soppressata. The best part of all is the Fresno honey that adds gentle sweet and spicy notes to each and every bite.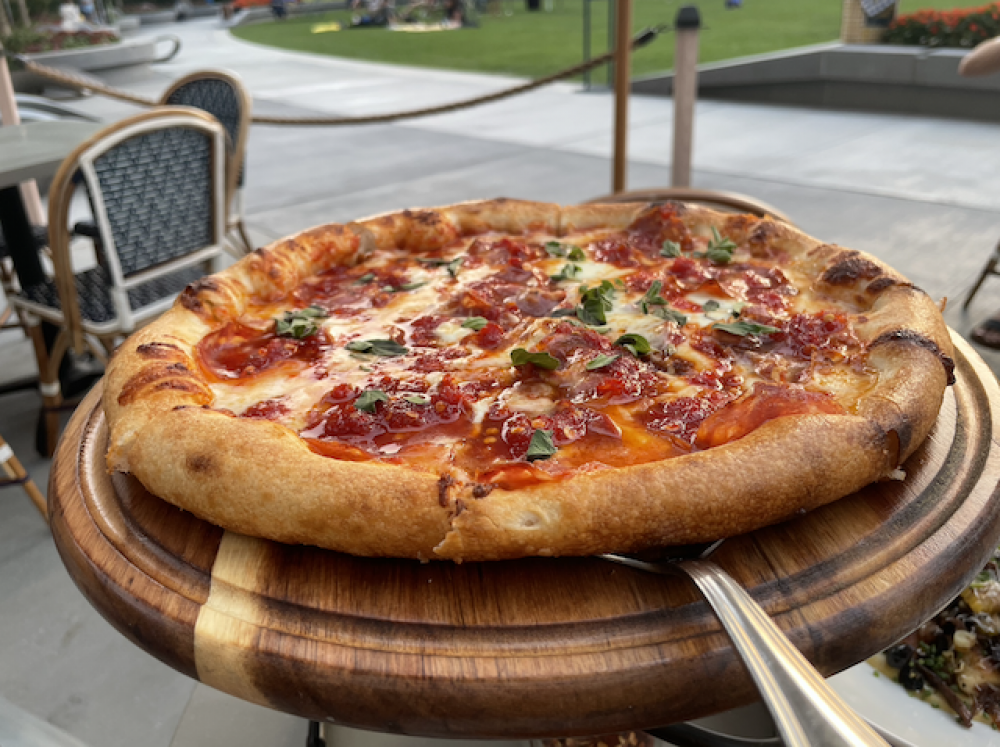 Pasta 
I could and do sometimes eat pasta multiple nights a week. This was the case the week of our dinner at Canal Street when I was too tempted not to order the Ricotta Gnocchi. As time has gone on, I've learned that gnocchi is really not my favorite member of the pasta family. However, with it being the end of summer and all, why not take advantage of the season's better-late-than-never vegetable: corn.  
Resting in a pool of grit-like corn puree, the ricotta-filled pillows are blanketed by an array of flame and heat-kissed veggies including grilled kernels of corn, roasted onions and mushrooms and crispy bacon. It was a bit too overly charred for my taste but the textures within the dish are very well balanced.  
If you're like me and prefer an actual noodle, Canal Street has the classics like Carbonara, Cacio e Pepe and Bolognese, just to name a few.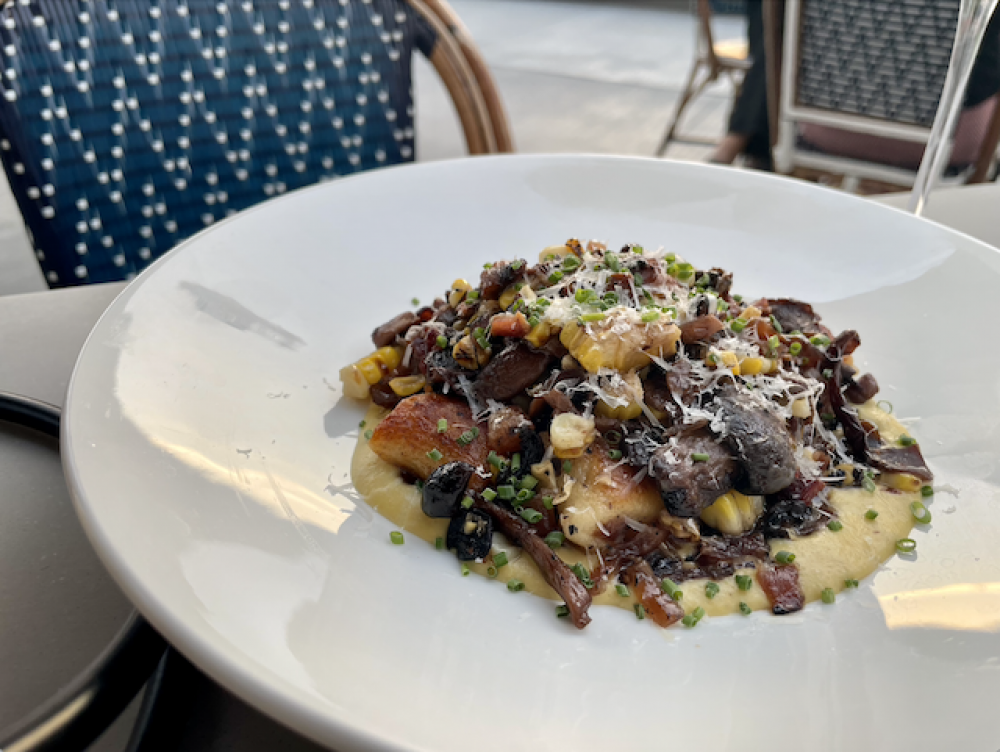 Entrees 
With all the carbs from the pizza and pasta, we passed on selecting an entrée for the evening as well. However, next time we visit, the Salmon Piccata has my name on it.  
Dessert 
Of course, it wouldn't be a CFM visit without a bite of dessert! Chocolate cravings led us to the Brownie Sundae during our evening: a heavenly square cutout of decadence, topped with a generous scoop of vanilla ice cream and juicy, macerated strawberries. The seasons will alter the sweet offerings here but be sure to end your meal with a little something off Canal Street's dessert menu!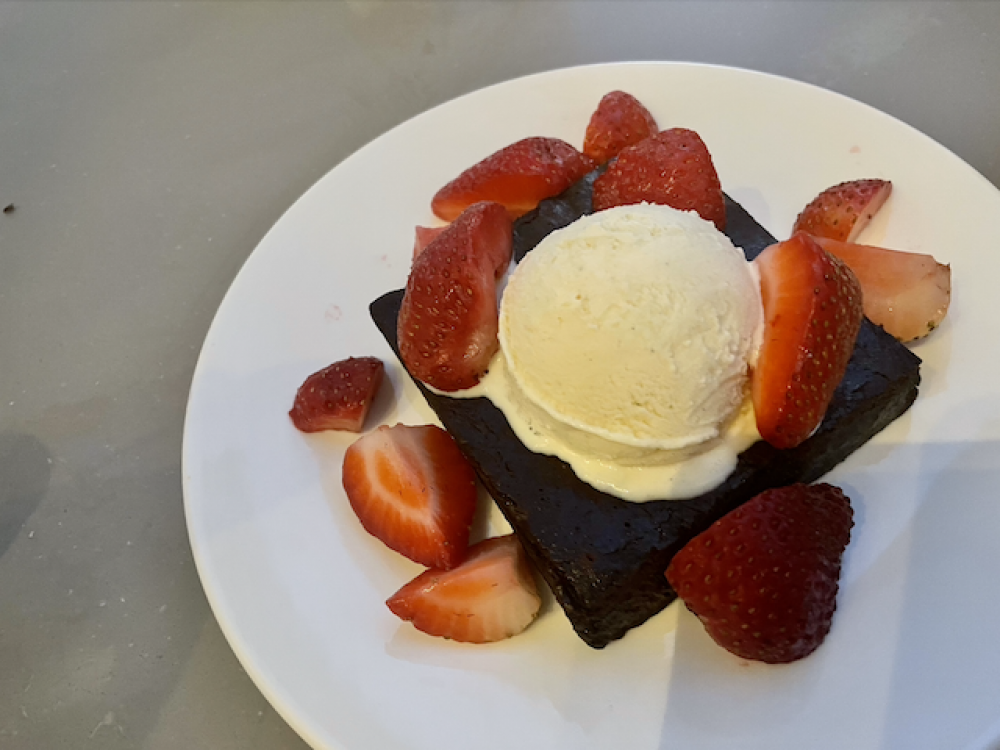 Cocktails 
Be sure to cap the night off with a boozy cocktail at Afterbar right next door. Take advantage of the nice weather while we have it and enjoy your beverage in the classy, open-air bar. Beware of the boozy In The Name Of The Flower, a gin-based drink infused with cucumber and mint. Complete with Génépy, dry curacao, Luxardo, hibiscus and lime, this tall glass of liquor will sneak up on you! 
But before you mosey over to Afterbar, do yourself another favor and sip on Canal Street's Italian Marg. Made with tequila, limoncello, citrus, simple syrup and a sugar rim, this sweet and slightly punchy will transport you to a sunny place any time of the year.  
Canal Street Eatery is located across the street from Union Station at 314 S Canal Street. They are open Monday through Friday for lunch from 11am to 3pm and for dinner from 3pm to 8pm.