---
Safehouse Chicago is as unassuming as it's entrance. Guests walking down Ontario Street will come across nothing but a red door with a few "Bond-like" silhouettes only to enter into a small room decorated like a typical office. Agents are welcomed by a man hired to make sure there are no spies or double-agents that are trying to infiltrate the secret lair that is Safehouse Chicago. Only those that comply with his wishes or already know the secret password (no whistle-blowing here!) are allowed to enter into the depths of Safehouse.
Take a trip down the stairs and be greeted by a round of applause for accomplishing the feat of gaining access to Safehouse. An agent (your hostess) will guide you to your table and hand you a card filled with riddles. This playing card is to encourage you to get up between drinks or while you are waiting for courses and interact with the restaurant itself. Some riddles are even clues to discovering the secret password to utilize the next time you visit. If you are lucky, some of the Safehouse agents may even point you in the right direction if you are struggling with a riddle or two.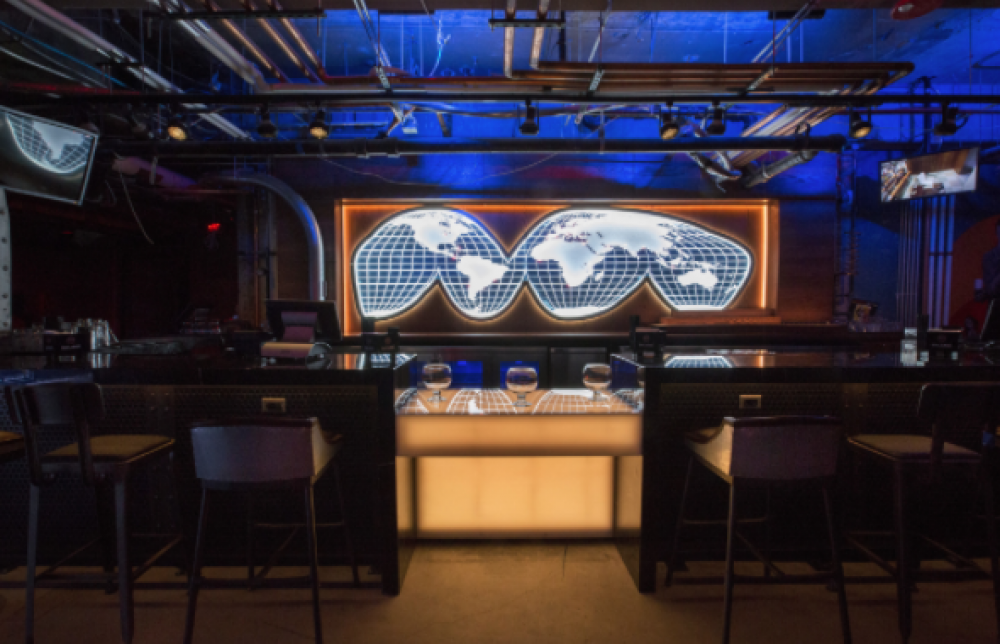 Your decoding mission otherwise known as the menu, is loaded with many typical options with appetizers, salads, sandwiches and entrees. A lot of the dishes are greasy and loaded with carbs but promisingly delicious.
Start with an order of "Fried C4 Cheese Curds" ($10), an homage to the home of cheese curds and the first Safehouse location in Wisconsin. The curds are served with two secret dipping sauces. If you are with a group of at least four people, order up the "Nachos Camp Stanley" ($17). Freshly made tortilla chips are loaded with a house-made cheese sauce of cheddar, pepper jack, and American. Agents can choose to make these nachos meatless or from ground beef or house-smoked chicken. The chips are topped with pico de gallo, avocado crema, cilantro and pickled jalapenos.
Salad and sandwich options are named with punny spy–themed words like the "Covert Chopped Salad" ($15) with chopped romaine, garbanzo beans, tomatoes, pepper smoke bacon, blue cheese crumbles and blackened chicken tenders, drizzled with balsamic dressing. Or, the "Goldfinger Grilled Cheese" ($13), a golden mixture of American, parmesan and pepper jack cheeses and more fried cheese curds, served with a side of marinara.
Among the entrees are fish, ribs and the "Licensed to Kill Mac & Cheese" ($18). The mac is tossed with a creamy cheese sauce and accompanied by tender chipotle smoked chicken, pepper bacon, broccoli and chipotle peppers then topped with garlic bread crumbs.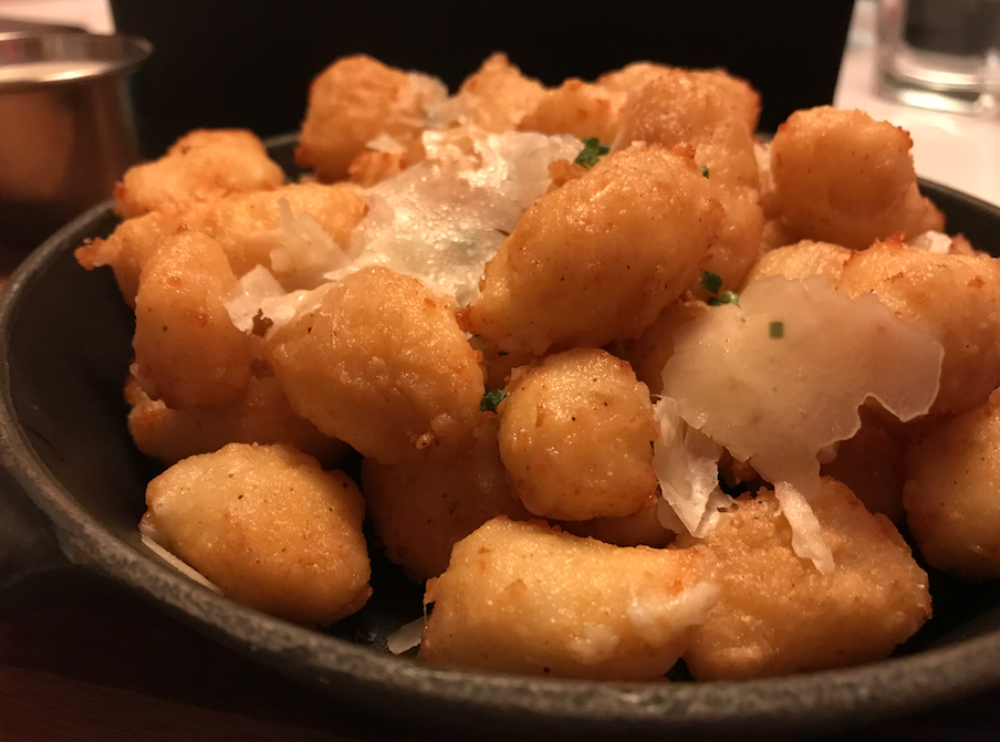 However the highlight of the menu are the burger options. Chicago Magazine voted Safehouse's "Mission Impossible" burger as Chicago's Best Burger. Many will disagree but it is definitely in contention. The "Mission Impossible" ($16) is two premium USDA Angus patties with smoked bacon, cheddar, and pepper jack cheeses, onion rings, chipotle ranch and jalapeno relish. Good luck going it alone, although we suggest it be shared! Another burger of note and arguably up there with the "Mission Impossible" is the "MOAB" ($15), a USDA Handpattied beef topped with American cheese, bacon, an over easy egg and Safehouse's secret sauce on a brioche bun.
The drinks can be enjoyed any time of the day but especially during Safehouse's Happy Hour every Monday through Thursday 4pm-6pm. The tequila-focused "Espionage" ($14.25) is a great refresher with the greasy food. Martinis and mules are also featured on the beverage menu accompanied by a large selection of beers and wine.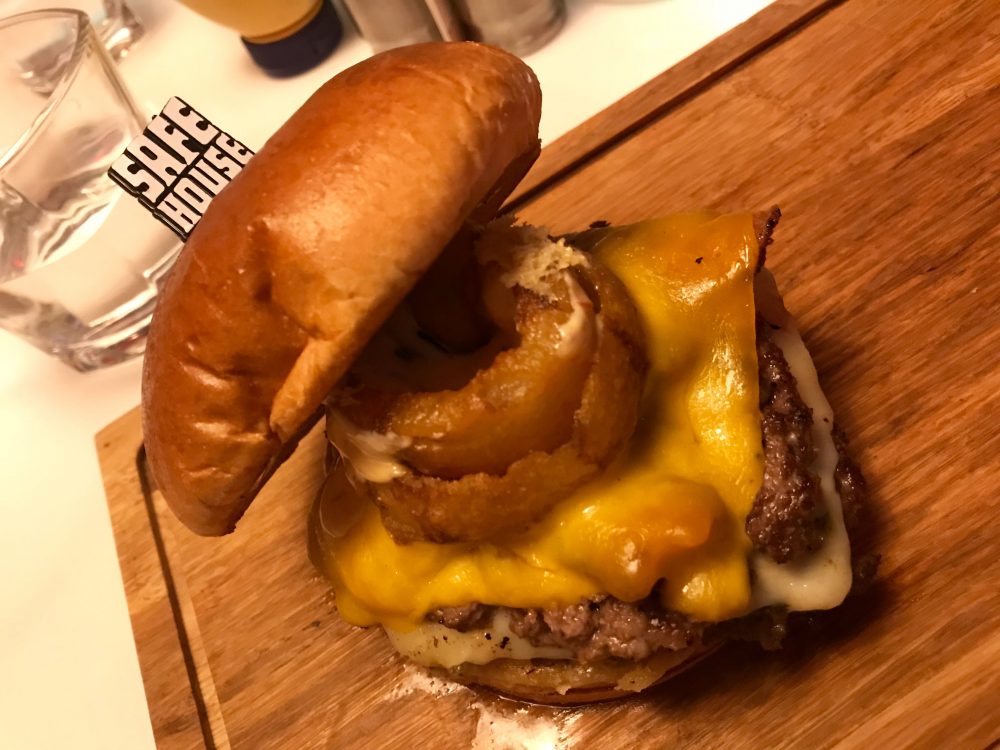 Finish off the spy-themed night with a little sweetness. Again, if in a larger group, the "Fat Bastard" ($20) is for sharing. The dessert is served in a giant martini glass that is piled high with brownie bites, chocolate cake and ice cream topped with whipped cream, chocolate sauce and a SPARKLER! Have your cameras out and ready to take pictures before the sparkler diffuses! However if in a smaller group, go for "Mr. Big's Brownie Cheese Cake" ($10). A cheesecake loaded with cubes of brownie, baked atop another brownie and topped with vanilla mousse. The cake is finished with chocolate ganache and walnuts.
The night will end similarly to how it began. A secret entrance to a place can only mean there is also a secret exit. However, we will keep this one a secret!  
Safehouse is open Tuesday through Friday 11am-2am, Saturdays until 3am and Mondays and Sundays until 12am.