---
How often do you slide into someone's DMs on Instagram and emerge on the other end with a veal parm sandwich? Probably not often right? Unless you're one of the 100+ patrons of Matt's Veal Parm, we're assuming you answered "never." And to those non-patrons who answered in the affirmative, we bet you haven't had a veal parm sandwich as good as these ones.
So what is Matt's Veal Parm (or MVP for short), exactly?
"The whole concept is so absurd on its face and we recognize that. We love it. I mean we're cooking a couple of items from my apartment while blasting Young Thug, but as soon as guests step in our door we're super serious about the product we put out. Matt Wachsman, co-founder of MVP, said. "The veal is sourced from this amazing Five Freedoms farm out in New Zealand. We tasted seven cans of San Marzano tomatoes before knowing we had the winner for our sauce. It took us a long time to find the right ingredients and we continue to perfect our product with each service."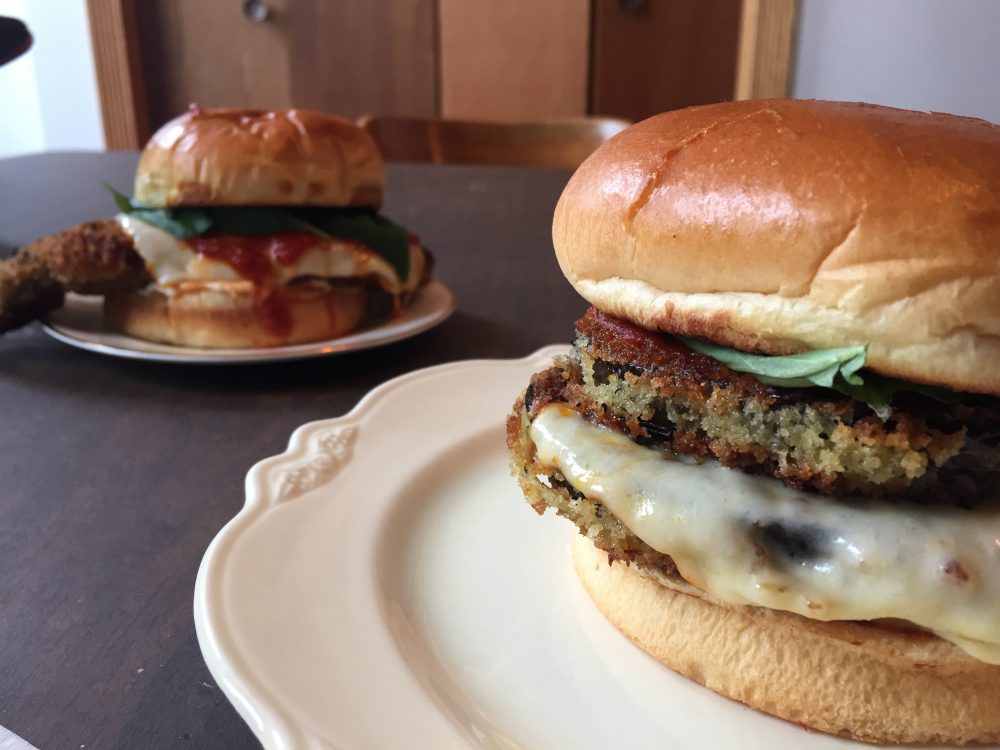 The idea for a veal parm home supper club came from Wachsman's New York roots. "I basically grew up eating the stuff in lieu of birthday cake for any family milestone," he says. "When you have a thickly accented Brooklynite as a father but live in Chicago you really start to miss a good veal parm. One day I was just craving the dish and jokingly made a website for it. It wasn't until Jon and his golden palate came over that things started getting serious." The afore mentioned Jon is co-founder and executive chef, Jon Glaser. With his experience working in professional kitchens, it was a match made in heaven. The duo soon teamed up with Purple Asparagus after encountering their booth at a local farmer's market and thus Matt's Veal Parm was born. 
The most important part of these events, besides indulging in some "crazily delicious sandwiches," is that guests come to give back. Each veal parm sandwich is sold as a suggested donation with all profits benefitting Purple Asparagus: a charity that, since 2005, has changed the way children eat in Chicago area schools. The organization strives to empower students to taste new food groups, learn new recipes and refine literacy skills through the consumption of various fruits and vegetables. So far Purple Asparagus has reached more than 15,000 students in over 50 Chicago schools with 44% of parents claiming that their children ate more vegetables after their classroom sessions!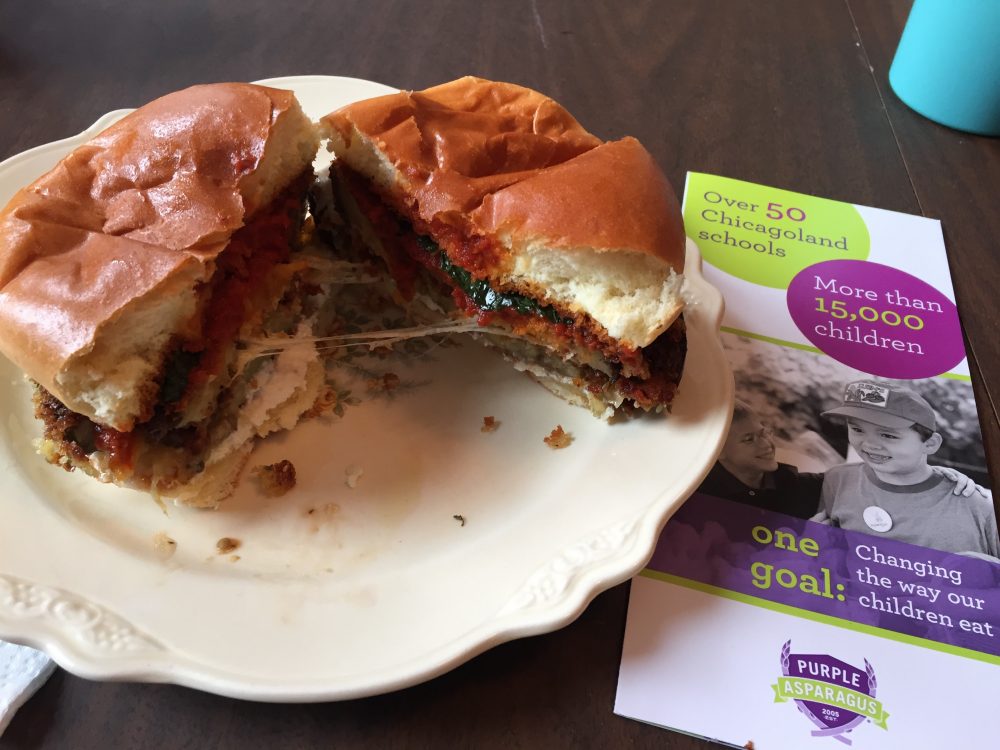 Every couple of weeks, you can find Matt and Jon slinging veal (and eggplant) parm sandwiches out of Matt's apartment in Wicker Park. Although they refer to the series as a "pop-up," you'll quickly feel as though you're eating in the middle of a wild party! Matt and Jon invite everyone they know, who in turn invites everyone THEY know and all of a sudden there are close to forty people sardined into this Wicker Park walk-up. 
"Most people don't know each other when they walk in but by the end everyone seems to have made a handful of new friends," Wachsman said of his guests. "We've had two people actually start dating after meeting and exchanging numbers at our opening service." 
The parm parties feel a little like a holiday gathering. The room is warm and smells of garlic butter as everyone gathers around the dining table, half-shouting to introduce each other and chat over one of Matt's Spotify playlists. Veal or eggplant parm sandwiches are made to order for each guest with chips and drinks offered as well all at a suggested donation. The two guys are busy cooking the whole time, once in awhile catching a glance at guest's faces as they first dig into their creation. The sandwiches start with a garlic butter grilled brioche bun that then gets schmeared with a mixture of a ricotta, parmesan and black pepper. A crisp, panko-crusted veal cutlet sits atop cheese #1, followed by cheese #2, a thick slice of muenster that gets melted beneath broiler flames. Next comes a ladling of tomato sauce and a vibrant handful of fresh basil leaves. Jon, the executive chef, handles the all-important cutlet breading and frying as Matt grills the buns and finishes plating the sandwich after it leaves the broiler. "Once we start service, he's the Lebron James to my Chris Bosh. The guy could knock-out and fry an order of 6 cutlets in his sleep" Wachsman said of his parm partner.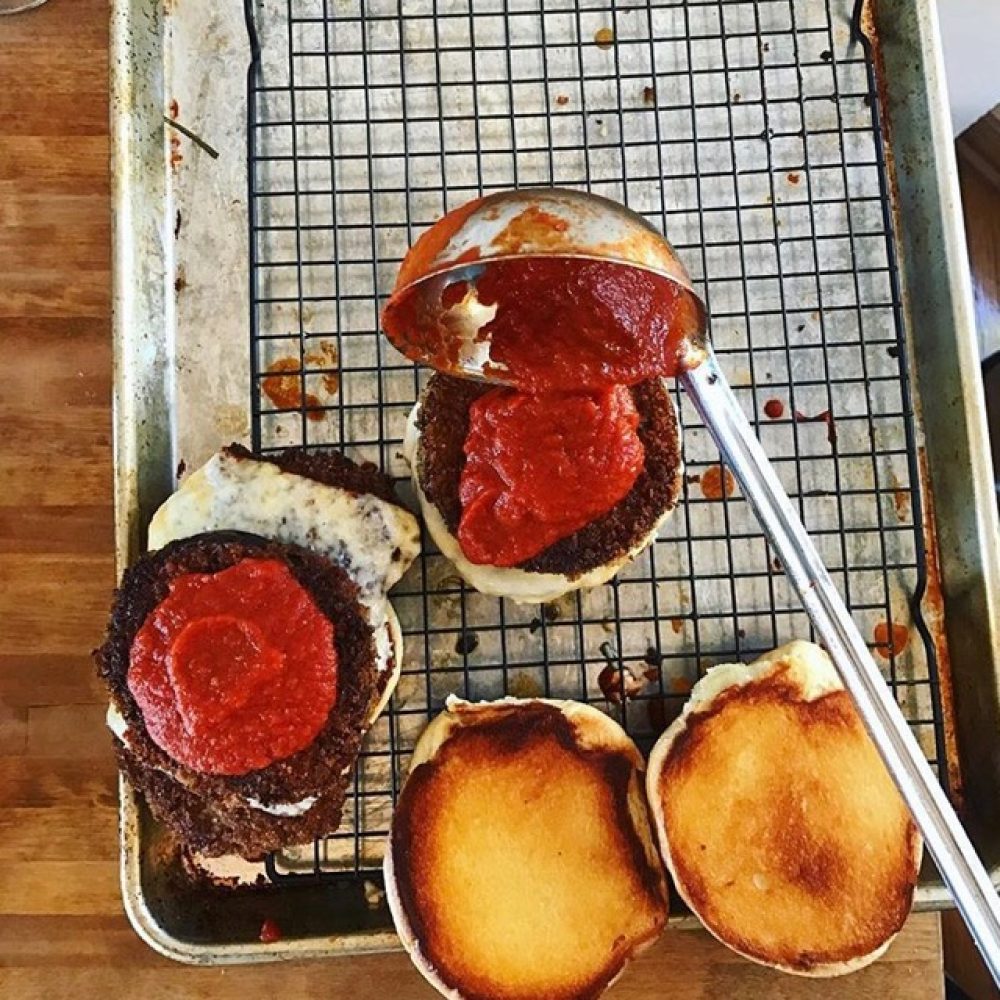 With the fun and success of MVP, Wachsman and Glaser look forward to expanding their charitable efforts and growing their relationship with Purple Asparagus in 2018. They already have plans to participate in Purple Asparagus' annual benefit as well as integrating their ideas into classroom cooking in the near future. In early 2018, the duo hopes to host a pop-up back in Matt's stomping ground in New York City while also taking their pop-up concept to other Chicago locales. 
Want to eat delicious parm sandwiches and donate to an awesome cause? Follow @mattsvealparm on Instagram or sign up on mattsvealparm.com to get alerts for upcoming sessions. Through six installments, Matt's Veal Parm has raised $1900 for both Purple Asparagus and Puerto Rican hurricane relief. Volume 7 will be held December 16th with service is scheduled from 12pm-4pm but most of the time, they have sold out by 2:30 so the early bird gets the sandwich! 
Want to get involved with Purple Asparagus? They are always looking for volunteers and donors so check out their website at http://purpleasparagus.com/ or email them at info@purpleasparagus.com.