---
The wait is finally over for the opening of Blue Sushi Sake Grill in Lincoln Park. After strolling by Lincoln Commons many times over the past year or so, I for one, am glad to see Blue Sushi open at last! I have previously experienced Blue Sushi at their Indianapolis outpost a few times and was excited when I learned that the lovely city we call home would be getting our very own location! The Lincoln Ave spot officially opened on October 30th and is bound to be a go-to spot for any sushi-lovers in the area! Below are just a few of my favorites from previous visits in Indy as well as our most recent to the newly opened Chicago location. 
Small Plates 
Start your meal off with a small bowl of addicting Charred Edamame. These 'bet you can't have just one' pods are served with your choice between classic - with pyramids of Maldon sea salt or spicy - with garlic, tamari and togarashi. We went with the classic iteration proving that sometimes the simplest preparation is the best!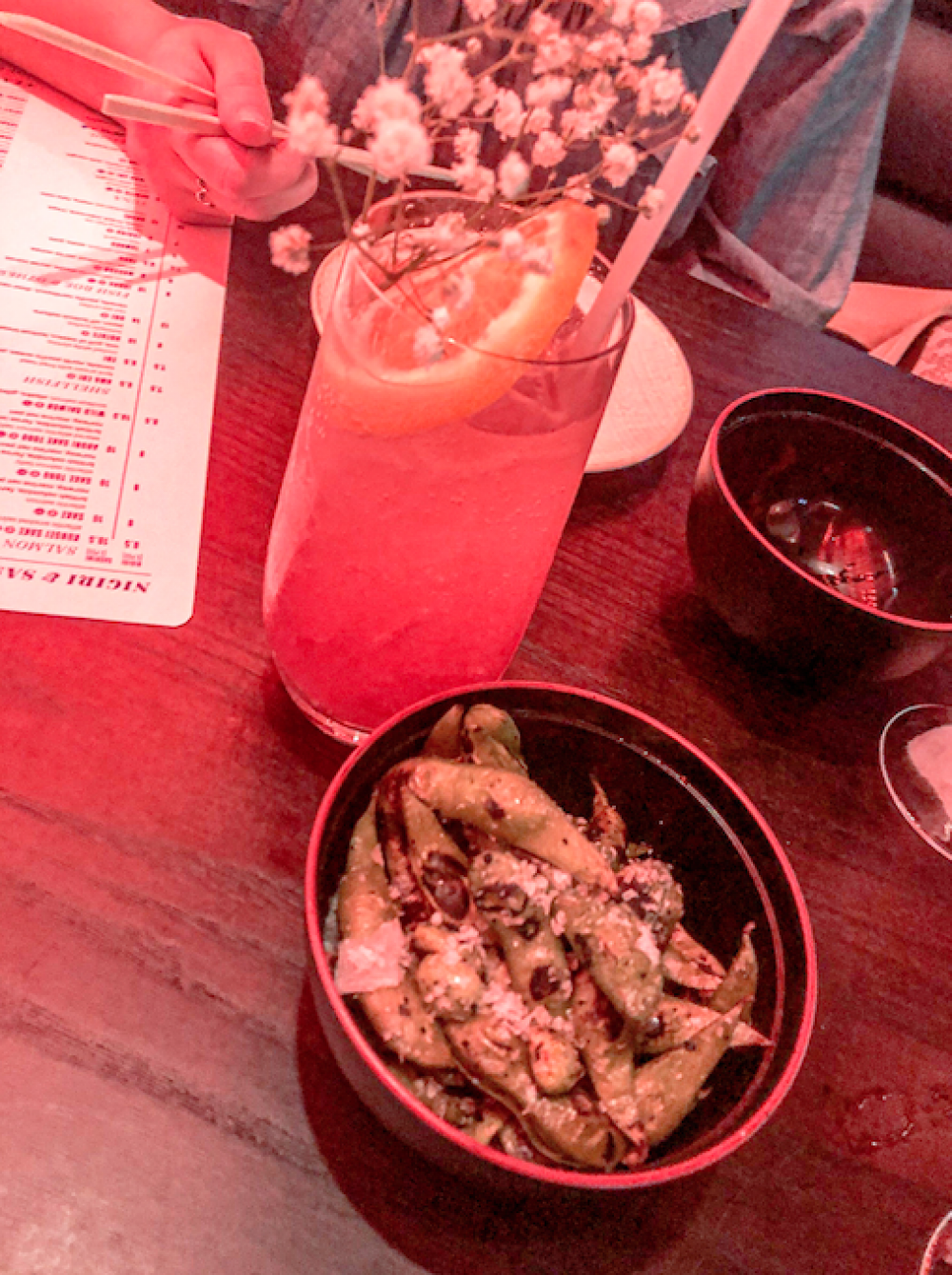 Medium Plates 
Continue filling your table up with any one of the delightful options on this section of the menu. Our picks? The Mango Crab Rangoon - crispy wonton wrappers stuffed with crab mix, mango, cream cheese and scallion, served with mango and Fresno pepper sauces; Shishito Peppers - sautéed Japanese peppers with citrus, tamari and togarashi; or the Calamari - sesame crusted squid, tempura vegetable, miso aioli. 
Large Plates 
Shareable and oh so healthy, the Large Plates part of the menu offers Lettuce Wraps, Chicken Crunch Salad or the Tuna Tower – a skyscraper of sesame and ponzu-marinated bigeye tuna, spicy crab mix, avocado and sushi rice, topped with black tobiko and wasabi sprouts, served with honey wasabi, mango and eel sauces. 
Specialty Nigiri 
You really can't go wrong with any of these specialty bites but what we kept coming back for was the Cherry Bomb – two pieces of bigeye tuna on top of rice tempura, topped with serrano, sriracha, togarashi and ponzu sauce. So good, we ordered another round before dessert!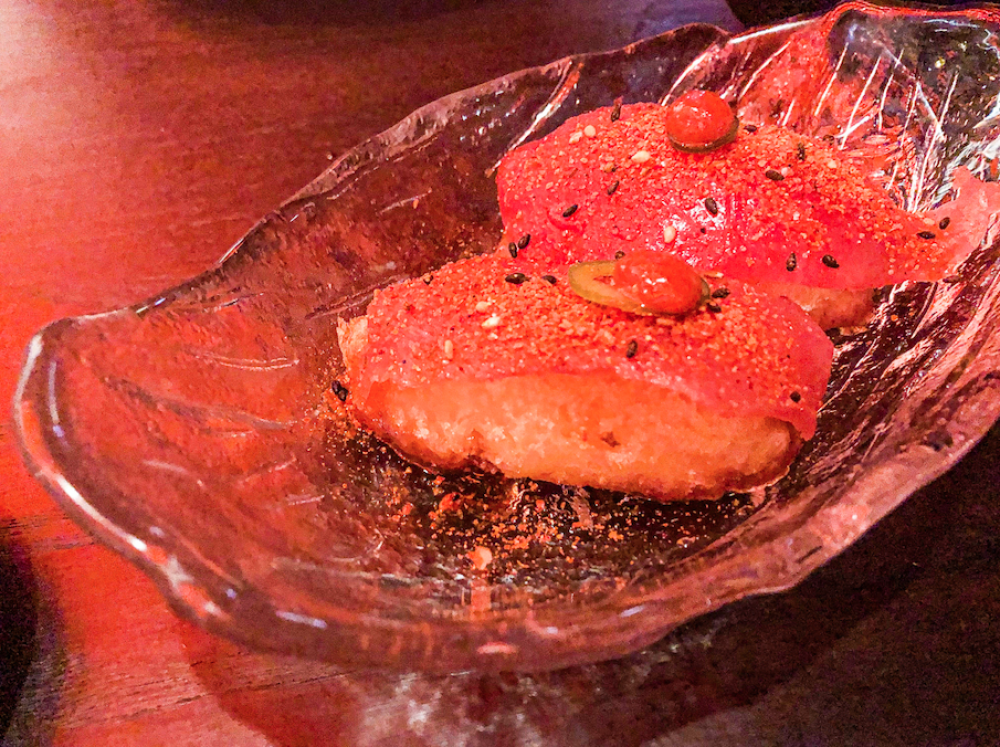 The cheekily-named Itchy Seabass, consisting of 2 pieces of baked seabass on top of spicy crab mix, topped with serrano, cilantro and ponzu sauce, is another CFM approved duo.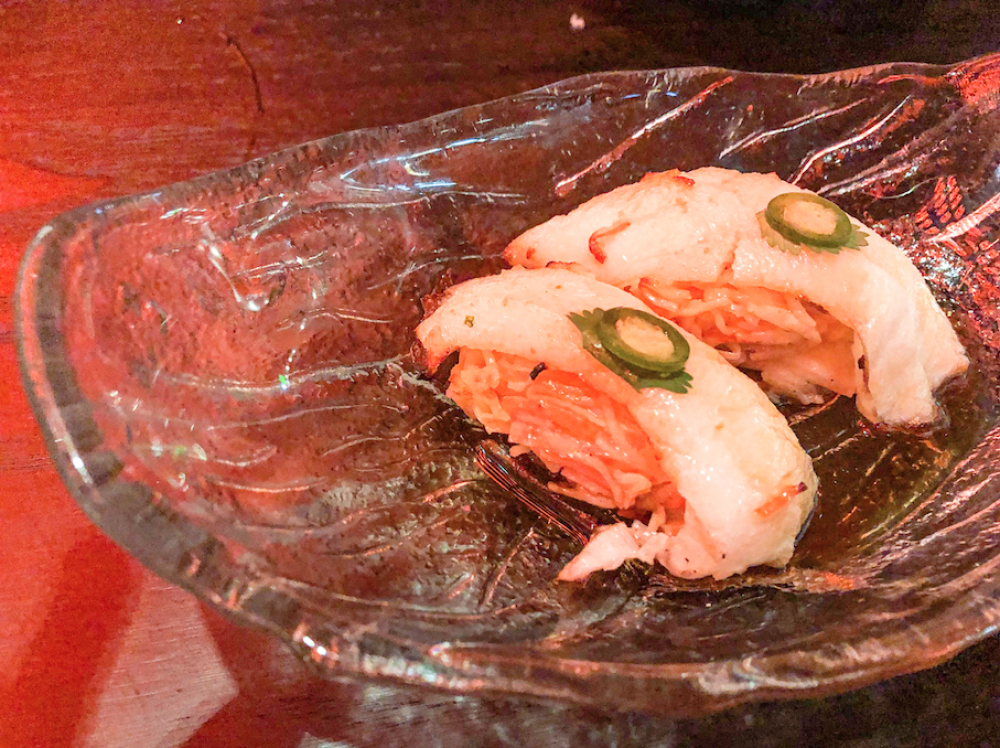 Specialty Sashimi 
I've come across a few people that typically don't prefer the flavor of truffle on anything, including my plus one the night of my visit. However, Blue Sushi surprised my guest with the elegant Truffle Salmon – five pieces of Atlantic salmon drizzled with hot sesame oil, topped with ikura, truffle ponzu sauce and wasabi sprouts. The truffle flavor was almost unnoticeable among all of the other delicate flavors surrounding the fish.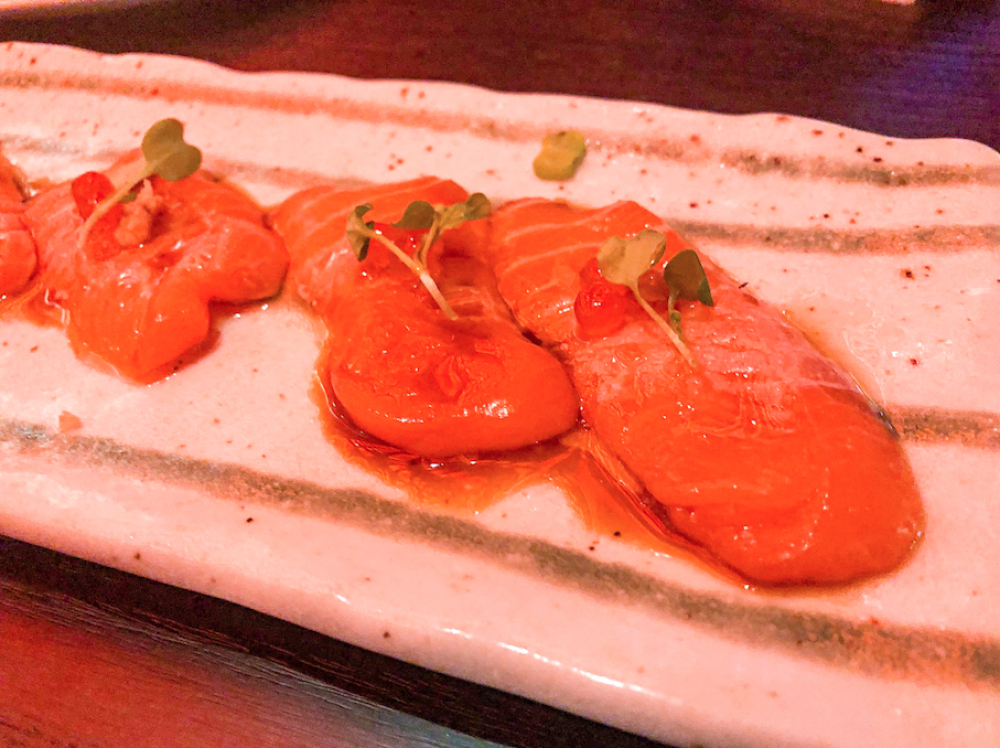 Maki 
Now for the slightly overwhelming part of the meal...the entire back side of Blue Sushi's menu contains dozens of maki options ranging from not raw to raw to completely vegan with additional nigiri and sashimi offerings as well. While the list is quite numerous, it's best to choose your own adventure. If you are a beginner to the world of sushi, you can stick with what you know or are comfortable eating. Otherwise, step out of your comfort zone and try something you wouldn't normally order. The rolls can come with 5-8 pieces and are handcrafted right at the sushi bar, visible from almost any seat in the house.  
A few of our favorites come from every part of the Maki menu so we're sure you'll be able to find something you like:  
Cloud Nine 2.0 - avocado, spicy crab mix, tempura shrimp, baked seabass, cilantro, serrano, ponzu sauce 
Hawaiian Roll - tempura fried, mango, salmon, crab mix, mango sauce 
Hot Popper - smoked salmon, cream cheese, jalapeño tempura, soy paper, sriracha 
Crunchy Blue - spicy crab mix, cilantro, crispy panko, eel sauce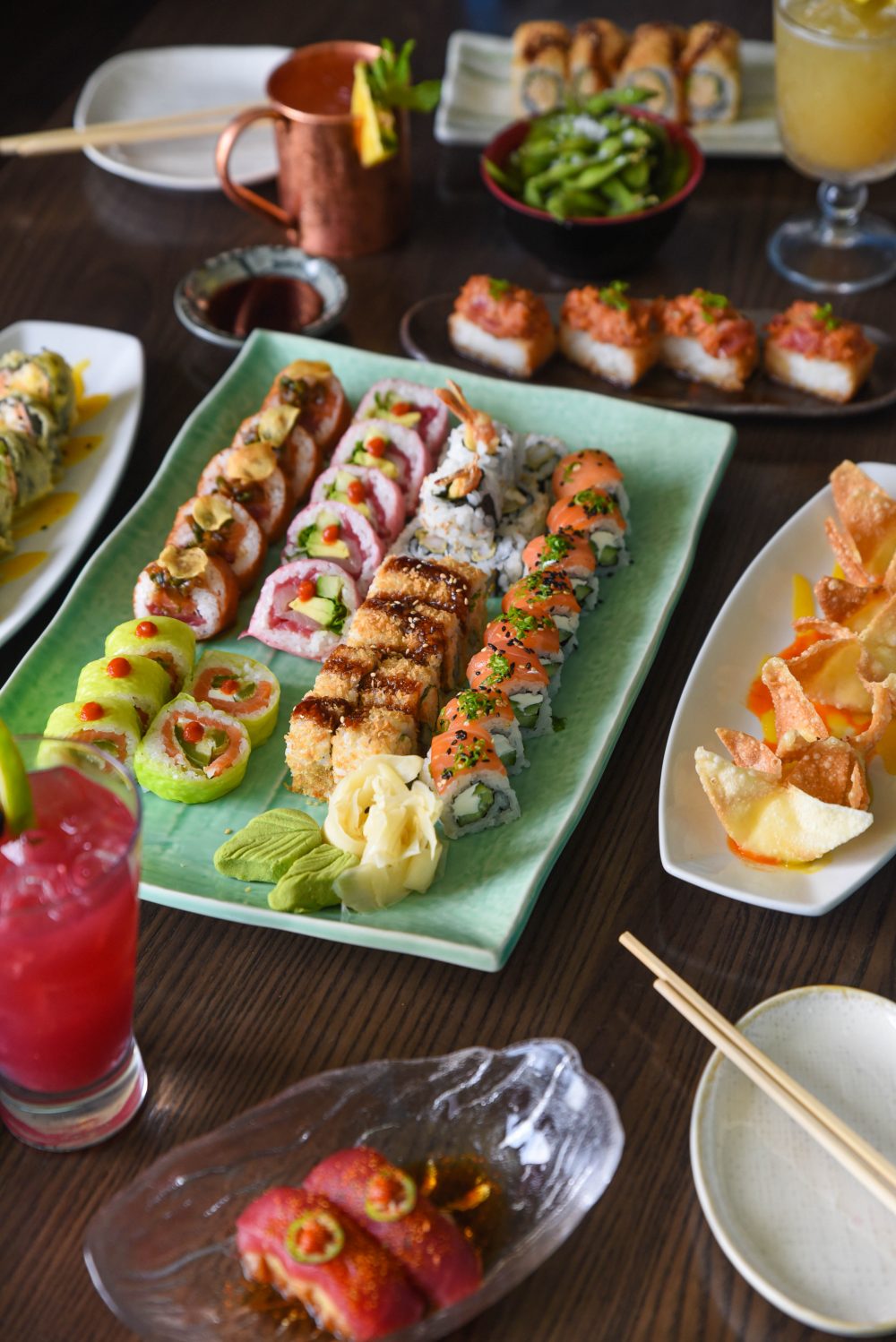 Lion King - crab mix, cucumber, avocado, spicy salmon, scallion, eel sauce, chili aioli 
Cali Roll - crab mix, avocado, cucumber  
Hotel Cali - tempura fried, spicy crab mix, cream cheese, jalapeño, avocado, sweet chili sauce 

Pretty In Pink - snow crab, cucumber, salmon, bigeye tuna, (pink!) soy paper, wasabi tobiko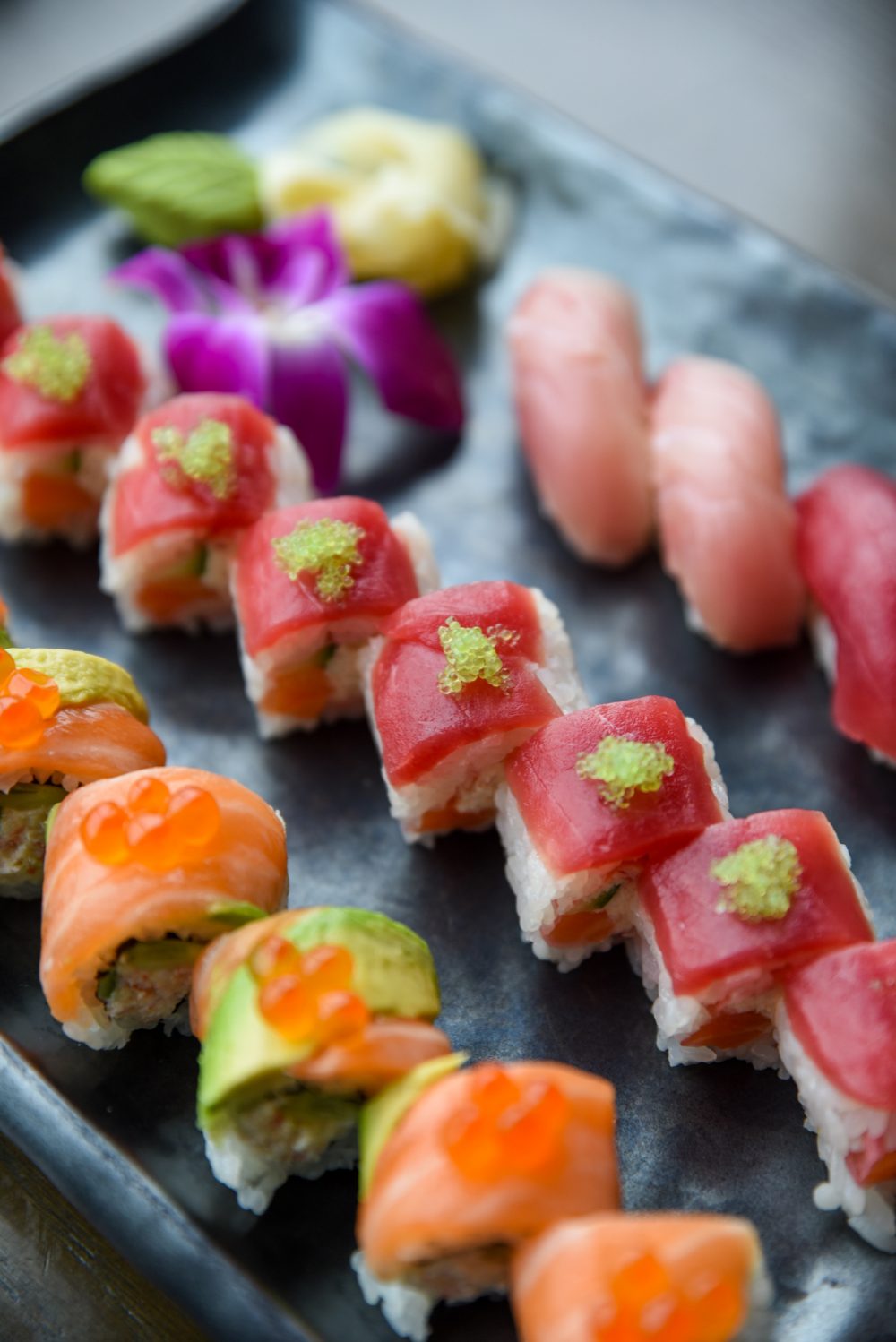 Alaska Roll - snow crab, cucumber, avocado, sockeye salmon, ikura, lemon 

Spicy Tekka - spicy bigeye tuna, cucumber 
Crunchy L.A. - crab mix, avocado, cucumber, crispy panko, sweet chili sauce 
Negi Yellowtail - yellowtail, garlic chip, scallion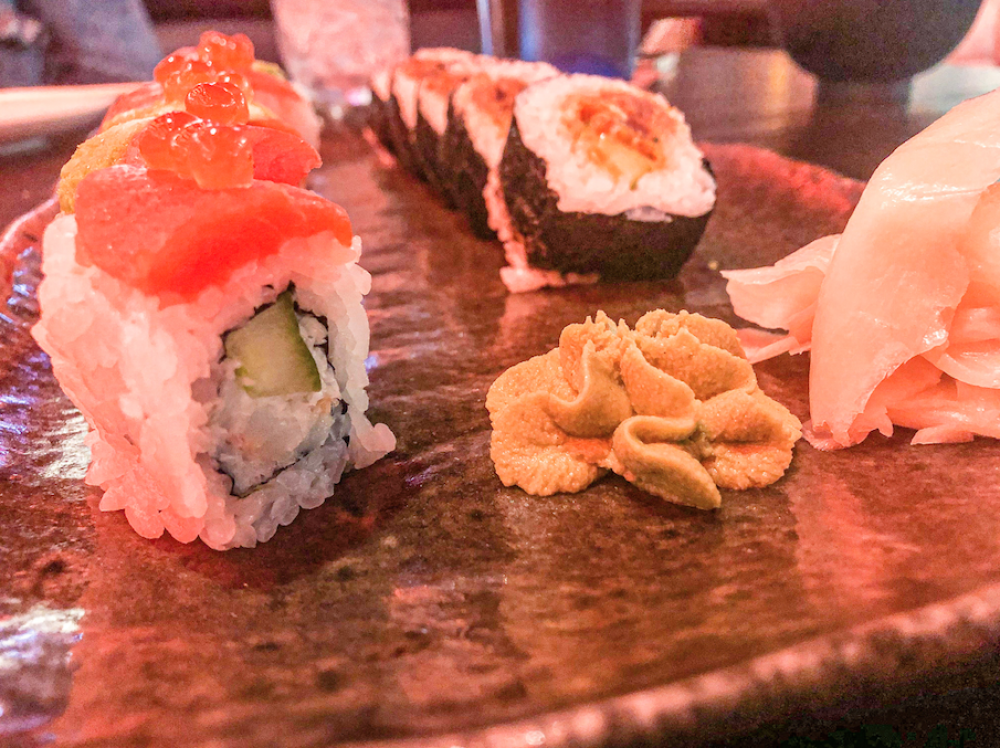 Dessert 
Even after all that sushi and decadent seafood, I sure hope you still have room for dessert. With fun Asian-inspired dishes like the Chocolate Spring Roll (crispy wonton wrappers stuffed with toasted cashews, raspberry purée and chocolate syrup, served with vanilla ice cream); or the Tempura Fried Ice Cream (pound cake, vanilla ice cream, topped with chocolate sauce, raspberry purée and powdered sugar), there's bound to be something to satisfy any sweet tooth. We went for the Mochi Ice Cream and got EVERY SINGLE FLAVOR. It was impossible to choose so we wolfed down the black sesame, mango, matcha (our fave), chocolate hazelnut, lychee and their seasonal mochi: salted caramel. Each one was as delicious as the other but as matcha fans, that one topped the rest.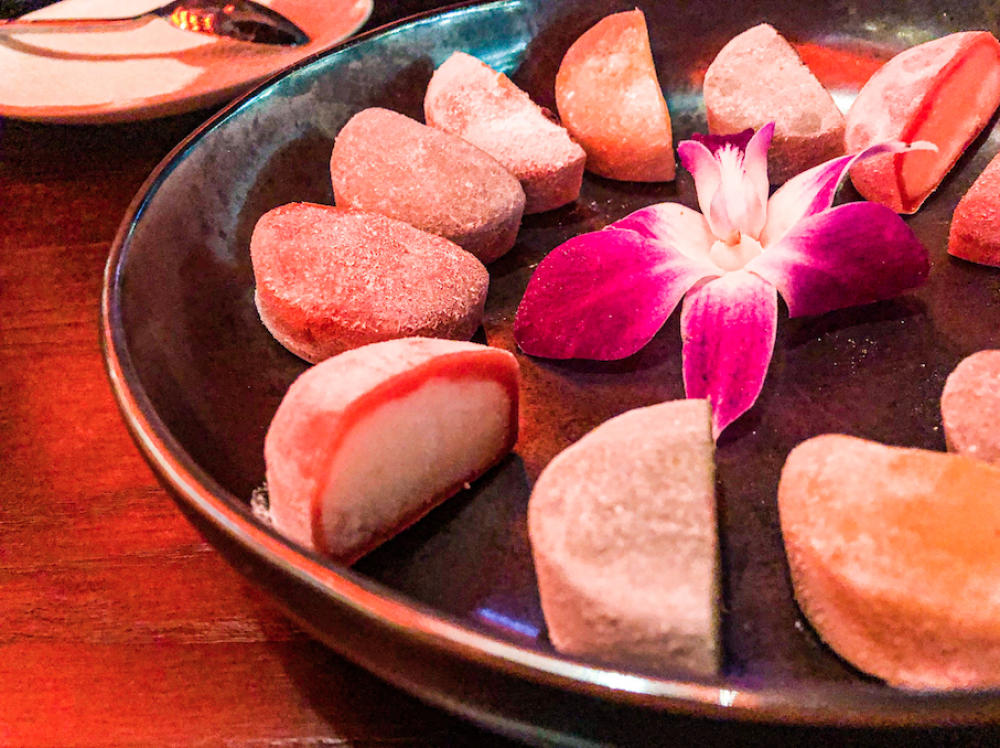 Aside from all of the wonderful food, what we love most about Blue Sushi is their approach to sustainability. Although a national franchise, the restaurant takes great care with where and how they responsibly source their high-quality seafood, meat and eggs. They created a program called, My Conscious Earth, informing customers of their commitment to making a positive impact on the oceans while providing the best ingredients possible. Diners can go to SeafoodWatch.org to learn more about the fish they source at all their locations. This seafood carries an eco-certification and is either fished or farmed in a manner that has minimal or no effect on the ocean's ecosystems. 
Blue Sushi is now open at Lincoln Commons (2351 N Lincoln Ave). They are open at 11am Monday – Friday and at 12pm on the weekends. Happy Hour is from 3pm-6pm Monday – Saturday for dine in and carryout and all day on Sundays, for dine in only.