---
Founded in 2003, the Boston-based company, B. GOOD, serves "Food with Roots" – sustainably-grown, fresh and wholesome food prepared in-house. The company operates over seventy locations worldwide with three of them making landfall in Chicagoland this year. Customers can expect to see seasonal menu changes that align with the local harvests. Local sourcing partners for Chicago include Bobtail Ice Cream Company, Gotham Greens, Russell Costanza Farms, MightyVine, and Highland Baking Co. The farm-to-table concept wants to show customers that food that is good for you, can also taste good.  
Everything at B.GOOD is made to order leaving the flexibility up to the customer when ordering their healthy lunch or dinner. We loved the Zucchini Noodles and Eggplant Meatball Bowl loaded with kale, tomatoes and green beans, topped with generous shavings of Parmesan and drizzled with a balsamic glaze and herbed marinara. The perfectly seasoned eggplant meatballs melt like butter in your mouth and pair incredibly with the accompanying flavors in the bowl. Even meat-lovers can enjoy these (non)meatballs!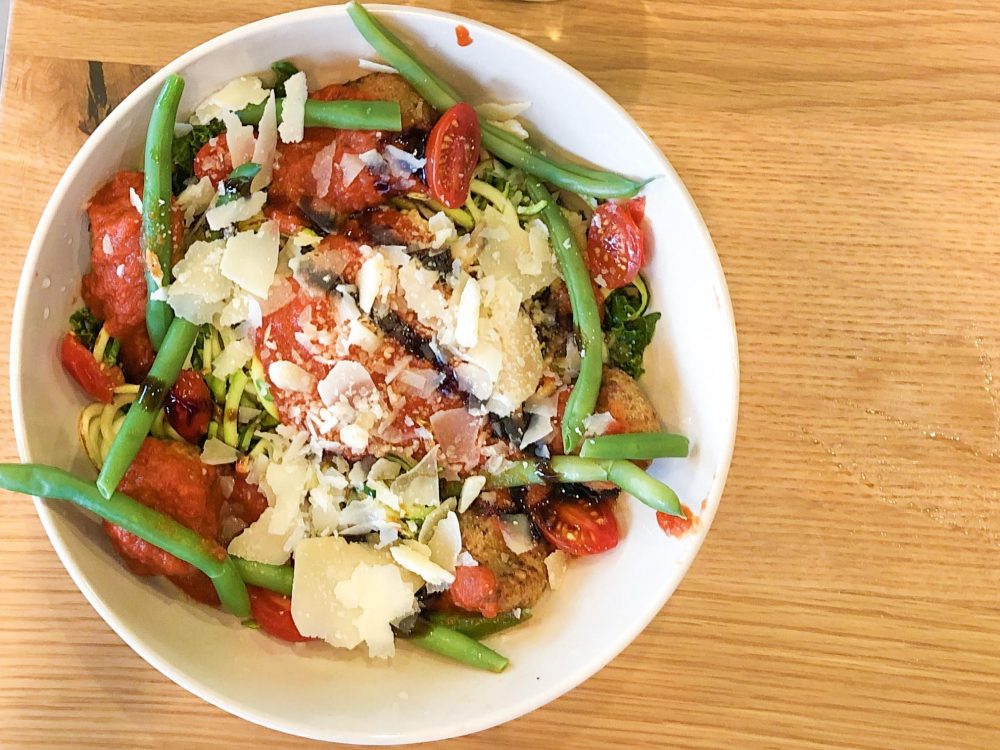 Staff recommendations include the Spicy Avocado and Lime Bowl: a mound of kale, sautéed veggies, avocado, black bean and corn salsa, grape tomatoes, queso fresco, lime, cilantro, chipotle puree and tossed with a red pepper vinaigrette. Customers can also choose to add quinoa or super grains to this bowl.  
Additionally, B.GOOD's menu features seasonal salads, wraps, burgers and sandwiches. Diners have the option to choose an all-natural beef burger, turkey, veggie or chicken as a base for their sandwich. The Schaumburg staff raves about the healthy burgers, especially the simple but flavorful, Cousin Oliver with lettuce, tomato, onions and homemade pickles: toppings that go well with any of the base options. 
Those delicious Eggplant Meatballs are also served as a side along with options of fries (regular or sweet potato), chips and salsa, avocado toast, soups and a salad.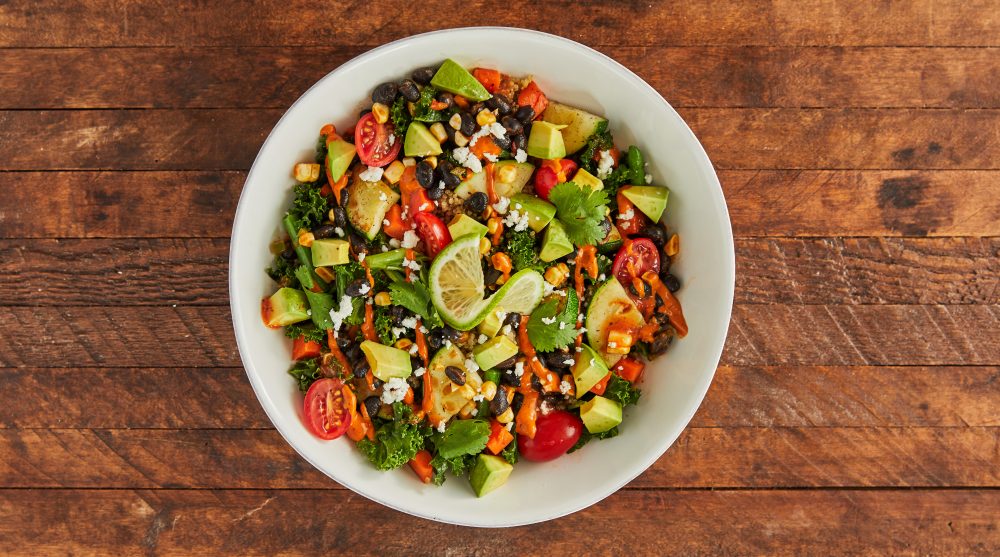 As for smoothies, the Kale Crush is B.GOOD's best seller and for good reason. Blended with kale, apple, pineapple (pieces and juice) and banana, this smoothie will CRUSH the competition. The sweetness of the apple and pineapple mask the bitterness of the kale so you get the benefit of the green without the flavor. Runner up in the smoothie category is the tried and true Strawberry Banana, thrown together with honey, Greek yogurt and lemon. B.GOOD also features a smoothie of the month so be on the look out each month for a limited-time smoothie! December's smoothie is the Peppermint Cocoa Crave: dark chocolate, honey, banana, coconut milk, cocoa and mint.  
Milkshakes are also an option featuring the aforementioned Bobtail Ice Cream with a choice of vanilla or chocolate. Not in the mood for a shake or smoothie? Homemade drinks, natural sodas and water are also available to wash down your healthy meal.  
B.GOOD is now open in Schaumburg at 1721 E Golf Road and in Vernon Hills at 875 N Milwaukee Avenue. Both locations are open Monday through Saturday 11am to 9pm and Sunday from 11am to 8pm. A location in Naperville at 2555 W 75th Street is also planned to open before the year's end.