---
Eleven years old is when it all started for Michelin-starred chef, Brian Bruns. Beginning at the renowned Charlie Trotter's to later cooking alongside Tony Mantuano at Spiaggia as Executive Sous Chef (where he helped earn them a Michelin Star), Bruns was destined to be immersed in the kitchen.  
In March 2019, he and his wife, Taylor (Co-owner and Beverage Director), opened Flat & Point: a locally-sourced, technique driven, BBQ-ish restaurant in Logan Square. In just six months, the chef-focused hotspot already has received several recognitions including most recently being added to the 2020 Michelin Guide Bib Gourmand List. 
That may be because Chef Brian's eclectic menu rotates almost daily and keeps diners on their toes. They do whole hog butchery resulting in rotating specials as they work their way through the hog. Or maybe it's due to what they make in house: cheese, bread, salami, 'nduja, butter, pasta, crackers, charcuterie living up to Chef's motto: "If we don't make it, we don't have it."  
"We don't have food waste. Brian strives to use everything, we even have a made in-house, rotating pasta dish that is topped with food scraps - Rene Redzepi calls this trash cooking - and it pushes our chef's creativity," Taylor Bruns expressed. 
Flat & Point also has a major focus on local and high-quality products, sourcing meat and produce responsibly. Their brisket and pork comes from Slagel Farms and most produce comes from local farms like Nichols. They serve only organic and/or biodynamic wines, and local beers from Pipeworks, Hopewell and Scratch.  
"Chef Brian takes in consideration all different styles of wood fire cooking, and classic cooking techniques. Our dishes focus on pairing seasonal produce with the highest quality protein available. We change our menu all the time - for seasons, whole hog butchery and simply Chef Brian wants to try new things. In other words, we do things our own way, and the best way to describe our food is we serve what the chef likes to eat," Taylor told us.  
Snacks 
The Logan Square restaurant clearly takes pride in being as creative as possible with their meats. This is initially apparent in the Charcuterie Board ($15) featuring three, house-cured meats served with pickled seasonal veggies, jams and homemade bread. Our board boasted Lonza (cured pork loin), "heart & hock" country pork pate and chicken liver mousse complemented by pickled radishes, onions, endive and shallots, blueberry jam, BBQ mustard and sourdough bread.
Our taste buds got an early glimpse of Thanksgiving in the Mushroom Gougere ($2 each). Each little sphere had the consistency of traditional turkey day stuffing plated with a gravy-like French onion dip.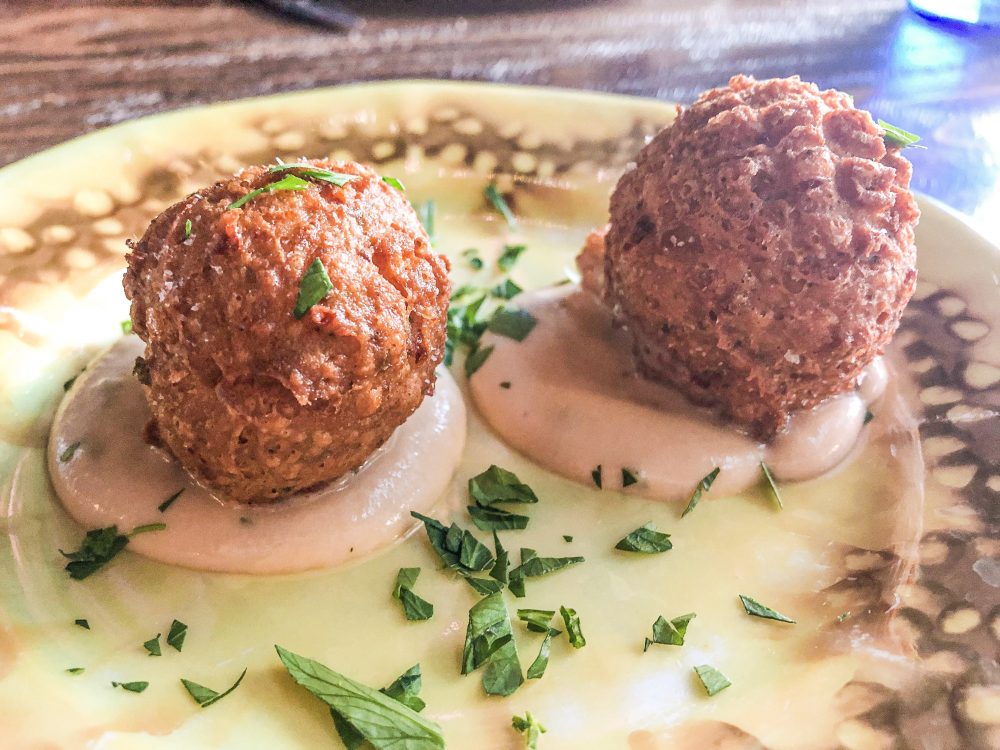 Seasonal 
On our visit, Chef 'Brian's Special Pasta' (MP) was a vegan-friendly cavatelli dressed in smoked cauliflower puree, celery root, caramelized leeks and fennel, and sage. 
The meat-centric eatery still encourages some vegetable intake but not without a protein pairing! For instance, the Nichols Farm Seasonal Veggie (MP) is paired with Flat & Point's signature nose-to-tail Slagel Farm Meat Special (MP). We were lucky enough to enjoy the incredibly unique Pork Skin Noodles with calamari saturated in a so-good-you-can-drink-it house made marinara. The glass-noodle textured "pasta" was paired with Nichols Farm shishito peppers tossed in a smoked pimento aioli and topped with Parmesan cheese.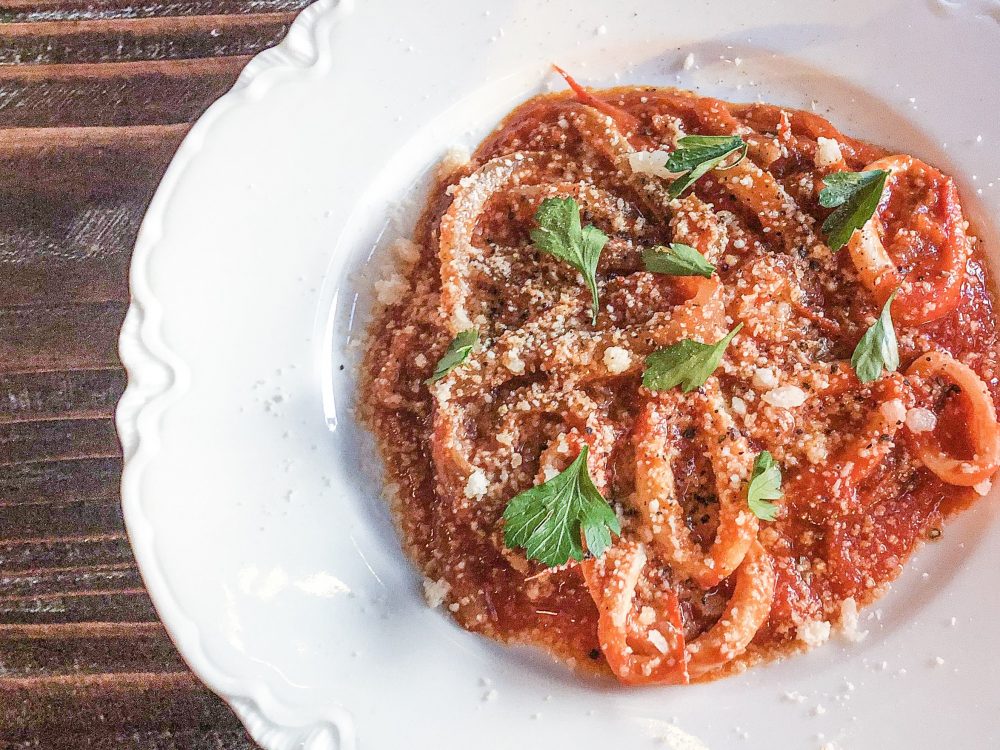 Another veg with meat pairing was the sweet and savory Delicata Squash ($13). The memorable dish featured a trail of tender pulled pork topped with a mouth-watering gruyere fondue, sage and pumpkin seeds.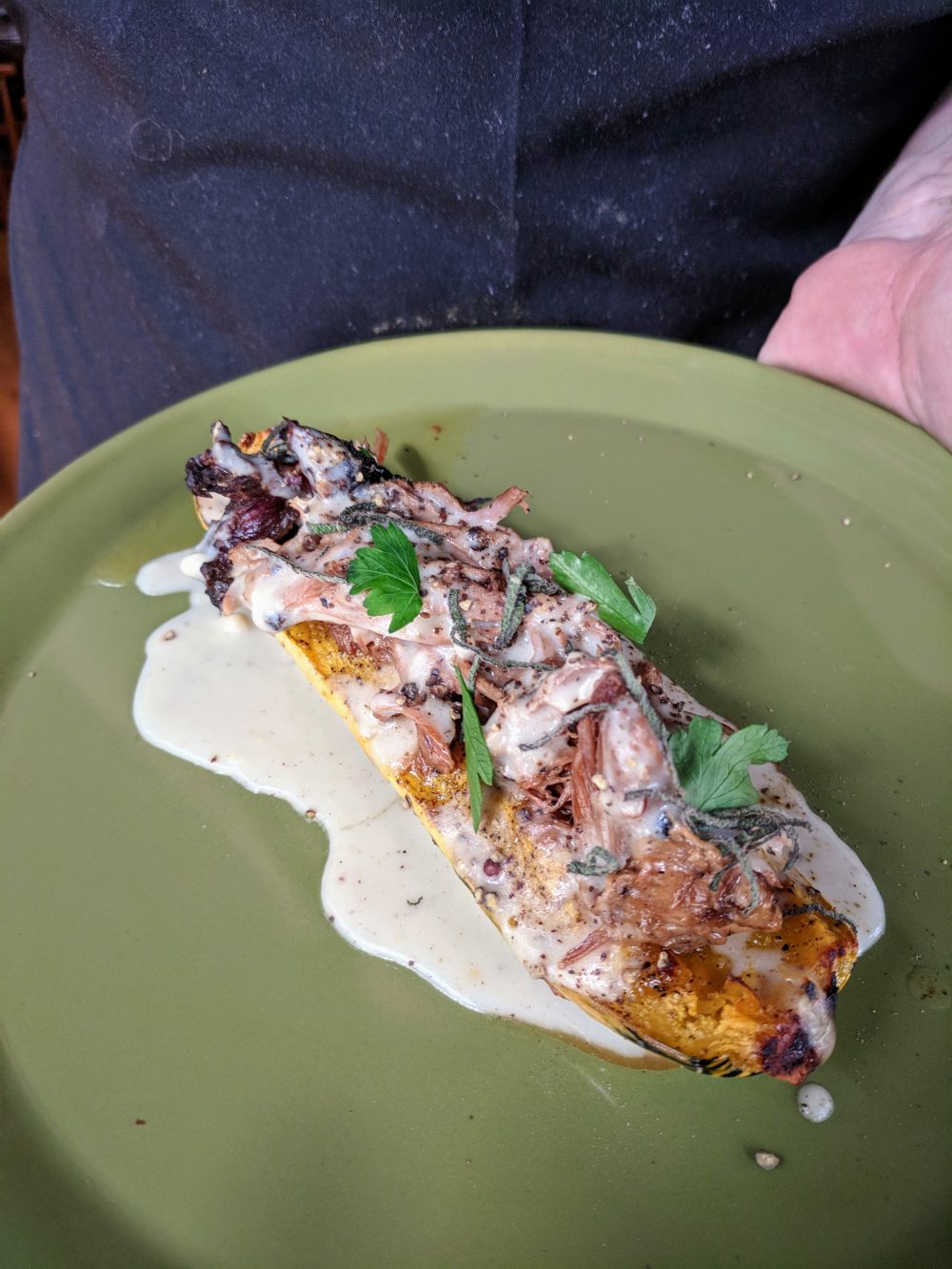 The German-inspired Spaetzle & Sausage ($12) was yet another delight. The traditional Bavarian dumplings were a little overshadowed amongst the delicious apple and brown butter sea of caramelized cabbage and fennel.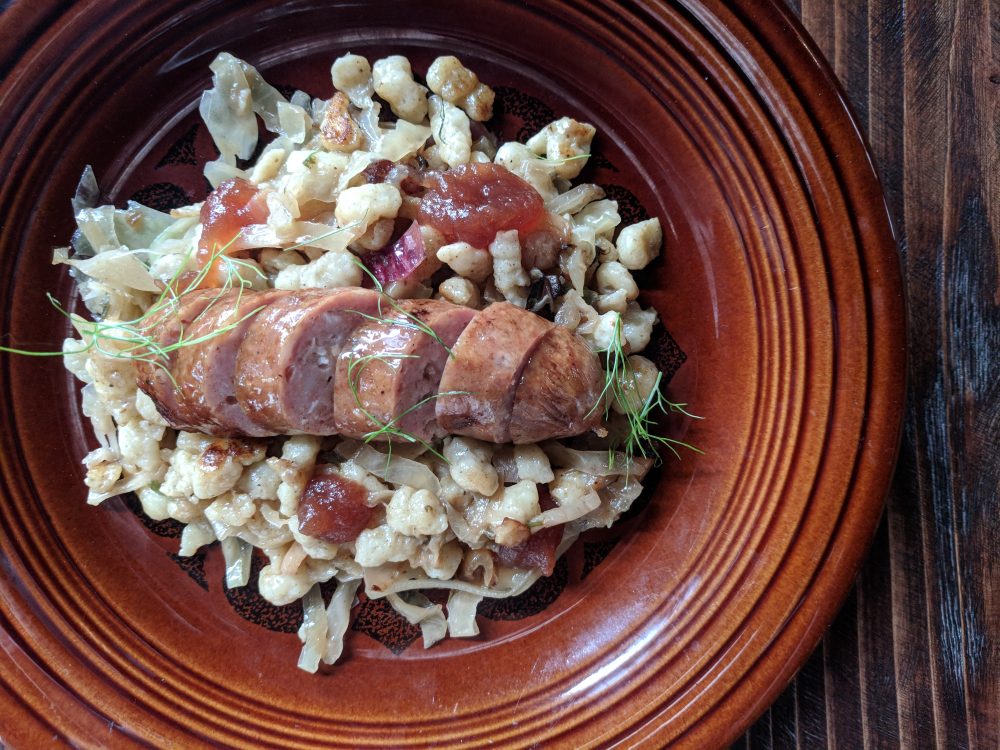 Mains 
After opening with a BBQ-ish menu, Chef Brian got tired of hearing that his menu wasn't BBQ enough. He wanted to carve his own path with only hints of BBQ and he does that with the Brisket "Like a Steak" (5oz-$18, 8oz-$28, 12oz-$38). His vin rouge sauce poses as a BBQ sauce blanketing the thin, fatty slices of melt-in-your-mouth brisket which is topped with crumbly blue cheese.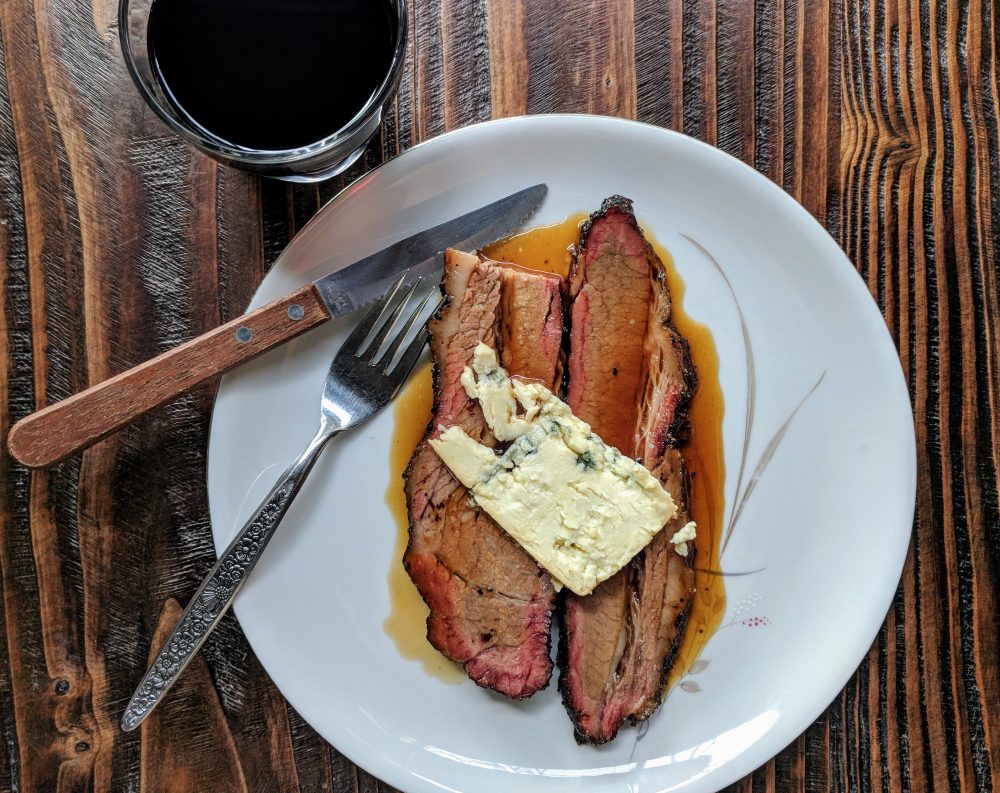 The menu is not ALL meat! We took a fish break with an order of the Whole Rushing Water Trout ($19). Running into very few bones, the trout was easy to tear apart with our forks in order to wipe up a Scanadinavian-esque hollandaise sauce consisting of dill, caraway, fennel and capers.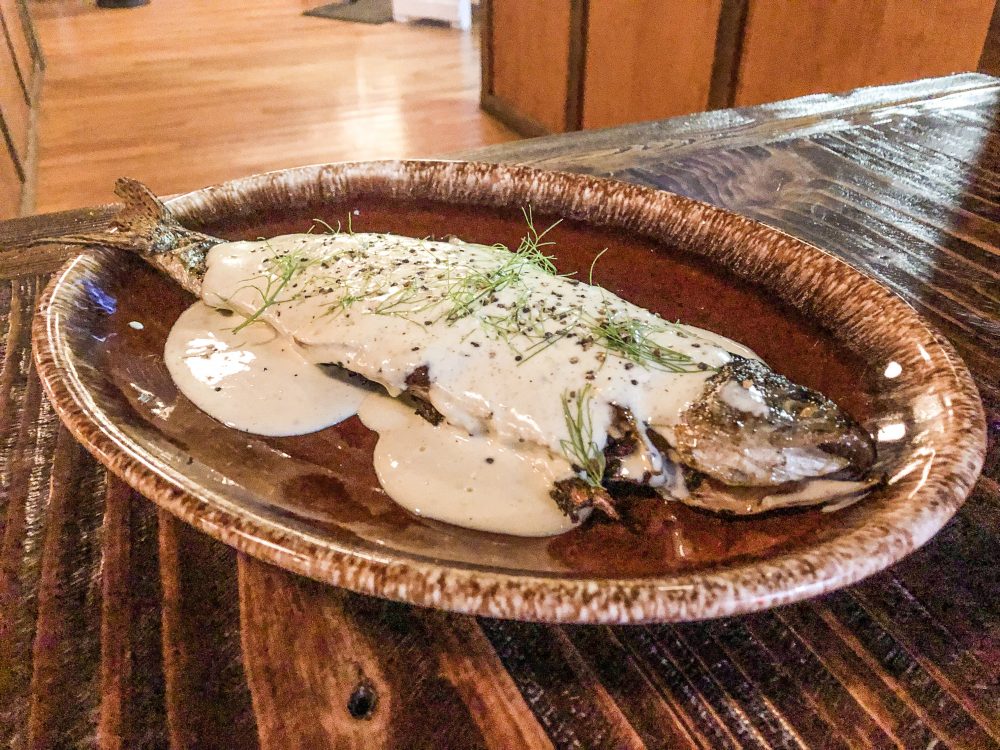 Dessert  
We couldn't end our well-rounded dining experience without satisfying our sweet tooth in the nostalgic Orange Chiffon Cake with Jiffy-inspired chocolate frosting.  
As with every other dish, a fruit-focused dessert will always change with the seasons. Currently on offer is an apple custard pie with apples from Nichols Farm. 
Flat & Point is located at 3524 W Fullerton Avenue in Logan Square. The wood-fired restaurant is open Wednesday and Thursday 5pm to 9pm, Friday 5pm-10pm, Saturday 12pm-10pm and Sunday 12pm-8pm. On the weekends, lunch is served 12pm-4pm with dinner service beginning at 5pm. Flat & Point is closed Monday and Tuesday.