---
I have not been to Ed Debevic's in probably close to 20 years. At a mere 7ish years old, I vividly remember my mom warning me before strolling into the now closed River North location, that the staff was intentionally rude. However, the fair warning did not matter. As a naïve little child, my brain took their sassy attitudes VERY personally. Not even the fun paper hats, the table coloring sheet nor the salty, crinkle cut fries could lighten my mood. To no one's surprise, my subsequent crying didn't make the situation any better, for me or my mom. That day, I vowed never to go back.  
Flash forward to 2021 and the beloved 50's-inspired diner is back. In fact, Ed's is better than I ever remember it. Yes, the staff still has that signature snark but now that I'm in my late-20s, I can handle the 'tude and actually have some fun with it. Not only that, the classic diner menu, although the same, has been slightly elevated and the ingredients are much higher quality than I recall. Needless to say, my most recent trip back was significantly more enjoyable than that fateful day many years ago.  
Knowing that we would be ordering one of Ed's signature burgers as our main dish, we opted for the "healthier" appetizer in the Spinach Artichoke Dip and boy, did that hit the spot! Served warm but not piping hot, we were able to dig in right away without burning out mouths, scooping up the dip with crispy tortilla chips and carrots.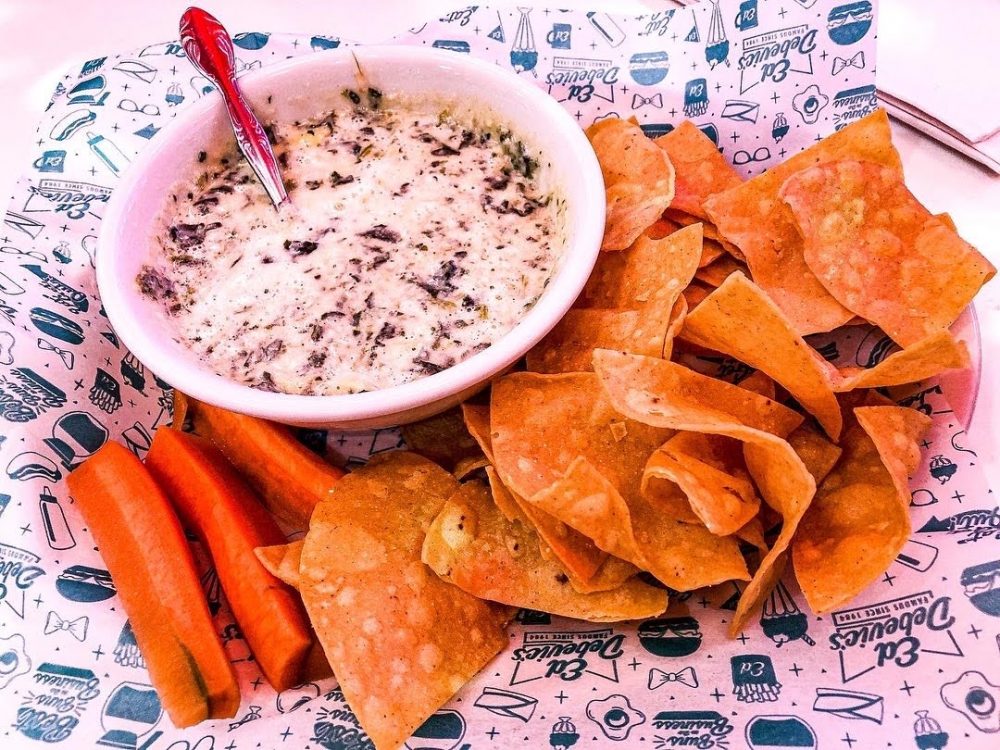 However, Ed Debevic's menu is not about the healthy options so if you really want to immerse yourself in diner food, you can start with one of their French fry options, chicken tenders, nachos or cheese curds. You'll only be able to blame yourself if you are too full for an entrée after that! If you truly want something lighter though, they do have a few salads! 
As with many diner menus, there is a fair share of handhelds served hot, "swell", or in the form of sliders. However, what takes the cake is the section of the menu they call "Burger Heaven". No, they aren't the best burgers I've ever had in the city (that accolade goes to a certain place on Ada Street in the West Loop), but as I said before, they sure are better than I remember. I opted for The Roadside, topped with almost everything I love on a burger – lettuce, a big ol' slice of heirloom tomato, red onion, pickle, a melted slab of American cheese and some of Ed's Special Sauce. This burger was messy as ever but I'm sure I've mentioned before, every good burger is a messy one.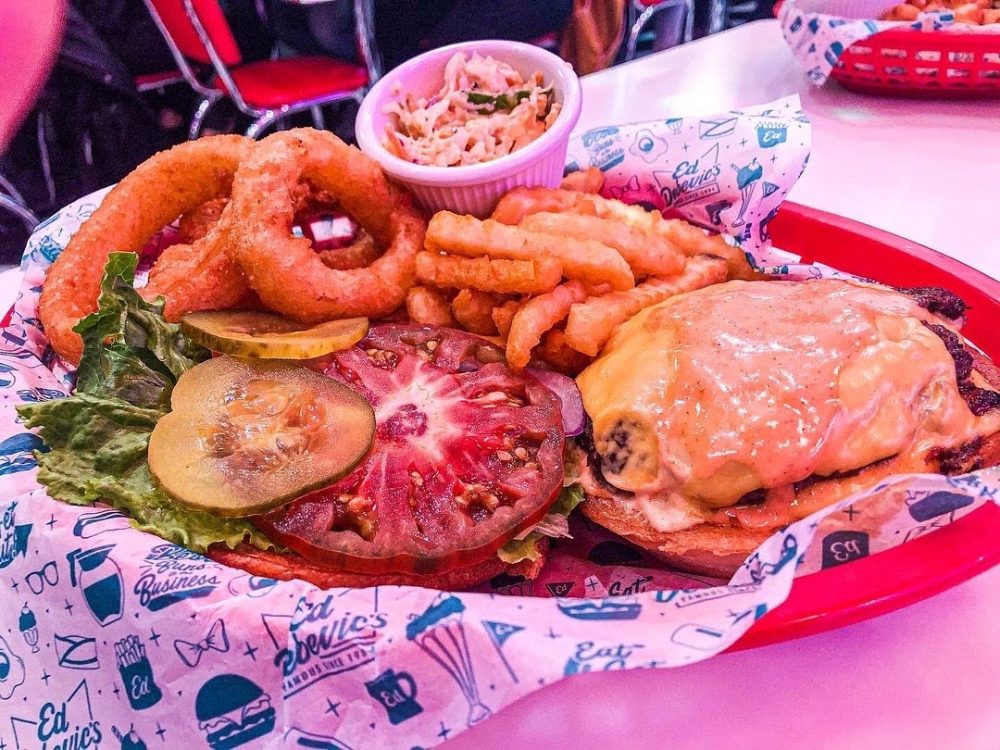 My plus one eyed the Patty Melt, another napkin-required choice. A simple garnish of grilled onions, Ed's Special Sauce and American cheese accompanied the burger in between two slices of grilled rye.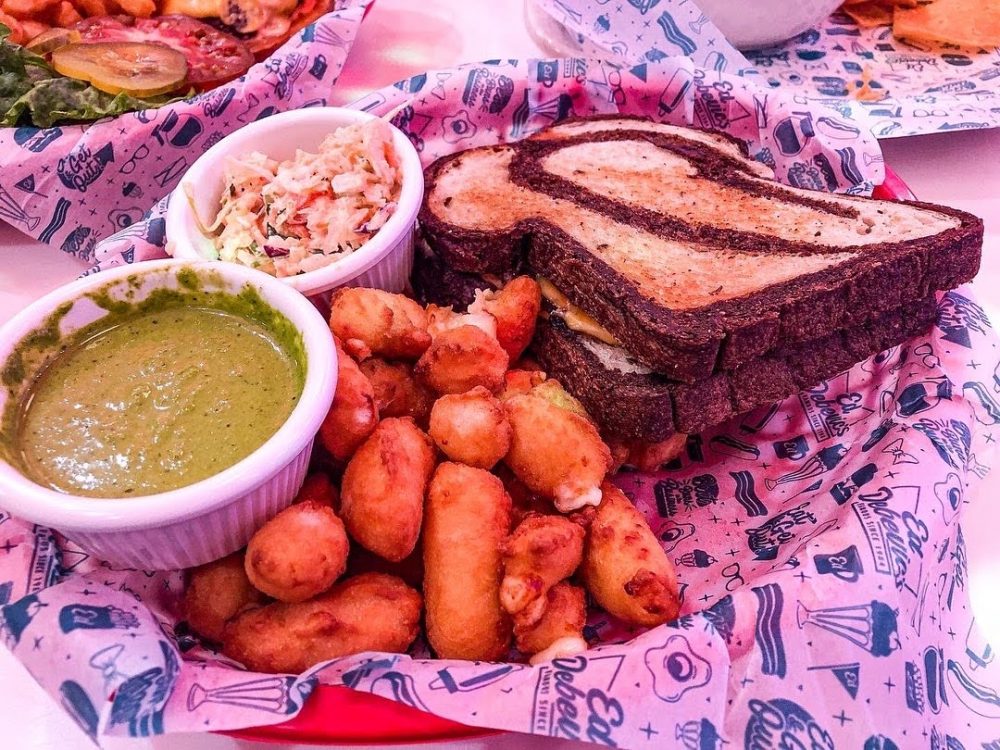 Six different chili options and the cheekily-named "weiners" round out the savory section of Ed's diner menu. These make way for nostalgic ice cream desserts ranging from malts to shakes to sundaes, floats and more. Non ice cream treats include a seasonal slice of pie, double chocolate cake and bread pudding. You can't go wrong any way you cut it but for a true diner experience, we recommend one of their ice cream-centric options. We indulged in an Oreo and Banana shake respectively and loved every thick sip through the straw.  
Ed Debevic's is located at 159 E Ohio St and is open Sunday, Monday and Wednesday, 8am-5pm; Thursday 12pm-8pm; Friday 12pm-9pm and Saturday 11am-8pm. The diner is closed on Tuesday. Breakfast is served 8am-11am Sunday, Monday and Wednesday. Hours are currently subject to change due to staffing shortages so please call before heading to Ed's as they do not take reservations.