---
Whether it be the local gathering place in a small, rural town or a bustling city, the American diner has defined classic comfort food for many years. At 3 Squares Diner in Uptown, Chef Ian Voakes (formerly of Jam), has embraced the traditionally classic aspects of American diner cuisine while working to elevate and modernize his menu through technique and responsible sourcing. The Art Deco aesthetics play in nicely, maintaining the memorable magic of a classic diner and paying respect to the one that resided in the Lawrence House space in the 1920s.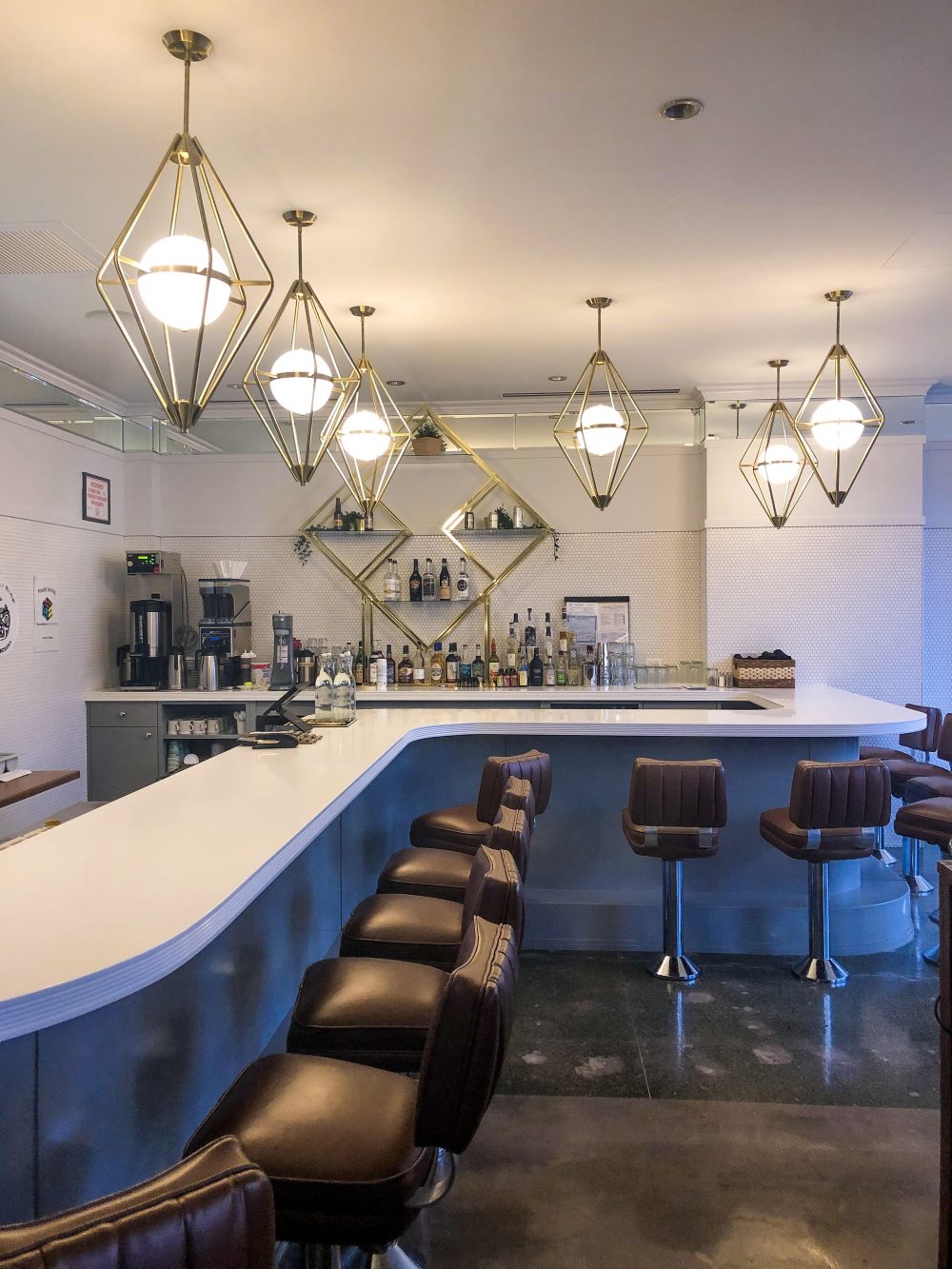 Akin to your typical diner, breakfast is served all day with favorites like the French Toast ($7/$13) a buttermilk custard brioche topped with strawberry jam and lemon shortbread; or Voakes' recommended, gluten-free Omelet ($12) packed with sobrasada, aguachile verde, queso fresco, cilantro, and hominy. The CTA Red Line-themed breakfast sandwiches appear to be the most unique and underrated menu items with choices like the vegetarian Argyle ($11)-miso marinated mushrooms, cabbage, black pepper aioli, pickled carrots, fried garlic, sunnyside egg between a brioche bun and served with potatoes; or the Wilson ($11) made with egg whites, hot pimento cheese, bread & butter pickle and arugula on a biscuit, also served with potatoes.  
After 11AM, the lunch/dinner menu is officially served, featuring a variety of American comfort foods in addition to pleasantly surprising elevated dishes, offering something for every craving. On the lighter (and healthier) side of things, the Chef's Salad ($11) is a great way to start off the meal. A field of greens is dressed with a not-too-sweet apple cider vinaigrette and accompanied by cucumber, tomato, red onion, fennel and croutons.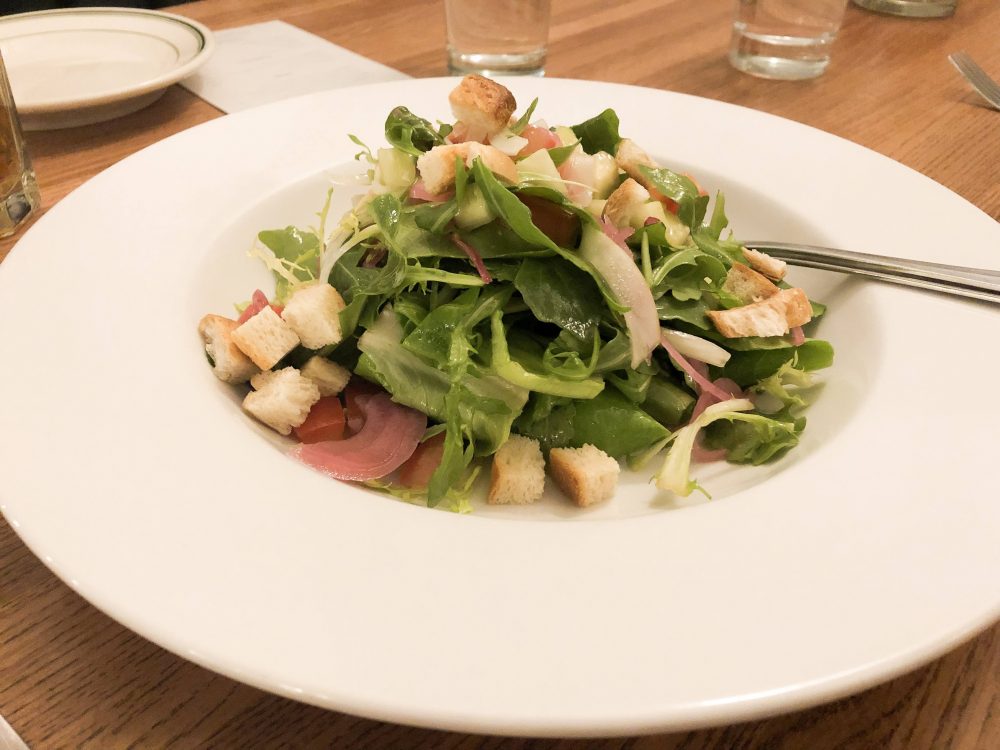 The crowd-pleasing favorite is the Chicken Sandwich ($14) which you can order hot-fried (a must) or grilled. The hot-fried chicken breast is tempered by sliced Roma tomato, a handful of arugula and a generous slathering of buttermilk blue cheese dressing cradled by a brioche bun. The fries served on the side don't particularly stand out but like any fried potato variant, they are easy to scarf down.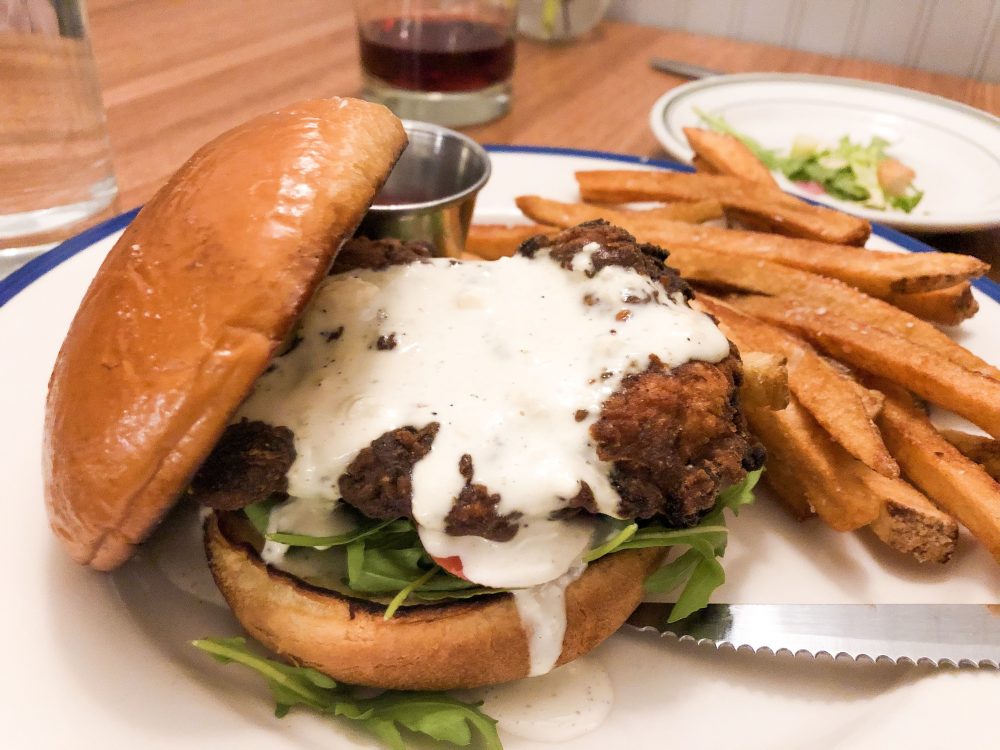 There are two burger options on the menu, one an all-beef patty ($13), the other taking the earth-friendly, Beyond Burger ($15) route. Both have toppings that make it hard to choose but luckily you can have the best of both worlds. We ordered the Beyond Burger patty with the regular burger's toppings that include a spoonful (not enough!) of balsamic braised onions, a slice of American cheese, a delicious mess of remoulade and bread & butter pickles between a thick brioche bun. However, if you want to stick with the Veggie Burger option, you'll get an array of equally delectable toppings with jalapeno aioli, pickled red onion, cheddar mornay and bibb lettuce also on a brioche bun.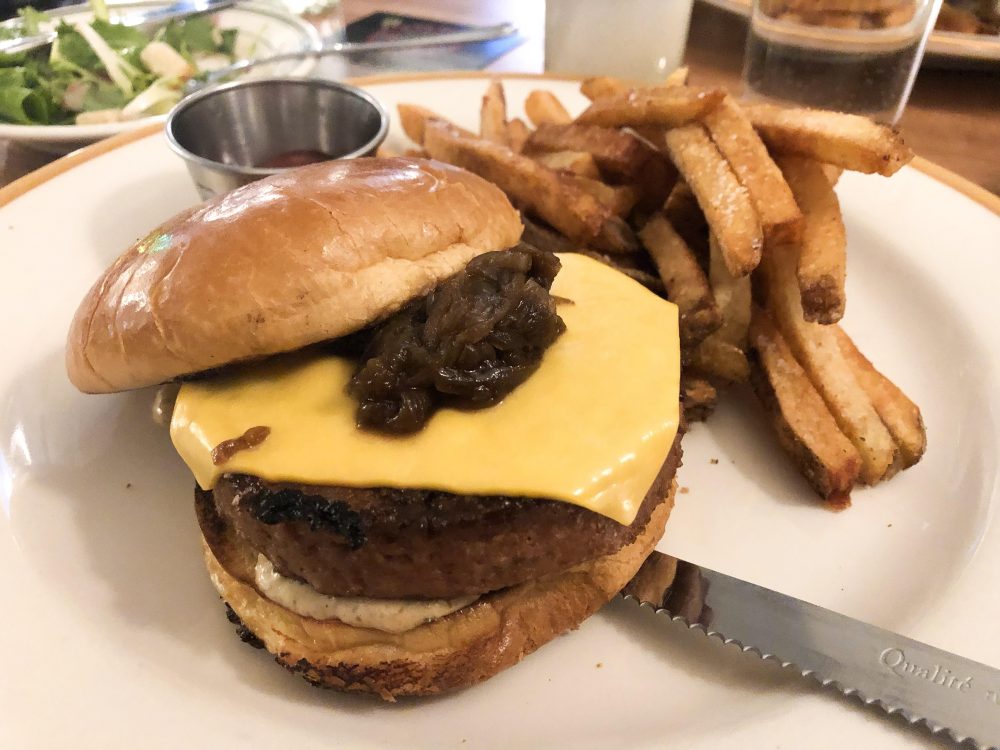 At the time of our visit, The Cuban sandwich (layers of roast pork loin, applewood bacon, Dijon onion jam, black beans, pickles, fennel and arugula) was available on the menu but later we were sad to learn that it had been replaced by the Fried Bologna sandwich ($13). The fried mortadella is slathered with olive tapenade and mustard aioli, topped with alpine cheddar on ciabatta bread. If the Cuban ever returns to the diner's menu, we highly recommend it as it was our second favorite dish of the evening!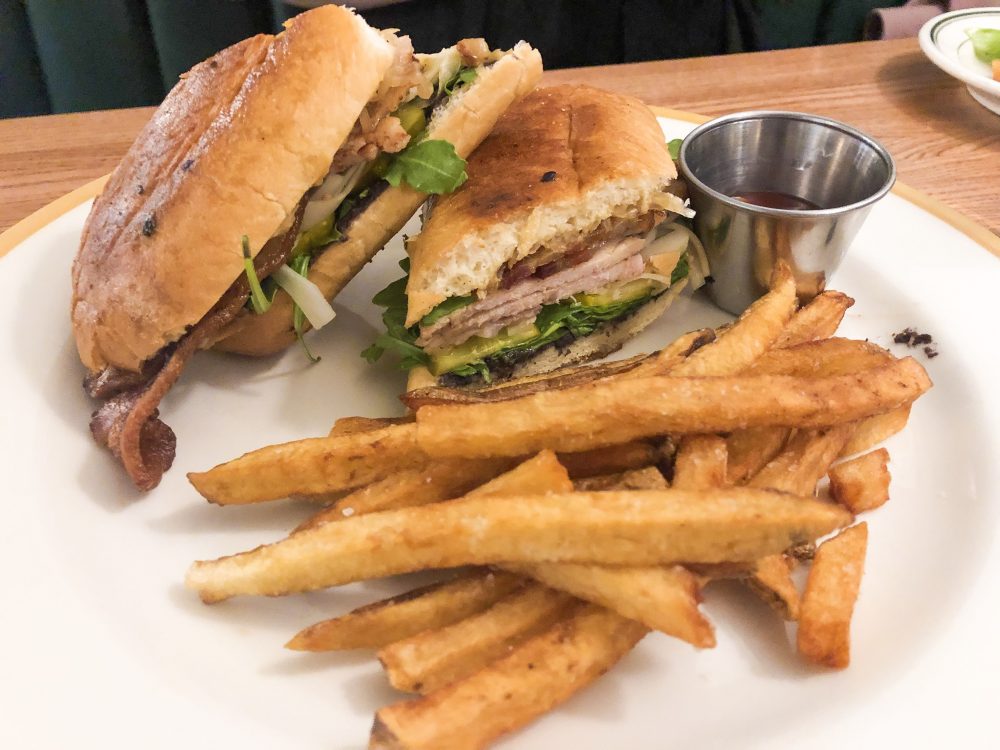 Whether you are coming in for a full meal or just a quick bite, you can't leave until you've had a taste of 3 Squares' handspun shakes. Especially with the weather slowly warming up, these heavenly treats will be perfect to cool off with. The Chocolate Peanut Butter ($7) is made with the smoothest malted chocolate perfectly complemented by the ribbon of creamy peanut butter mixed in. Other can't-go-wrong options include the Cherry Chocolate Chip, Cookies & Cream, Banana Split and Malted Chocolate. Plus, if you're really feeling it, all these shakes can be made with your favorite booze.  
Additionally, the early bird gets the Oatmeal Ice Cream Sandwich ($5), Voakes' take on a childhood favorite: oatmeal cream pie. The nostalgic snack is made with creamy vanilla ice cream sandwiched between house made oatmeal cookies. It is perfect for one, but can also be shared a la Lady and the Tramp. They do not recommend trying to cut it unless you'd like to lick the ice cream off the plate! The Oatmeal Ice Cream Sandwich has been selling out daily and will only be available as a menu special now through the summer months!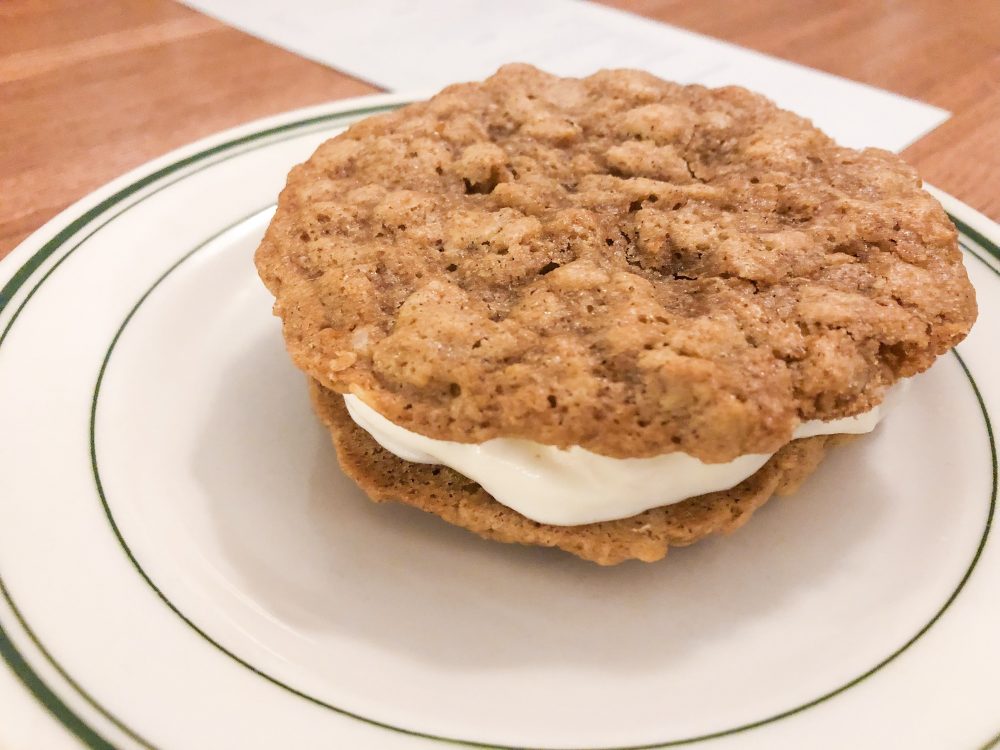 3 Squares Diner is located on the ground level of the Lawrence House Flats building at 1020 W Lawrence Ave in Uptown. The diner is open from 9AM to 3PM Monday and Sunday; 9AM to 9PM Tuesday through Thursday; and 9AM to 11PM Friday and Saturday. They also offer late night eats at Aragon Ballroom on Friday and Saturday show nights.