---
On the relatively quiet corner of Lincoln and Pensacola Avenues, Cobblestone Restaurant looms. Having taken over the former Northman space last year, the new restaurant carries on many of the legacy's that locals had come to love about its previous inhabitant. With a focus on carefully selected Midwestern ciders and beers to wash down the traditional European pub fare, Cobblestone has fought through the hard times of the pandemic to bring the North Center area yet another go-to neighborhood staple for brunch and dinner. 
Cobblestone recently launched their weekend brunch service, offering a healthy mix of sweet and savory signature brunch options with a few creative twists. The Schnitzel & Waffles is one dish we will be dreaming about for a VERY long time. The Cobblestone version features chicken-fried pork loin in lieu of the traditional fried chicken. Pounded flat and crisped to perfection, each portion of schnitzel alternates layers with their extraordinary lemon poppyseed waffle creating a tower of deliciousness. The flavorful pair are so good together you won't even notice the citrus ricotta spread underneath nor will you require much of the maple molasses to be drizzled on top.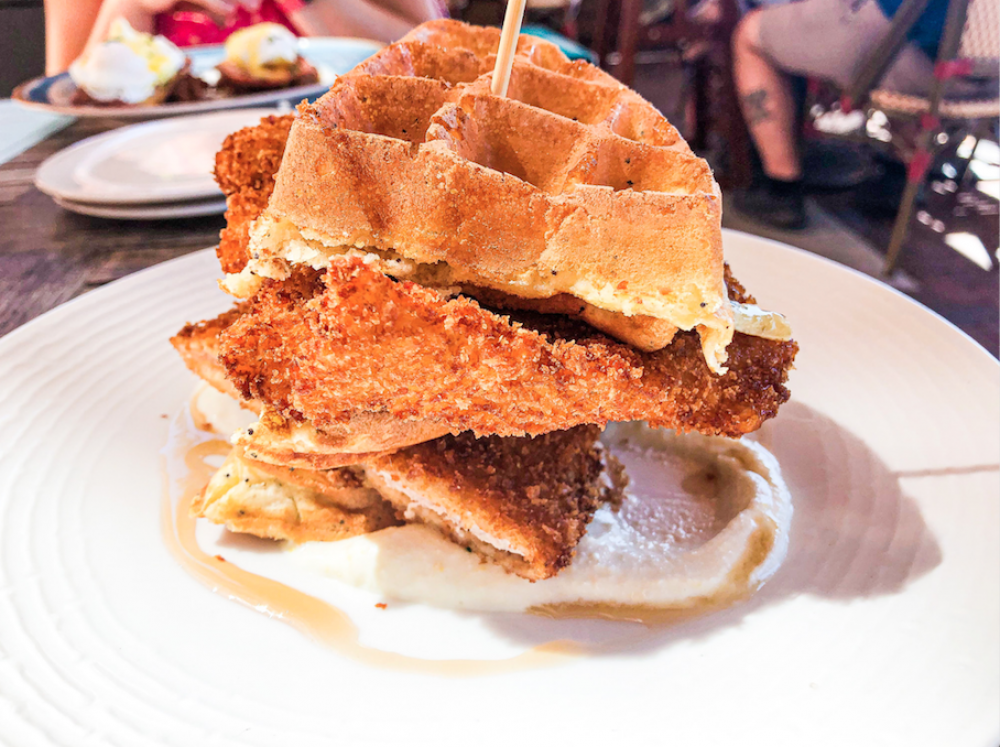 We are also excited about the Latke Benedict, a more German approach to one of our favorite breakfast dishes. Instead of the usual English muffin, fried potato pancakes serve as the perfect vessel for the scorched ham, beautifully poached egg and cider hollandaise sauce. Be sure to also try the adorable Dutch Baby, served piping hot in a miniature cast iron skillet. This shareable puffed pancake is sweetened by baked Pink Lady apples and a whipped cinnamon cream.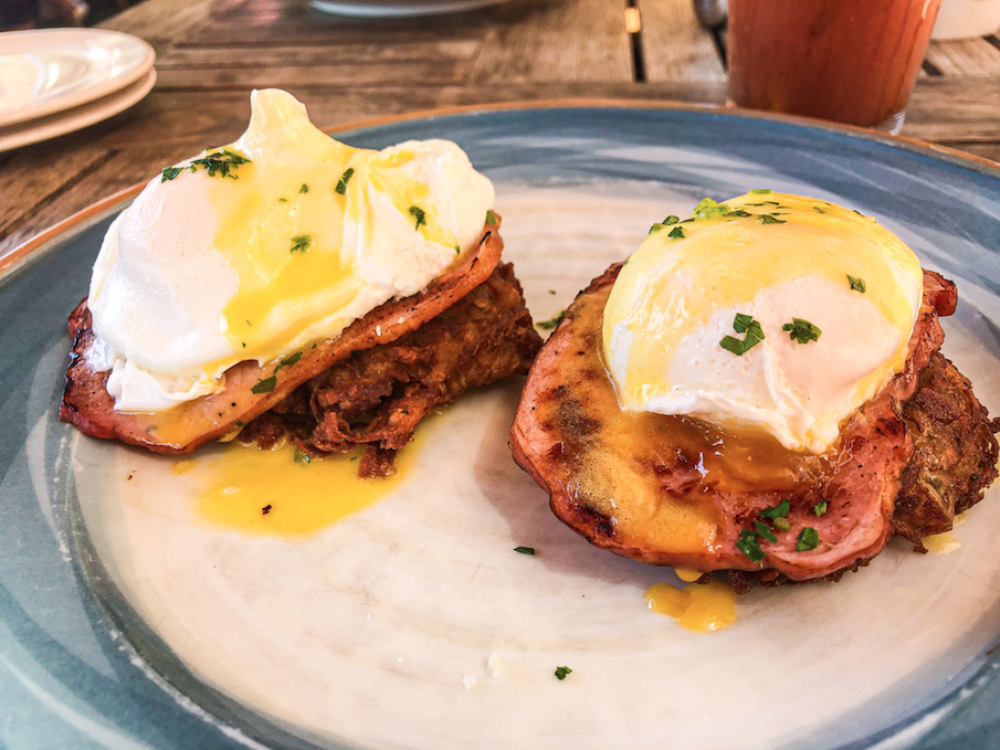 As everyone knows, brunch goes down even more smoothly with a drink in hand. Check out Cobblestone's Mimosa Flight consisting of four different mimosa iterations: the Classic with prosecco and OJ; Caleb's with rosé and cranberry juice; Markus' with rosé and lemon juice; and lastly Passion Project with prosecco and passion fruit juice. If mimosas aren't your thing, they have a Bloody Mary, Cider Boy (bourbon, cider, fresh-squeezed lemon juice, maple syrup and egg whites) or the London Fog (gin, Pimm's, fresh-squeezed lemon juice, cucumber and ginger beer) among other refreshing cocktails. 
Aside from weekend brunch, dinner is served five nights a week, Wednesday through Sunday. A larger menu is packed full of comforting appetizers and entrees, ranging from veggie-forward to meat-heavy.   
If you can only pick one starter, we recommend several helpings of Cobblestone's shareable Cauli-Mac. Served in way-too-small of a bowl, this steamy app of roasted cauliflower gets its sweetness from a delicious onion puree and oak cask sherry vinegar. The brassica family member is then tossed with Casarecce pasta and made creamy by LOTS of Romano cheese.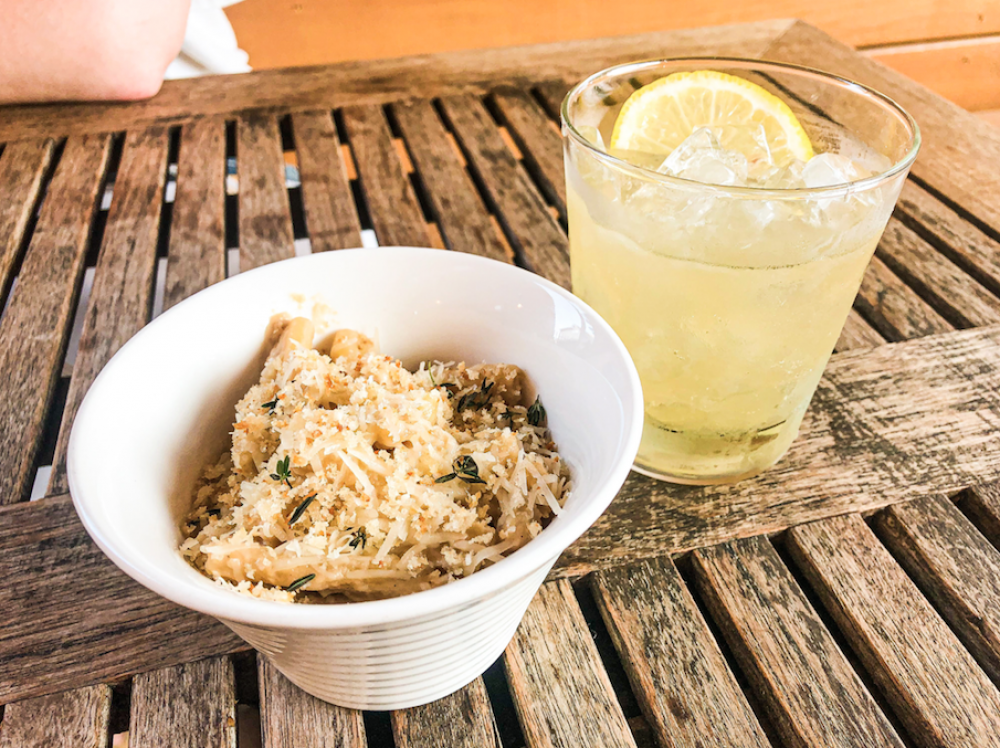 A dish we inhaled a bit quickly (and would proudly do so again) was the Braised Short Rib. Every forkful of fall-off-the-bone beef must include a swipe of whipped celery root and the ultra-satisfying Sunday gravy. The accompanying braised red cabbage adds a hint of bitter tang and crunch to an otherwise soft-textured dish.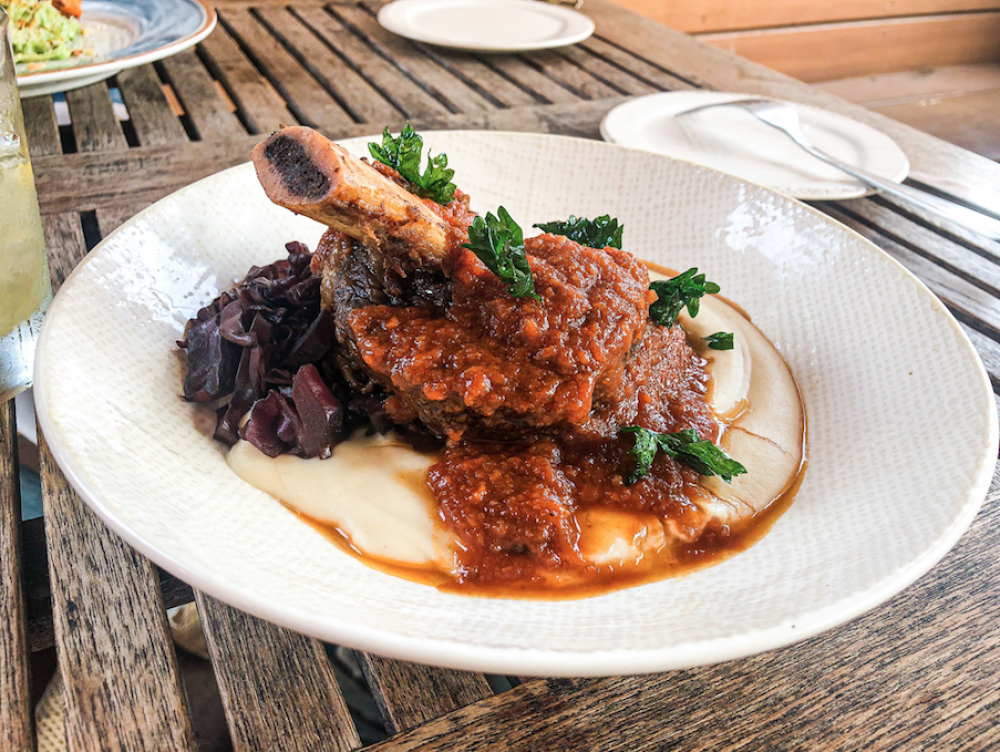 With the exception of the Cauli-Mac, Cobblestone really excels in portion-sizing. It certainly shows with the Grilled Shrimp entree. A handful of beautifully-cooked, tail-on shrimp lean up against a mound of tagliatelle pasta tossed with a toasted pistachio-mint pesto. Whipped ricotta makes an appearance on top and balancing out the vibrancy on the plate.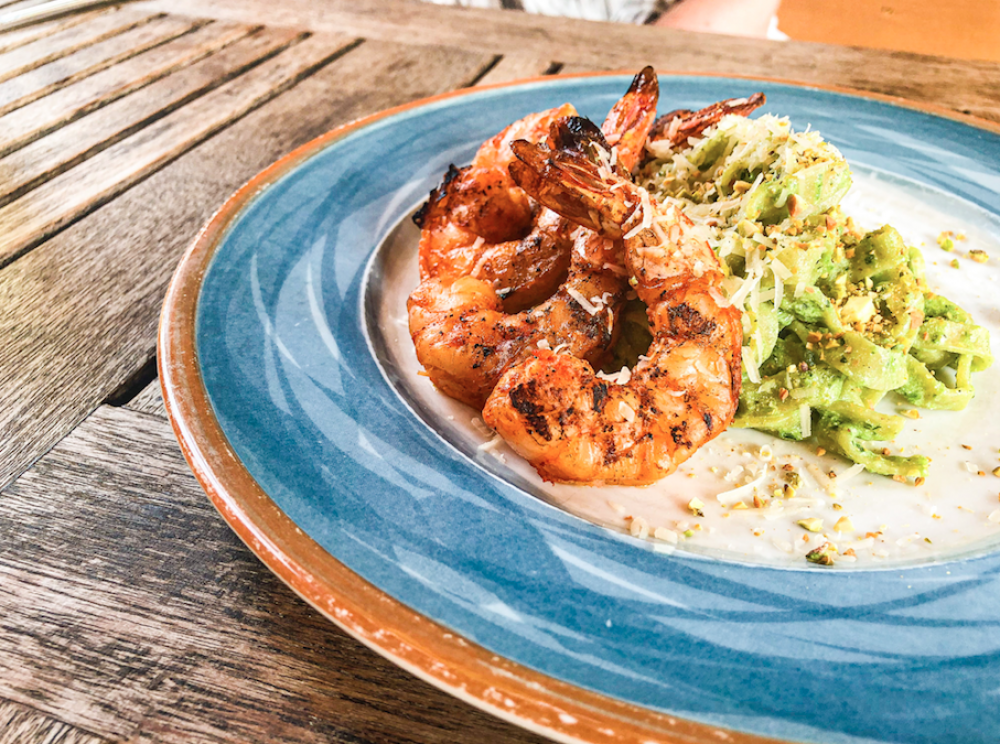 Complete your European-inspired dinner with any one (or a few) of the aforementioned ciders and beers. Otherwise, imbibe with a cocktail like the Bohemian Bee (gin, honey, lemon and dimi) or the First Love (vodka, lime, ginger and coconut puree). End the evening with a rotating dessert (ask your server!) before meandering back home. 
Cobblestone is open for brunch on the weekends from 10:30 AM to 2:30 PM. Join them for dinner Wednesday – Friday starting at 5 PM or any time after brunch hours on Saturday and Sunday. They are located at 4337 N Lincoln Ave in the North Center neighborhood. Whether visiting for brunch or dinner, be sure to dine on their intimate sidewalk patio while the weather cooperates.