---
Liberation Donuts is the first vegan-owned donut shop in Chicago, opening in 2020. Tucked inside Upton's Breakroom in West Town (2054 W. Grand Ave.), the donut shop pairs their passion for animal rights with their dedication to fried cake donuts. Liberation cooks twelve flavors of donuts daily and each variety is named after their favorite animals or animal liberation philosophies. Not only that but every donut is made from all-natural ingredients and without added flavors or colors. Each month they donate 50% of the sales from their Total Liberation donut to a different non-profit with a focus on humanitarian aid or animal rescue.
We recently did something dreams are made of: we ordered a baker's choice dozen at Liberation Donuts. Tag along on our donut-tastic journey, here's what we saw:
1) First up was the Compassion. This plain cake donut is glazed with snow-white vanilla and filled with cherry pie. Rosemary notes are present throughout and who doesn't like a cherry on top!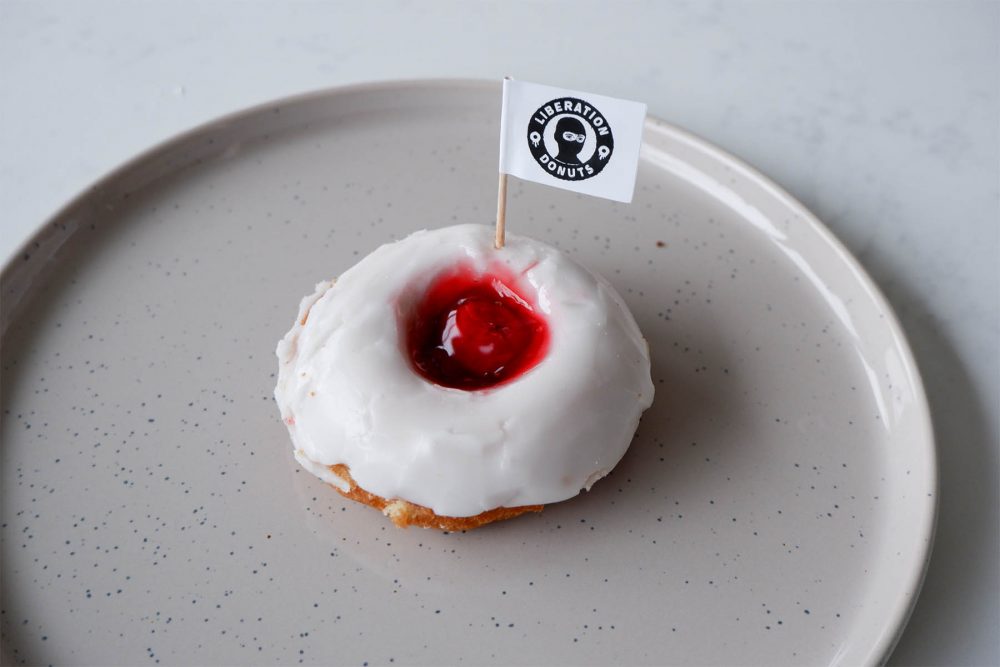 2) Next up is the Flapjack. This plain fried cake donut has a maple syrup glaze and is topped with a spiced chocolate crumb.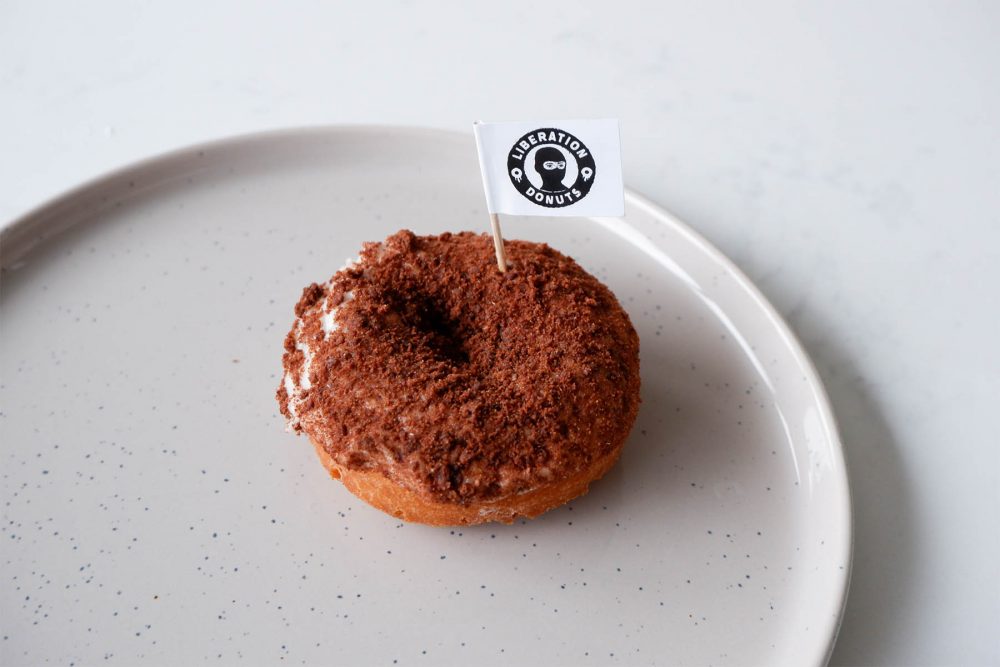 Things began to get crazy as we went 4 donuts deep!
3) The Resistance is a plain cake donut with a sweet tahini glaze and covered with strawberry sauce stripes. This is the type of donut that makes you wonder why tahini isn't put on everything!
4) 50% of proceeds on the Total Liberation donut are donated to worthy non-profit causes each month. The donut is plain cake based with a fresh lemon glaze and topped with poppy seeds for texture and crunch.
5) The Undercover is as about as classic as it gets. This vegan chocolate cake donut is covered in powdered sugar, because what else do you really need?
6) The Beach Cow is also a chocolate cake donut but is instead glazed with vanilla. For unexpected savoriness, flaky salt is showered over the top of the donut and blends well with the sweetness of the glaze.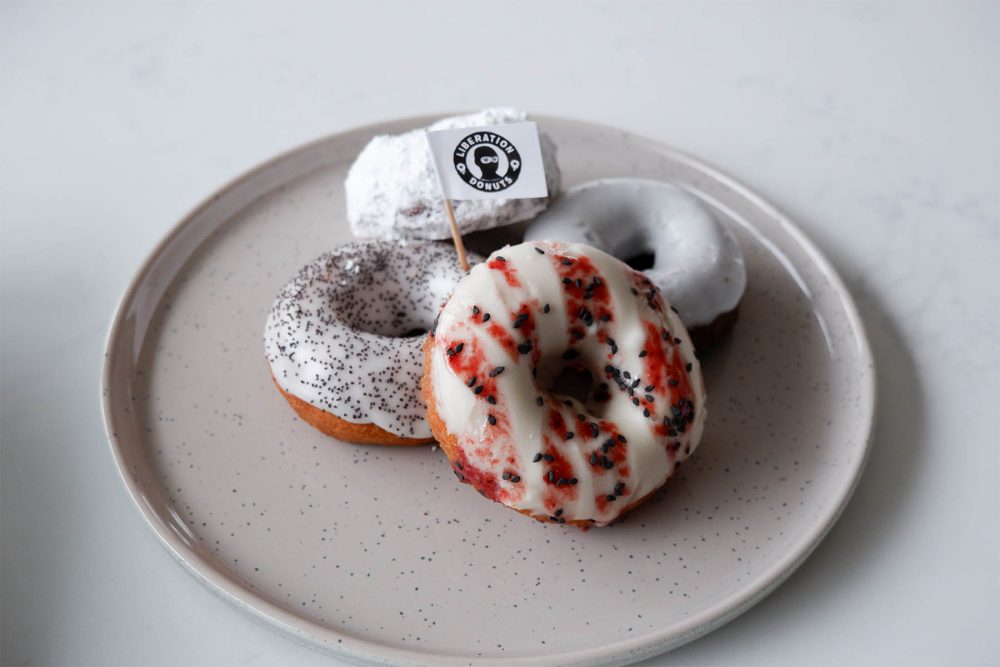 Liberation Donuts offers a rotating variety of gourmet flavors daily, plus lots of seasonal flavors and limited edition creations. Up next were a trifecta of chocolatey goodness:
7) The Bolt Cutter is a chocolate cake donut with a chocolate glaze and cocoa nibs scattered about the top. It's all the chocolate you need and then some!
8) The It's Me, Sesame is a chocolate cake donut with a chocolate glaze and tahini stripes. Proving that tahini and chocolate are a match made in vegan-donut heaven. 
9) Lydia's Eclair is a fried donut filled with made from scratch vegan pastry cream and then dunked in chocolate.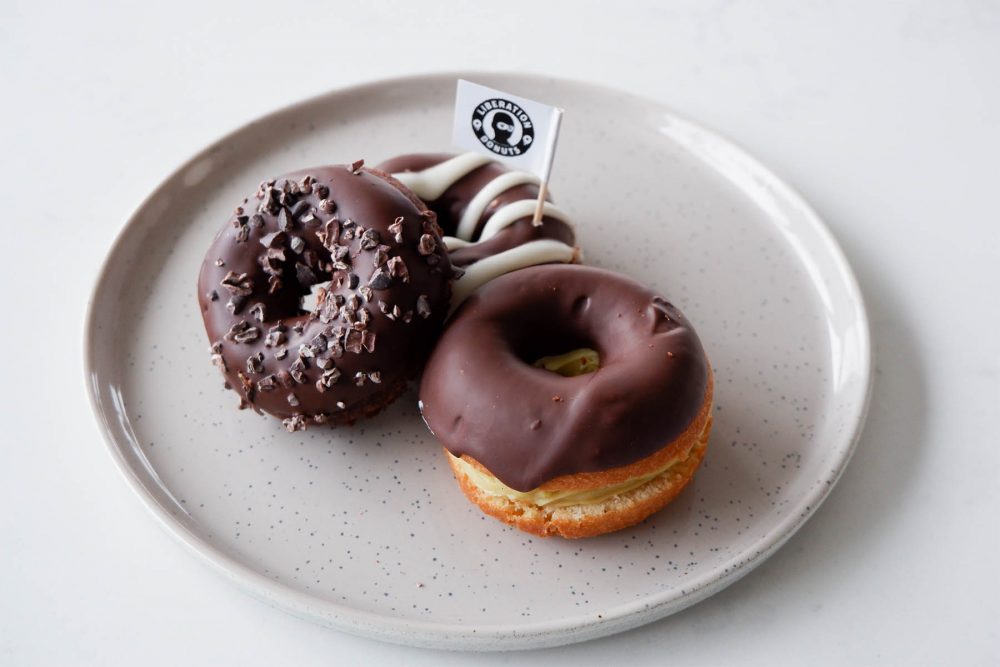 10) The For Greta is strawberry shortcake donut with fruit glaze and topped with fresh seasonal fruit and soy cream.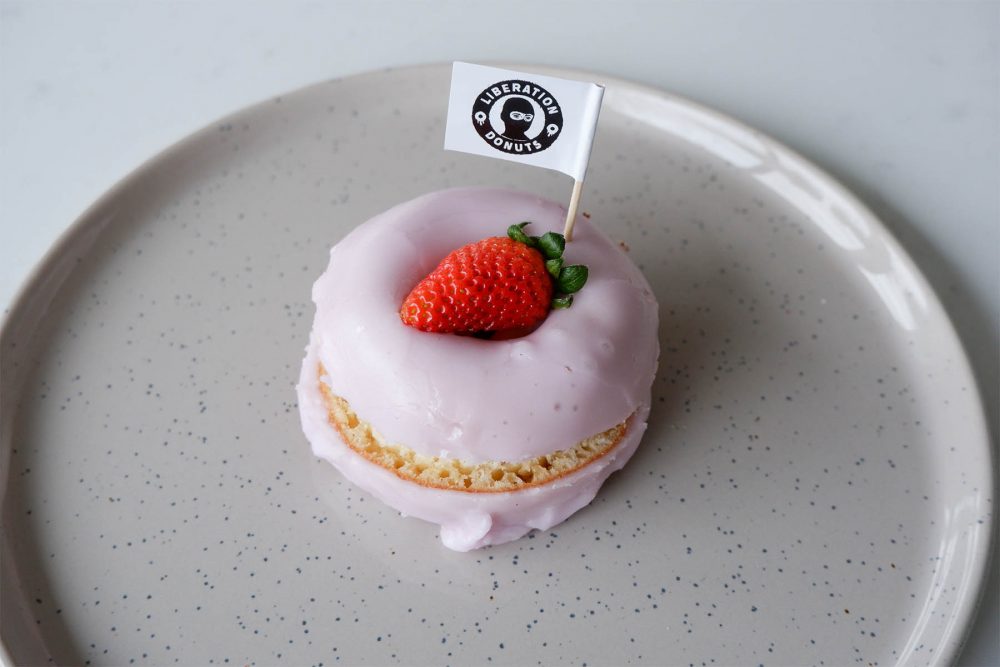 11) For our money, the Balaclava is what puts Liberation Donuts on the map in the Chicago donut scene. This plain cake donut is smothered in a sweet tahini glaze and equally complemented with pumpkin seed baklava. The tahini theme at Liberation is one you should keep your eye on.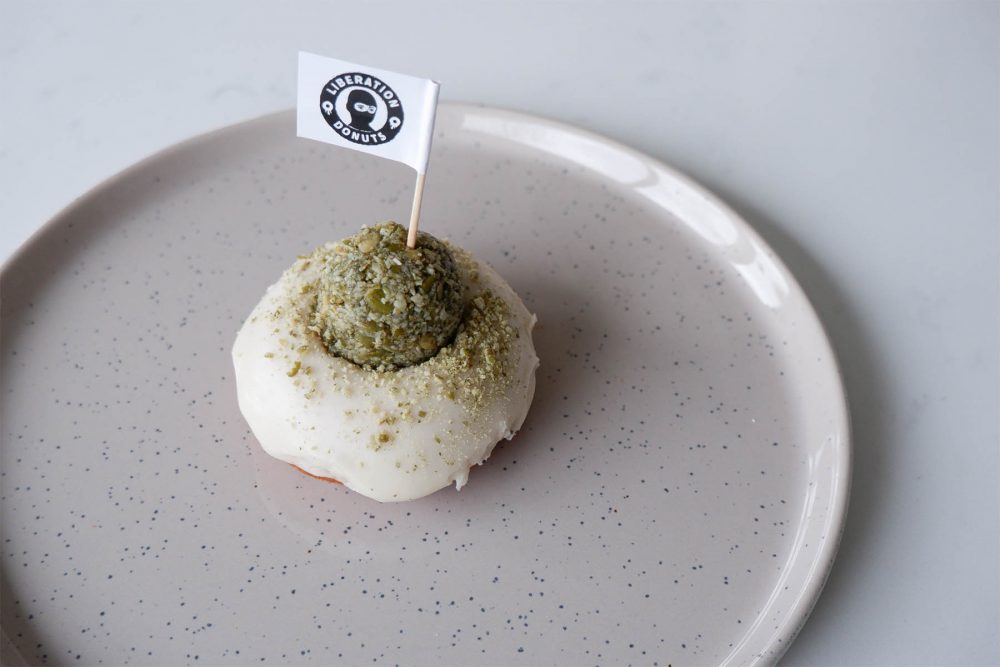 12) And the final donut in our donut shop odyssey is a donut not to be missed: the Firestorm is a chocolate cake donut with a chocolate glaze and gloriously dusted with cinnamon and chili powder. Sweet and chocolatey with a kiss of heat!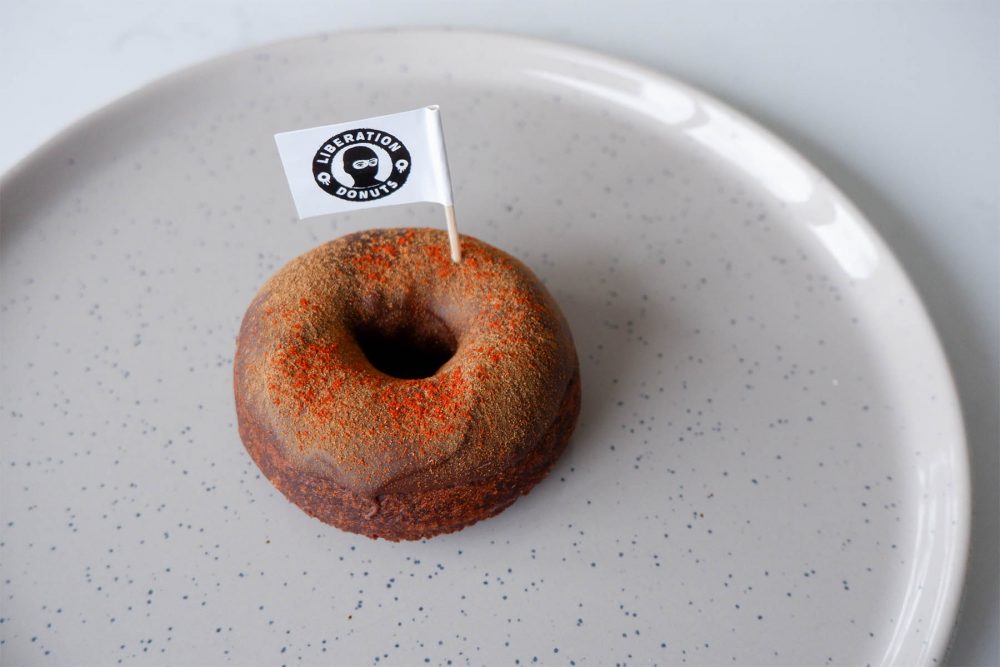 There you have it folks. We came, we saw and we ate a dozen donuts. If you're seeking a new way to donut in Chicago, West Town's Liberation Donuts has the creativity and thoughtfulness to make a lasting mark. 
Liberation Donuts is open every day of the week and available for same day delivery via Uber Eats.