---
Tacos inspired by other dishes, both American and ethnic, are the specialty at Velvet Taco, a counter-service spot that opened in early February on the Gold Coast. The first Chicago outpost of a mini chain with two locations in Texas (Dallas and Fort Worth) offers more than a dozen inventive tacos plus two sides that are big enough to share and beverages, both alcoholic (margaritas made with lime sorbet, Midwestern canned beers) and non (sodas from Excel Bottling Company in Breese, IL).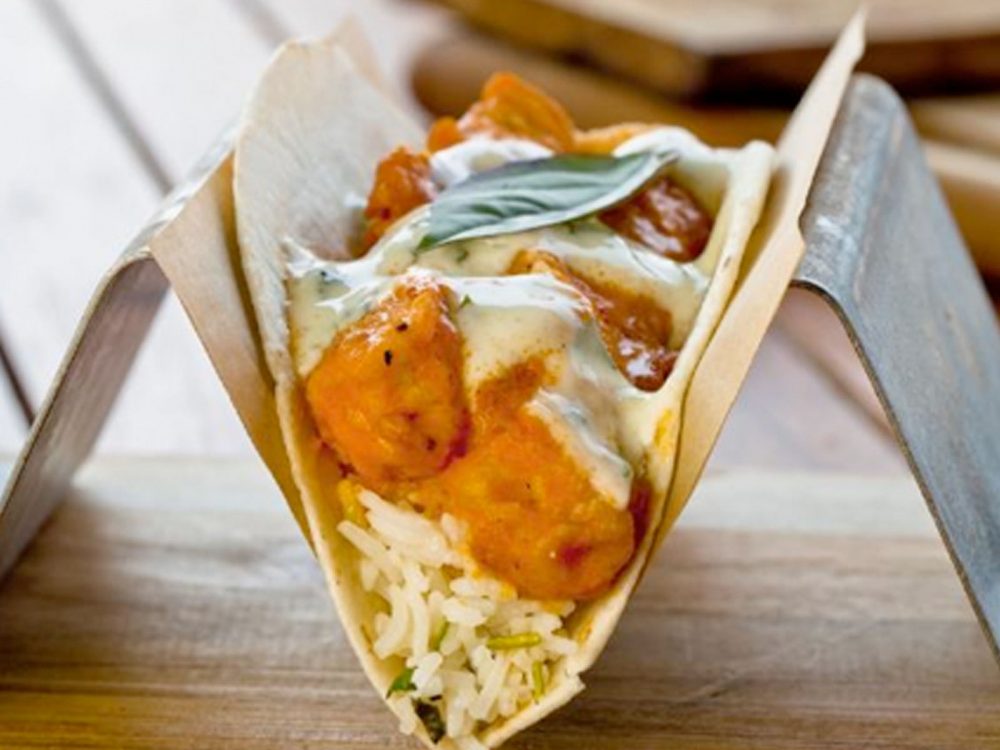 The crisp chicken tikka taco is a taste of India with buttered basmati rice, raita crema and spicy pepper sauce complementing moist chicken in a flour tortilla, while rotisserie chicken in a corn tortilla gets a Mexican accent with white queso, roast corn pico, cilantro, and smoked poblano salsa.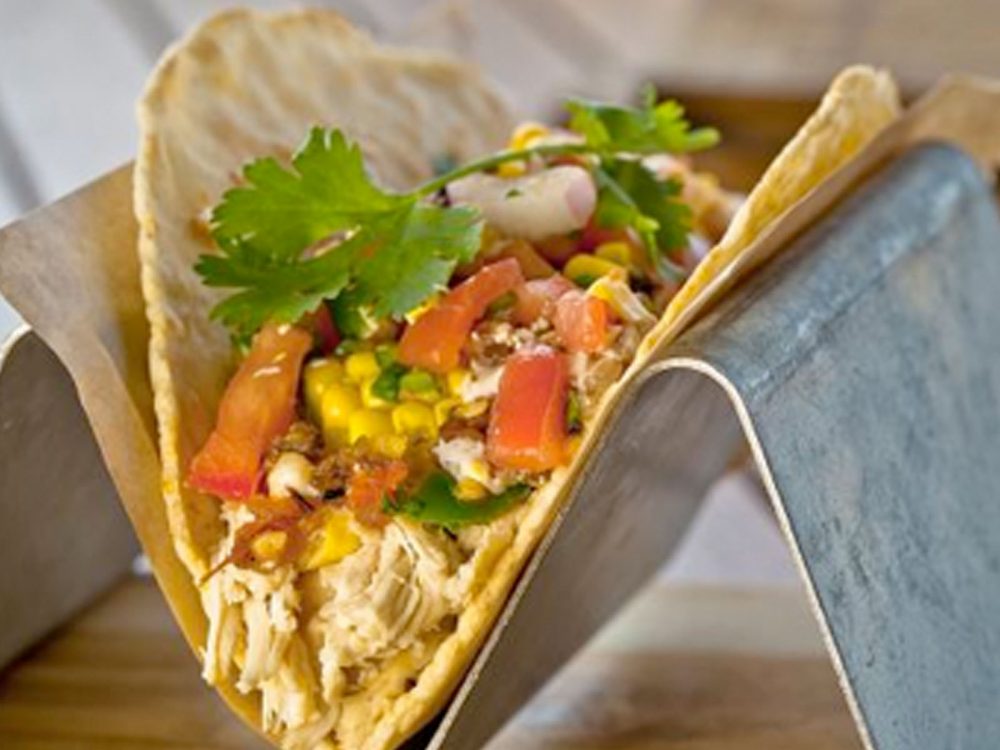 Of the pork choices, the Cuban pig (not pictured) conjures up a Cubano sandwich with slow-roasted pulled pork, shaved ham, peppered bacon, gruyere cheese, grain mustard and house-brined pickles. Nicely crisped pork belly mimics a Chicago hot dog with more of the pickles, pickled fresnos, tomato, red onion, mustard, poppy seed, and celery salt in a flour tortilla.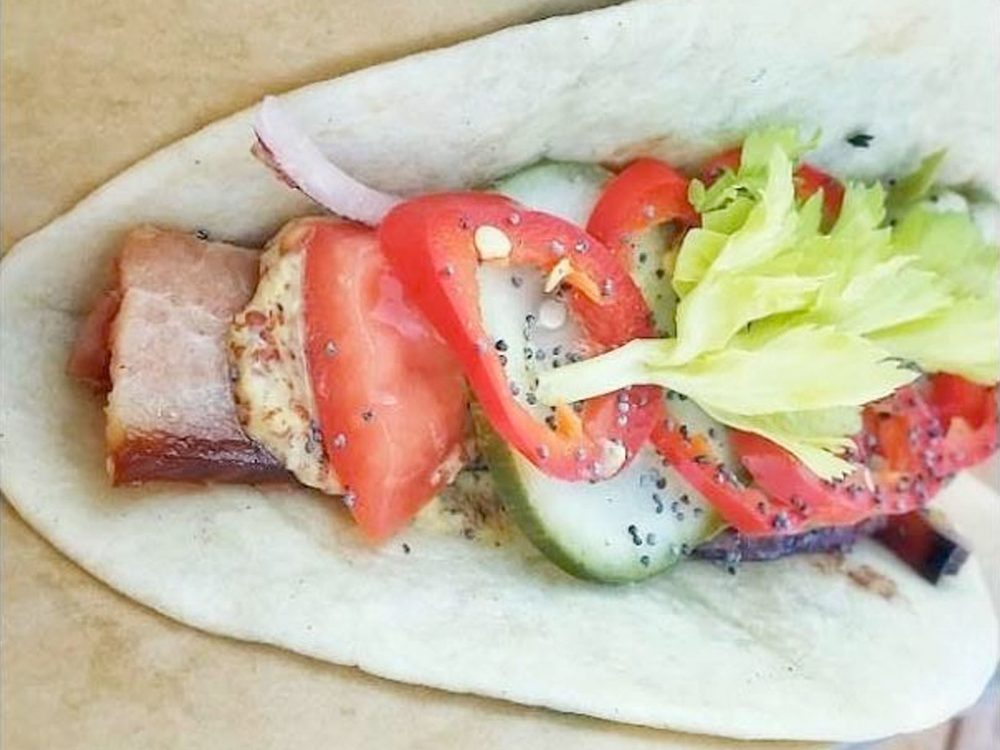 British pub food provides the model for fish n' chips, which ups the ante on typical fish tacos by underlying the beer-battered fried cod with malted French fries and topping it with squiggles of curry mayo and pea tendrils.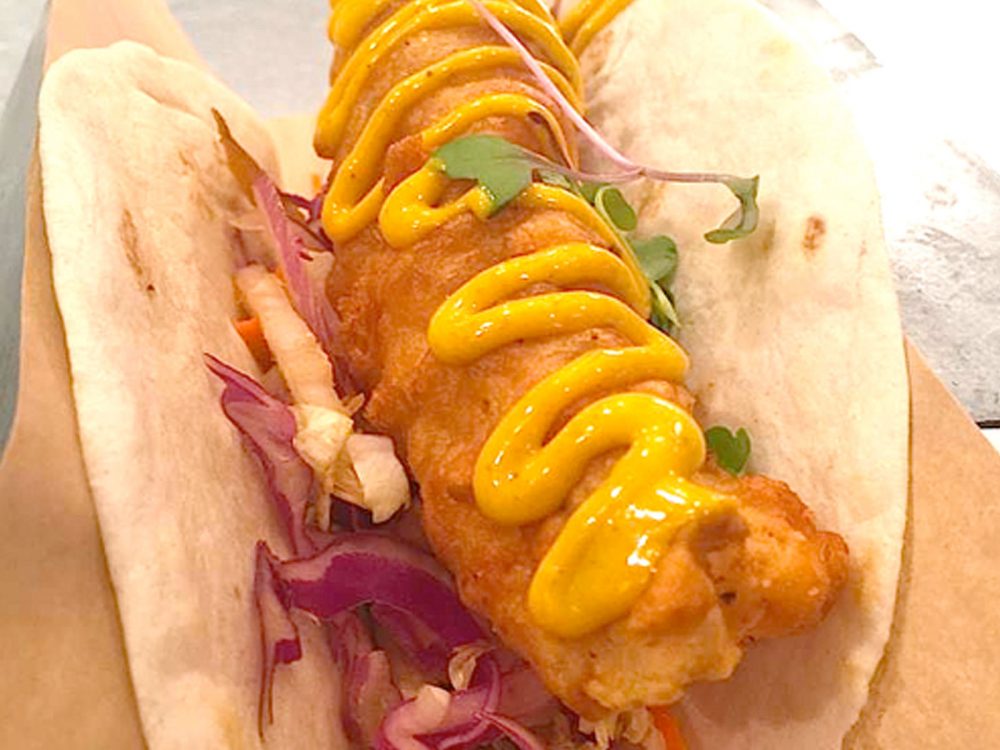 We're not sure what sparked the grilled flank steak, but the combination of portobello mushrooms, white queso, grilled red onions and Mexican oegano in a corn tortilla reminds us a little of fajitas.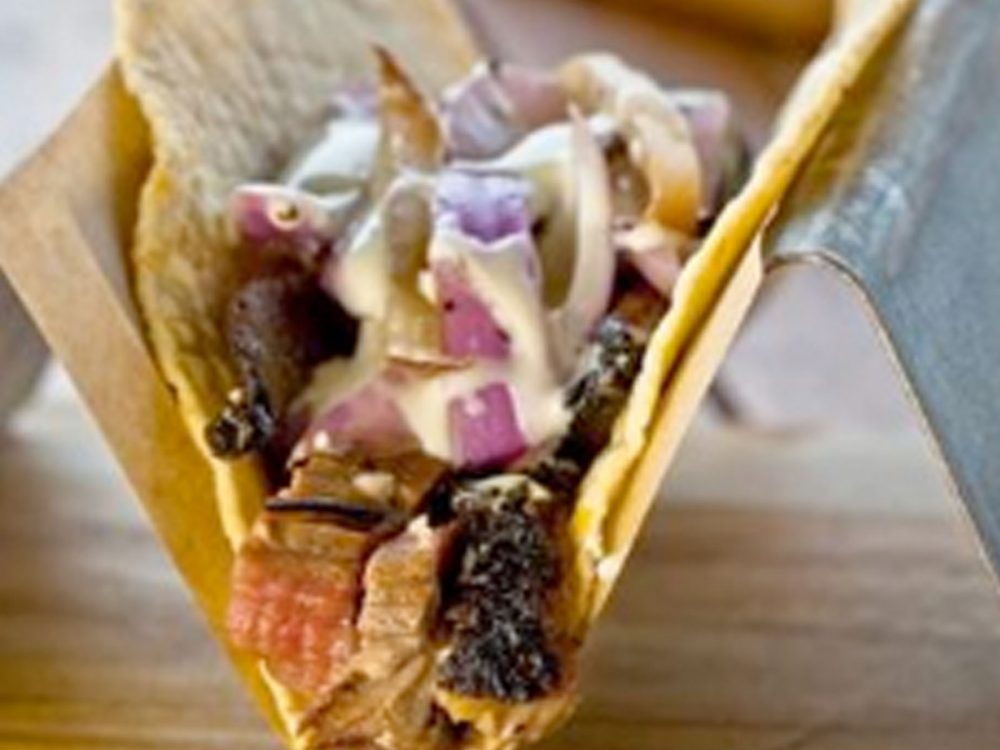 The idea of an all-day breakfast gets a nod with two egg frittata-lined flour-tortilla tacos, one stuffed with roasted pork, charred tomato-poblano salsa, queso blanco, and cilantro, the other with bacon, crisp tots, smoked cheddar, and ranchero sauce.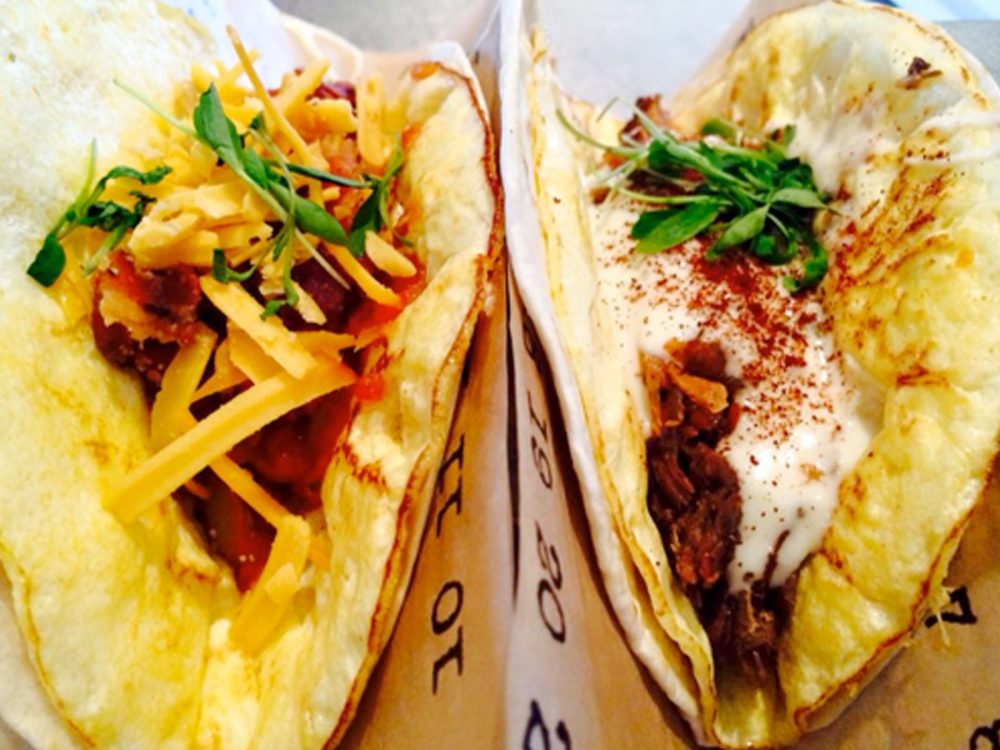 You can also get those crisp potato tots as a generous side topped with a fried egg and laced with bacon, herbed goat cheese, smoked cheddar, and avocado crema. But it's a toss up which is better, that or the rotisserie corn "elote-style" with queso fresco, asadero cheese, crema, and lime. So order both.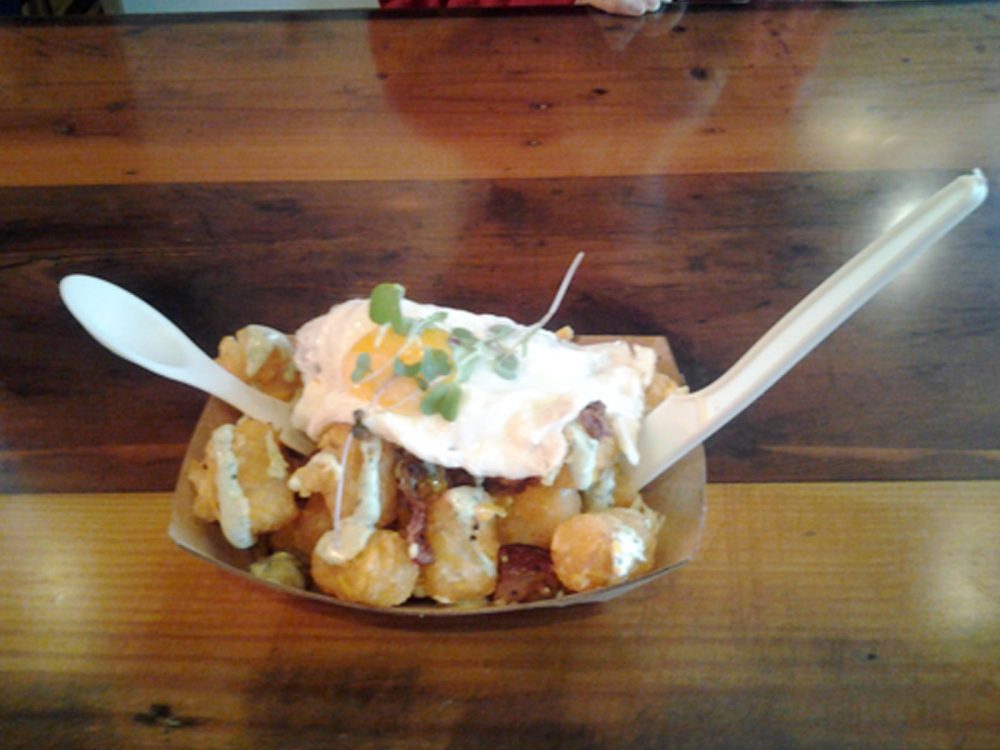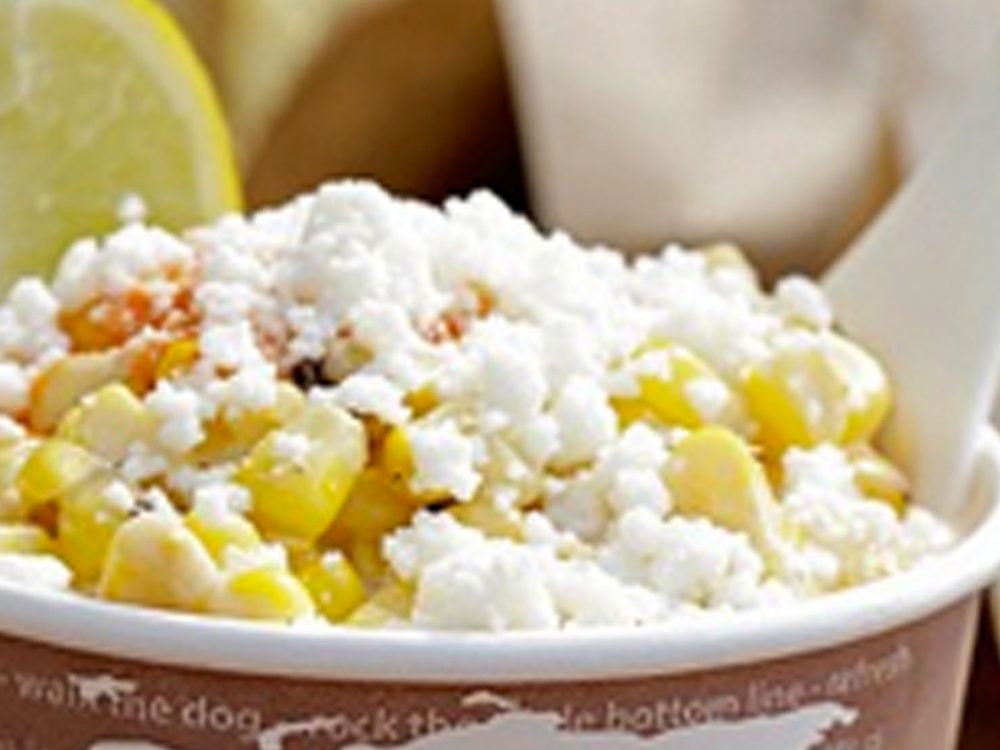 If you're not in the mood to sit at the high-topped communal tables or counter, you can not only order anything on the menu to go, you also can get a whole rotisserie chicken with two sides of the corn, six corn tortillas, and condiments for a mere $20.