---
While the pandemic has posed severe challenges to the business models of many bars and restaurants in Chicago, the recent legalization of delivery cocktails has helped some businesses combat losses – while inspiring further innovation in Chicago's hospitality industry.
Enter BadCat Cocktails. The new cocktail delivery company started in May of 2020 by Hyde Park couple Zach and Jessica.
BadCat Cocktails are made from fresh ingredients and cleverly sealed in mason jars which include serving instructions on the jar labels. Mixologist Zachary Johnson blends 10 years of bartending know-how with a passion for experimentation to craft a variety of cocktails which can be experienced from the safety of home.
The menu includes traditional classics like the Old Fashioned and Mai Tai, and variants of well-known creations like the Mississippi Collins and the Spicy Margarita. It also includes BadCat original creations like the "Little Taylor", a sparkling cocktail named for the Italian neighborhood in Chicago, which consists of apple brandy, Aperol and house-made honey syrup. 
On top of that, BadCat offers a $0.50 credit for each returned mason jar; a refreshing and unexpected approach to keeps costs down and reuse up. So, tag along as we sip and stir our way through original and seasonal cocktail creations from BadCat Cocktails!
First up, the "Red Lodge" cocktail. This tiki styled drink is a BadCat original creation with a base of rye whiskey and apple brandy. Whiskey and ginger syrup are used in harmony to balance the use of lemon, BadCat's house-made grenadine and the apple brandy. Floral notes abound as the tiki-ness of the drink shines through. Additionally, according to Johnson, grapefruit, orgeat and Herbsaint are present as a nod to his original Halloween drink inspiration.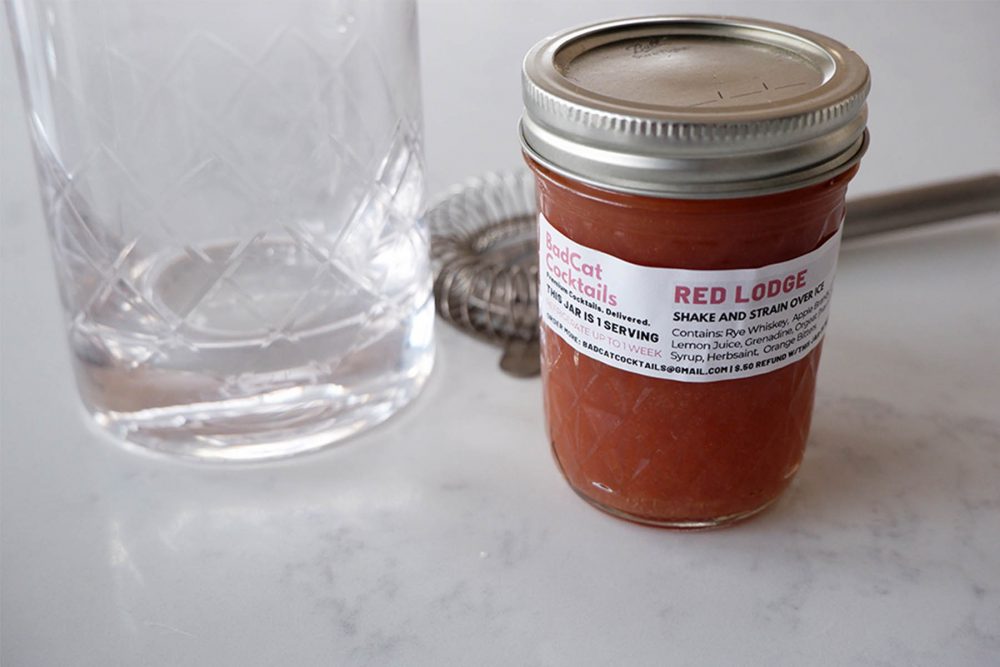 Up next, the "Chariot" is another tiki-styled drink. Shaken and served over ice, the "Chariot" is a more complex blend of mezcal, coconut liqueur and BadCat's habanero honey simple syrup. Grapefruit and lime mixed with the habanero heat provide plenty of kick along with the use of orange bitters. This is the type of delivery cocktail that makes you forget you're at home..and in a very good way!
"When I create drinks for BadCat Cocktails, I want to make sure we are being true to the history and the spirit of the drink. If I change an ingredient to fit the season or to better fit our delivery format, it will still honor the legacy of the cocktail." - Mixologist Zach Johnson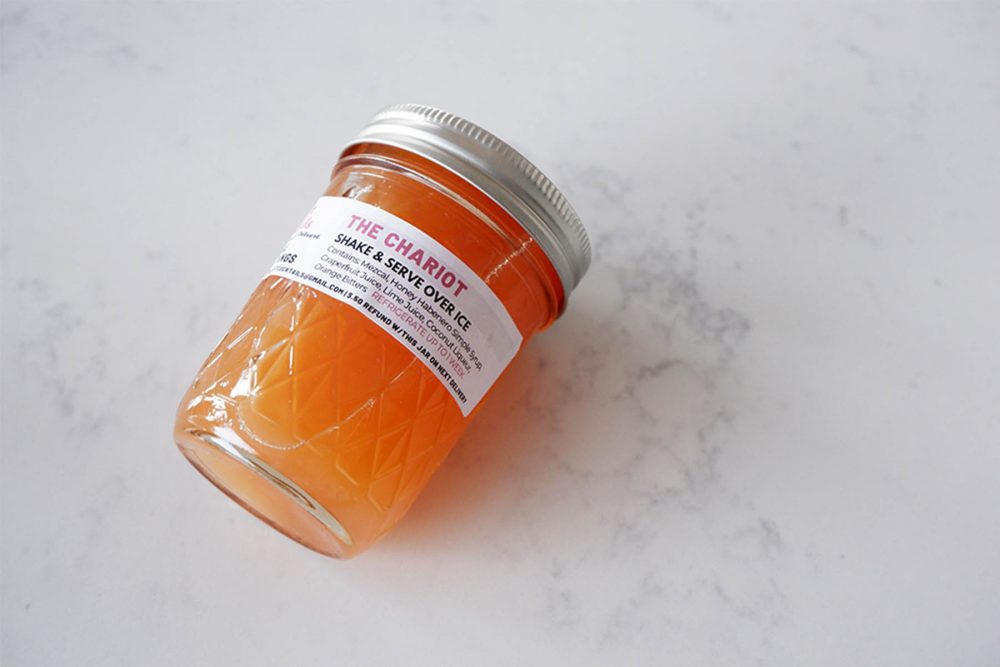 Along with original and traditional cocktail creations, BadCat has promised a series of seasonal and holiday themed inventions.
Recently, as a Valentine's Day Special, BadCat offered the "Mon Cheri" cocktail, a riff on a classic dessert styled drink. The cream and cognac-based drink was inspired by chocolate cherry truffle and used a chocolate liqueur and cherry syrup to amp-up the resemblance. The cream, made from oat milk and to help build a deeper consistency; provided an option to those who prefer not to consume dairy.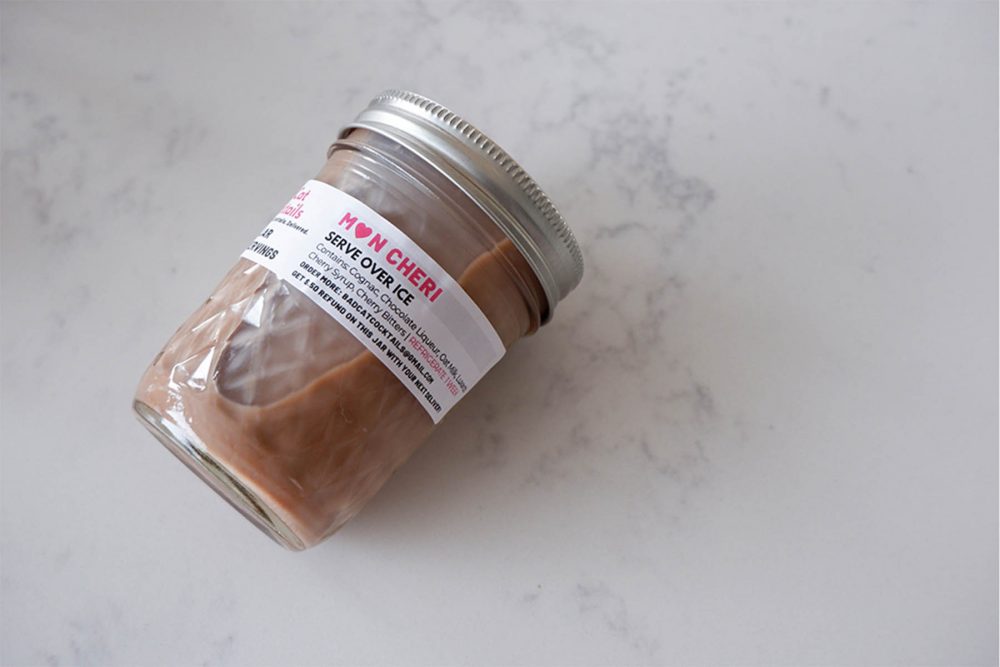 Finally, another holiday-themed concoction and now available. The "Green and Orange" is BadCat's ode to St. Patrick's Day. This cocktail features Jameson whiskey and orange liqueur balanced with plenty of citrus and BadCat's house-made grenadine. A proper tribute to the colors of the Irish flag.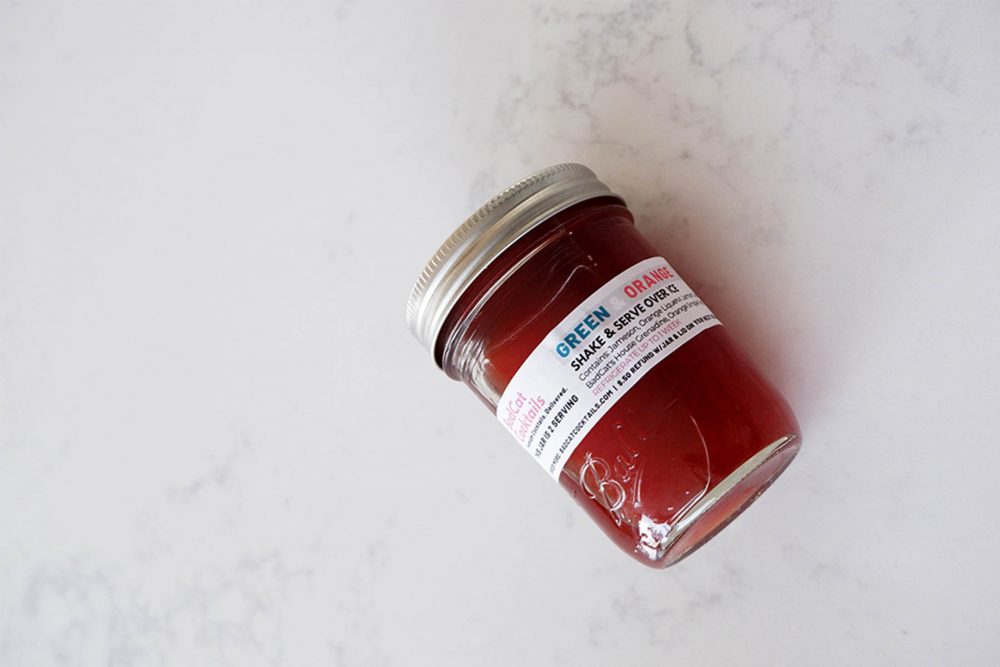 "When the pandemic hit, we quickly lost all of our work," explained Jessica.  "One of my friends actually said to me Zach makes really good cocktails - you should deliver them to people.'" 
You'll receive no argument from us, your friend just might be onto something.
To learn more and order a delivery cocktail experience, check out BadCat's website here or find BadCat on Instagram: @BadCatCocktails.