---
On Sunday, at Morgan MFG in the West Loop, Chef Alfredo Nogueira was crowned the King of BBQ at Heritage BBQ, with a Berkshire from Faith's Farm at a culinary competition promoting heritage breed pigs and global grilling cultures. The winning menu included Cochon de Lait (shoulder, shank, hocks and jowls cooked in lard with garlic, herbs and black pepper) served with Creamy Cole Slaw on Pork Fat White Bread with Cracklin', Muffaletta made from Fatback "Capicola", "Mortadella" and Fermented, Smoked "Salami", Backbone Stew made with Brisket, Vertebrae, Smoked Fatback and Andouille, Fraisseurs served over Louisiana Popcorn Rice, Oreilles de Cochon (Boudin Stuffed Beignets) and a Pork Salad featuring Applewood and Pecan Smoked Loin, Cured and Roasted Belly and Crispy Rinds with Werp Farms Baby Mustard Greens, Pickled Grapes, Klug Farms Peaches and a Creole Mustard Vinaigrette.
"Cochon555's Heritage BBQ aims to rebuild our perception of BBQ by going back to its roots"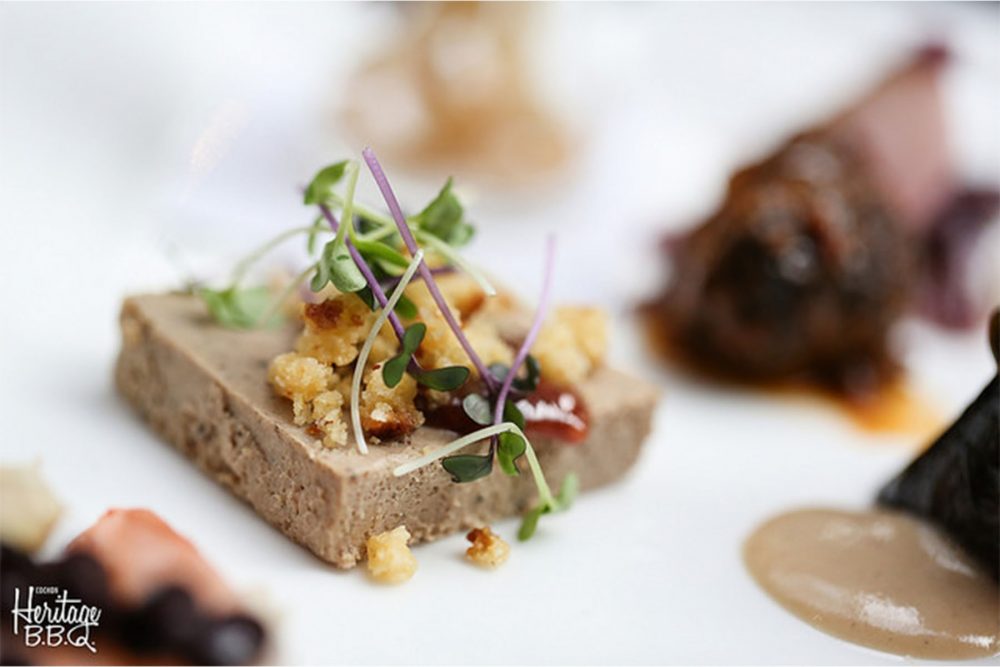 Cochon555's Heritage BBQ aims to rebuild our perception of BBQ by going back to its roots and showcasing the original context of BBQ, which meant, local meats cooked with native spices, over fires and shared with a community. The series of events aims to tilt the scales in favor of building long-term relationships between family farms and the larger commodity meat buyers like BBQ restaurants who can join the fight to support small family farmers.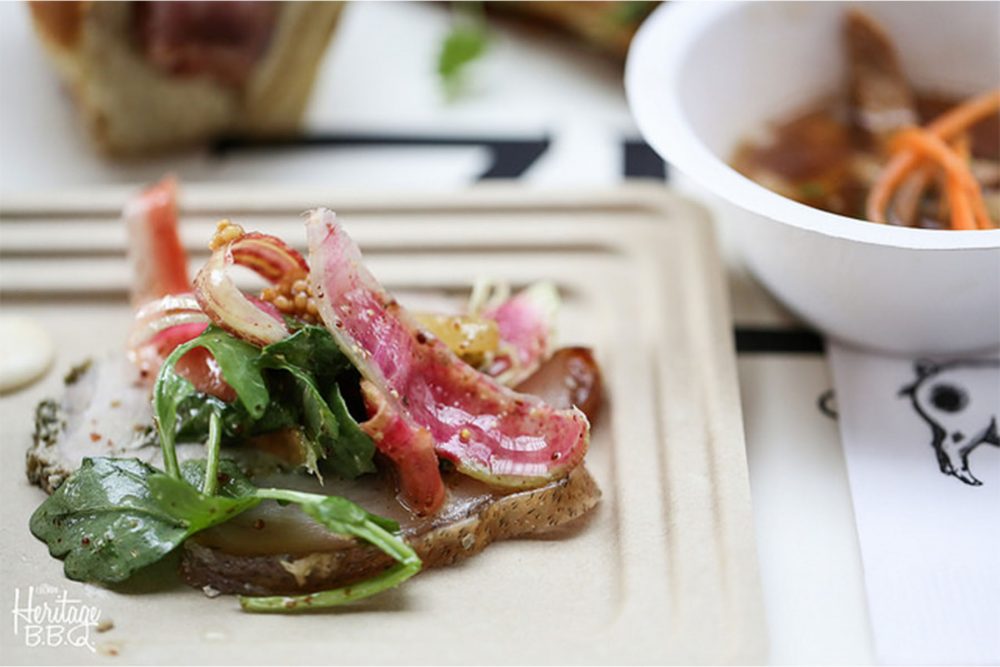 This year's competing chefs included Host Chef Jonathan Meyer of Freehand Chicago, Official Hotel of the Heritage BBQ weekend, who prepared South American, Edward Sura of Perennial Virant prepared American, Scott Manley of Table, Donkey & Stick prepared German Schwenkbraten, Chris Curren of Seven Lions went International yet it was winner Alfredo Nogueira of Analogue who took home top honors with his Creole inspired menu. Each chef was given a whole heritage breed pig raised on a local family farm, and in seven days, worked with their teams to present a "Judge's Plate" consisting of six dishes scored on utilization, global influences, cooking techniques and overall flavor. The winner in Chicago was crowned the "BBQ King" and took home more than $3,000 in prizes, including a Dream Bar from Wilsonart, exclusive bar tools and cookware from Williams-Sonoma, alongside a large supply of premium whiskey, ryes and bourbons.
In addition to sampling the competitor's dishes, guests enjoyed Cochon 555's spotlight called "BBQ Traditions", an epic tasting inside the event where notable chefs prepared one dish from their favorite BBQ culture like Hibachi, Char Siu, Barbacoa, Asado, Satay or even regional American BBQ styles. Chrissy Cambra of Maddy's Dumpling House prepared Dumplings, Dave Ochs of Maple & Ash prepared Yakitori, John Manion of La Sirena Clandestina prepared Argentine Sweetbreads, Mitch Cavanah of GT Fish and Oyster prepared Satay, Phil Wingo of Pork Mafia prepared Brazilian Churassco and Dylan Lipe of Blackwood BBQ prepared Carolina BBQ.