---
Until recently Broken English was one of those joints on my "I gotta check that out but still haven't" list...I've always noticed the various Broken English locations when walking/driving past (The Loop Lincoln Park, and Old Town) with their colorful turquoise walls and signage, but had not visited. All of the locations look fun and I'd heard good things, so I was excited to finally try out the Lincoln Park location with some friends for Happy Hour.
The happy hour specials are at the Lincoln Park and Old Town locations only and feature different deals on different days. Of course there's a Taco Tuesday special ($2 tacos), but it also includes  $6 margaritas on Monday/Friday and $3 tequila shots or Mexican beers on Wednesday/Thursday. Here's a quick rundown of our Happy Hour visit, with 6 reasons to check it out for yourself: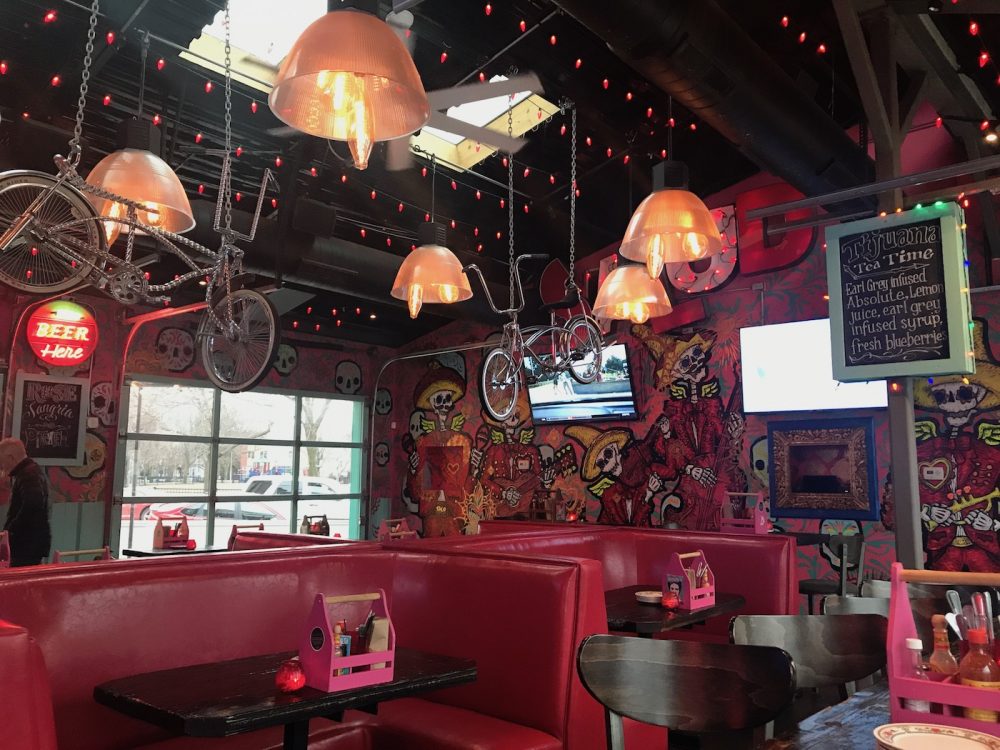 1. The atmosphere: Once you walk in, there's no shortage of art and things to look at. Colorful murals by local artist JC Rivera cover the walls along with neon signs (in fact, all of the art and logos are local). Also, the Lincoln Park location seems much bigger inside than it looks outside, once you wander past the initial front kitchen area you find another dining area, then a bar, and then a game room past the bar. There's a really fun vibe here and it becomes energetic as it fills up in the evening.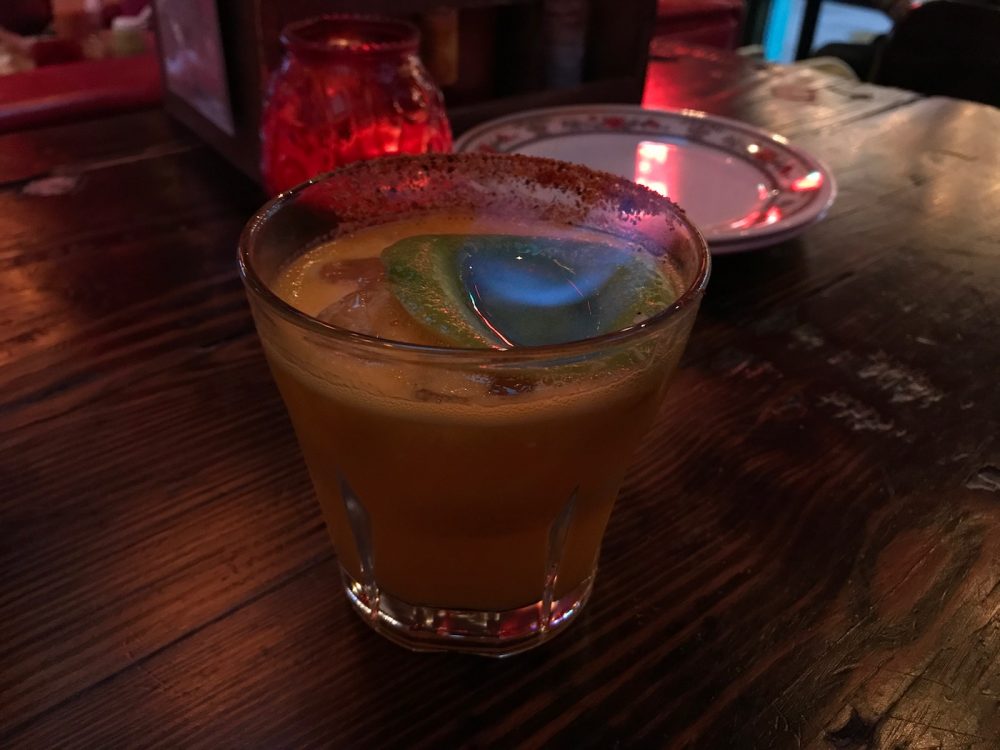 2. The Pyro Passion (leblon cachaca, lime, passion fruit, agave, luchador tequila): This drink is on fire! Literally. Everyone scrambles to take pictures of the dancing flame shooting up from the glass before it goes out. After a flurry of picture taking, we try it. It's tart in a refreshing way and we all wish we had ordered one each for ourselves. I gotta admit, a table full of drinks on fire would probably look really cool.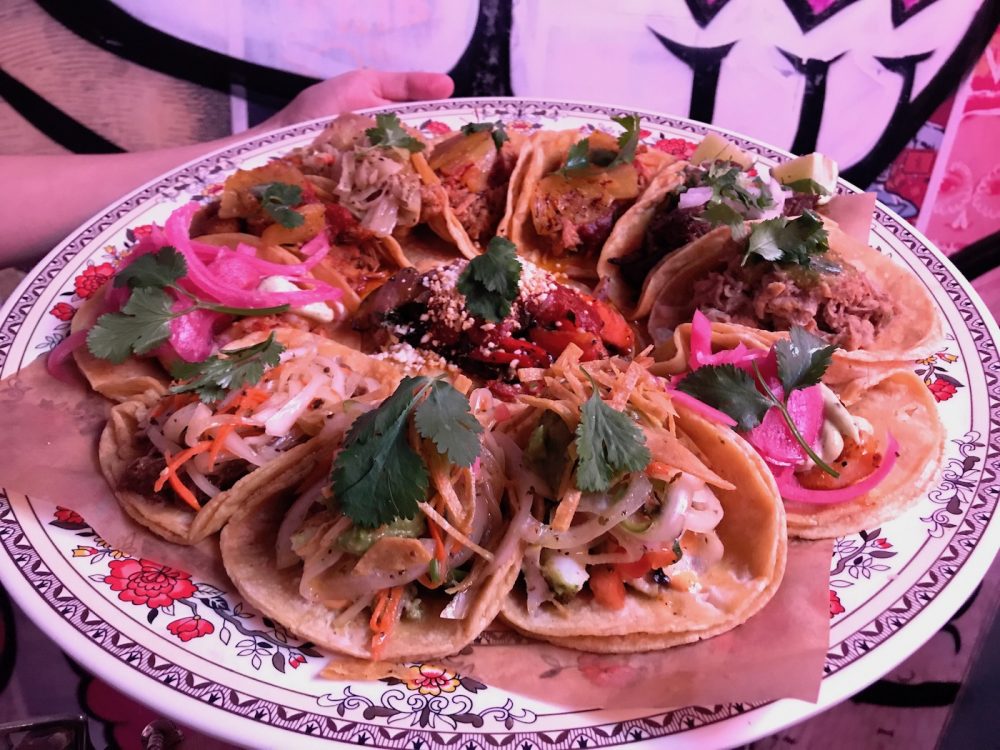 3. $2 Taco Tuesdays!! If tacos are $2, why only get one when you can get an entire TRAY? We decided to go for the taco tray, and when it comes out everyone stops talking and stares at the tacos in all their glory (This actually happens whenever a waiter brings out a tray throughout the night). It's beautiful! Broken English is generous with their fillings which is nice. The meat in the carne asada is full of flavor and the shrimp in the shrimp tacos are plump not squishy or bland. The fried chicken taco is deliriously good but rich so we end up sharing. The fish tacos are everyone's favorite and we wish we had ordered more.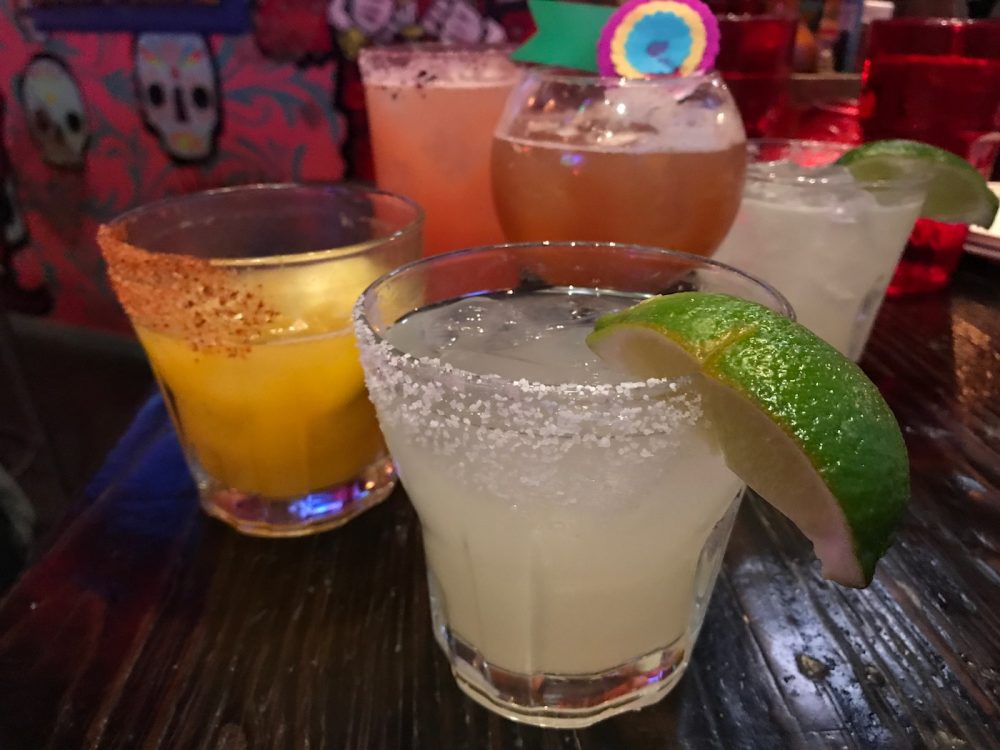 4. Tijuana Tea Time (earl grey absolute vodka, lemon, peach nectar, seasonal berries ): It's sweet, fruity and you maybe a little deadly seeing as you can barely taste any alcohol. It was a tad too fruity/sweet for my happy hour companions, but I liked it. Which is weird considering I don't usually like overly fruity drinks, which just goes to show you should always be up for trying new things. The "seasonal berries" in this case were blueberries and it gave the drink a fresh, somewhat unique flavor.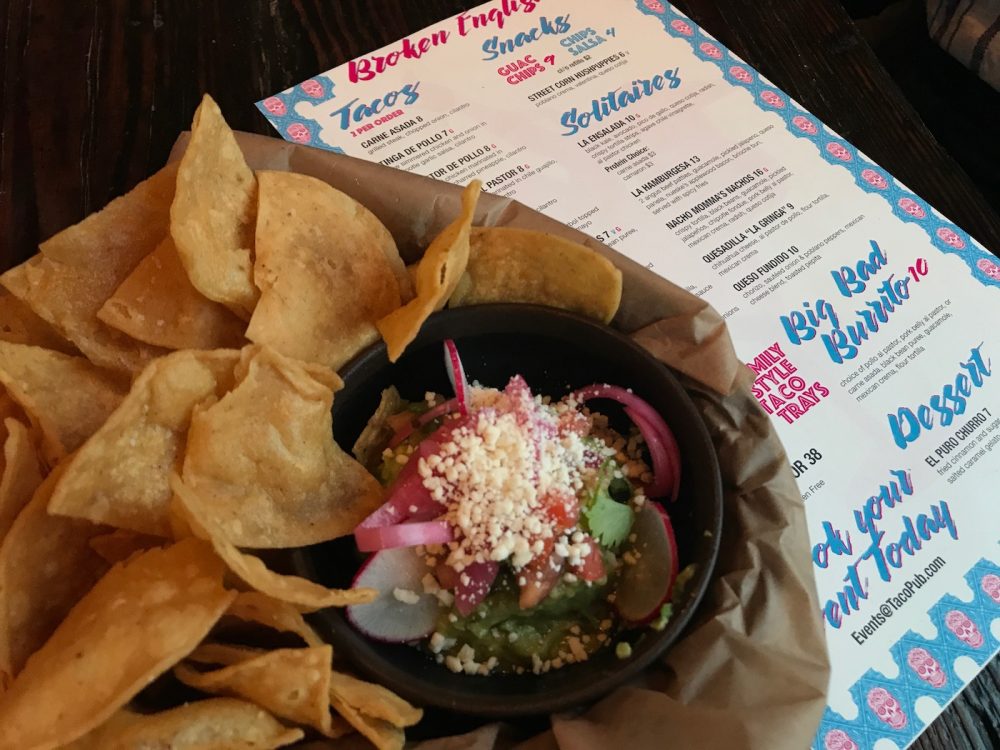 5. Chips n Guacamole! No happy hour is complete without this snack. The chips are salty and greasy in the good way, the way that makes you want to nibble more as you talk with friends over drinks. The guacamole is smooth and spicy - we order seconds. Also give the ginger salsa a try, it has a zingy kick.
6. Margaritas with mezcal. While Broken English serves regular margaritas as a special, if you want something a little different try ordering a margarita with mezcal. It adds a hint of smoke to the drink which we thought went well with the chips and guac. You can also order margaritas frozen or by the pitcher, but we remind ourselves we have to work the next morning and refrain from ordering one.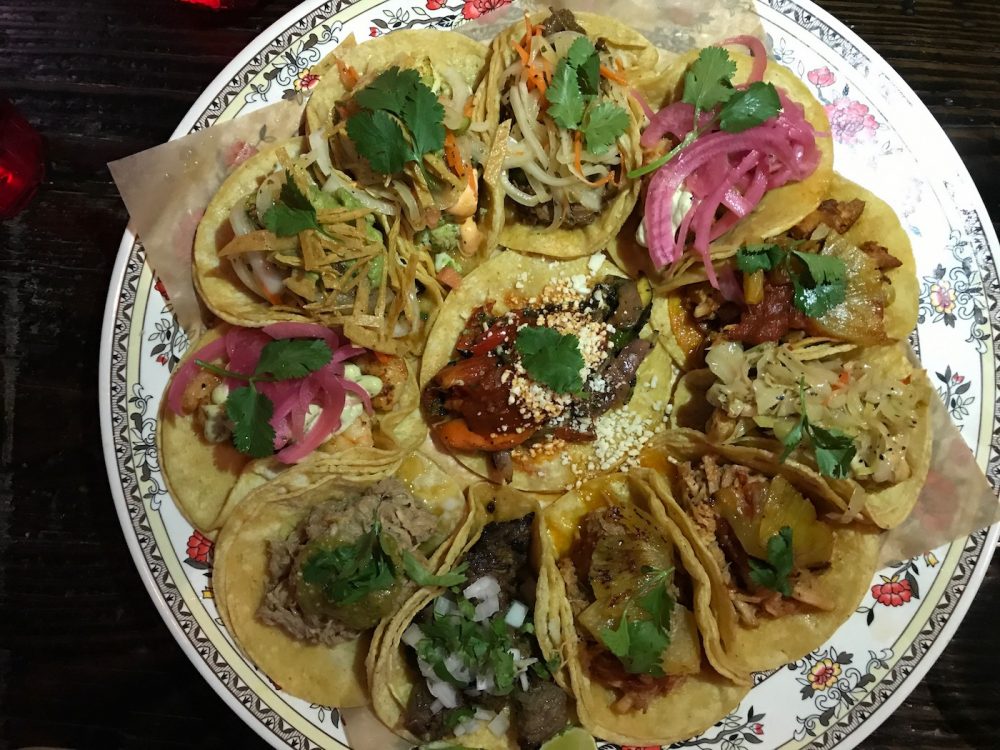 By the time we're finished, it's almost 8:00 pm and the place is packed with a variety of people: people dressed up obviously ready to go out later on a Friday night, small groups of friends or couples out for a casual dinner, even some families with children. But the energy is up and everyone is smiling. How could you not smile when surrounded by great art and tacos? My suggestion? Take out those headphones, close your laptop, and rally your coworkers to try this awesome happy hour!