---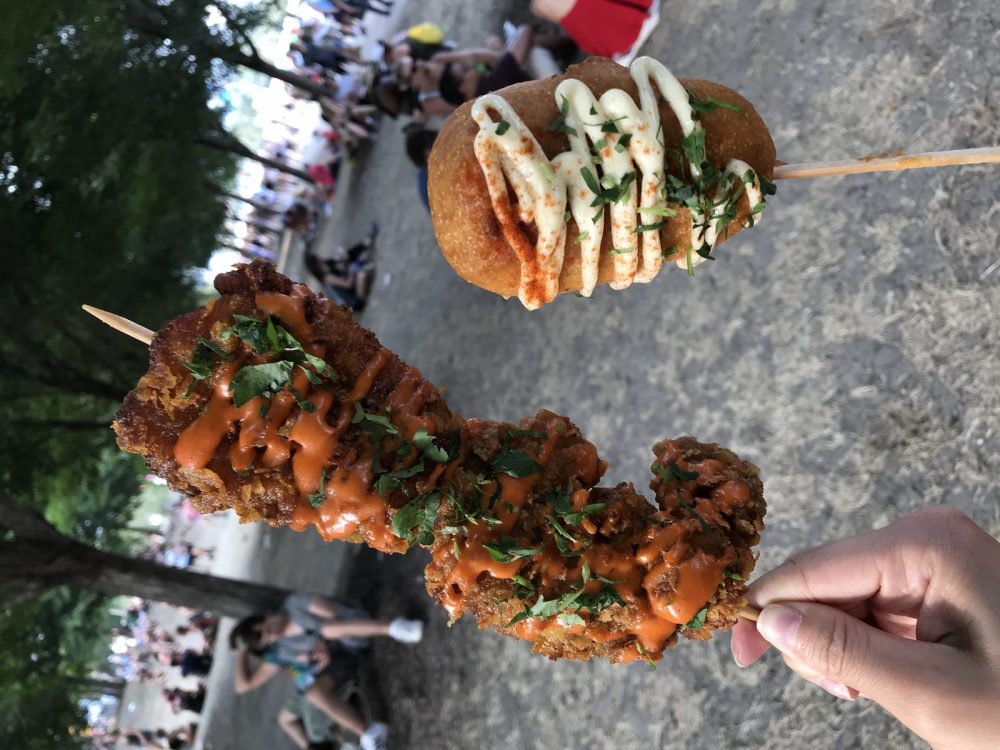 Every year, Lollapalooza takes the best elements of Chicago and rolls them up into super awesome, fantastic weekend. And that includes the FOOD. Lollapalooza has seriously yummy food which includes many local Chicago vendors. Despite being four days long, it's impossible to eat everything at the fest (better come back next year!) Here's a breakdown of our culinary journey over the weekend.
DAY 1
Goddess & Grocer Sriracha Fries
These crispy, spicy fries were the first snack of the day. Perfect for walking around and munching with your friends. If you're willing to share!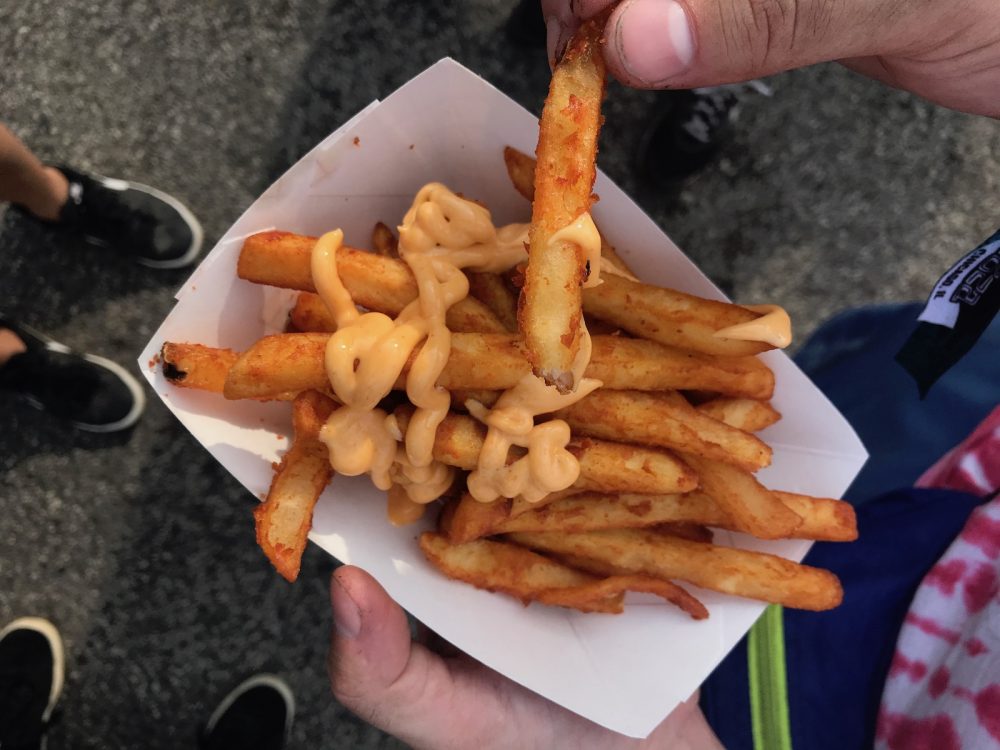 Connie's Pizza
On Days 1 & 2 we came straight from work, so the search for dinner was one of our first missions. A slice of Connie's pizza was perfect for Thursday, quick to eat and we can still walk around while doing so. You can never go wrong with pizza!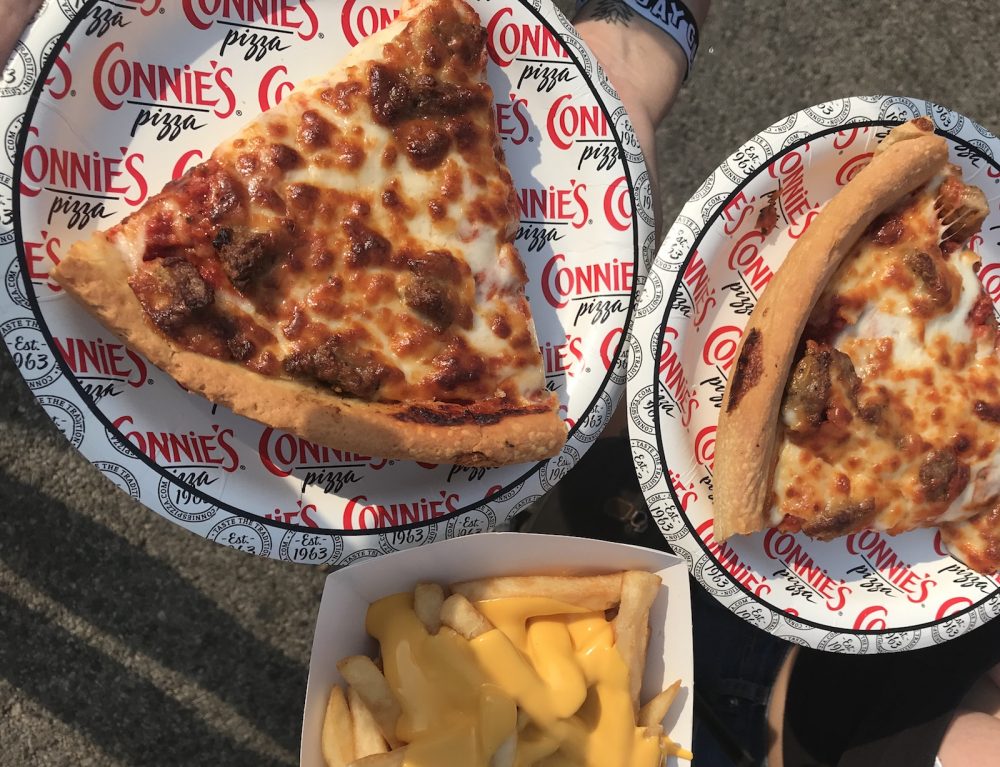 Harold's Chicken
My friend is a fried chicken enthusiast and excited to see the Harold's sign. I'm full from pizza but he claims "There's always room for fried chicken in my stomach and in my heart," and jumps in line. After snapping the obligatory picture, I grab a fry. Then another. Then take a bite of fried chicken, just to make sure I'm full, you know. The chicken and fries are crispy and salty, a perfect festival combination. Hmm, maybe there's room in my heart for an order of these too...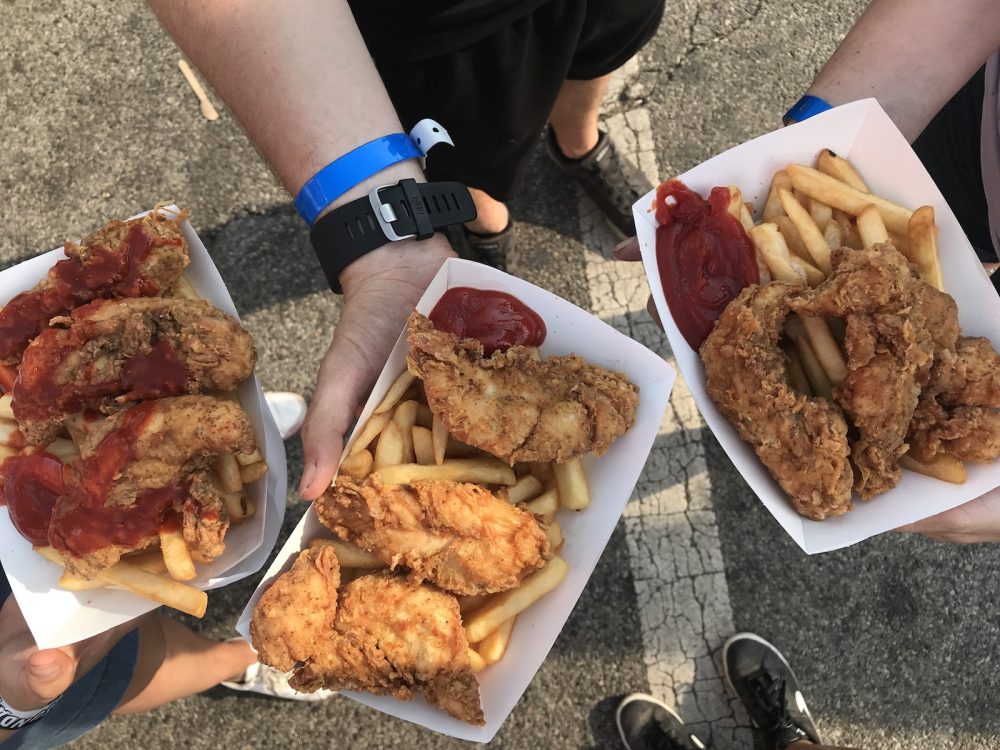 Don Julio Tequila
Later in the evening we decide it's time to start drinking. I wander into one of the cocktail lounges and notice everyone is sipping on a pink, dried flower-topped drink. I stop someone to ask what it is. Turns out, Don Julio Tequila whipped up this creation just for the festival; it's a paloma-inspired cocktail called the Palomapalooza with elements of lime, strawberry, and rose. It's refreshing and a great first drink of the festival. I end up ordering more of these throughout the next few days!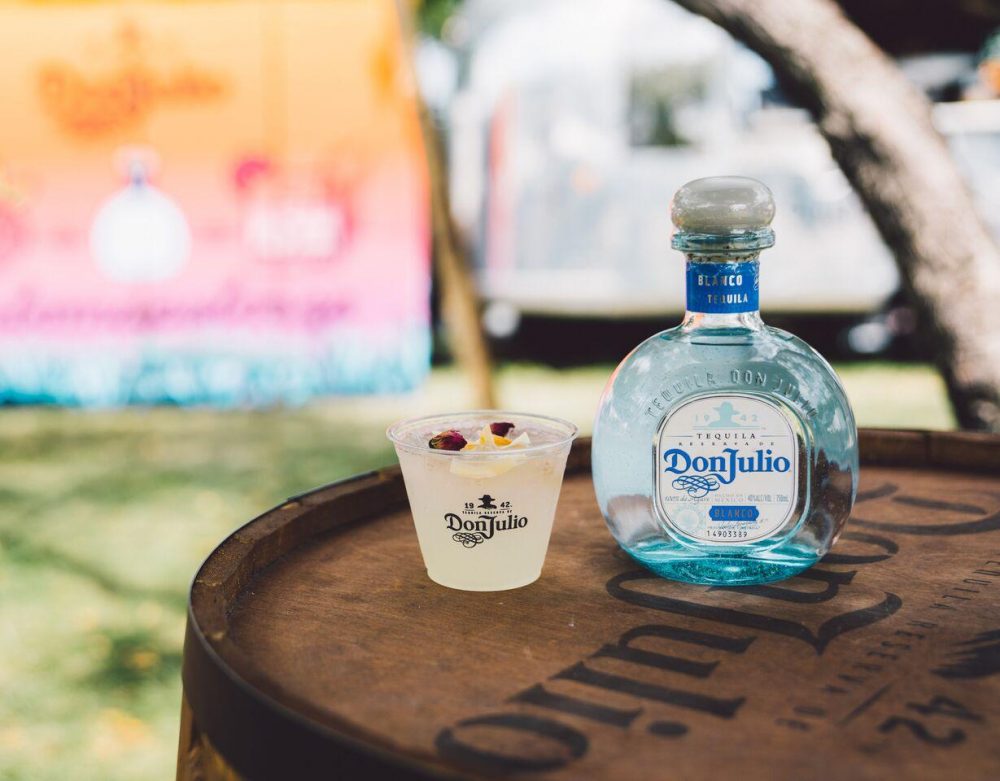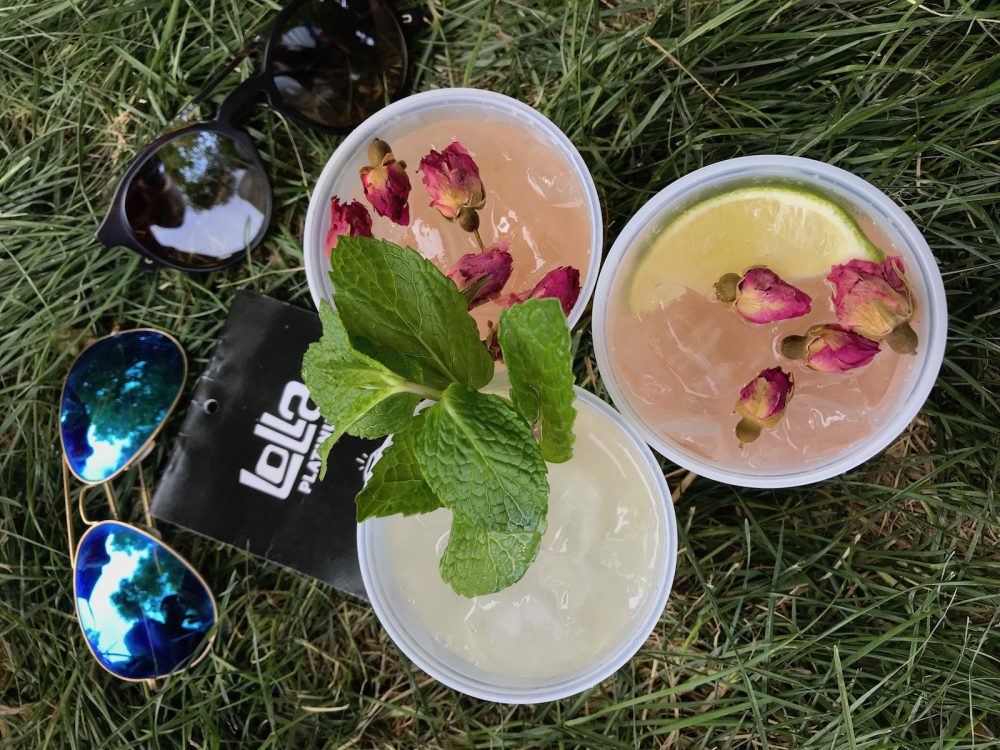 Glow in the Dark Red Bull
Later in the day I notice someone drinking from a Red Bull can that's glowing...did I drink too much? Maybe, but it turns out this year Red Bull really did have a limited edition, glow in the dark can this year. I buy one with the intent to keep the can as a momento, set it down on a table, and snap a pic. Ten minutes later we're walking to the other side of the fest, I forgot the can, and the picture if a blurry image of my own face in the dark because it was on selfie mode. Ok, maybe I did drink too much...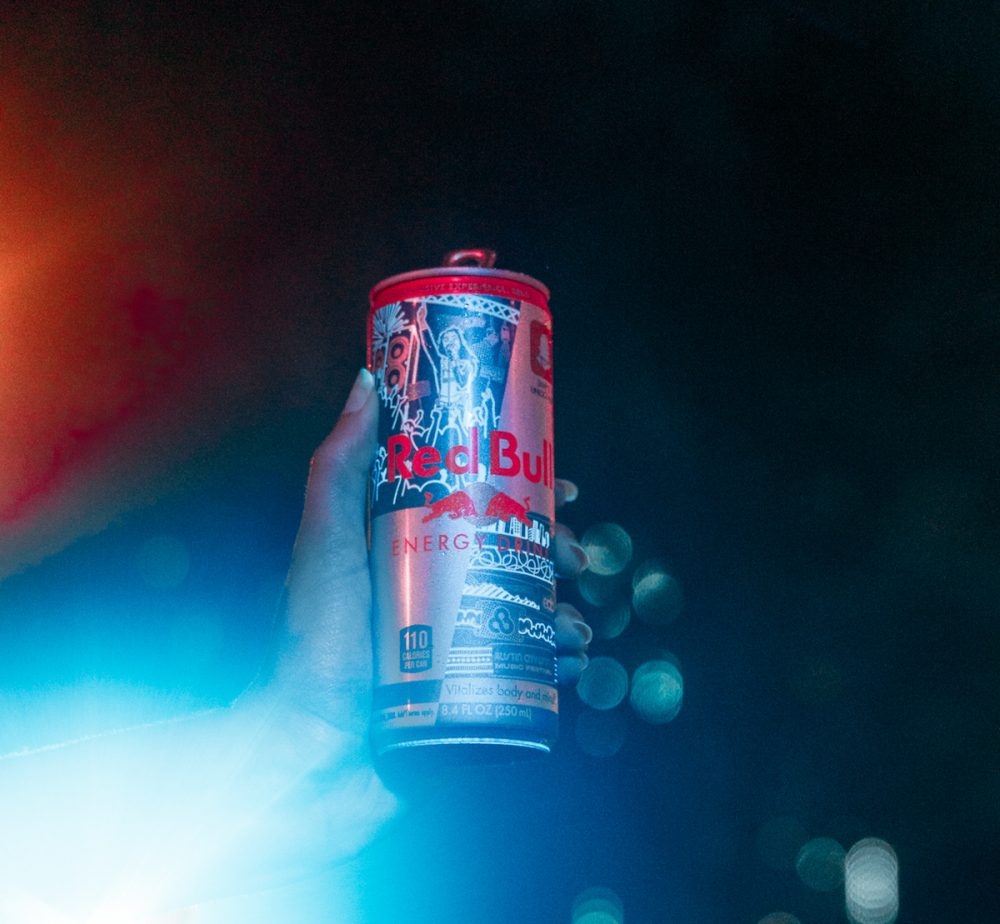 Day 2
Tall Boy Taco + Mad Social Chicken and Waffles
While our fried chicken loving friend went off in search of chicken and waffles, two of us were snapping up tacos from Tall Boy Tacos. Their tortillas are tasty and sturdy enough to hold up the fillings as you carry one around, it even withstood some spontaneous dancing in the street. (Pictures withheld on protest.)
The Mad Social Chicken and Waffles are topped with syrup, powdered sugar, and bacon. It is a salty, sweet, fatty basket of indulgence, completely delicious. It is so delicious, in fact, that the person tasked with going and finding this magical item started eating it on the way back before I could get a picture, leaving me only a few bites left in one corner of the tray.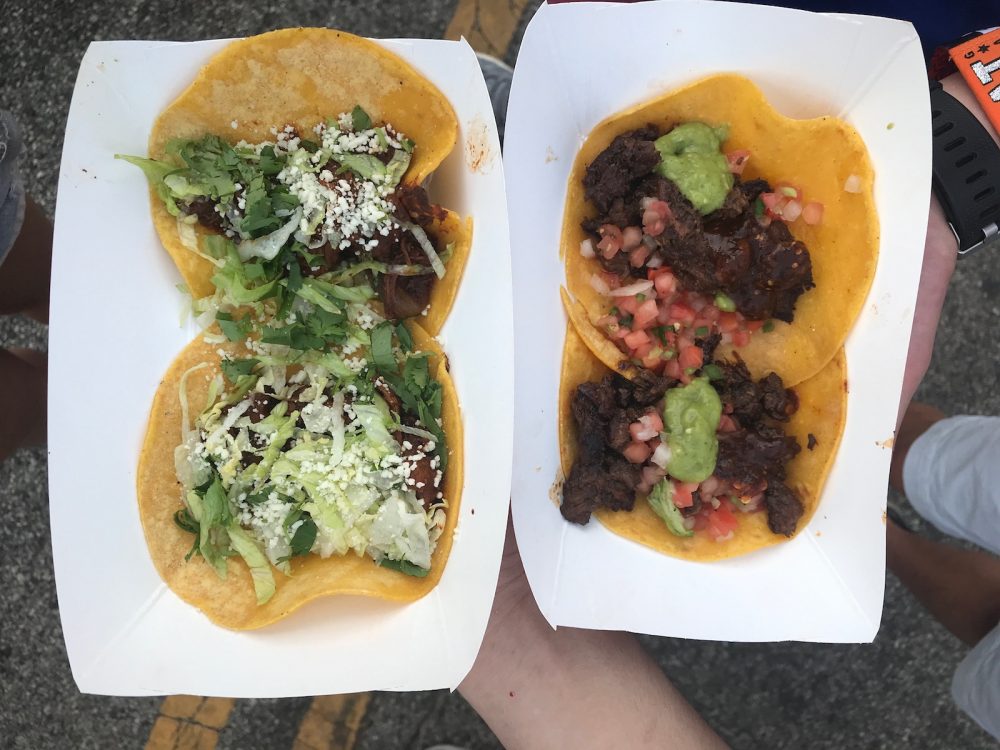 Tank Noodle Salad
I ask the girl holding this noodle salad if I can take a pic and she sighs, laughing. "Yes but hurry up, because I'm really hungry and this is really good. I had it yesterday." I noticed the "Staff" label on her wristand and realize if she's had this two days in a row, it must be good!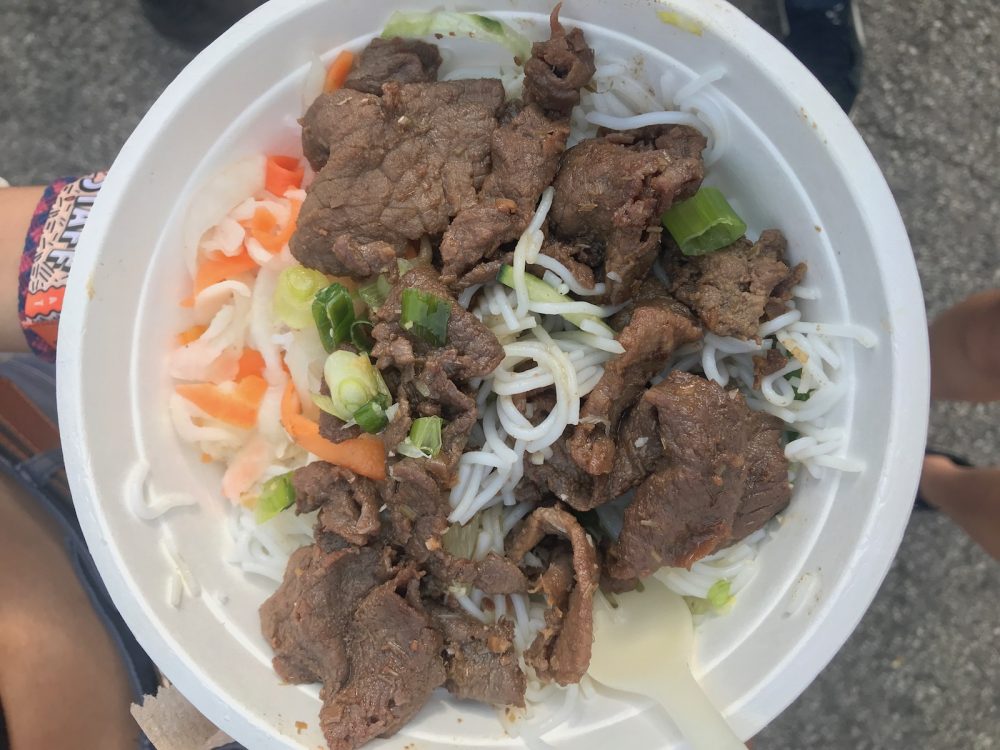 Cheesie's Mac'n'Cheese Grilled Cheese
The Cheesie's mac'n'cheeese grilled cheese will always hold a special place in my heart, as it was the first food I purchased at a Chicago music festival ever. So long ago, in fact, I don't even remember which festival it was, I just remember sitting down and biting into the thing and being momentarily pulled away from the thundering bass and crowds of people into a happy, cheese and carb constructed heaven. Since then, I make it a point to buy these at every festival where there's a Cheesie's truck and I haven't looked back since.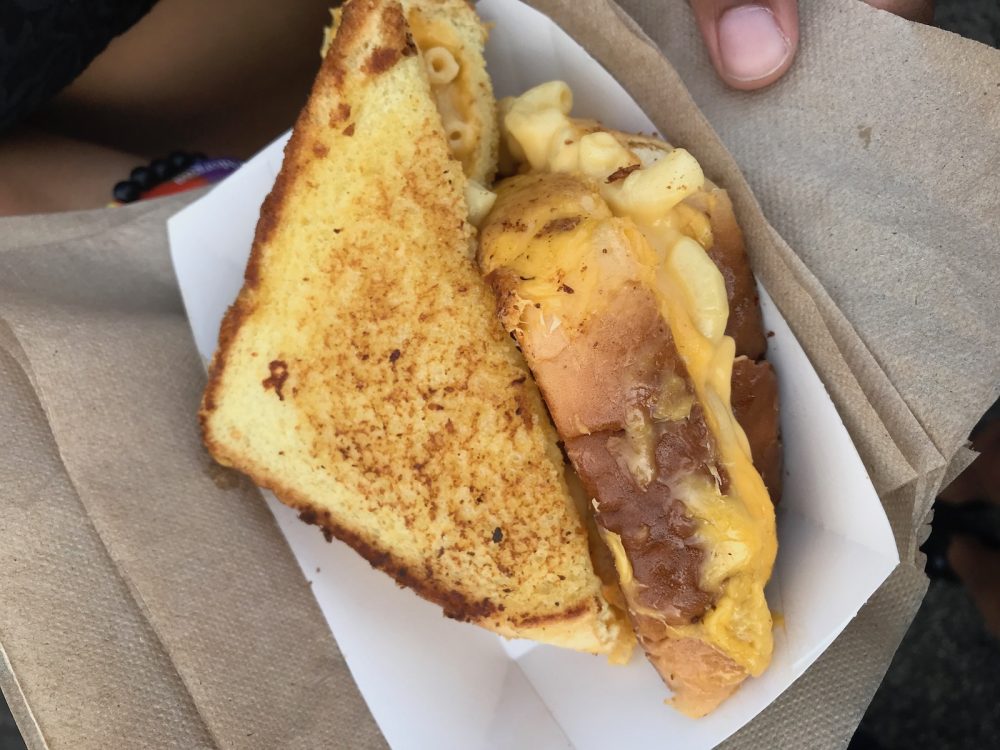 Lifeway Frozen Kefir
The mango frozen kefir saves the afternoon on Saturday! Wandering around somewhat lost in the hot, dusty main walkway of Chow Town, we were exhausted from the heat and previous two days of partying. One bite of the mango kefir with blueberries definitely gave us the pick-me-up we needed to get over the afternoon slump, it was so refreshing and light! We felt much better after and went back to try the other flavors on Sunday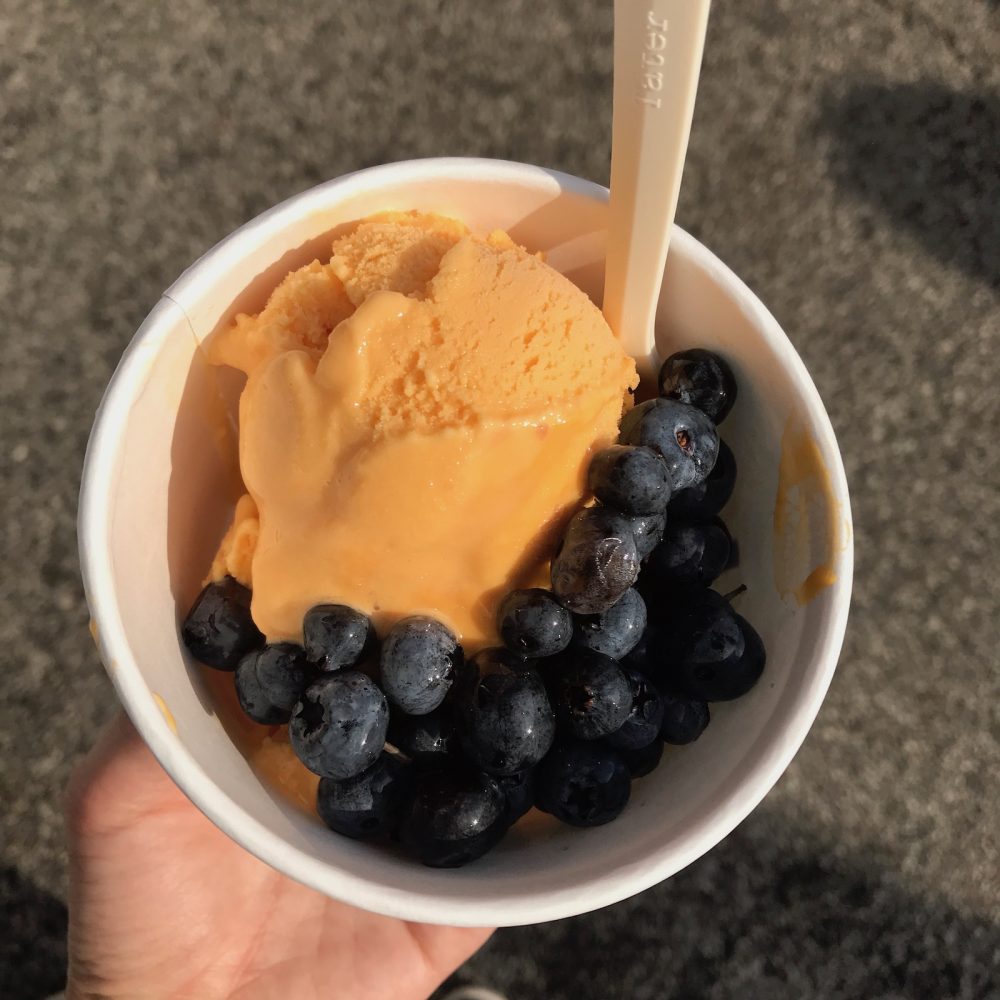 Tito's Handmade Vodka Love, Tito's Experience
On the first day in the cocktail lounge I notice a cool looking exhibit with a bunch of colored strings, so I decide to check it out on Day 2. It's the Love, Tito's Vodka partnership with Bunker Labs, a national non-for-profit organization that helps veterans and active duty service members and their spouses to start and grow businesses. Very cool!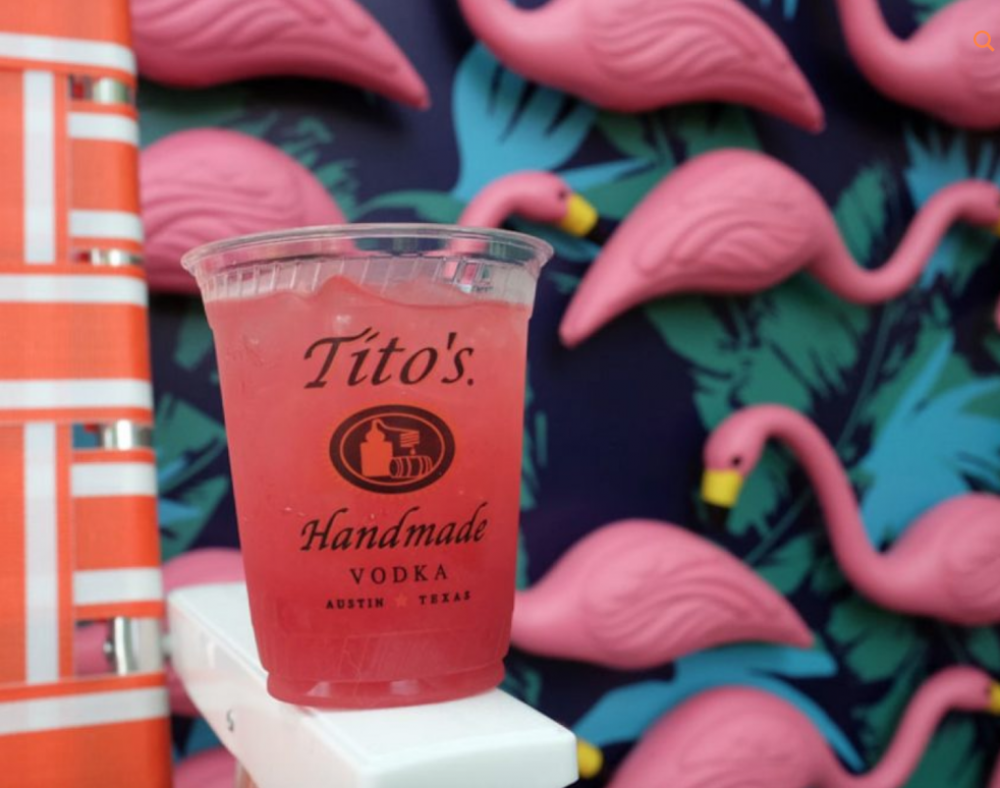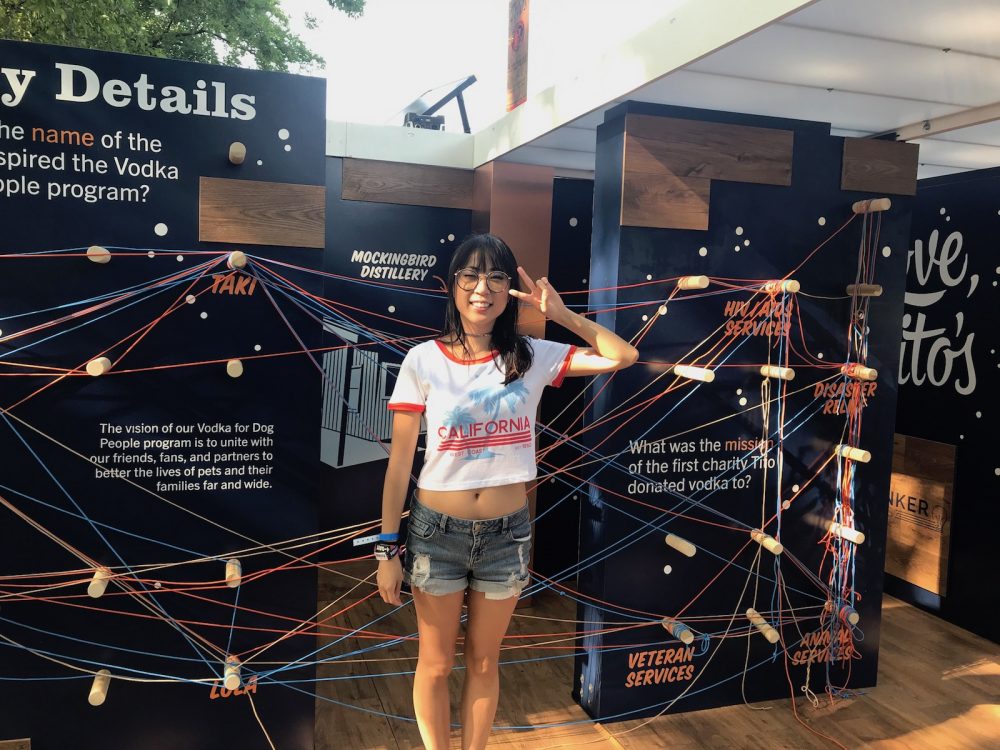 Day 3
Wow Bao Dumplings + Cupcake Vineyards
One of the pleasant experiences of Saturday was grabbing some boxes of Wow Bao, heading to the Cupcake Vineyards set up around the corner, claiming a small table and then drinking cold white wine and snacking on dumplings. We tried a few different flavors of potstickers and dumplings, and the wine was perfect for cutting through the spice and carbs of our Wow Bao haul. Great way to take a quick break in the afternoon.
(Later we tried one Cupcake's frozen treats called Pop Tails, which were also very good. But these were also eaten before a proper picture could be taken.)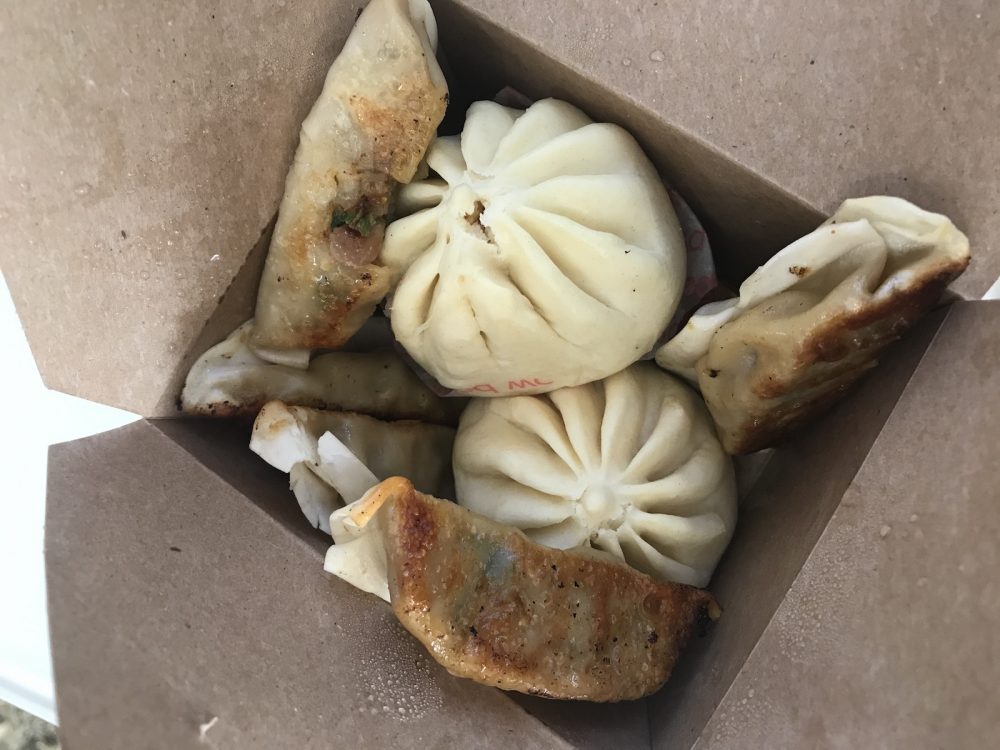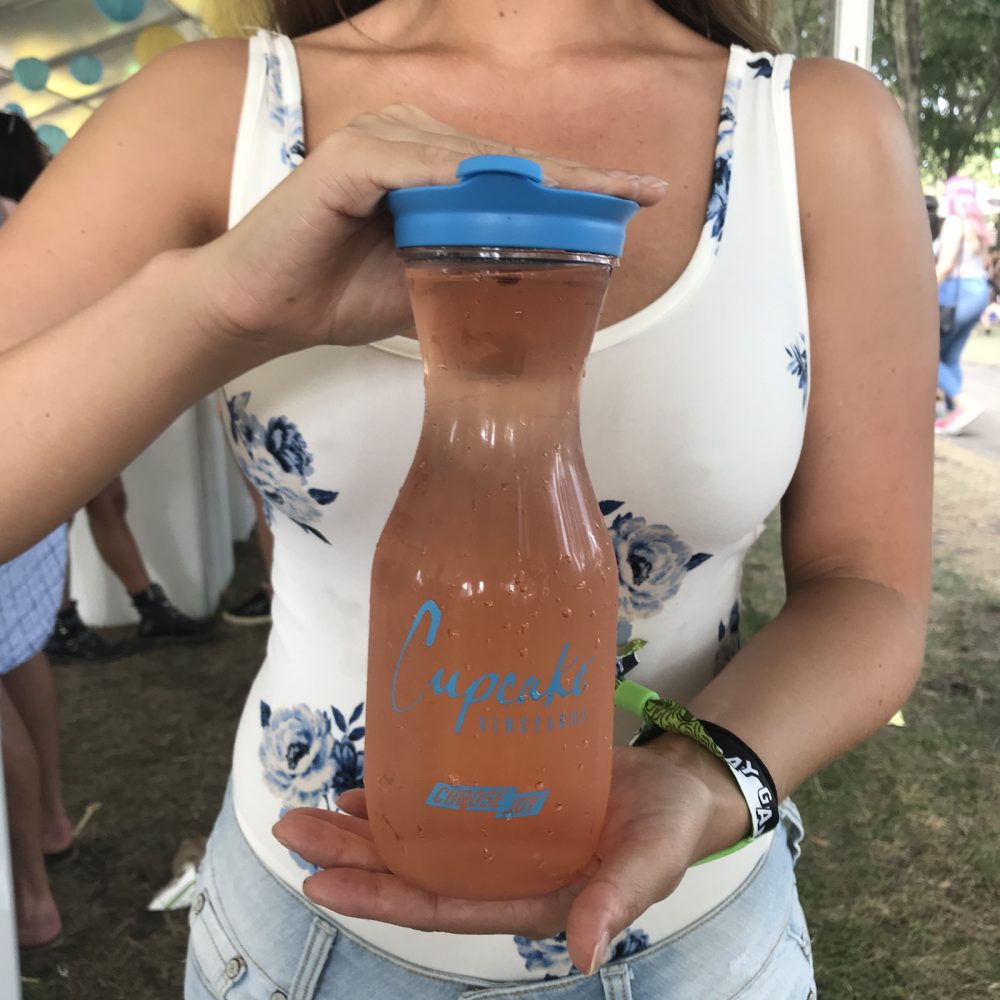 Revival Duck Inn Dog
The food mission for Saturday is to find and eat the Revival Duck Inn Dog. Made of all natural beef and duck fat, the dog is grilled and then topped with pickles and mustard made from scratch. I'm full from the dumplings but my friend has been excited to find this all afternoon. I want to ask him if I can have a bite after I snap a pic, but by the time I'm done fiddling with my phone it's already gone. "Sorry," he apologizes between mouthfuls, "But it was really tasty. The duck fat gives it a really delicious, rich flavor.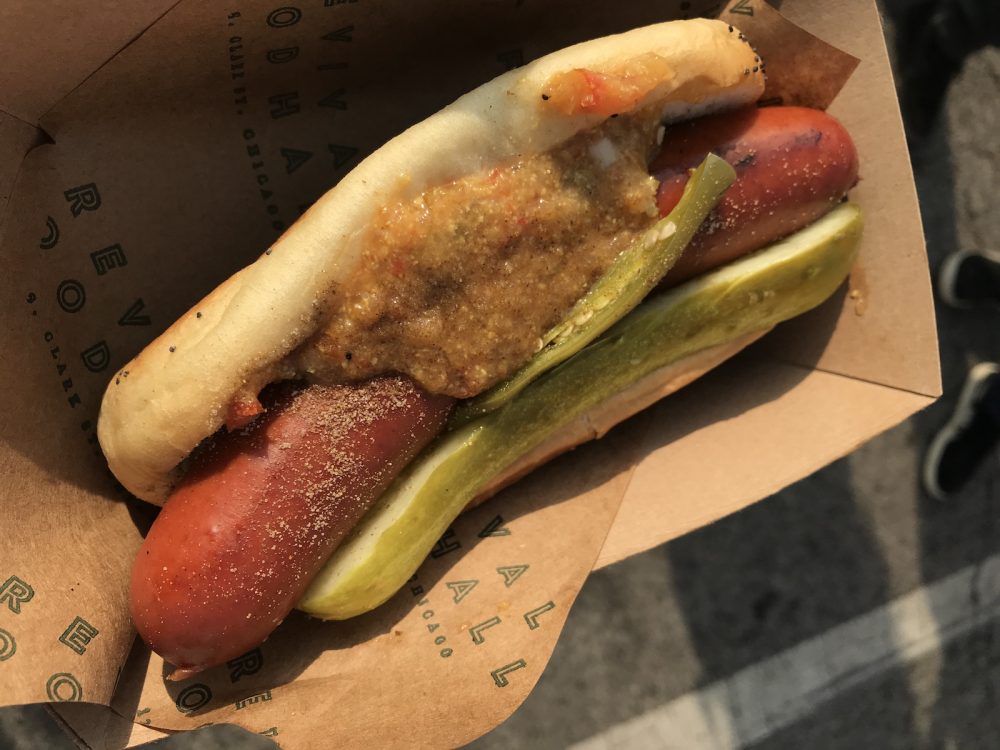 Graham Elliot Lobster Dog + Fried Chicken
The last mission for Saturday is to find the infamous Graham Elliot stand. The lobster corn dog has become something of a Lolla tradition for me to eat, and both the dog and the fried chicken on a stick are items people will stop you to ask, what is it? Where did you get it? I love the dog but I am surprised that I like the fried chicken better! (The bite my fried chicken enthusiast friend leaves for me anyways.) It's so crispy and the sauce adds just the right amount of flavor.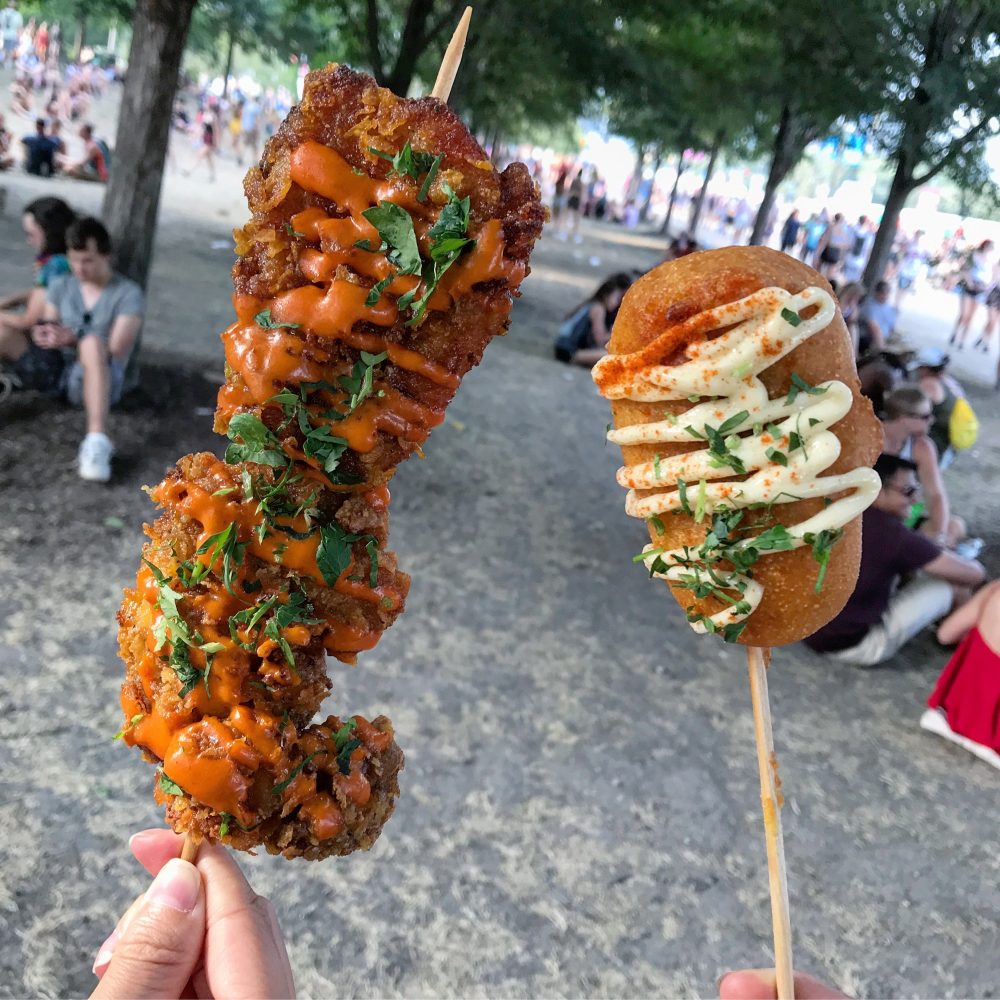 So far the eating experience has been awesome! It's really hard to try everything you want at Lollapalooza because there's just so much to see and do and eat. We still have a lot of items on our bucket list (Smoke Daddy BBQ! Rainbow Ice Cream Cone! Dark Matter Coffee!)
However the Chow Town adventures must come to an end, because on Day 4 I was able to experience and eat in the mysterious, magical unicorn Lollapalooza land of...PLATINUM.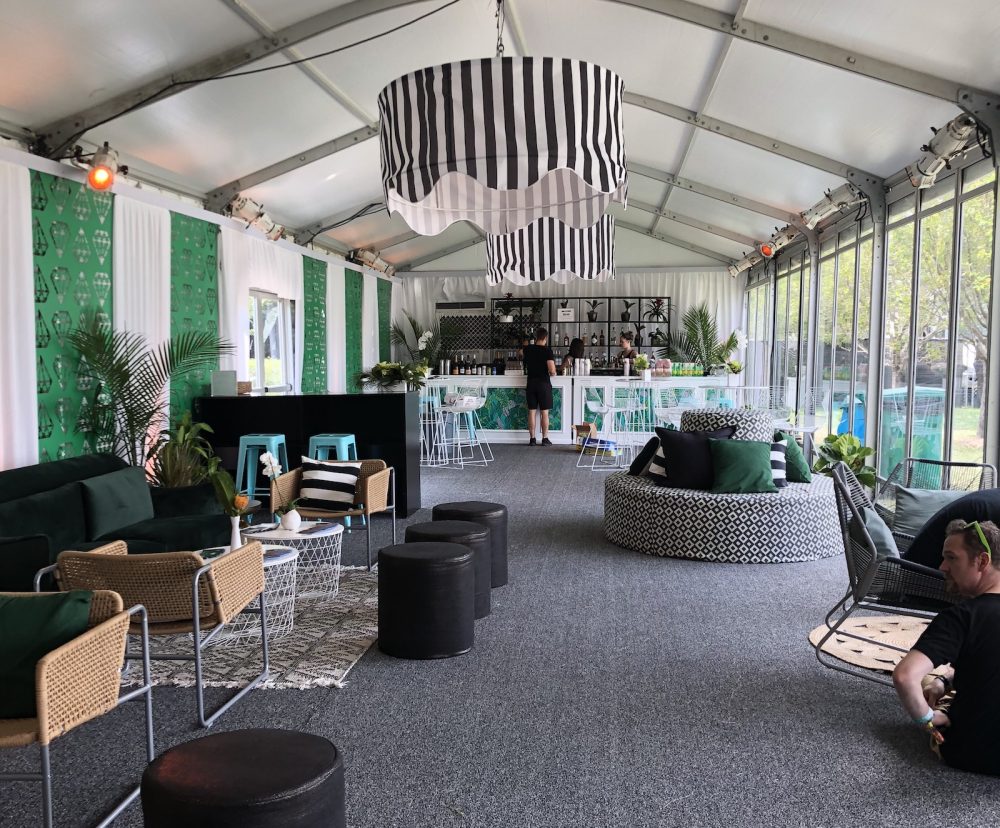 Day 4: PLATINUM BABY
PLATINUM
The Platinum lounges at Lollapalooza are an air conditioned, premium bar stocked heaven with massages, lockers, catered food and carts that whisk you from the Grant Park stage to Bud Light in minutes. Lines? What lines? Waiting for anything is unheard of here. Food includes yummy selections from avec, Dove's Luncheonette, Nico Osteria and The Publican.
It's the perfect refuge from the heat, with free water, High Brew Coffee, and premium drinks at the bar. The drinks are strong and the bartenders mighty. There are no crowds and the bathrooms are cool and clean.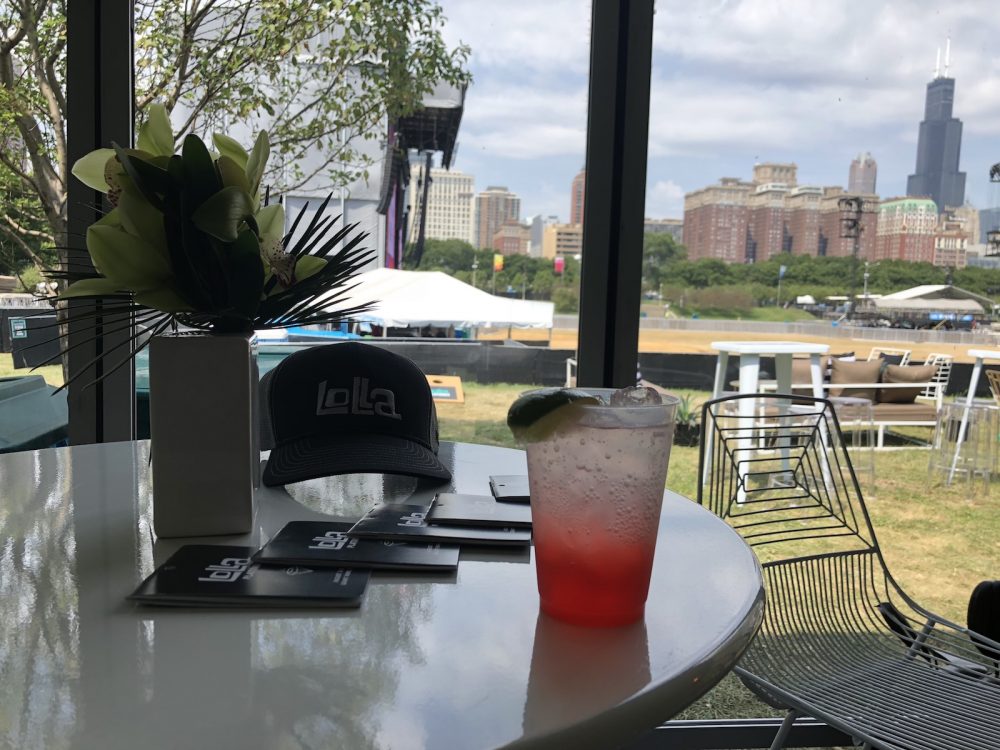 As much as I would like to suggest that I immediately grabbed food, the first thing I did was get a massage. (All in the name of reporting back on everything the Platinum lounge has to offer of course.)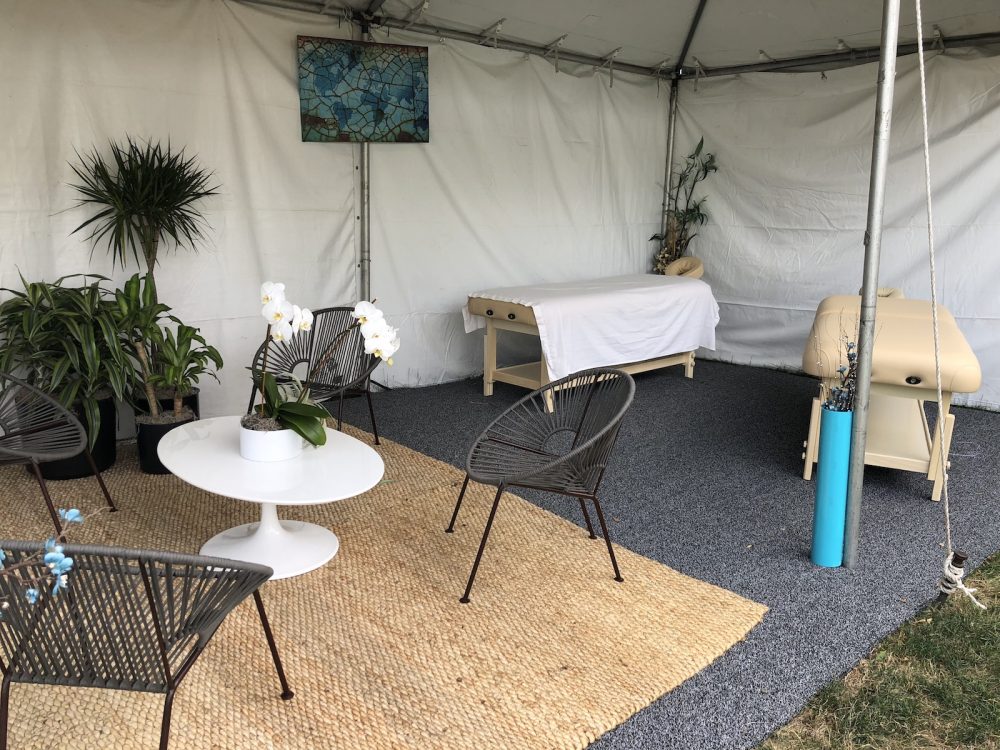 All of that physical activity made me pretty hungry, so it was time to check out the food….I wandered to the food areas and there is actually a slight line here, although it's dinner time, so it makes sense. I quickly snap pics of fancy looking hot dogs, and then my friends and I bring everything we can carry back to a table. Feast time!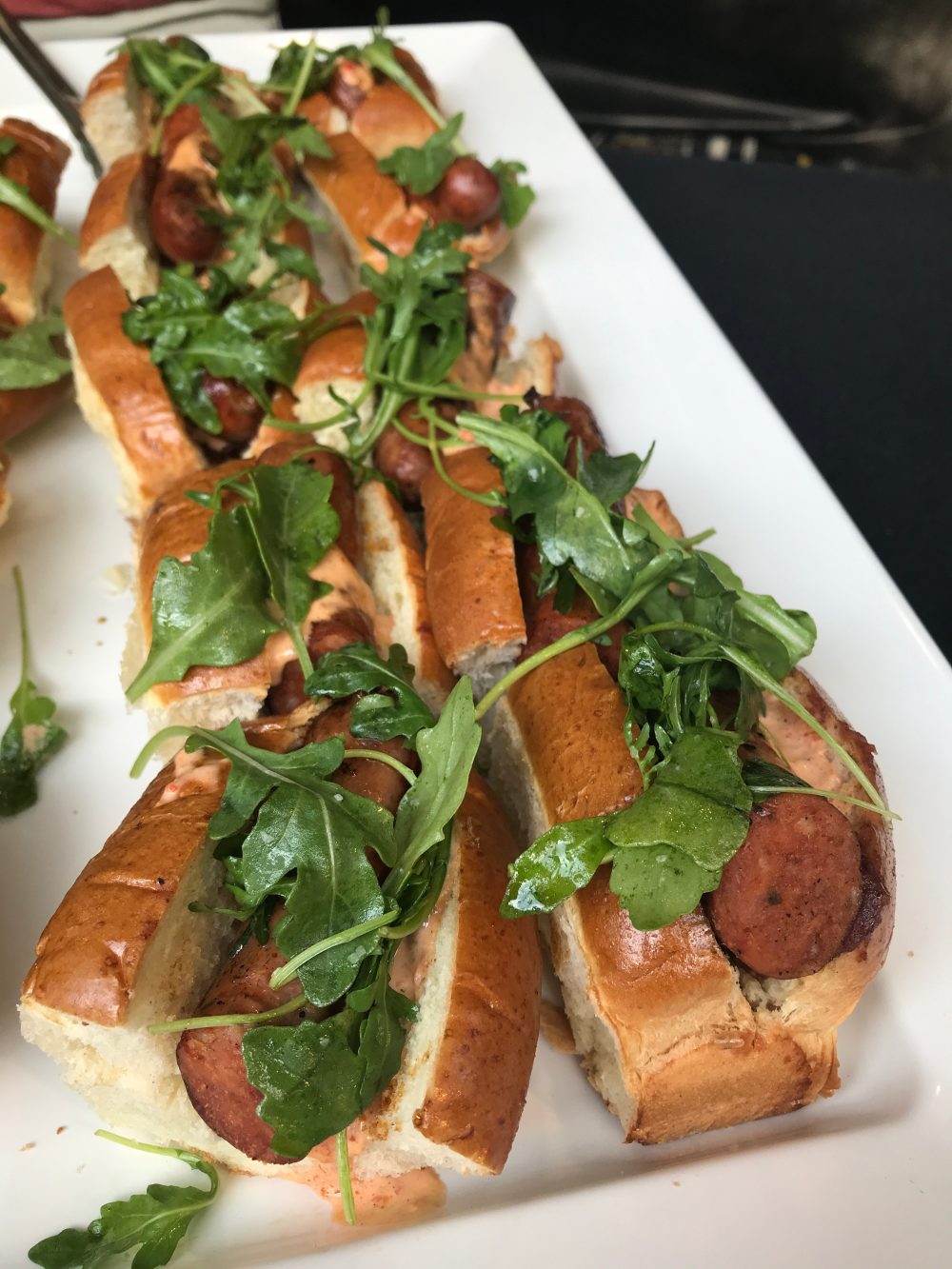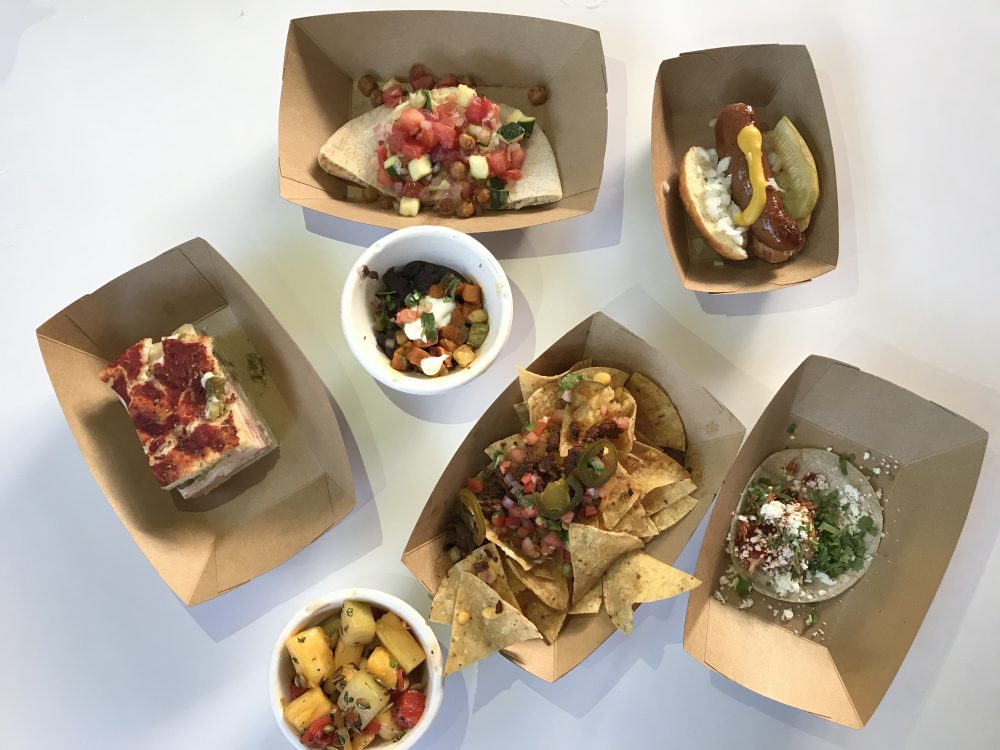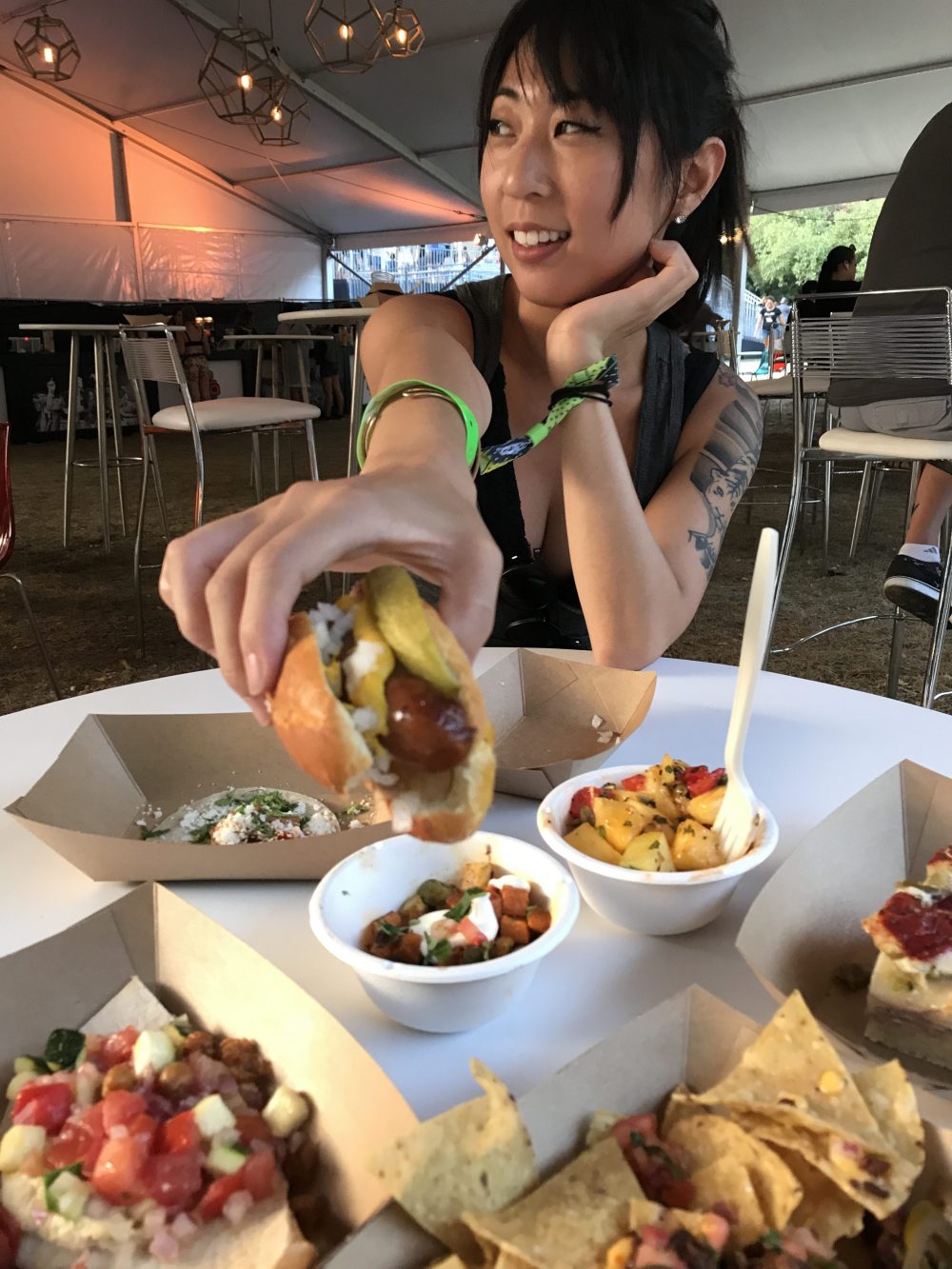 All in year this was one of the best Lollas yet, it was such a blast! We'd love to see what you guys ate at the fest, please share your pics on social media and tag @Chicagofoodmag or #chicagofoodmag. See you next year!