---
Updated January 11, 2016
While still a new resident in the Chicago food scene, Eataly is no stranger to the rest of the world. Spanning four continents and occupying cities from Munich to Dubai to Tokyo–there's one thing you'll be able to find at all of the stores, authentic Italian cuisine.
This month, the Italian market is celebrating the 9th anniversary of its grand opening in Torino, Italy. While (in our opinion) every day is an Eataly day, from now through January 31st, you can visit the Chicago location for breakfast, lunch and dinner - all on a budget, with anniversary menu specials like $9 entrees and $5 glasses of wine.
We stopped by the market to get the scoop - all three meals, happy hour and a coliseum of carbs. Oh, and did we mention we got breakfast, lunch and dinner for under $30? Check out a few choice pics from the anniversary menu.
Breakfast
There's something to be said about the simple pleasure of a strong coffee and pastry in the morning. It might be a quick bite, but taking five minutes can be a welcomed change to the morning grind.
Queue up cornetto and espresso. The cornetto, meaning "little horn", is the Italian answer to the French croissant. Admittedly, Eataly has a leg-up on the French pastry seeing as it comes stuffed with one of three flavors: chocolate, apricot and apple (pictured).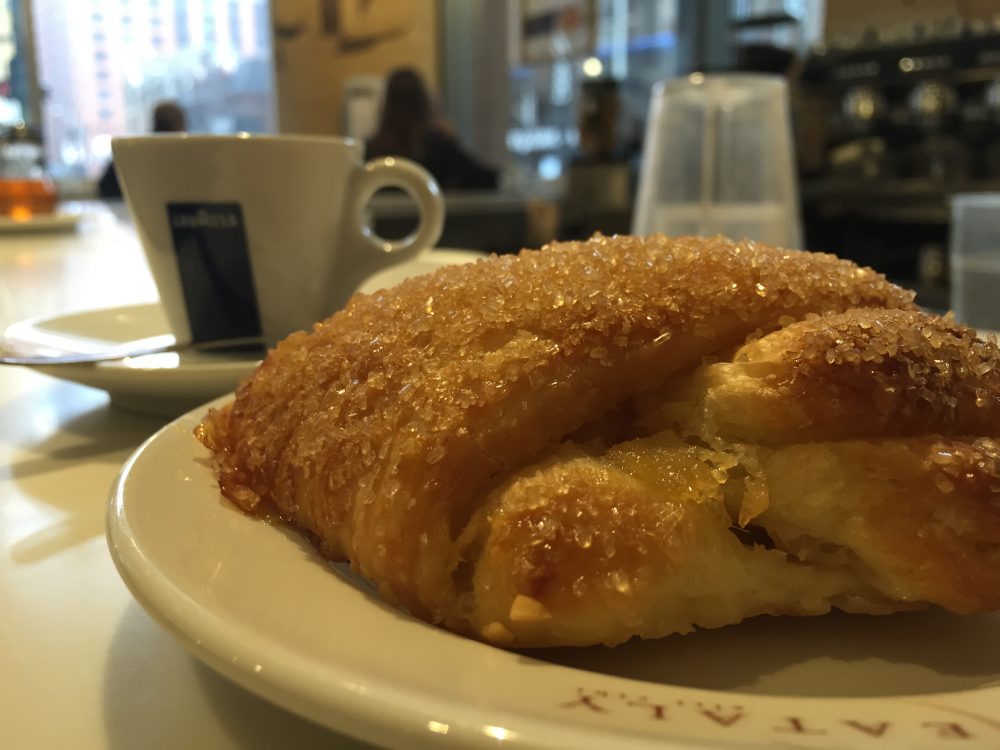 Paired with a Lavazza espresso, it's the calm-before-the-work-storm breakfast you need.
Lunch
Lunch at Eataly is always a tough choice with plenty of pasta and pizza options. The anniversary menu follows suit - a decision involving two sandwiches: the insalata di pollo (roast chicken salad with Grana Padano mayonnaise, crispy speck and arugula on a housemade baguette) and the maiale arrosto (pictured–roasted pork shoulder with provolone and rapini on a housemade baguette).
Being a cold bitter day, the hearty pork shoulder stood out, nothing like the maiale arrosto to warm us up. Though only available the first week of January, a new panino will be offered each week through the 31st, promising plenty of delicious variety.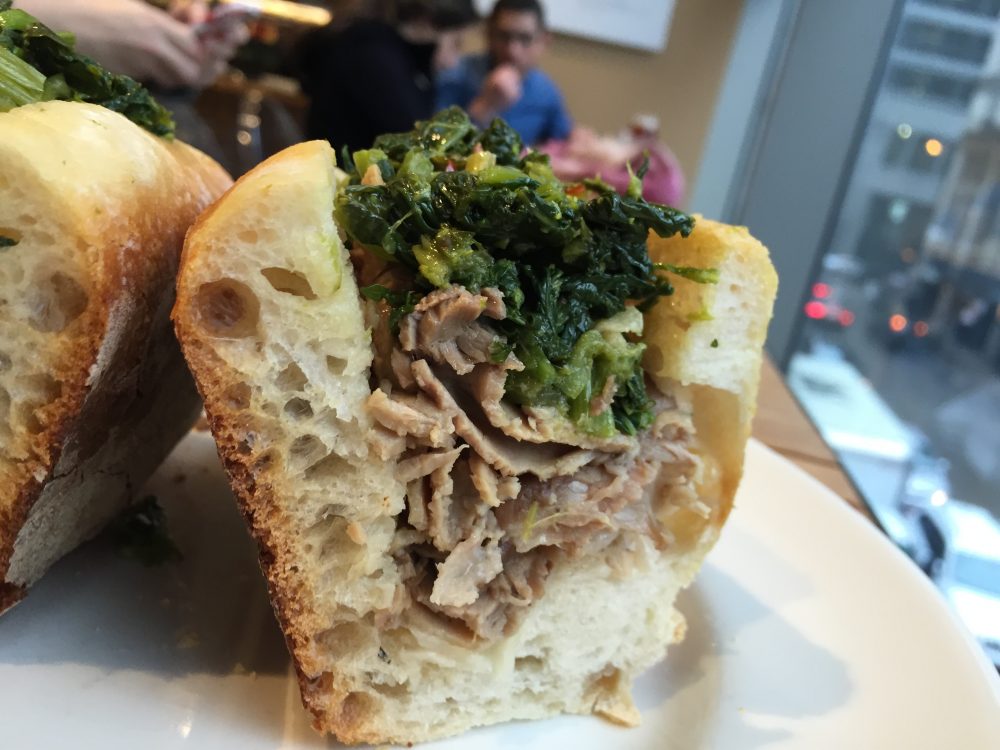 Happy Hour
It seems like a no-brainer to hit up Eataly for a post-work drink and appetizer with an amico (that's Italian for friend), especially when it comes to the variety they offer on both the food and drink front.
The salumi and formaggi misti (pictured), which includes a chef-selected variety of cheeses and salumi, is a friendly addition to a glass of wine and good conversation in the store's lively atmosphere. The oysters were tempting as well but we wanted to save room for dinner.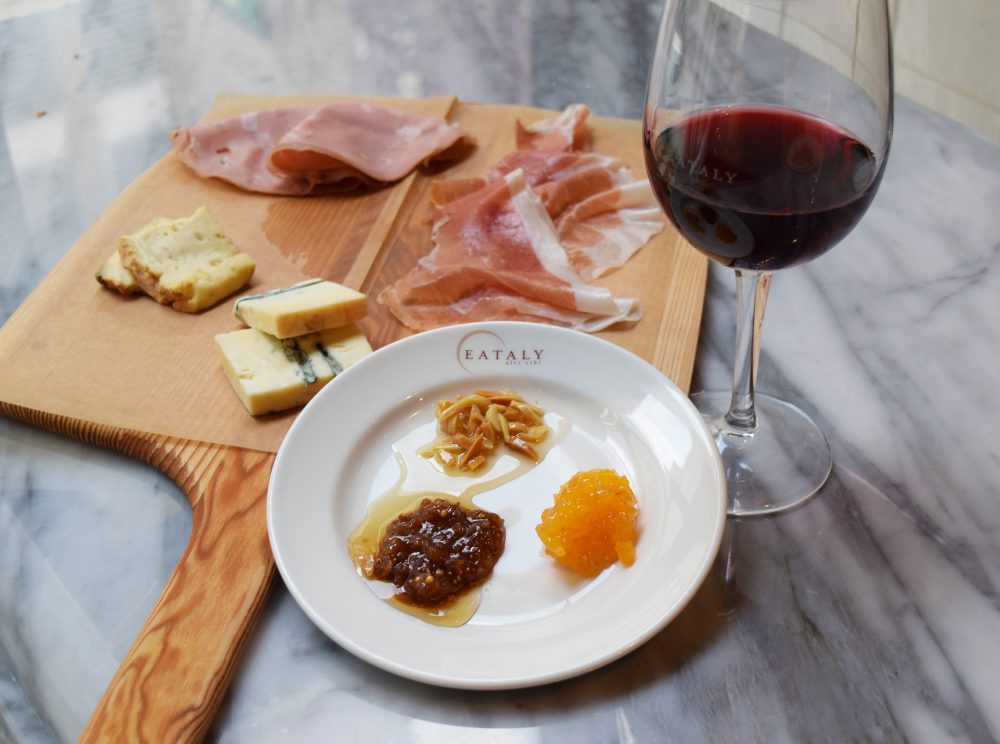 Dinner
We'll be the first to say, "you can't go wrong" with any of the selections. But, there's something about the marriage between crispy, fatty guanciale (pork cheek) and sauce made with ripe, Italian tomatoes that grace al dente pasta with their presence.
Rigatoni all'amatriciana is a dish that is so simple in ingredients, yet so put together, you'll be asking for seconds (like we did). It's a classic Italian recipe not many Americans are acquainted with (but should be!).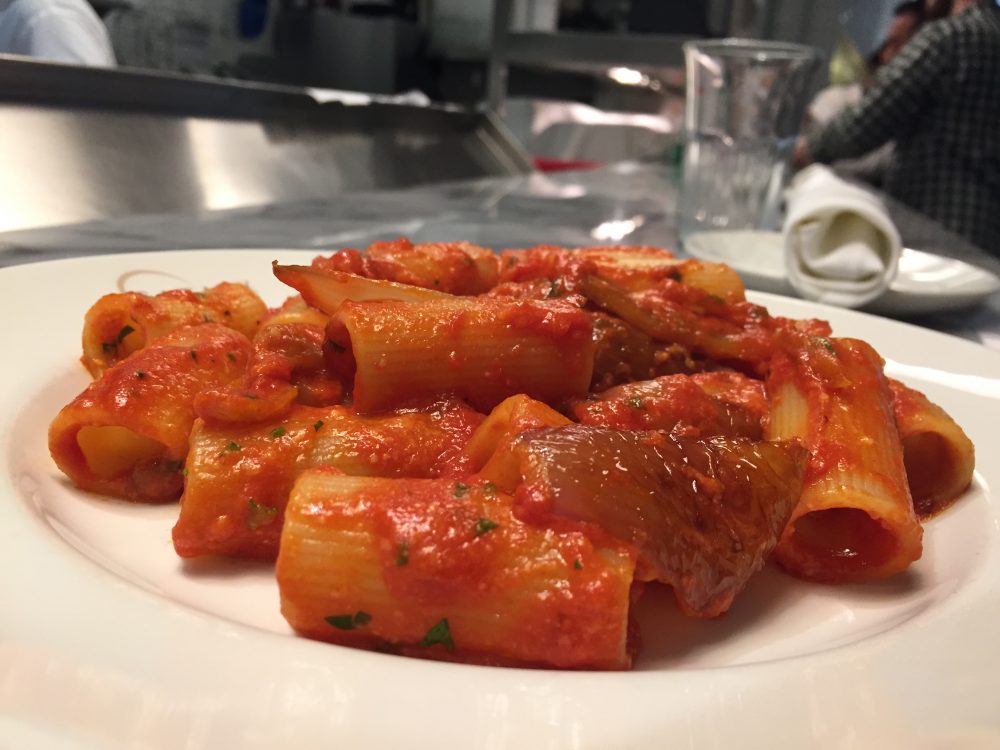 Eataly's Lavazza Café opens daily at 8:00 AM for breakfast or for a quick pick-me-up with The Eataly market opening at 10 AM. You can also learn more about anniversary specials lasting through January here. The store is located a short walk from the Magnificent Mile on Ohio St. at Wabash Ave.