---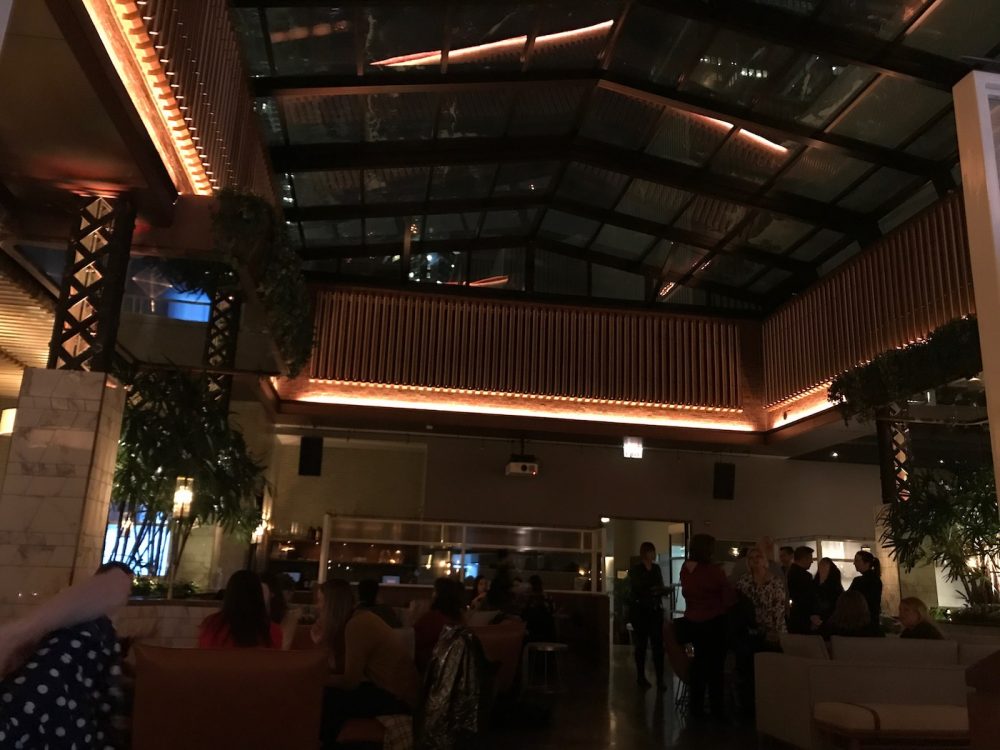 Boleo is a Peruvian restaurant located on the rooftop level of the Loop's Kimpton Gray Hotel. I was recently treated to dinner there and I'm so glad I was able to try this spot. Stopping by after work, the first thing I noticed was how pretty the space is with soft candlelight and a DJ playing cocktail bar mix in the background. Since it's wintertime the glass rooftop ceiling is closed, but looking up I can easily imagine how pretty it must be in the summer with a great view of Chicago's Willis Tower and surrounding downtown area above. It was nice but casual enough on a weeknight that I'd definitely stop here for an after-work drink or two.
Both the food and drink menus at Boleo are wonderful. It's obvious thought and care was taken when creating each item, which is proven with the enthusiasm each item is presented with. Ingredients and inspirations are introduced with each item by its creators. I really liked how each item had a twist to it (a hit of citrus, sour cherry, or the use of vegetables in the first cocktail), but at the same time these were combined with elements of the familiar. The result was a meal that was comforting but also piqued curiosity.
The first drink of the night was also my favorite of the evening: the Plunder Road (Mezcal, blistered pepper, cantaloupe, whole milk), a clear Mezcal-based take on a milk punch that was super smooth with a subtle hint of smoke. I loved it.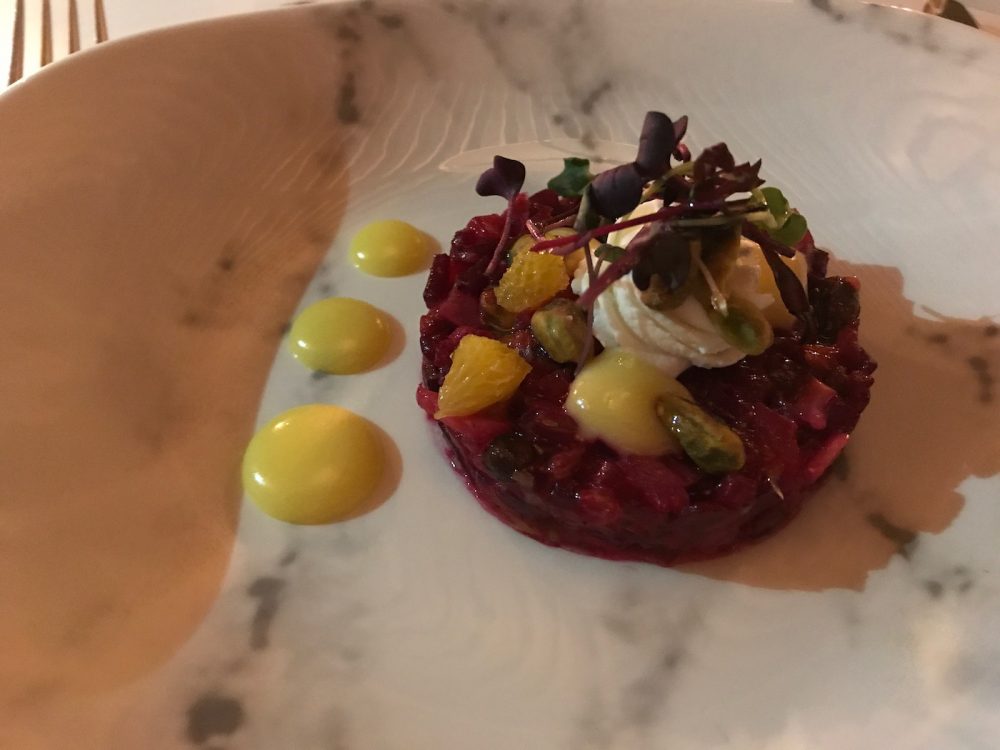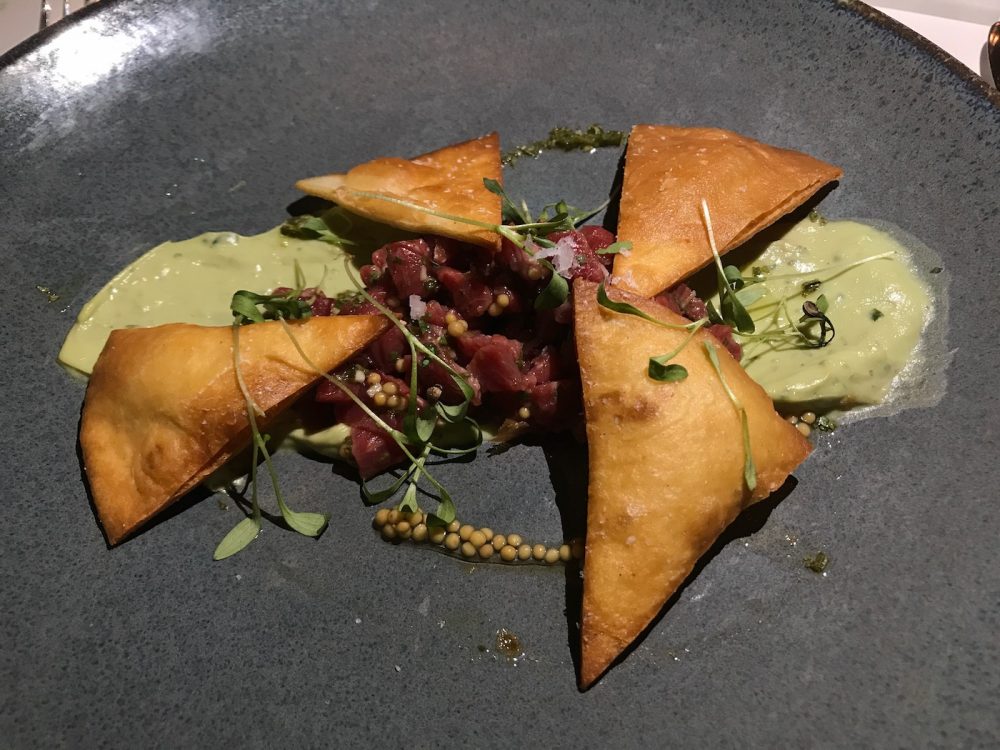 For starters we had two versions of beef tartare: a Puebla-Style Beef Tartare with flat-iron steak and avocado mousse, and also a tartare made from pickled fennel, orange, and garnished with lemon and goat cheese. It was these sort of playful presentations that added to my enjoyment of the meal.
The Pining Away, a mixture of grapefruit, rosemary, sherry, and rose, had a surprise hint of allspice that made this drink stand out. It was somehow refreshing but spicy at the same time. Also as a side note all of the drinks are presented in beautiful, cut glass pieces that are individually selected. They look gorgeous with the candlelight flickering behind them, and I secretly wish I had more time to thrift store hunt for vintage glassware.
My favorite dish of the night was the Arroz Chaufa (jasmine rice with chorizo, Laughingbird shrimp and Peruvian purple potato). Cured Venison with juniper and lingonberry braised cabbage followed the rice course, possessing rich flavor with the added element of Chinese five spice.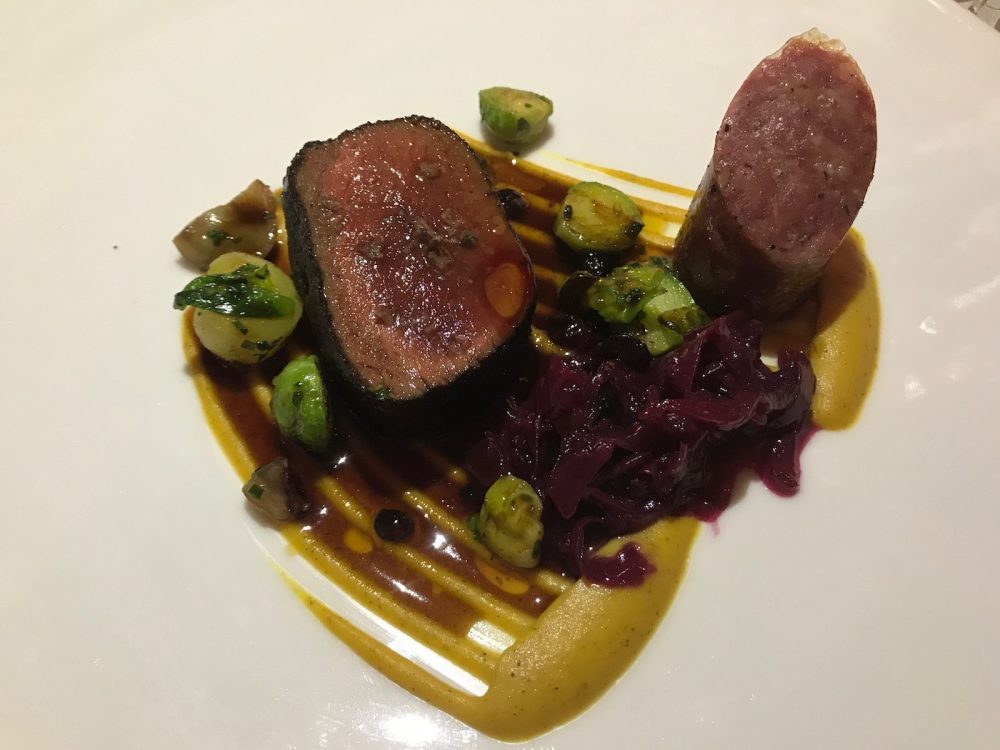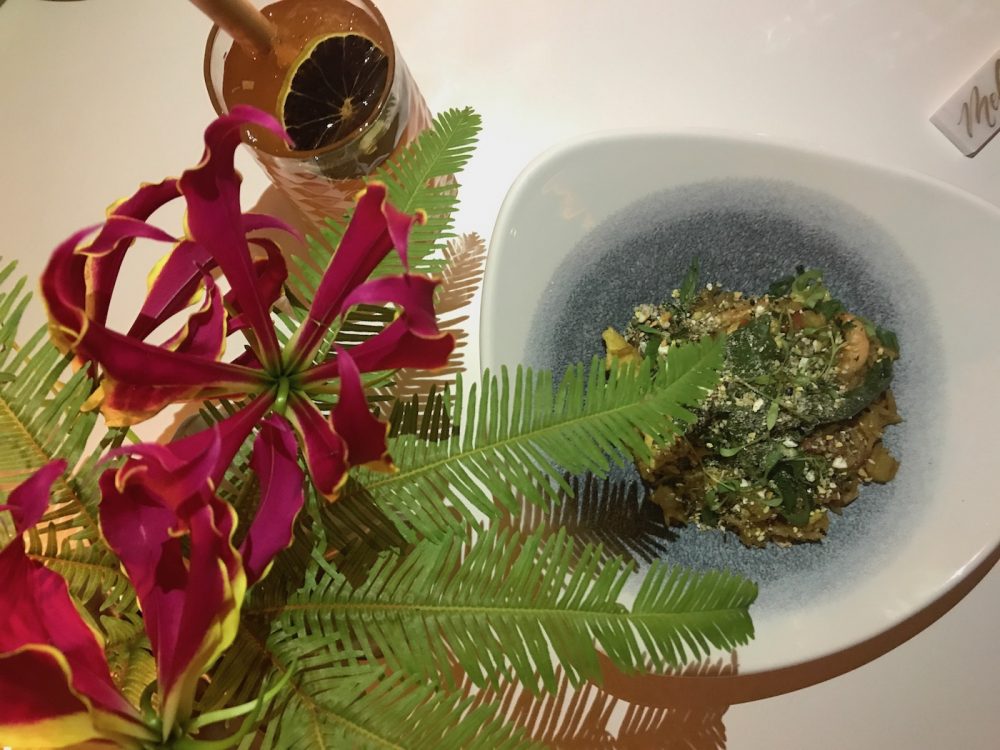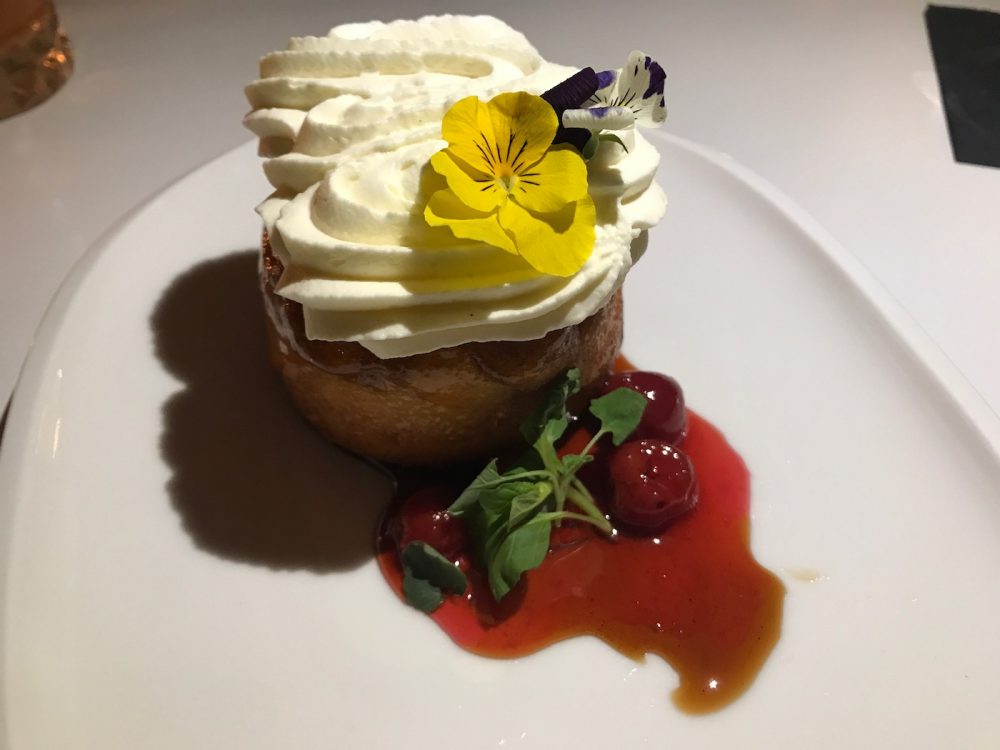 By the time the Savarin Cake dessert came around I was so, so full but it looked so tasty I had to try it. The sour cherry cuts straight through the diplomat cream and pastry. This dessert has everything you could want: it's light and airy but also creamy with a flash of tart.
One of the last drinks to finish the night was Breakfast at Katsura (Suntory whisky, cider cafe orgeat, egg white) which tastes EXACTLY LIKE FRENCH TOAST CRUNCH. So good! It was a bit on the sweet side but a great way to end the meal. I would definitely have this again.
All in all, it was an amazing dinner in a beautiful space. Boleo has the atmosphere, food and drink that would make this a great spot for a dinner or drinks with friends, a date, or a celebration.