---
Before I move out of West Rogers Park, I find it important to reflect on an area I, and many others who live here, consider to be a hidden gem of Chicago's far north side. Although the entire neighborhood is not necessarily known for a thriving food scene, this pocket of Devon Avenue boasts not only authentic *Indian/Pakistani cuisine, but offers an illusory traveling experience. Sipping sugar cane juice and eating meat from a freshly-husked coconut — all supplied by a vendor on the sidewalk — is a food experience some jump on planes to seek out. And yet you don't even have to leave the city.
For many, adventuring to West Rogers Park is a trek. But once you're here, it's no challenge to fill an entire day with activities. Although the avenue is sprinkled with clothing and jewelry stores, I'm most fascinated with the bakeries, groceries, and restaurants and I'm thrilled to share my sample of a food-focused day on Devon.

First Stop: Light Breakfast 9:00am 
Fresh Farms International Market
http://myfreshfarms.com/devon/
2626 W Devon Ave, Chicago, IL 60659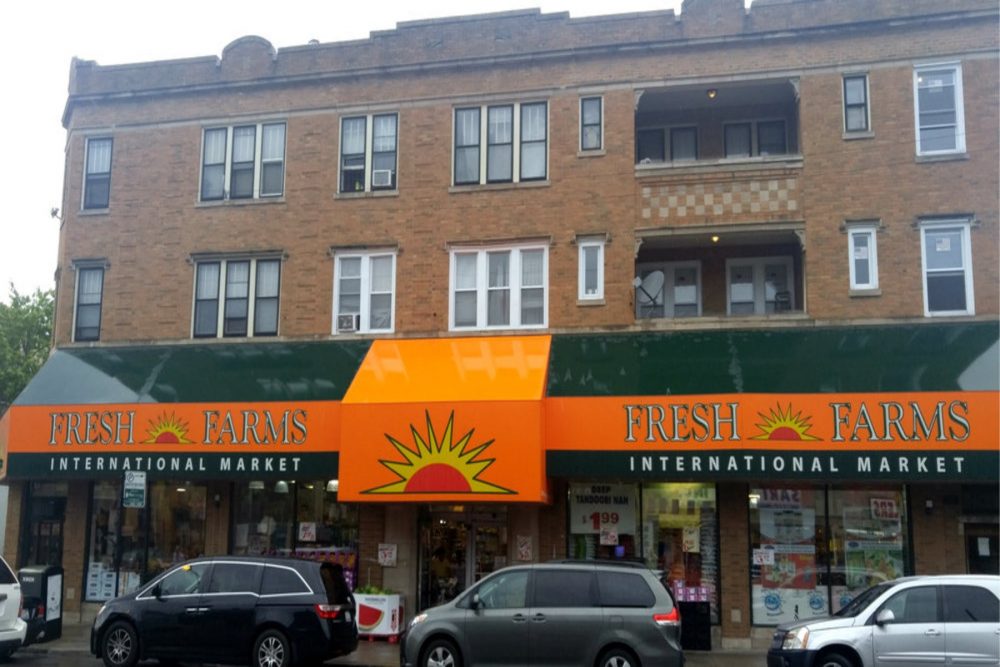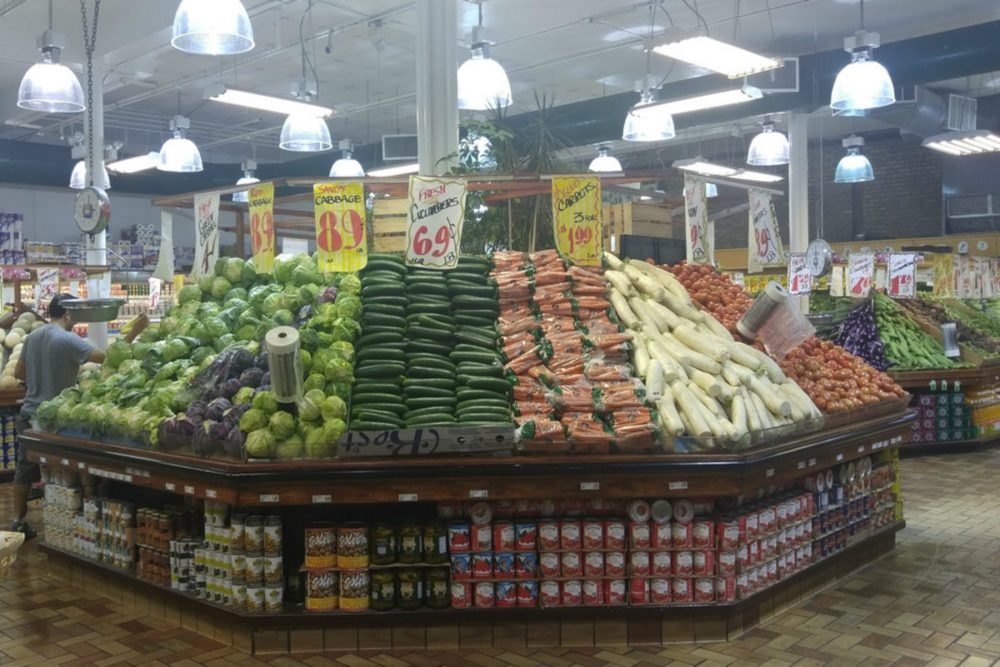 Nowhere on Fresh Farm's awning does it announce the market's juice and smoothie bar. If anything, customers have to be somewhat "in the know" even to order here—by purchasing the size from the register and then bringing their receipt to the juice bar. But, after stumbling here several years ago, there's nowhere else I'd go for a refreshing drink made with produce right in front of you.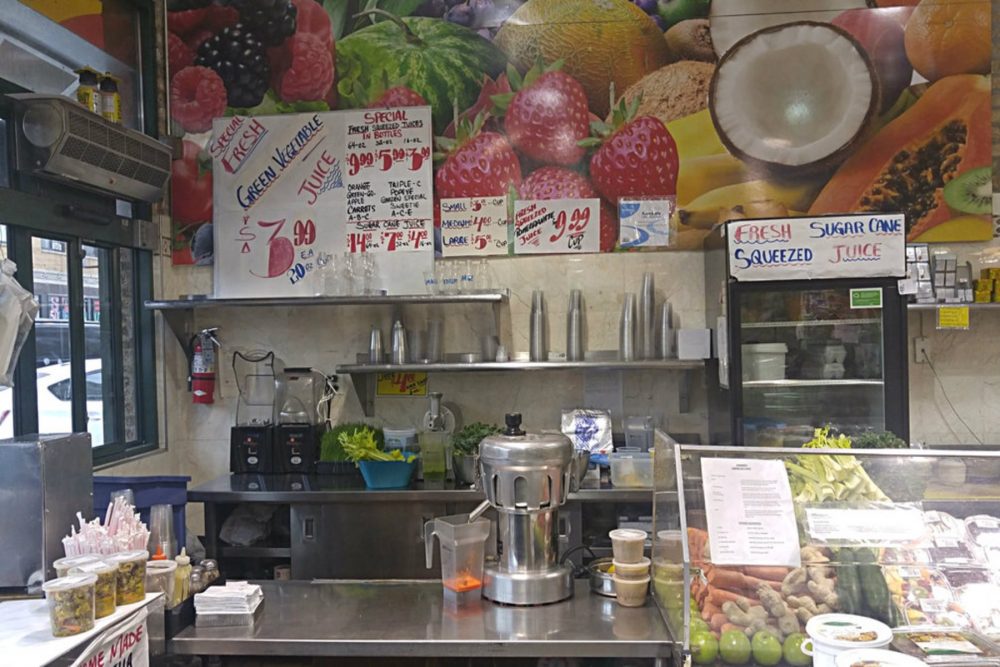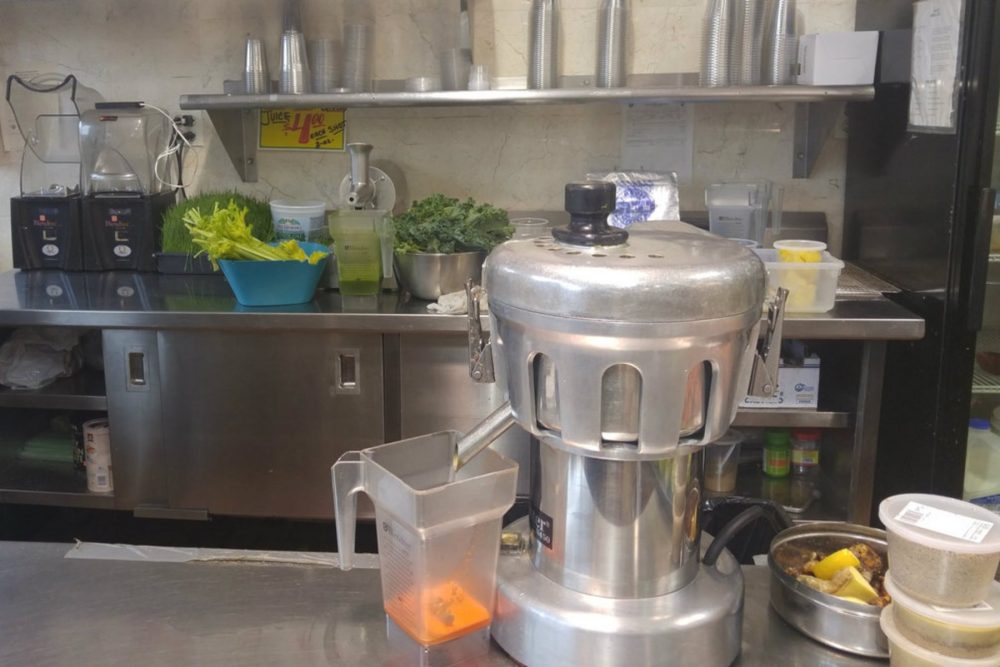 I have learned there are a few other suburban locations of Fresh Farms but Devon Avenue stands as the original location. The market has remained successful since its 1980 opening by catering to the community's specific needs. As they stated on their website: "as the cultures within the neighborhood changed, so did Fresh Farms." 
And who doesn't need a smoothie? Although there are some suggested flavors to try such as 'Avocado Freeze," "ABC" (apple, beet, carrot), and an assortment of "Kumar's Green Go Juice" (involving vegetables such as cucumber and celery), the combination is up to the customer. In the past, I've tried a blend of ginger, lemongrass, and coconut juice that I credit for curing the worst of colds. But this time around I ordered the "Sweetie" which blends fresh-squeezed carrot, strawberry, and orange juice. If summer had a color, I'd say this is its exact shade.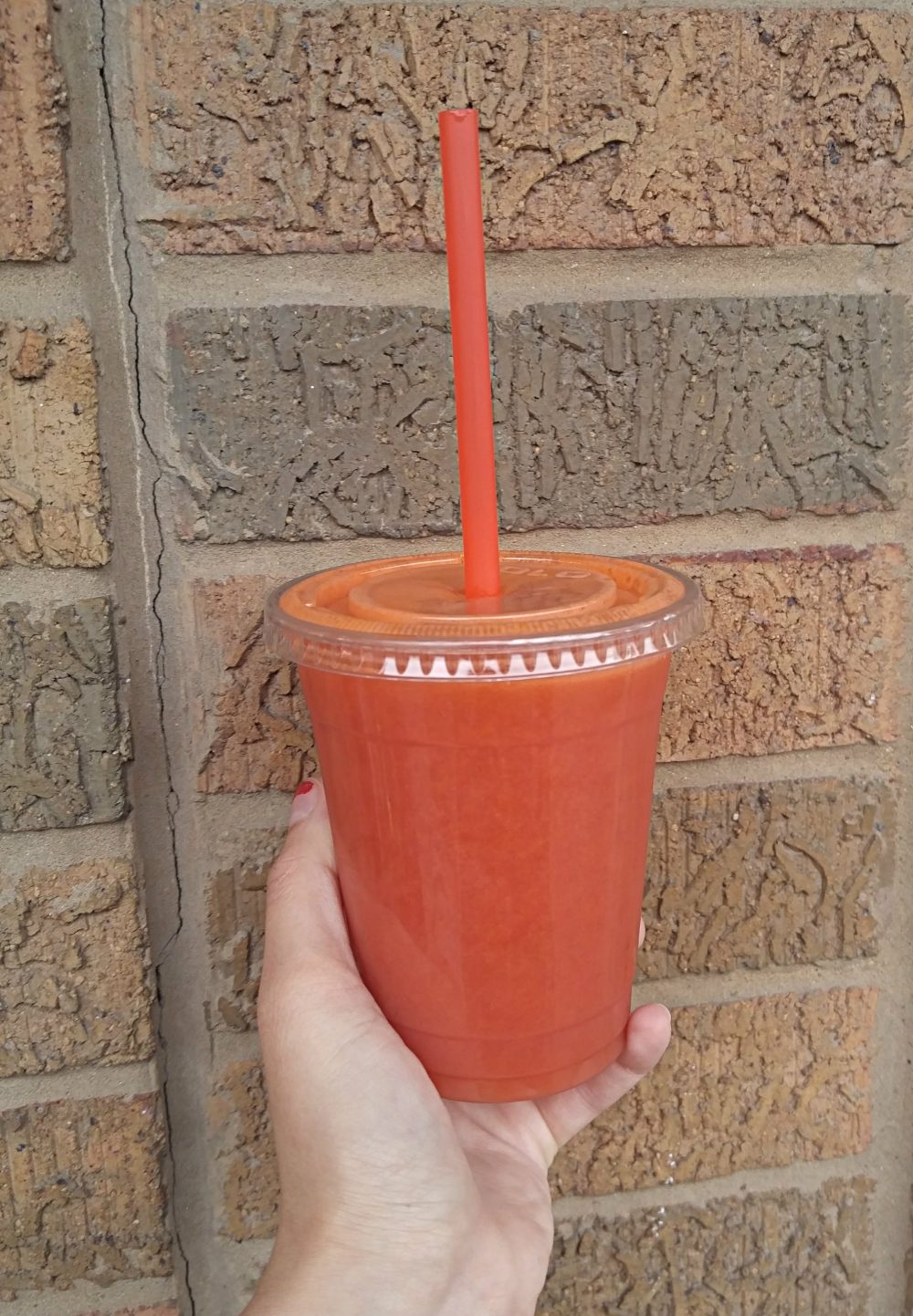 To complete your breakfast, I'd suggest purchasing a treat alongside your smoothie at the register. Turkish delight, baklava and other packaged pastries are available throughout the store. 
Hours: Everyday 7am-10pm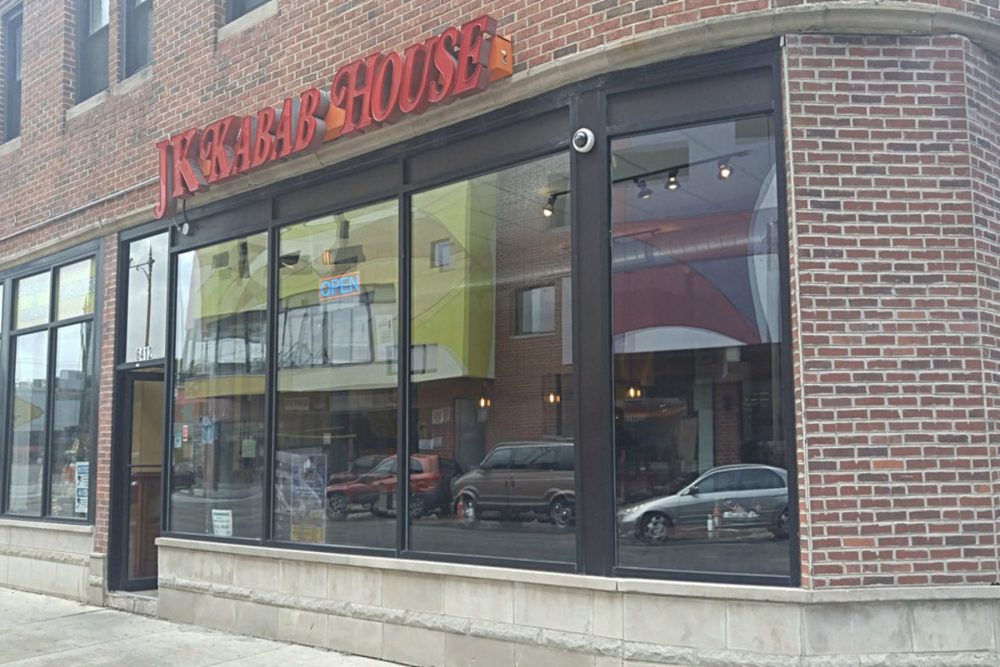 I'm always on the lookout for lunch specials and lucked out finding one at J.K. Kabab House— which I admit is not right on Devon but rather around the corner on Rockwell Street. The lunch special is offered on weekdays and for around $6 fills you up on made-to-order Indian/Pakistani cuisine.
The environment at J.K.'s is casual but charming. Although you order at the counter, lunch customers are served at the table and are also given a cup of chicken soup as they wait for their meal. The soup could be considered comfort food with a clear, thick broth not unlike the consistency of egg drop soup.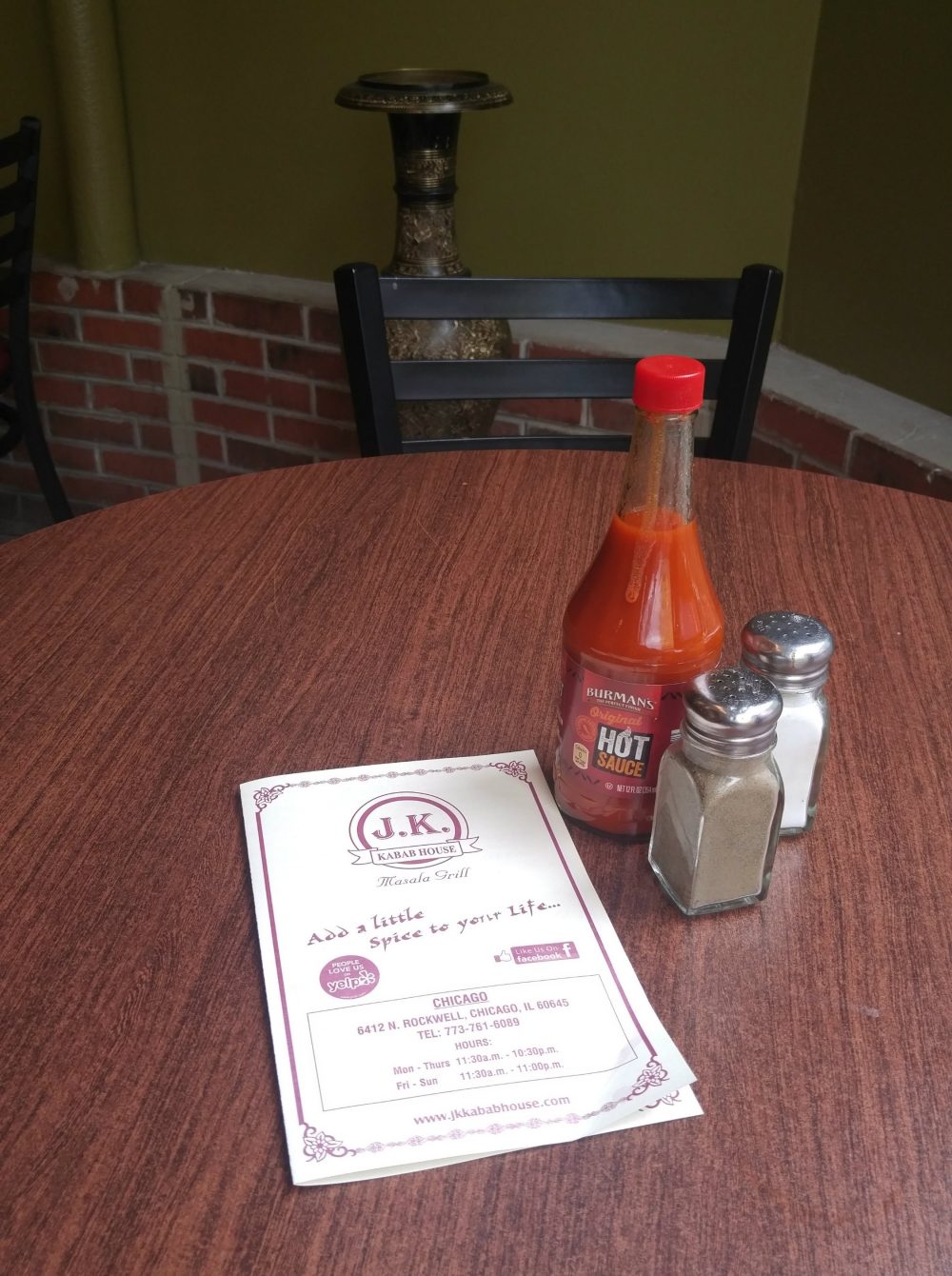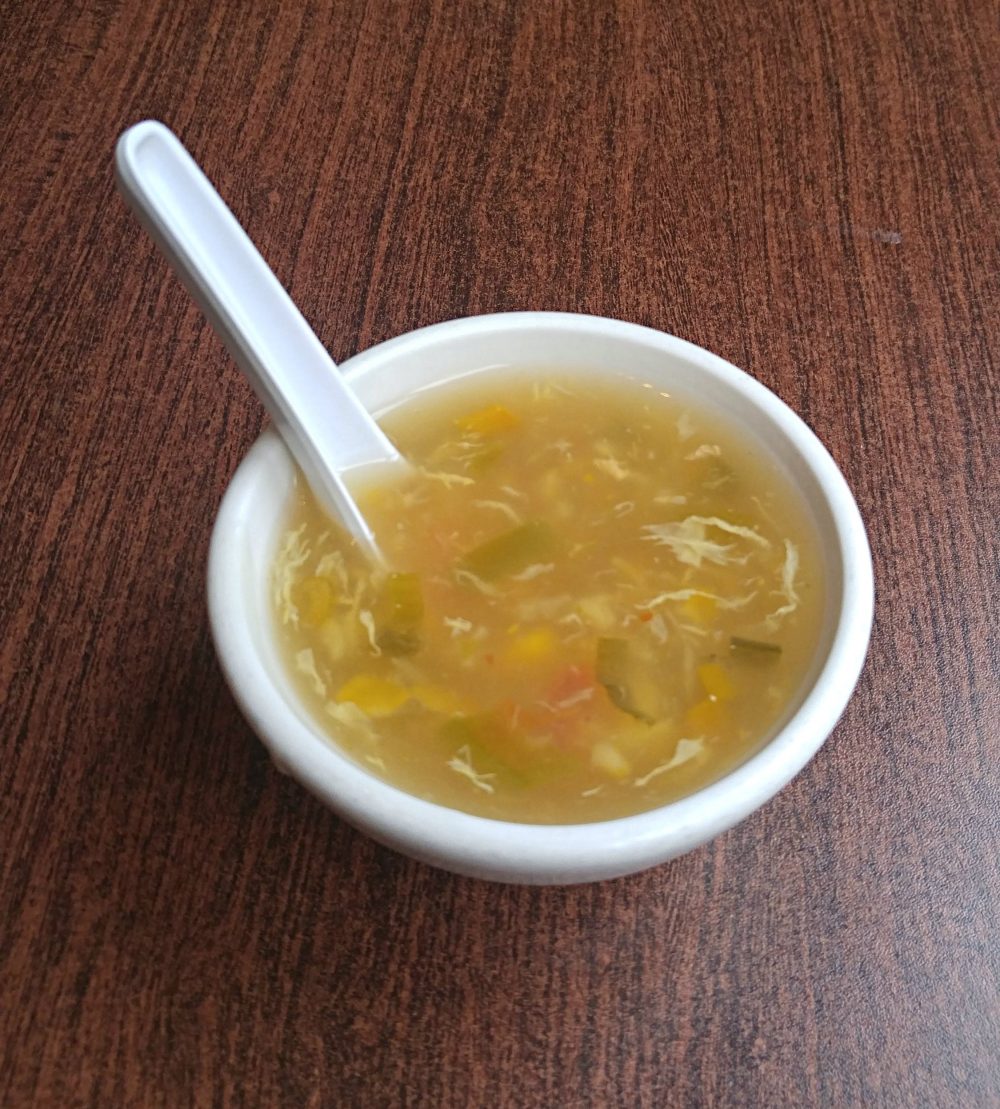 The lunch special includes a seekh kabab, a chicken kabab, rice, salad, and a large piece of paratha or chappati bread. I expected all of the kabab to be cuts of meat, and although those options are on the menu (lamb cuts or boneless chicken cuts, etc.) the lunch special offers something different. The chicken kabab consists of minced chicken that is spiced and then charbroiled on a skewer. Similarly, the seekh kabab is charbroiled on a skewer but consists of tender ground beef.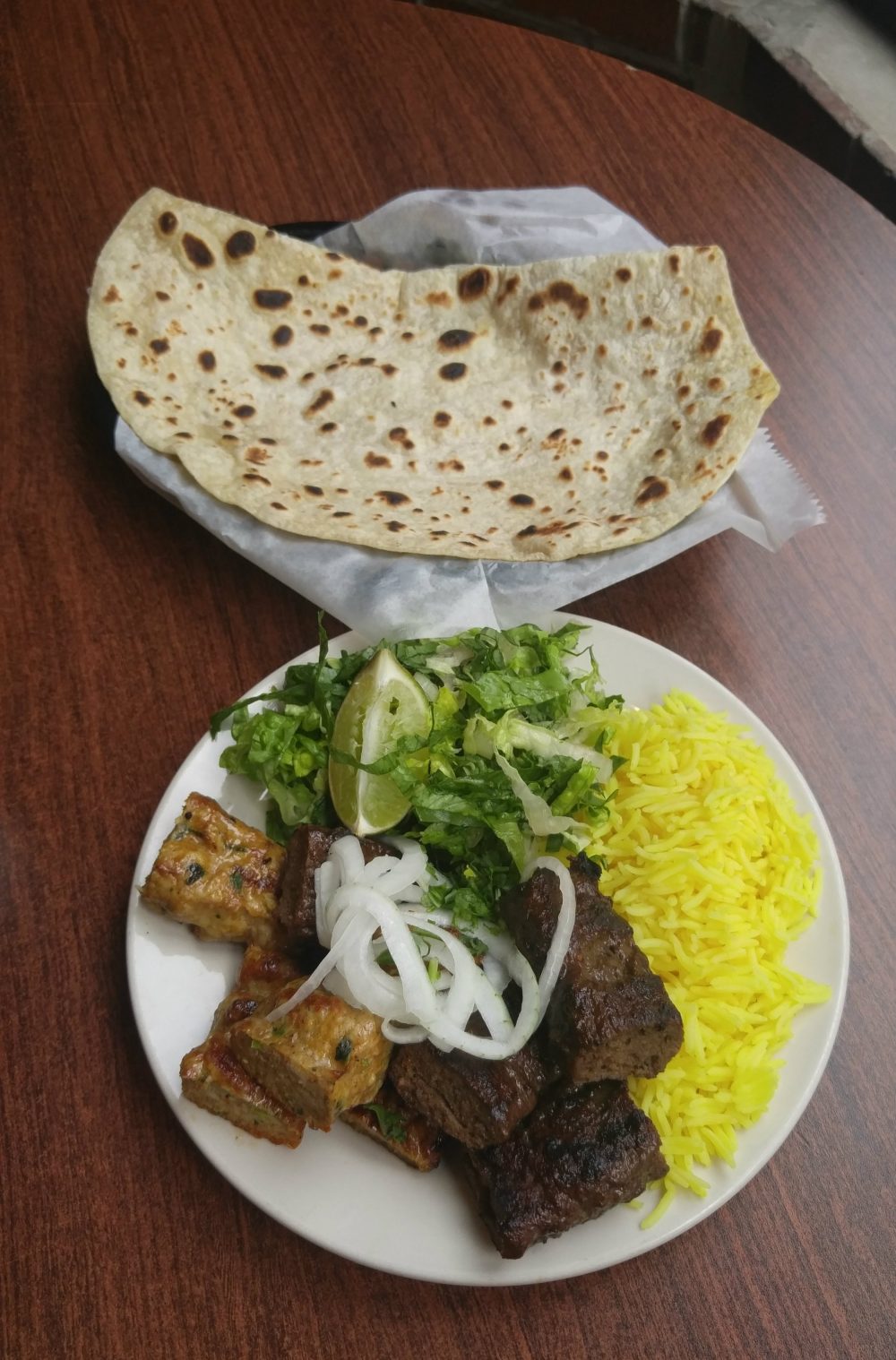 Biting in to either of the meat skewers revealed a juicy sausage-like texture. The flavor of the spiced meat, condensed into the kababs, is complimented well by a side of yogurt sauce, rice, and bread. As far as a lunch portion goes, J.K. Kabab is quite generous. If you want to fill up for an afternoon shopping on Devon, this is the spot.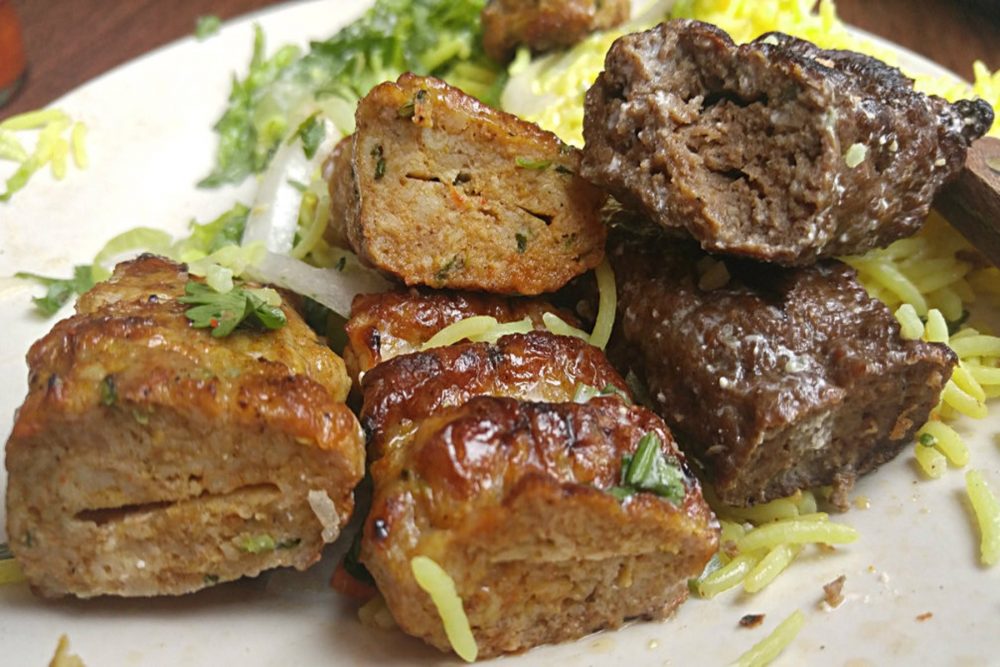 Hours: Get your kababs Mon-Thurs: 11:30am-10:30pm; Fri-Sun: 11:30am-11:00pm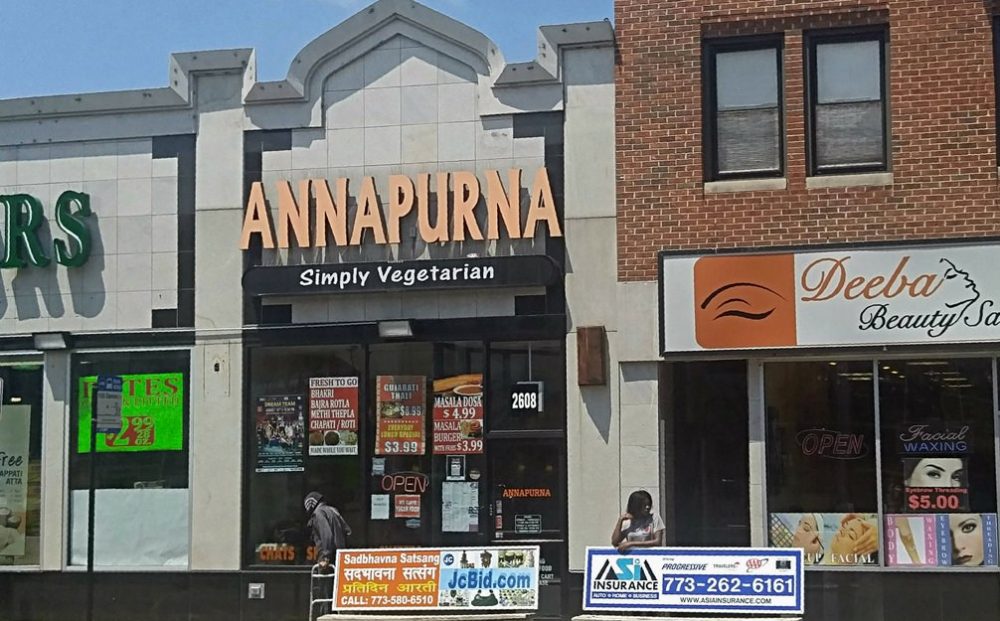 Had enough meat for lunch? The remedy is of course to have a vegetable-heavy dinner. I decided to try an Indian vegetarian restaurant called Annapurna, which I learned translates to "perfect food" —  and for me that wasn't an overstatement. Annapurna, which is still a family-run establishment, opened in 1983 before Devon Avenue was even considered "Little India" as it is now. The menu includes an assortment of "snacks" (samosa, fritters and dumplings) and other plates such as Chat/Chaat (a term referring to savory street food), Puri (deep fried Indian bread), Paneer (soft cheese), and Dosa (South Indian pancake).
For only $6, I ordered the Two Vegetable Platter which came with rice, 1 naan or 2 roti (types of bread), rice and a small salad. For vegetables, I chose the Matar Paneer (green peas and cheese) and the Aloo Gobi (potatoes and cauliflower). For $1 extra I tacked on a single samosa— the signature savory-filled fried pastry. Annapurna describes its atmosphere as a "modern day café." Customers place orders at the counter, and a number is called when food is ready to bring back to your table.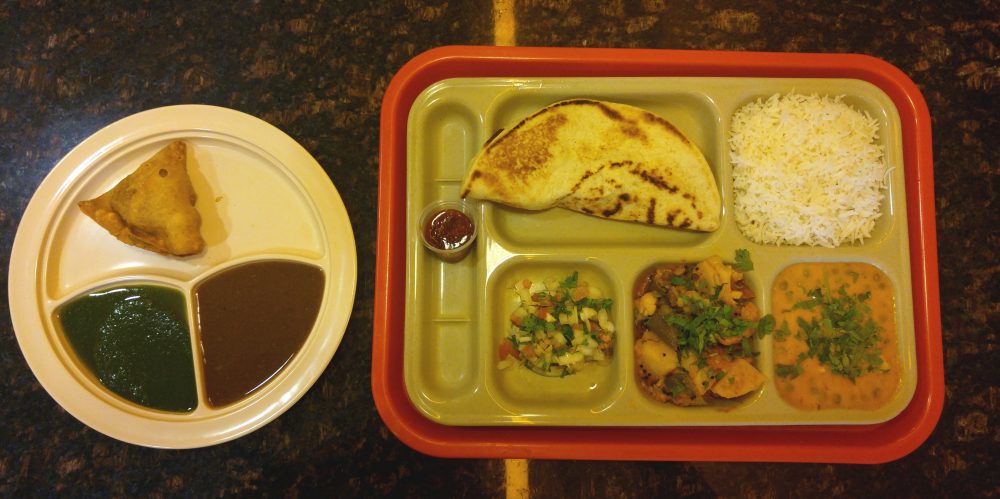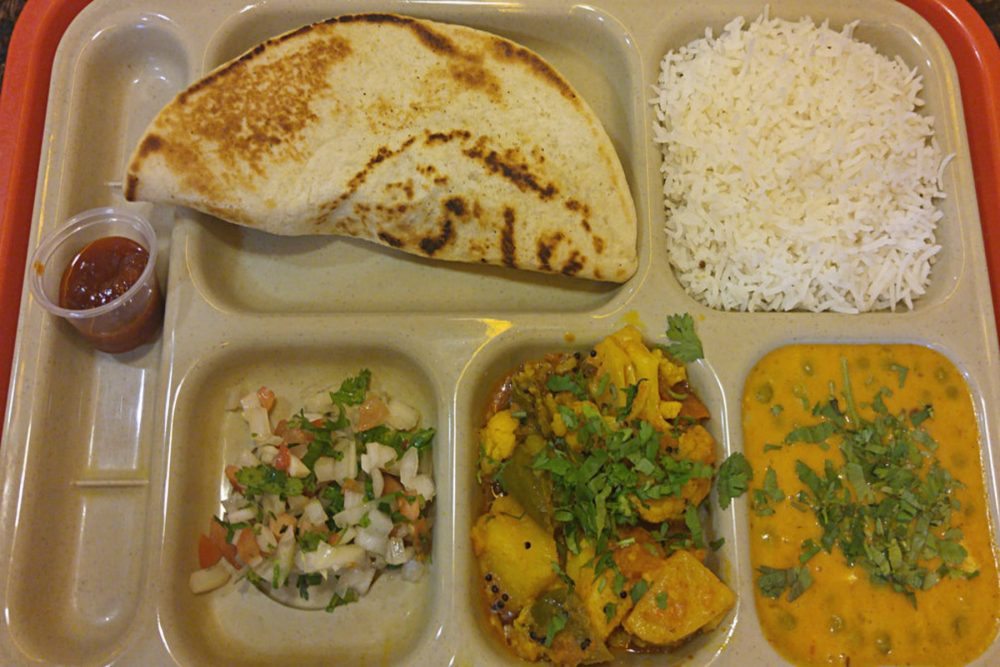 One of my favorite things about this platter was how interactive it was to eat. I found myself mixing the two vegetable sections into the rice, and of course using the naan as if it were a utensil. The paneer has a lighter, yogurt based sauce while the potatoes were richer, although mildly sweet. When the spices in the two vegetables began to overpower my senses, I balanced it with a bite of plain rice or bread. Another nice balance to the spice was the salad which contained chopped onions and tomatoes- almost like a pico de gallo. On the side of the platter was a sweet red sauce which went well with the naan and samosa too. The samosa was served with two sauces: a green vegetable-based and a brown sweet sauce. The presentation of the food on cafeteria-like trays contributed to the playful, casual atmosphere.
Packaged snacks, sweets and Indian soft drinks are available at the counter as well, but we will be going across the street for dessert.
Hours: Annapurna is closed Tuesdays but open Mon, Wed, Thurs, Sun 11am-9pm; Fri and Sat 11am-10pm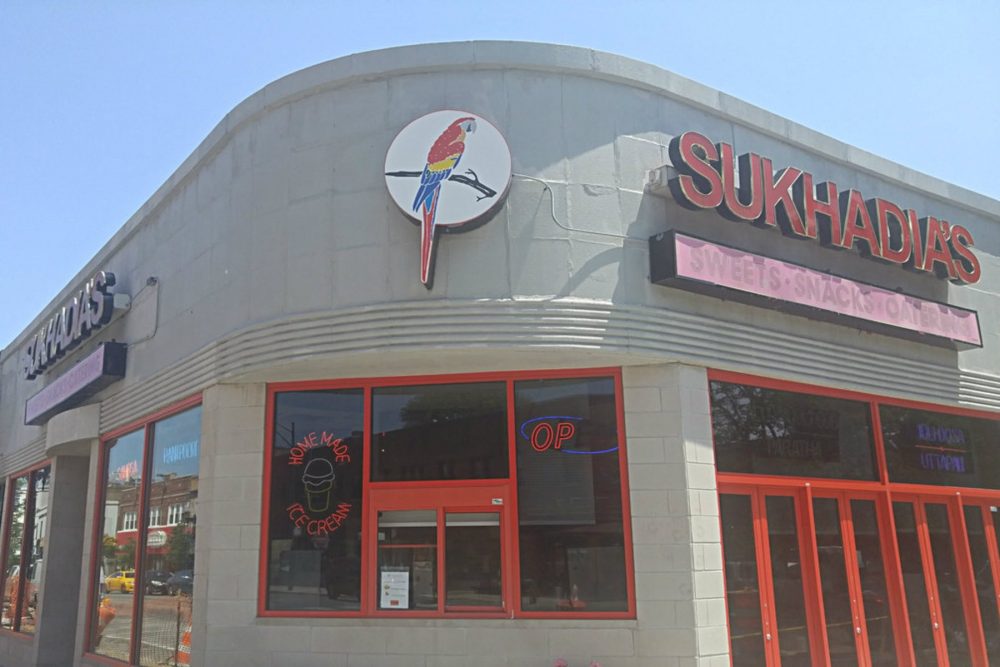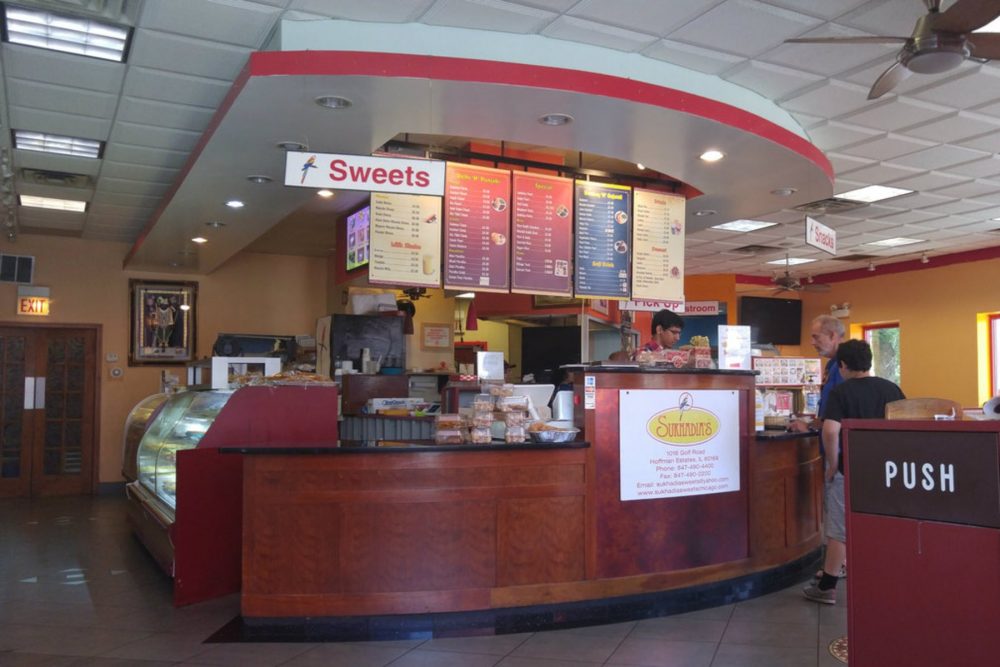 For dessert I made a visit to Sukhadia's Sweets and Snacks. Although this spot boasts homemade ice cream, I enjoyed trying their other vibrant treats. Available in various toppings and colors, many South Asian sweets contain a similar foundation of wheat, rice flour, milk, and sugar. The three I selected from the colorful case had a texture I enjoyed— pasty but soft. The immediate sweetness is impressive for such small treats, and because of that, I could barely finish eating one in entirety.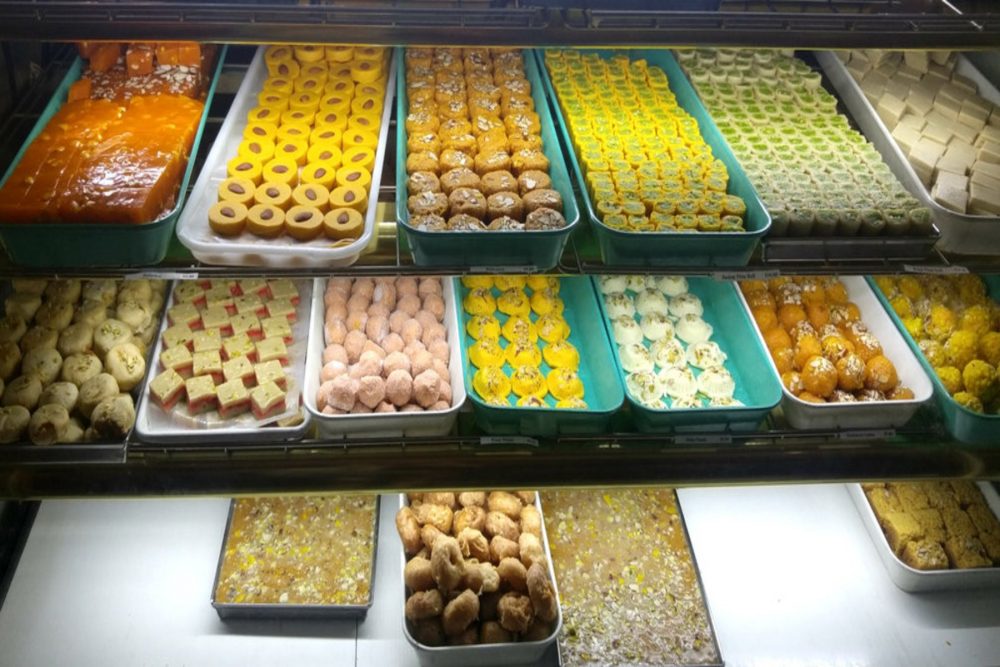 Hours: Get your sweets from 12pm to 9pm every day except for Mondays (closed)

Whether experiencing the tastes of Devon Avenue is a trip for your palette or something you're familiar with, there's no denying that the selection of restaurants and markets all in one strip can make for one full day of food. Sugary sweet or spicy rich, these affordable meals and snacks are a must-try for every Chicagoan. 
*Restaurants on Devon include various types of European, Middle Eastern, and South Asian cuisines although I focused primarily on Indian and Pakistani foods. I encourage you to explore these other restaurants and bakeries as well!